Password manager NordPass has put together a list of the 200 most popular usernames of all time. Unsurprisingly, most of the usernames are simply people's names. Amongst the most popular is "ยศกร", which means "title" in Thai, "David", "Alex", "Maria", "Anna", "Marco", "Antonio", and other popular names. The top username had nearly 1 million (875,562) hits.  Here are the top 20 user names: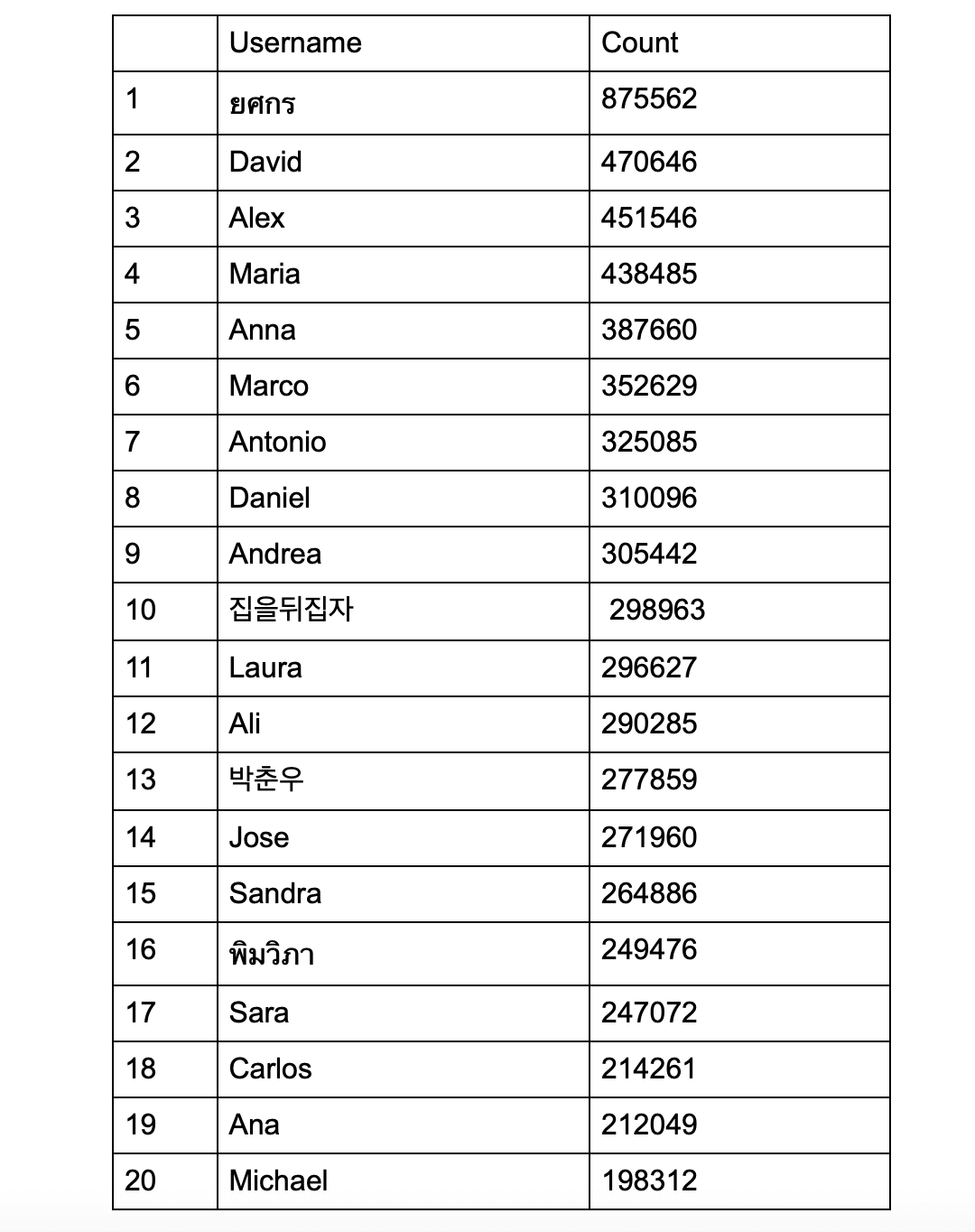 Interestingly, usernames one would think might be quite common, such as "admin" or user", didn't make the list of the 200 most popular usernames.
Why are usernames important?
While passwords remain the most important attribute when securing your accounts, security experts encourage users to pay attention to usernames too. "Having an easy-to-guess username is dangerous. Essentially, you're giving out half of your login information," says Chad Hammond, security expert at NordPass.
The security expert also warns that, for many different reasons, hackers target all personal information they can get their hands on, including usernames.
For example, in 2014, the social media platform Snapchat suffered from a data breach, during which hackers downloaded 4.6 million usernames and phone numbers. Many people used their own names and surnames as a username and, therefore, were easily recognizable. In addition, the combination of usernames and phone numbers opened the door to social engineering attacks like "You're receiving this SMS from Snapchat, and we need you to verify your password for account johnsmith".
Some companies implement security policies around usernames. For example, many websites now automatically indicate whether your username is unique and will not allow you to register if it's not.
NordVPN, for example, deploys randomly generated credentials for users who want to set up the app on their router or other devices. This way, the product ensures that users have only unique and complex credentials.
How to create a secure username
When asked to summarize his top tips for username security, Chad Hammond, NordPass security expert, highlights the following:
Don't just use your name as a username
Avoid using the beginning of your email address as your username 
Your username should be simple enough to remember but hard to guess
Never use easy-to-guess numbers with your usernames (for example, address or date of birth)
Don't use your social security number or ID number as your username
If you're struggling, try online username generators
Methodology: NordPass partnered up with a white-hat hacker, who compiled a report of the most popular usernames of all time. The hacker requested to stay anonymous.
ABOUT NORDPASS
NordPass is a new-generation password manager using cutting-edge technology, zero-knowledge encryption, simplicity, and intuitive design in mind. It securely stores and organizes passwords by keeping them in one convenient place. NordPass was created by the cybersecurity experts behind NordVPN — one of the most advanced VPN service providers in the world. For more information: nordpass.com.