In the overly crowded space of $150-ish headphones, the stylistically unique Marshall Major III Bluetooth headphone stands out. The square industrial design looks both serious and professional which is more than I can say about many other headphones in this price category. They come in classic black, brown and white (ugh) with only the Marshall logo on the sides. My guess is that this more subdued look will attract professional and mature users and I'm pretty sure there are plenty of us in that group! However, looks are just one component to choosing a headphone. So, let's explore the feel and sound quality of the Swedish Marshall Major III.
Because of the smaller headset, the earphone is in the on-ear category. Thus, while the headphone is a closed back system, the effect for people wearing it will be closer to what you would experience with an open back system, where environmental sounds will definitely leak into the ears. This can be a good or a bad thing depending on your needs.
On the left earcup, there is this gold coloured button. It's unique in that, while it looks like a simple power button with a few extra functions, it's actually both a button and a switch. Pressing it for three seconds powers the headphones up or down, a quick press plays or pauses music (and answers or ends phone calls), pushing to the left or right skips tracks forward or backward, pressing up and down raises and lowers the volume, and a double click activates in my case listening on an Apple device, Siri. I wish all Bluetooth headphones had controls as intuitive and simple as this.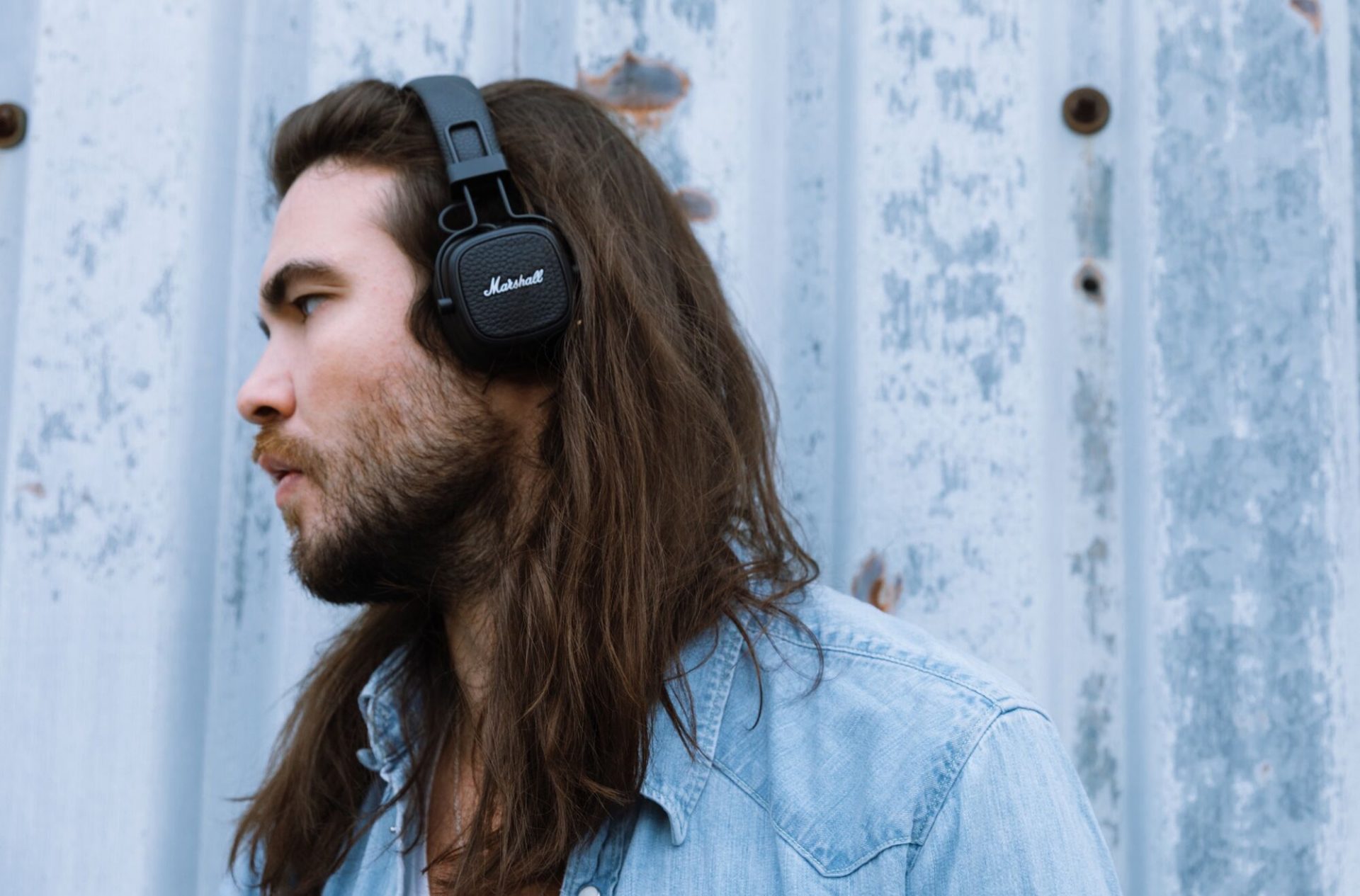 The headphones can also be used in a wired, passive mode (the mode that I'll use most of the time as my trusty Discman and MiniDisc players don't have a Bluetooth connection). The included cable connects to the bottom panel of the right earcup. The black, semi-coiled cable, a nod to the famous Marshall amps, has a simple inline remote control and mic compartment at chin level. The remote is of the single-button variety—playback and call management controls only, but there's no track navigation or volume control, which is fine as most people will use the volume control on the player and/or the headphone amplifier such as my Helm Audio DB12 AAAmp.
Sound quality
As with previous Marshall headphones I have reviewed, Marshall claims that these headphones are specifically designed with studio monitoring in mind, so I was expecting natural sound without additional unnatural bass from the middle region and this is really good thing. Unlike the soul-sucking, beat-oriented and hose-like brands, the Marshall do not engineer in an artificial mid-bass-boost, just pure impactful and dynamic low bass. It doesn't pack a wallop like the Marshall Monitors of yesteryear but then again, the price is far below for the III's.
The overall tone is warm and full of low end, which will suit those of you who mostly listen to virtually any type of music. Be it The Beatles mono 180-gram vinyl recording all the way to Judas Priest's "Ram It Down" were handled quite well, with the sub-level kick drum in the opening section of Def Leppard's "Pour Some Sugar On Me" (Rock of Ages version — which has more bass) rumbling powerfully and clearly. Similarly, the bass lines from the old hair-metal Judas Priest's "Johnny B. Goode" were reproduced just like… well, bass lines… without the unnecessary additional oomph that is fatiguing to one's ears, or even worse, messing up a final mixdown in any studio mastering session.
The Major III are not particularly focused around the low and mid range but give the full spectrum equal importance which, given the casual listener audience they're targeted at, is to be expected. If you only plan on using your headphones for listening to bass-heavy recordings, they won't do the trick. If you are hoping for a good headset to enjoy classical, acoustic or folk music that relies more on accuracy, the Monitor III's are designed for that, although the sound coming from them is still somewhat warm, especially when being listened to at higher volumes. The only drawback is that at high volume levels, the bass is audibly distorted. On the other hand, if you are not a loud music listener (I listen at around 40% of the volume range), this problem is completely inaudible.
Conclusion
The Marshall Major III offers reasonable comfort, sound quality and ergonomically handy features, with a professional styling to boot. Amateur music producers and audiophiles in general will appreciate the nicely balanced tone. The audio purists and true professional engineers may not get on the Marshall Major III train with the lack of clarity in the high end and slight bass-end distortion. I personally think these headphones are never intended to be listened to in a quiet room as a purist reference system but more as musicians' monitor and for that purpose; the headphone does its job well enough.