Looking for the perfect gift to get dad for Father's Day? There are tons of great tech items worth considering for dads of all ages. Here are some great options.
Google Pixel Buds A-Series True Wireless Earbuds
Arriving by June 17, just in time for Father's Day, Google's newest true wireless earbuds, the Pixel Buds A-Series, are affordable at just $139 and feature the same audio quality, access to Google Assistant, and real-time translation with compatible Android 6.0+ phones. Get up to five hours of listening per charge or dad can get up to 24 by using the charging case. They are sweat and water-resistant so dad can go for his morning runs, sweat it out in the home gym, or walk in the rain without worry. He might like the crisp clearly white finish but the dark olive is a really unique shade.
Yummly Smart Thermometer
If dad loves to grill, check old this tried-and-true Yummly smart thermometer, which monitors the internal temperature of whatever cut of meat or poultry he has thrown on the BBQ and reports the data back to his smartphone via Bluetooth. It's perfect for dads just starting out as well as pros who simply want to kick back with a beer and some good conversation instead of standing by the smoky grill the entire time. It works with both Android devices and iPhones and connects within a 150-foot range of his phone. The app also includes more than two-million recipes so dad can experiment and hone his skills. When on sale, you can get it for as low as US$99.
Amazon Echo Show 10 Smart Display
Add to dad's smart home set-up with the latest Amazon smart display, the Echo Show 10, which has a screen that adjusts on its base to follow the subject so the screen, and you, are always in view. Like other smart displays, it also includes the Alexa voice assistant, allowing you to call up everything from video recipes to weather and traffic reports, all by voice. Play music, watch videos, and more. Dad will love tinkering around with this new smart home device. $330 Check out David Susilo's review.
Ring Video Doorbell Wired
Help dad be the envy of the neighbourhood with the new Ring Video Doorbell wired smart doorbell, which is available now for just $80. Dubbed the company's smallest doorbell to date, it has features like advanced motion detection, two-way talk, HD video, live view, and even customizable privacy zones so dad can set zones that he doesn't need monitored, like beyond the driveway so not every person walking by triggers the motion sensor. Up the ante and get him a subscription for a Ring Protect Plan as well. Starting at $5/mo., this added the ability for dad to see a six-second video preview of what triggered the motion alert along with People Only mode that will only detect humans versus animals or cars and snapshot previews of what's happening in real-time before you need to even open the Ring app. Dad will love that it works with Alexa so he can connect it to an Alexa system then ask to see a live view of the front door on an Alexa-enabled device, like the aforementioned Echo Show 10.
Apple Watch Pride Edition Bands
LGBTQ+ dads, or those who support the LGBTQ+ community, will love one of these Pride bands for their Apple Watch, which features a variety of colours inspired by various Pride flags that have represented the community throughout history. Black and brown symbolize Black and Latinx communities, in addition to those who have passed away from or are living with HIV/AIDS, while light blue, pink, and white represent transgender and nonbinary individuals. The unique band features stretchable recycled yarn interwoven with silicon threads. To ensure the best fit, there are 12 available lengths of the Braided Solo Loop, which is available for $119 and compatible with the Apple Watch SE and Apple Watch Series 4 or later. For athletic dads, there's also the Pride Edition Nike Sport Loop, which is $59 and compatible with Apple Watch Series 3 or later.
Dumpsty for Desktop
The name might not exactly sound appealing but the concept is pretty cool. Dumpsty for Desktop is a mini "dumpster" for your desktop that has side fork pockets on the molded text on the rubber lids. Measuring 11 inches across, making it the perfect size for holding magazines, it's handmade from steel, with each one designed to be an authentic recreation of the full-sized counterpart. Dad can use it in his office to hold papers, magazines, tools – anything he desires. It comes in raw steel, fresh painted colours, or artist wrapped editions along with special limited-edition colours. You can even get one customized to fit your own colours or designs. They range in price from US$195 up to US$495 but will become an eye-catching statement piece in dad's office.
Kokoon Bio-Sensing Sleep Headphones
For dads who have trouble falling asleep at night, these bio-sending headphones are designed to help. Kokoon consists of both software and hardware that work together to help you switch off and calm your mind. The Kokoon app can be used for audio techniques, music, and coaching, all developed with the help of sleep professionals. Many of the techniques feature Cognitive Behavioural Therapy (CBT), which is typically considered to be the "gold standard" in treatment for insomnia. Kokoon uses these audio techniques and delivers a customized content experience for the individual by using sensor data gathered from the headphones. For example, as you fall asleep with the headphones in bed, the sensors detect this and working with the mobile app can change the audio response, fading out the content and introducing white noise to mask out disturbances. Over time, the platform understands you better, and can personalize your app experience, through audio programmes and tips. The first hardware product to work with Kokoon's software solution and app are the Relax headphones, which have raised close to $2 million on Kickstarter. They employ the Flexmould Comfort patented design that help them mould to the shape of your head so they're comfortable to wear. Thanks to the natural fibre fabric, air can flow easily through the ear cups as well, keeping your ears cool while you wear the headphones for long periods of time. The ear cushions can also be detached and washed so they are always fresh and clean. Kokoon's noise-masking technology helps block noises like snoring and outside traffic. In addition to wearing the headphones while sleeping, you can also use them as regular Bluetooth headphones offering premium acoustics from a 40mm electro dynamic driver. They are $399 and ship with a carrying case.
Bluesound NODE Wireless Hi-Res Multi-Room Music Streamer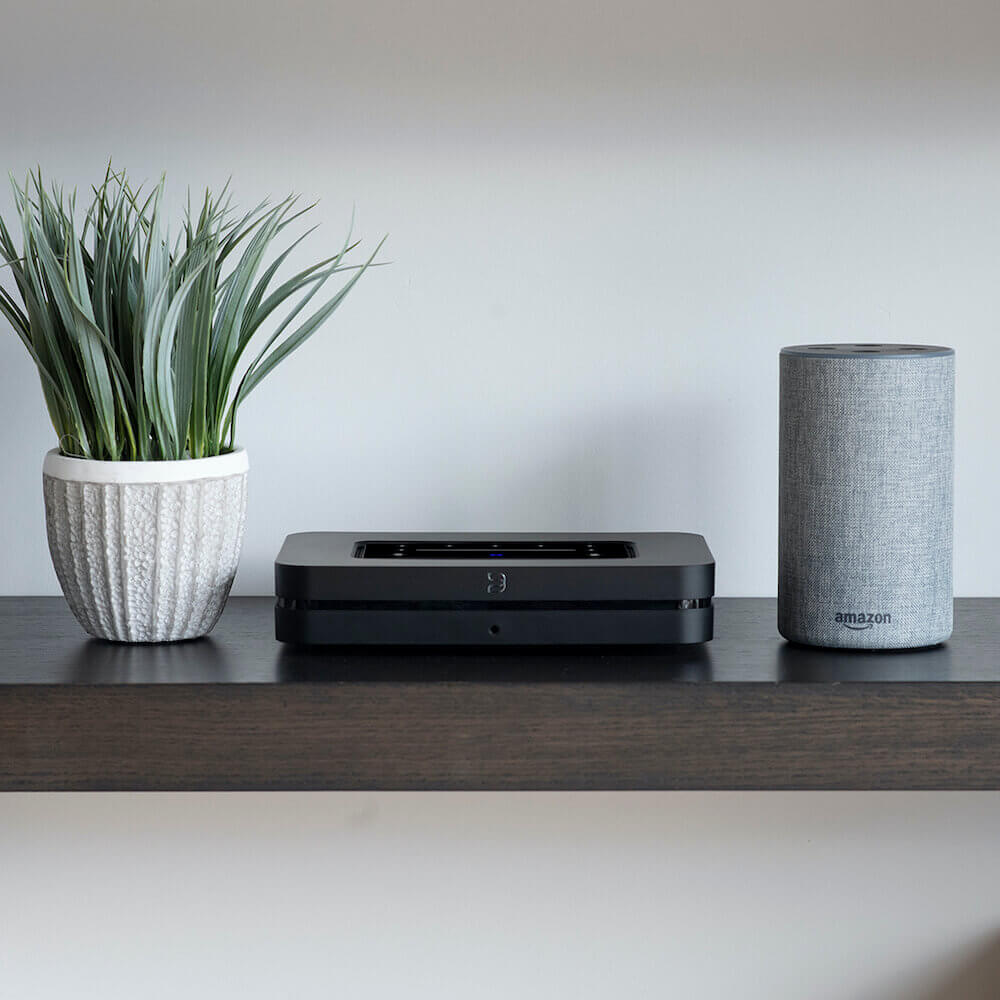 The audiophile dad will love the latest generation Bluesound NODE wireless hi-res multi-room music streamer, which features a new audiophile-grade DAC design with notably improved performance that not only supports 24-bit/192kHz audio processing, but also MQA for studio-quality listening. Software features like tone controls and subwoofer crossover optimization allow you to customize your listening preferences in detail. It is also equipped with an array of digital and analog inputs and outputs for maximum versatility. Bring music into your NODE using Wi-Fi or Ethernet, Apple AirPlay 2, aptX HD Bluetooth, or USB Type A connectors, to hear audio content from streaming services, internet radio and your own music library. The NODE now features an HDMI eARC input on the back panel, to keep your setup flexible and future-friendly. Listen to your music through your hi-fi system or through wired or wireless headphones, by connecting to the RCA, Toslink optical, aptX HD Bluetooth, 3.5mm jack, Apple devices, or other Bluesound or BluOS enabled players. Bit-perfect music listening can happen away from your hi-fi system with the NODE as your multi-room hub. With BluOS built-in, easily create a DIY multi-room hi-res audio system with a few taps of the BluOS Controller app. Additional hands-free controls are available through voice assistants like Siri, Google Voice, or Alexa. For professional smart home installers, full-feature drivers are available for Lutron, Crestron, RTI, Elan, and other popular control systems. Finished in either black or white satin finish, the NODE retails for $649.
AirPop Active+ Smart Mask
We first covered the AirPop Active+ Smart Mask when it was revealed at the virtual CES 2021 trade show earlier this year, and it's now officially available in Canada. WiFi HiFi's John Thomson has the chance to try it out for a month, leveraging the Halo sensor that syncs to your phone, allowing you to actively monitor local air quality and potential health risks, as well as respiratory health. The downloadable app (both for Android and iOS) captures a combination of data collected from the Halo sensor to monitor breathing patterns and give a visual overview of breathing behaviour, cycles, and even the pollutants that the mask has blocked during use. The Halo sensor has an LED ring that you can customize to an array of colours that will turn on from time to time. The outside of the mask incorporates a well-constructed mesh lining that houses the battery-operated Halo sensor. A disposable second layer, similar in look to a white surgical mask, sits inside the mesh exterior. The Active+ comes in a black/yellow or grey/white with four filters for $200. Additional filter packs can be purchased for $30 (4-pack). Each disposable filter lasts for 40 hours of wear and the app keeps track of how long you have before it requires a replacement. He found that the ergonomic wings, adjustable ear loops, and cushioned nose seal provide a terrific comfort and fit. Read more about John Thomson's experience with the mask in his full review.
Twelve South Forte Wireless Charger with MagSafe
If dad has a new iPhone like the 12, he will appreciate the Twelve South Forte wireless charger that magnetically suspends the smartphone in vertical or horizontal orientation so he can continue to use it on his desk while it's charging. The swiveling MagSafe Charger platform can be tilted to the ideal viewing angle. As a bonus, it can also be used as a charging pedestal for the Apple AirPods. It's available exclusively through Apple retail stores.
Samsung Galaxy Book Pro 360
Go all out and grab dad a new laptop. The ultra-portable Samsung Galaxy Book Pro 360 weighs just 1,063 grams and is 11.5mm thin. Built with 6000-series aluminum alloy, you'll get long battery life and fast charging through a USB-C adapter. With Wi-Fi 6 and a touch screen, dad will enjoy to ability to enjoy true-to-life photos and up to 70% less blue light emissions compared to previous-generation Galaxy Books, helping to reduce potential eyestrain. He'll also get great audio via r AKG speakers and Dolby Atmos. Powered by an 11th-gen Intel Core processor, it comes with an upgraded S Pen in the box. If dad has other compatible Galaxy devices, he can enjoy features like Second Screen for multitasking, as well as easy connection to things like Galaxy Buds. Grab it starting at $1,730.
Sennheiser MKE 400 Directional Compact Shotgun Microphone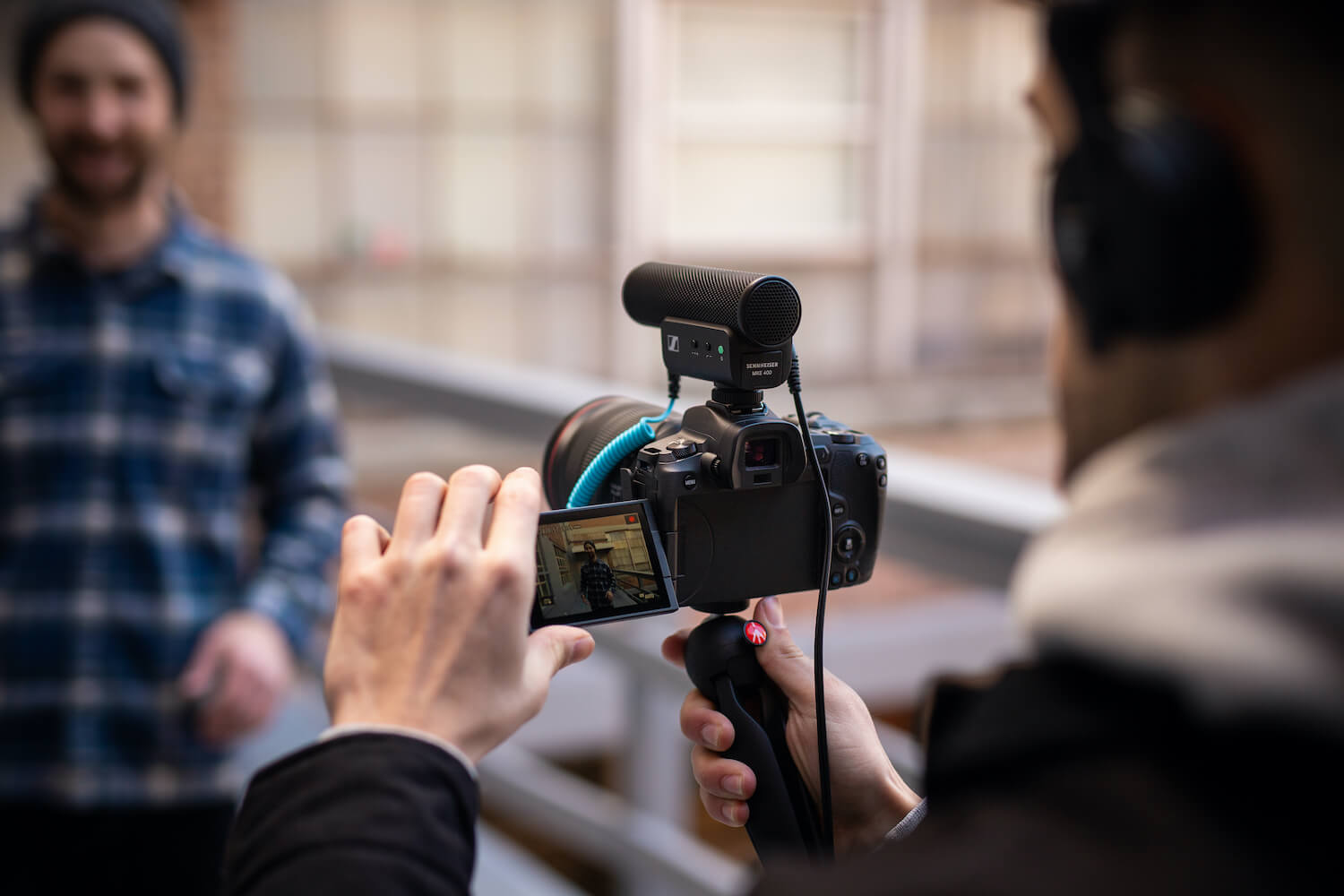 For the vlogger dad, the Sennheiser MKE 400 mic might just be the new product he needs for his kit, helping provide better directional audio when used with a camera or mobile device, and eliminate background noise. Replacing the previous generation model of the same name (a perfect upgrade for vlogger dads who already have the older model), it has a headphone monitoring output with volume control, rugged internal shock-mount, internal windscreen, and automatic on/off function. It also comes with a variety of accessories. For outdoor use, a furry windshield is included: place it over the integrated windscreen for maximum wind protection while recording. The microphone's low-cut filter also does its part in removing problematic low frequencies like the hum from air-conditioning systems or the rumble from wind. The MKE 400 includes 3.5 mm TRS and TRRS locking cables to be used with DSLR/M cameras or mobile devices so you can easily switch from one device to another. The mic's cold-shoe mount with ¼-20 thread allows for universal mounting atop of cameras, gimbals, or even at the end of a boom pole. The cables are coiled and locking so they stay out of your way and stay securely connected while shooting. The mic is powered by a pair of AA batteries that offer up to 100 hours of continuous audio capture. A low battery indicator warns you three hours before the batteries run flat, which is more than enough time to finish the shot you're working on. When connected to DSLR/M cameras, the MKE 400 automatically powers on/off with the camera. So, your mic is ready the instant your camera is, and helps you save energy when you're not rolling. Power detection also works with many smartphone models: if you remove the MKE 400, it will automatically turn off. A manual power button is provided too, featuring an off-delay to avoid any accidental operation. $259.95 or get him the whole kit and kaboodle with the Mobile Kit that includes a Sennheiser Smartphone Clamp and Manfrotto PIXI Mini Tripod for $299.95.
Bowers & Wilkins PI7 True Wireless In-Ear Headphones
Surprise him with a new pair of true wireless earbuds, the first from Bowers & Wilkins. The flagship is the B&W PI7, which supports Qualcomm aptX Adaptive wireless transmission from compatible mobile devices and allowing for high-resolution 24-bit/48kHz music transmission from compatible streaming services, like Qobuz. With Adaptive Noise Cancellation, the PI7s will automatically monitor, analyze, and adapt to its surroundings. That ANC system is paired with six microphones, three in each earbud, for favourable sound quality when using them for phone calls. It can be configured via the Bowers & Wilkins companion app and employs a simple one-button user interface – a single capacitive button that can perform multiple tasks – coupled with voice assistant support via either Siri or Google Assistant, depending on the connected device. Multiple source devices can be wirelessly paired to it so dad can seamlessly switch from listening to his favourite playlist on his phone while walking to work to transferring audio from a call to his laptop once he sits down. Running for up to four hours per charge, it comes with a charging case that offers up to four additional charges. The PI7's case can also connect to an external audio source like an in-flight entertainment system using a 3.5mm or USB cable and wirelessly retransmit audio from that source tot the earbuds. Grab them for $500.
House of Marley Get Together Duo Bookshelf Speakers
If dad has his own studio, home office, den, or man cave, the House of Marley Get Together Duo bookshelf speakers might be a great addition so he can stream favourite playlists via Bluetooth to listen to while he works or relaxes. Ideal for the environmentally conscious dad, they are made using mindfully sourced materials like bamboo and the company's signature REWIND fabric, which is made from reclaimed organic cotton and hemp. The Get Together Duo speaker pair can operate for up to 20 hours per charge from the right channel speaker and easily sync with mobile devices, televisions, laptops, or wireless turntables while delivering stereo sound. The left mains-powered speaker can remain on the shelf while the right battery powered speaker can be positioned on the other side of the room, house, or even brought outdoors. Each speaker measures 7.8" tall, 5" wide, and 4" deep. They are perfectly matched to the House of Marley Stir it Up Wireless turntable, both featuring the signature bamboo finish. They feature 3.5″ woofers and 1″ tweeters offering a total of 20W sound along with Bluetooth 5.0 for wirelesss connectivity, AUX and Phono inputs, and USB-C charging. Get them for $250 per pair.
Apple AirTag Bluetooth Tracker
If dad has an iPhone, Apple AirTags are the perfect gifts, especially if he tends to be forgetful. Attach them to a valuable item, like a set of car keys, briefcase, luggage, or even in a wallet, then you can track its location using the Apple Find My app. If someone should find dad's lost or misplaced item, they can simply tap any NFC-enabled device to it to instantly pull up a Web page with his contact information (if you opt in for this). If dad simply can't find where he left his keys in the house, he can use Bluetooth to pinpoint its exact location, or even ask Siri for her help. They use replaceable batteries so once you set it up for dad (it's super simple so he could probably even do it himself), he'll be able to just replace the battery as needed. Get him one for $39 or, if you think he'd need more or you have multiple dads to buy for, grab a four-pack for $129. Buy direct from the Apple website and you can even personalize them with free engraving. It's a good idea to grab a loop or key ring to go with them, which must be purchased separately.
Apple iPad Pro
If dad has been in a serious need of a tablet upgrade, and he loves Apple, the new iPad Pro with the new M1 chip is a pretty slick device that, with the right accessories, can basically function as a laptop, too. It has a 12.9″ Liquid Retina XDR display, 5G, Thunderbolt support, 12MP ultra-wide front camera, and a cool new feature called Center Stage that keeps you perfectly in the centre of the frame while on a video call. With up to 2TB storage capacity, it could easily become dad's travel computer if you decide to grab him the Magic Keyboard as well. It starts at $999; the Magic Keyboard is another $400 so it doesn't come cheap. But it might be a great birthday gift follow-up.
Neptune by Peerless-AV Shade Series Outdoor TVs
There's nothing like relaxing in your own backyard with the barbecue going, a beer or glass of wine (or other preferred libation) in hand, and something on the TV. Wait, the TV? Yes, you can watch television outside, at least during the warmer months in Canada. But a good outdoor TV is needed. The Neptune Shade Series Outdoor TVs comes in 55″, 65″, and 75″ sizes, all of which come with a free Neptune Outdoor Tilting Wall Mount (US$199 value). They can withstand the harsh weather we get in Canada, including rain, show, and temperatures as low as -30 degrees Celsius and as high as 50-degrees. Powered by LG Displays, they feature high dynamic range that offers "brighter highlights with more contrast, resulting in deeper and richer colours for a more realistic, natural image," says the company. Offering 4K, UHD resolution and an IPS panel to boost colour performance and consistency, Neptune Outdoor TVs offer 178-degrees of viewing angles so you can watch TV while barbecuing on your own or adjust to enjoy the big game with the entire family and friends. Use the input in the back to plug in a streaming device; the TV's freePATH technology allows Wi-Fi signals within range to easily connect to the device for Smart TV compatibility. Learn more about what differentiates an outdoor TV from an indoor one.
Ring Floodlight Cam Wired Pro
If dad is already a Ring owner and wants to expand the system, the new Floodlight Cam Wired Pro is a good addition; but it's also a nice first device as well. Equipped with 3D motion detection and bird's eye view other features also deliver insight into motion events around your property. The re-imagined floodlight builds on the features of the popular Ring Floodlight Cam to monitor outdoor spaces with motion-activated LED lights and HD video. Along with 3D Motion Detection and Bird's Eye View, the Ring Floodlight Cam Wired Pro has a 110db siren and colour night vision. Audio+ helps users hear what's happening more distinctly, with crisp, clear sound thanks to an array microphone for enhanced audio and echo cancellation. Easily hardwire the camera to the outside of the home and connect to your Wi-Fi network for around-the-clock power. Check in on the property anytime from anywhere using a mobile or Alexa-enabled device and see and speak with visitors in real-time. Advanced features include Customizable Motion Zones that trigger recordings, and Privacy Zones that exclude areas in the camera field of view from video recording. It's available for $325.
NextBase 522GW Dash Cam
Dad will love the idea of having his own dash cam, not to mention that it will help keep him safe or provide valuable information for insurance should there ever be an incident. The NextBase 522GW dash cam comes with features like emergency SOS response, built-in Alexa voice control, 1,440p HD recording with a polarizing lens to reduce glare and reflections from the windshield, and a rotating bezel to customize the lens positioning. Equipped with a 3″ touch screen panel, there's even an intelligent parking mode that will record any bumps or physical movements on the vehicle when it's parked. With Wi-Fi, dad can download and share footage with others using the QuickLink Wi-Fi and MyNextbase Connect app. $299
WeBoost Destination RV Cellular Signal Booster
If dad likes to hit the open road in his RV, the WeBoost Destination RV cellular signal booster might be a great addition to his set-up, helping to improve the cellular signal as he drives through rural areas or known dead zones for cellular connectivity. Compatible with all mobile devices and wireless carriers in North America, it can come in handy for trailers as well, while parked on campgrounds, and other areas where the connection is weak or spotty. The Destination RV includes everything needed for do-it-yourself installation, including the cell signal booster itself, inside antenna, outside directional antenna, 25-foot telescoping pole, outside antenna mounting hardware, and power supply and cables. Handy dads will have a blast setting it up before your next road trip. $900
ZTE Unite IV Mobile Hotspot
ZTE Canada's pocket-sized ZTE Unite IV mobile hotspot offers customers high-speed mobile data while roaming anywhere through a dedicated high-speed mobile data connection. It provides up to 800 Mbps of high-speed data and lets you simultaneously connect up to 16 devices to Wi-Fi. The antenna technology ensures a stable signal and greater Wi-Fi range. The dual-band Wi-Fi router, meanwhile, connects to 5GHz and 2.4GHz bands simultaneously; enhancing link speed, reducing network congestion, and improving connection quality, says ZTE. The high-capacity 3,000 mAh battery can run for up to 12 days of stand by time and supports quick charging. The ZTE Unite IV hotspot features soft edges and curves and has a user-friendly interface that includes a full-colour, 2.4-inch touch screen.