Fitbit has introduced its next-generation smartwatches, the Versa 3 and the Sense, the former of which includes a number of features customers had been hoping for, including GPS and longer battery life, and the latter with new ones they might not have expected, like ECG and skin temperature sensor.
The Fitbit Sense features the "world's first" electrodermal activity (EDA) sensor, which is designed to help manage stress. It also includes a new ECG app and on-wrist skin temperature sensor. Offering up to six days of battery life, it will also be sold with a six-month trial of Fitbit Premium, where you can track things like heart rate variability (HRV), breathing rate, and SpO2 in the new Health Metrics dashboard.
Now with GPS, runners and cyclers can leave their smartphones at home when they head out for a workout and still be able to track their routes using the new Fitbit Versa 3. It also adds Google Assistant in addition to Amazon Alexa for on-wrist voice assistance. The Versa 3 offers drastically improved battery life of up to 10 days.
The idea, says James Park, co-founder and CEO of Fitbit, is to offer wearers data that they might only get once or twice a year at the doctor's office that they can use "to focus on your holistic health and wellness, at a time when it's needed most."
With the Fitbit Sense, for example, you can receive insights into your body's response to stress, helping you better manage both your physical and mental stress.The new EDA sensor on Fitbit Sense measures electrodermal activity responses. Using the EDA Scan app, place your palm over the face of the device to detect small electrical changes in the sweat level of your skin. Measuring your EDA responses can help you better manage your stress and understand your body's response to stressors. You can do a quick EDA Scan session on device to see your responses, or pair it with guided mindfulness sessions in the Fitbit app to see how your body responds during meditation or relaxation. At the end of your session, you will see an EDA response graph on-device and in the mobile app to gauge your progress over time and reflect on how you feel emotionally.
You'll also get a Stress Management Score that calculates how your body is responding to stress based on your heart rate, sleep, and activity level data. Access it from the new stress management tile in the Fitbit app, with a score from 1-100 – the higher the number, the less physical signs of stress your body is showing. The score is also coupled with recommendations to better manage stress, like breathing exercises and other mindfulness tools. Fitbit Premium members will get a detailed breakdown on how the score is calculated, which consists of over 10 biometric inputs, including exertion balance (impact of activity), responsiveness (heart rate, heart rate variability and electrodermal activity from the EDA Scan app), and sleep patterns (sleep quality).
All Fitbit users will have access to the new mindfulness tile in the Fitbit app. Here, you can set a weekly mindfulness goal and reminders, reflect on your stress, log your mood after sessions, and meditate as a part of your mindfulness practice. Premium members can choose from more than 100 meditation sessions from popular brands like Aaptiv, Aura, Breethe and Ten Percent Happier, listen to a variety of relaxing sounds from Fitbit, and see how your practice correlates with your mood over time.
In addition to Active Zone Minutes, which Fitbit launched earlier this year, Fitbit Sense is the first Fitbit device to include an ECG app for assessing your heart rhythm for signs of atrial fibrillation (AFib). Hold your fingers on the corners of the stainless steel ring around the watch while staying still for 30 seconds to get a reading you can download and share with your doctor.
Fitbit's new PurePulse 2.0 technology includes a multi-path heart rate sensor can detect both high and low heart rates and deliver notifications if your heart rate falls outside of the thresholds.
The skin temperature sensor in the Fitbit Sense can detect changes in your temperature that could be signs of a fever, illness, or the start of a new menstrual phase. Wear the device while sleeping every night to regularly measure skin temperature variations and detect trends.
The Health Metrics dashboard can also track breathing rate (average breaths per minute), resting heart rate, heart rate variability, and skin temperature variation. If you are a Premium member with a compatible device, you will see these daily metrics and trends over time to see potential changes to your wellbeing.
For Fitbit smartwatch users, there are also insights into your nightly average SpO2 levels (amount of oxygen in your blood). A series of free SpO2 clock faces show both your previous night's SpO2 range and nightly average. Premium members can track SpO2 trends over time in the Health Metrics dashboard. Fitbit hopes this can help wearers with early detection of infectious diseases, like COVID-19, along with the skin temperature sensor.
The Fitbit Sense also includes on-board GPS, 20+ on-device exercise modes, SmartTrack automatic activity tracking, Cardio Fitness Level and Score, and advanced sleep tools. It also has a built-in speaker and microphone for taking calls and replying to texts via voice commands. You can choose between Amazon Alexa or Google Assistant voice assistants, along with mobile payments, and more.
Made from aerospace grade aluminum and stainless steel, the watch face is placed inside new infinity bands that are flexible and comfortable, with a quick-release attachment that makes it easier to swap looks. The robotically crafted body features a fusion of glass and metal, and the watch is water resistant up to 50M. The biosensor core within has been configured to house the most sensors of any Fitbit device, while maintaining a sleek aesthetic and long battery life.
The larger AMOLED display features an integrated ambient light sensor to automatically dim the screen for easier viewing, along with an optional always-on display mode. The near edge-to-edge display is more responsive, with increased resolution. The user interface and faster processor has been completely redesigned, delivering intuitive, focused on-screen navigation. This includes the introduction of new customizable widgets, redesigned notifications, and on-screen apps for a cleaner look, while letting you customize your favourite tools and shortcuts to feature more personalized information for a seamless smartwatch experience.
The Versa 3, meanwhile, added, as noted, on-device GPS along with in-app workout intensity map, enhanced PurePulse 2.0 technology, Active Zone Minutes, built-in speaker and microphone, the choice of Google Assistant or Amazon Alexa, Fitbit Pay, curated playlists from music partners Deezer, Pandora, and Spotify, and a new design.
For the first time, both Fitbit Versa 3 and Fitbit Sense will use the same magnetic charger that can provide an extra day of use with just a quick 12-minute charge. Cross-compatible accessories feature an easy, quick-release band attachment and come in a wide variety of colours and styles, including designer partnerships with Pendleton and Victor Glemaud.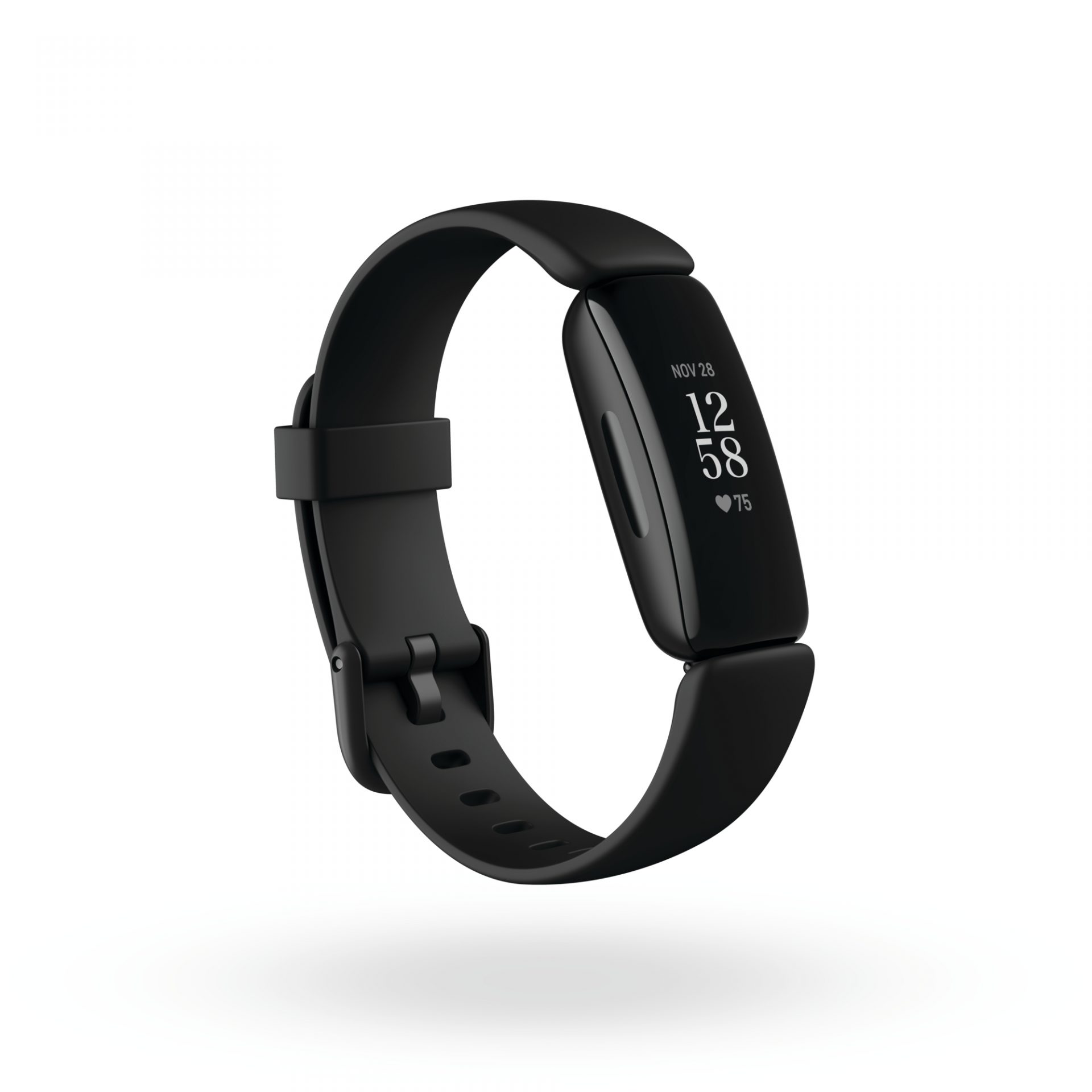 Additionally, Fitbit has also launched the Fitbit Inspire 2, which employs a slimmer design and includes features like Active Zone Minutes, 10-day battery life, 20+ goal-based exercise modes, advanced sleep tools, 24/7 heat rate tracking, menstrual health tracking, food and hydration intake, and weight, and comes with a one-year free trial of Fitbit Premium.
Fitbit Sense, Fitbit Versa 3, and Fitbit Inspire 2 are available today for pre-order with broad worldwide availability starting in late September. The Sense will sell in Canada for $429.95 in carbon/graphite stainless steel or lunar white/soft gold stainless steel. The Versa 3 will be $299.95 and come in black/black aluminum, pink clay/soft gold aluminum, or midnight/soft gold aluminum. There will be plenty of optional band options sold separately as well, starting at $44.95. The Inspire 2 is available for $129.95 in black, lunar white, or desert rose.
Fitbit Premium is available for $13.49/mo. or $107/yr.