It's that time of year again! We're back with the WiFi HiFi Holiday Gift Guides! Not sure what to get that special someone on your list? It has been a particularly tough year, and we all deserve some joy. There are lots of tech gift to suit an enduring passion, new hobby, personality, or style. Here, we'll look at great gift ideas for the fashion-forward and stylish person who's also into high-tech.
Maison Kitsune Edition Samsung Galaxy Watch4 Smartwatch & Galaxy Buds2 True Wireless Earbuds
Samsung has several Bespoke products this year, from its 4-door French refrigerator to its foldable Z Fold3 smartphone. But the ones that would make perfect gifts for the fashionista are the Maison Kitsune Edition Galaxy Watch4 smartwatch and Galaxy Buds2 true wireless earbuds. The special-edition Galaxy Watch4 Maison Kitsuné Edition and the Galaxy Buds2 Maison Kitsuné Edition both incorporate Maison Kitsuné's signature aesthetic, from the watch straps and faces to the buds themselves as well as their case. A refined new hue, Moonrock Beige, was also created specifically for this collaboration. The Galaxy Watch4 Maison Kitsuné Edition has Moonrock Beige straps punctuated by a charming Fox-shaped hole and delicate engravings. It comes with an additional custom Stardust Gray strap with the Maison Kitsuné lettering so you can alternate looks.
Also in Moonrock Beige, the Galaxy Buds2 Maison Kitsuné Edition are housed in a sleek Stardust Gray leather case emblazoned with a reimagined Maison Kitsuné Fox Head logo. The right earbud features the Fox's head, while the left earbud showcases its tail, meant to represent an uninterrupted journey through the Samsung Galaxy, says the company.
Both are only available for purchase at Samsung.ca with limited availability in Canada. Grab the Galaxy Watch4 Maison Kitsuné Edition as a 40mm Bluetooth model for $530 with the additional Stardust Gray strap in the box, or the Galaxy Buds2 Maison Kitsuné Edition in Moonrock Beige for $350. Want to go all out? Grab them both to wear as fully coordinated accessories.
Ikea and Sonos Symfonisk Table Lamp Speaker
Help a fashionista spice up the look of their home with this table lamp in a colour combination you think they'll love, or grab both the black and white shades to go with the black or white base so they can swap looks to suit their mood or decor. The lamp speaker connects over Wi-Fi and can be used to play background music, or connect it to other Sonos products, both within the Symfonisk line and others, for more immersive audio. As part of the Sonos system, the table lamp easily connects to more than 100 streaming services. The Symfonisk speaker lamp base with Wi-Fi is $159 in either black or white. The glass shade, also in black or white, is $40, and the textile shade in the same color options is $20. So, you can get a base and a shade in each colour for under $200 for the whole she-bang.
Fitbit Luxe Activity Tracker
The Fitbit Luxe, which I reviewed earlier this year, might be small and thin, resembling a bracelet, and is limited in features compared to some of Fitbit's other models. But for a fashionista, it's the best option. Don't let its stylish look fool you, though: Luxe can indeed work as a wonderful workout companion, too. It tracks everything you'd expect from an activity tracker, including activity, steps, sleep, stress, menstrual health, heart rate, breathing rate, skin temperature variation, and, coming soon, Sp02 oxygen saturation. Use it with the Fitbit app, and add a Fitbit Premium subscription for more via guided workouts, mindfulness exercises, tips, tricks, and full health reports (the device comes with six-month trial subscription). With a 5-day battery life, the ability to display smartphone notifications via vertical text, and more, the Luxe is the perfect activity tracker for someone who doesn't want to advertise that they're wearing one, nor have something big and bulky on their list that can interfere with their overall look. $200
Urbanista Lisbon True Wireless Earbuds
These true wireless earbuds come in five colours – Coral Peach (pastel red), Vanilla Cream (beige), Blush Pink (pink), Mint Green (green), and Midnight Black (black) – and operate for nine hours of playtime per charge, a total of 27 hours using the included charging case that holds up to two charges. The earbuds weigh less than an ounce and are compact, fitting nicely in your ears using the universal GoFit wing. Featuring Bluetooth 5.2 wireless and USB Type-C charging, they are compatible with iOS and Android devices as well as Siri and Google Assistant. They're available for a MAP of $70 through the company's Canadian distributor, Erikson Consumer.
Nikon Z fc DX Format Camera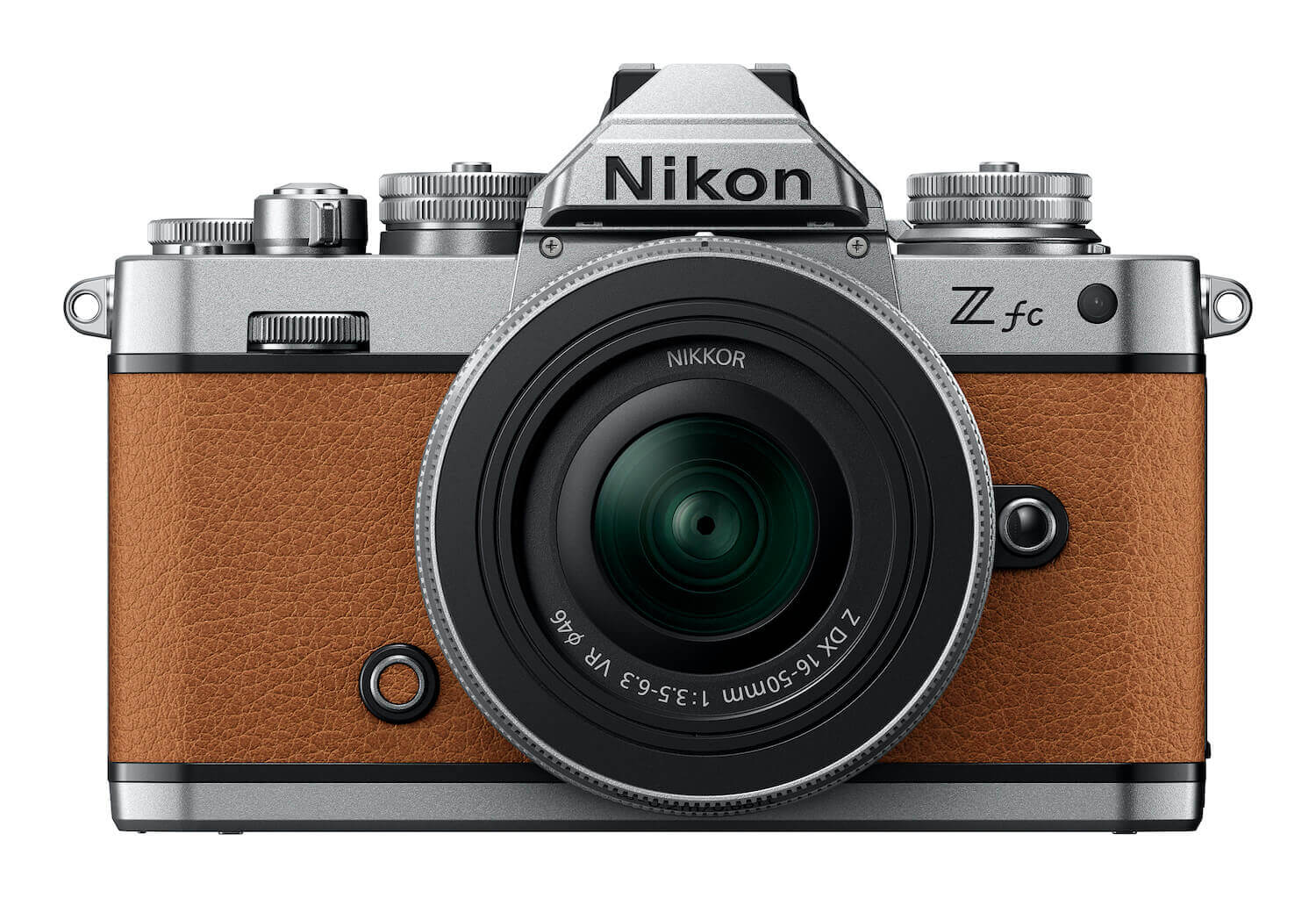 For a fashionista who is into both looking the part and capturing people through photos, a new camera might be the perfect gift – particularly if they have picked up photography as a new hobby or have shown interest in doing so. The Nikon Z fc is a DX-format camera that combines mirrorless technology with classic design and functionality. The compact and lightweight camera features analog controls and works with two new stylized lenses. Inspired by the popular Nikon FM2 film SLR, the Z fc allows you to go fully automatic or manual with mechanical dials for shutter speed, ISO, and exposure compensation. The exterior of the camera is wrapped in a vintage leather-tone material that offers a premium feel with a blend of black and satin silver elements. It has carved aluminum dials, engraved lettering, and a circular eyepiece surrounding the bright electronic viewfinder. The Vari-Angle touchscreen LCD flips out to face you and automatically adjusts for self-portraits, working on a tripod or holding at waist level for creative angles. The camera comes equipped with a 20.9-MP CMOS sensor paired with the EXPEED 6 engine to provide clean, professional quality videos and stills, even in low light. They can record video, too, with 4K UHD video capture capabilities and a variety of frame rates. Slow motion can be created with the 1080p/120p setting or the 4x/5x in-camera slow motion modes. A built-in interval timer also allows for the creation of 4K time-lapse movies. The lightweight magnesium alloy frame is dust- and drip-resistant and Nikon says the small and flattened profile fits easily into bags. In addition to the retro black and silver, the Z fc will be available in six additional colour options: white, coral pink, mint green, sand beige, amber brown, and natural gray. Body only is $1,300.
Focal Clear Mg Headphones
Dubbed "luxury" headphones, Focal's Clear Mg are open-back headphones that feature a magnesium dome for the drivers combined with an 'M'-shaped dome that Focal says contributes to "even more lightness, rigidity and damping." Combined with an amplifier/DAC, Clear Mg headphones offer an impedance of 55 Ohms. The solid aluminum yoke has been developed to mold to the face while the headband is covered in genuine leather and microfiber to offer a constant curve, no matter which way the head turns. The perforated microfiber earpads offer enhanced opening and comfort as well. The outside of the earpads, meanwhile, boast a honeycomb pattern with a Chestnut and Mixed-Metals finish that blends classic and modern looks. The carrying case has been woven in colours to match the headphones. They sell for $1,990.
Fitbit Fashion Designer Collection Accessories
If you know someone who owns a Fitbit smartwatch or activity tracker and know which model they have, you can grab then a fashionable new band they can use for formal occasions, or just to change up the look when they're in the mood. The Victor Glemaud bands, for example, are available for the Sense and Versa 3. Made with REPREVE recycled plastic fibres and in a variety of nude shades to suit different skin tones, each one has a touch of sparkle via metallic flecks so it looks different from different angles and in different lights. US$40 ea.
Samsung The Frame Smart TV
WiFi HiFi's John Thomson reviewed the Samsung The Frame TV and absolutely adored it. Available in sizes from 43″ up to 75″, it's the perfect gift for a fashionista to express their love of fashion at home as well. The idea behind the ultra-slim and sleek TV is that, not only does it display a gorgeous 4K picture (with a compatible source), it can also display works of art when it's off. This means it isn't an eyesore mounted on the wall when you aren't actively watching TV, but disguises as a painting or piece of artwork. The regular prices start at $1,400 but you might be able to find them on sale for deep discounts in time for the holidays.
Leon Speakers FrameBar
There's nothing a fashion- and design-conscious person loves better than being able to create symmetry and a complete look, whether it's for an outfit or a room of the home. So, consider getting the Leon Speakers FrameBar along with The Frame TV, or for someone you know already owns the display. While the FrameBar can technically be paired with any TV, the ultra-thin soundbar was designed specifically to match the width and finish of Samsung's The Frame TV. Available in two models and the same four finish options as the TV – white, black, brown, and beige – each one blends nicely with the gorgeous television. A variation of Leon's popular HzUT soundbar, it features 2.5" audiophile-grade woofers and 22mm cloth-dome tweeters in an ultra-thin cabinet only 2.375" deep that mounts flush to the wall. It features flat moulding with an exposed cabinet edge on the front of the soundbar. It ships standard with a black fabric grille cloth and there is the option to upgrade to a collection of designer grille fabrics to give the installation a more customized look.
LG XBOOM 360 Speaker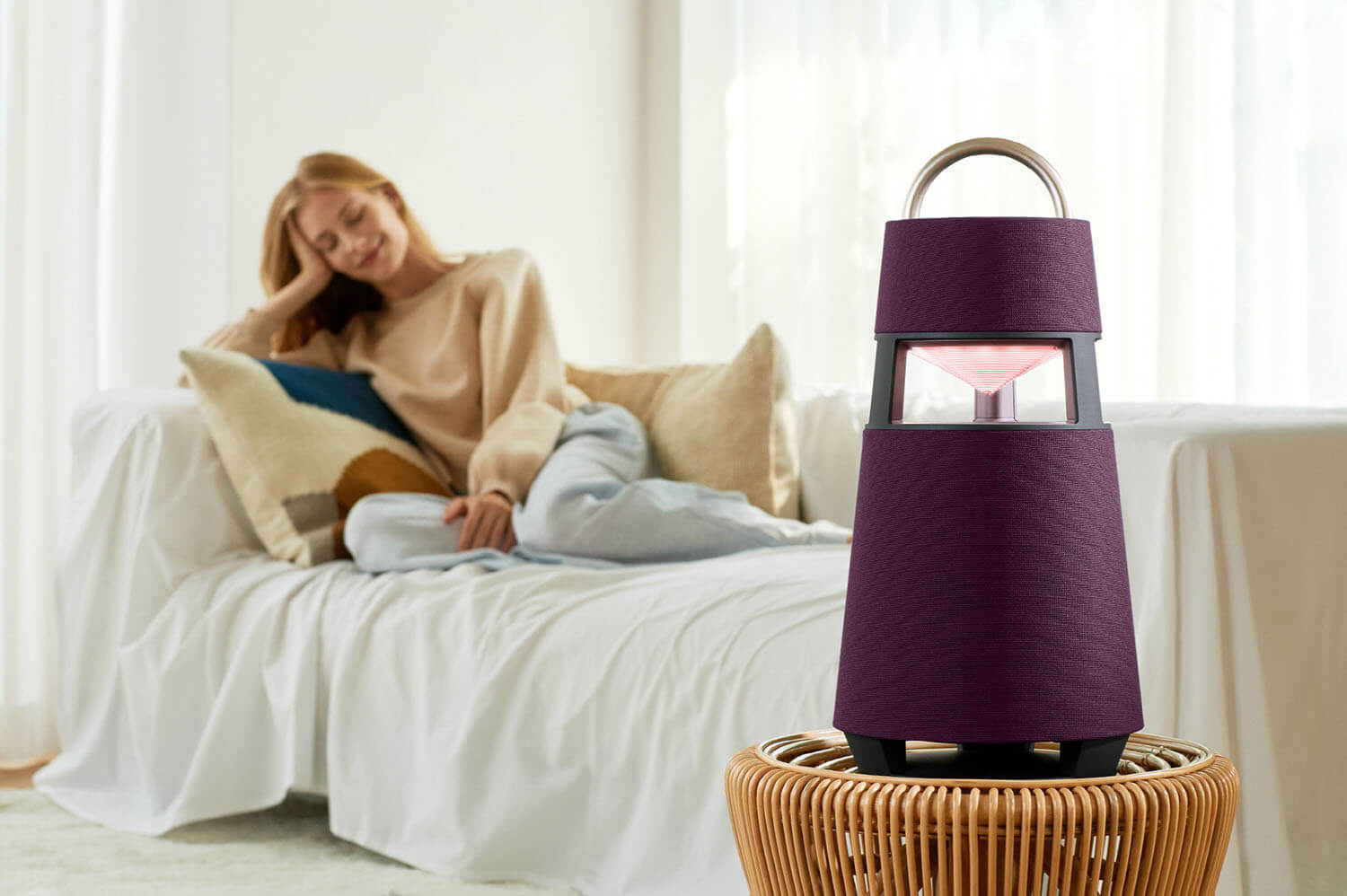 A statement piece in any home, the LG RP4 XBOOM 360 speaker boasts a unique and eye-catching cylindrical design that has an audible purpose as well: the aesthetic allows it to deliver omnidirectional audio, radiating sound in all directions. The conical shape accommodates the distortion-free reflector structure of the speaker, which delivers 360-degree sound with minimal distortion. Accompanying the 360° sound is 360° mood lighting with three presets for ambient, nature, and party. There are also customizable lighting options and sound effects, all controllable using the app; as well as a DJ Effect feature for mixing multiple samples, scratching, and other sound effects. Get up to 10 hours per charge and easily bring it from the bedroom to the living room to the basement using the built-in metal handle. The speaker comes finished in striking burgundy and will appeal to eco-conscious folks as well thanks to the fact that it's partially made from recycled plastic and other post-consumer materials. Grab it for about $500.