Since upgrading to the Fitbit Sense last year, I have been pleased with the smartwatch. It tracks every stat under the sun, including Sp02, has built-in GPS so I can log my walking routes, hikes, and bike rides, and has tons of cool watch faces. But it is a pretty big contraption on my wrist. Enter the Fitbit Luxe, which I thought might be a great option to wear on nights out so I don't lose out on steps. But, as it turns out, this adorable, sleek little tracker is actually cooler than I thought and makes a viable workout companion.
The ultra-thin tracker, which is about the same size as the kids Ace 2 or 3 devices, looks like a bracelet, fitting around a wrist like a piece of jewelry. Use one of the optional fashion-forward bands and you could easily pull it off as a part of a dressy outfit. But what's most important is that, despite its small size, the Luxe does actually let you do all of the things you'd expect from a more sports-centric fitness tracker.
Navigating the Fitbit Luxe Screen
It takes some getting used to not having buttons on either side and only being able to tap the tiny screen to wake, then swipe left/right and up/down to go through menus. There's also a short learning curve to figure out which way to swipe to get to which menus. But once you get the hang of it, it's pretty neat.
Not only does this tracker display notifications from a connected smartphone, but it shows full text, not just a line or two scrolling across the screen, in vertical orientation. (You will see just the first bit of a lengthy e-mail, though). But keep in mind that the text is fairly small, so if you are far-sighted, you might want to check one out in the store before investing, or ensure you wear your glasses to be able to read the messages. The screen, however, is bright and clear so most people should have no issue reading it.
There's a Do Not Disturb mode if you want to prevent your wrist from buzzing constantly while you're driving, for example, or in a meeting or movie. And you can turn off screen wake if you don't want it lighting up every time you move around while sleeping.
Using the Fitbit Luxe While Exercising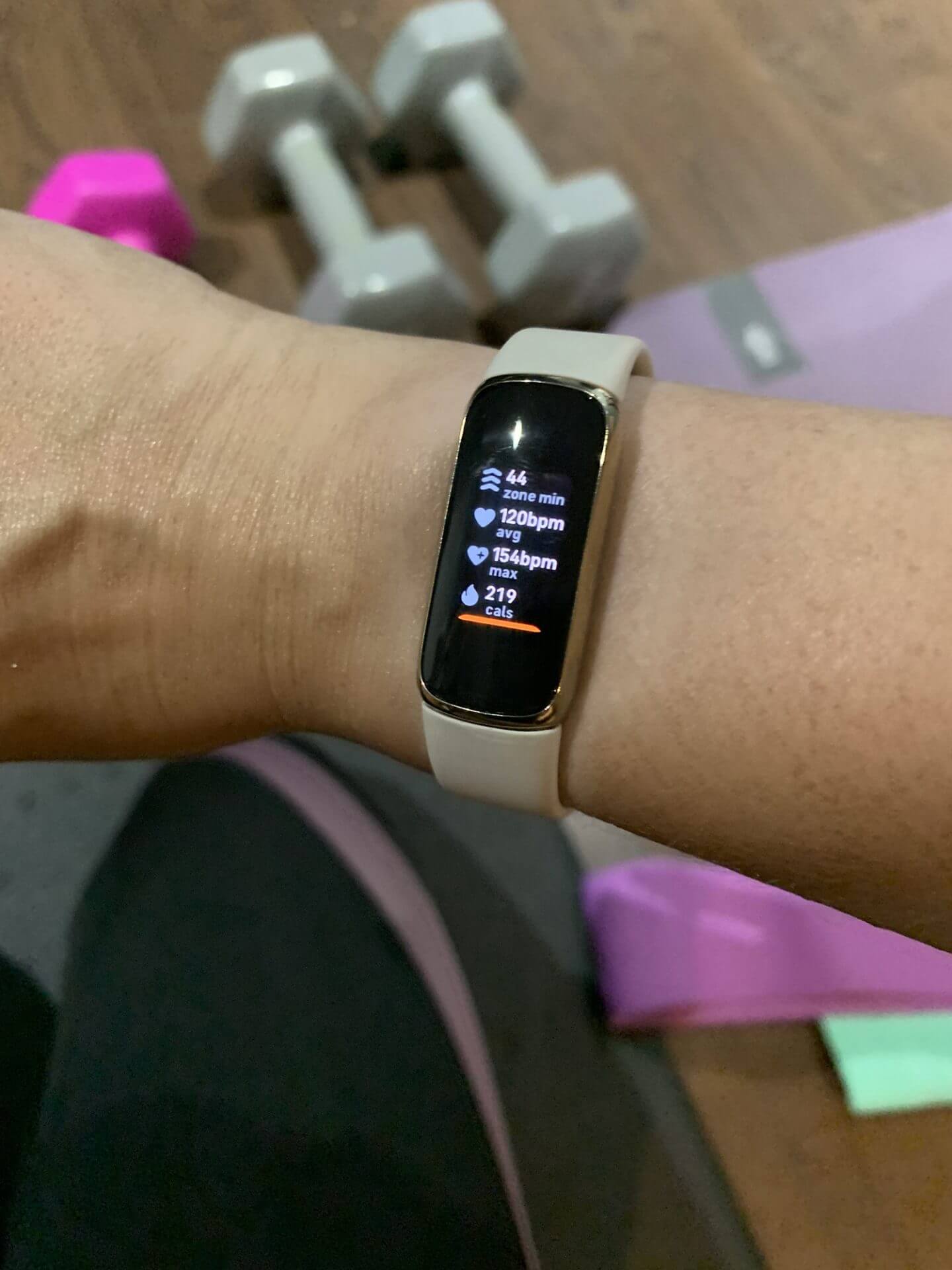 I work out every morning and walk/run/jog at least four times per week. The first thing I do before starting any activity is activate the workout on my tracker. Doing this from the Luxe is just as simple as with the Sense. At the beginning, the Luxe seemed to log data like heart rate during workouts much more generously than the Sense. While the figures began to even out after about a week, it still tracks my heart rate at higher levels than the Sense, even with the same workouts and positioning it on the same place I'd typically wear the Sense on my wrist.
Fitbit advises that this could be due to the fact that smartwatches have more surface area for the sensors compared to trackers. "They also have different sensors and algorithms," the company spokesperson notes, "as you may expect given the overall size of Sense vs Luxe." Nonetheless, it still gives me a good general idea of how I'm performing in each workout, including when I enter fat burn, cardio, and peak levels. With the Luxe, you can turn notifications on so the screen will light up and the tracker will buzz when you reach a specific stage so you can slow down or amp up as needed to get the best results.
If you forget to log a workout, the tracker can also auto-sense certain workouts. When I played a quick 15-minute game of catch with my son in the backyard one day, it automatically logged it as a Sport activity.
What Tracking Do You Get With the Fitbit Luxe?
You get all of the usual tracking you'd expect from a premium Fitbit device, including detailed sleep data, a daily stress management score based on activity levels, sleep, and heart rate, relax breathing exercises, breathing rate, Active Zone Minutes, reminders to move, heart rate variability, and resting heart rate tracking, skin temperature variation, and, coming soon, Sp02.
The lack of Sp02 tracking right now was something I missed not having after switching from the Sense to the Luxe. There's no word yet on when Sp02 will be available for the Luxe, so if you're willing to wait, you can rest assured it will be an available feature soon. You also won't get stair climb stats, which might not be a big deal for some, but if you like capturing and seeing your climbs each day, it will be a noticeable omission.
While the Luxe does not have built-in GPS tracking, which is a great feature, I find I bring my phone along for runs, hikes, and bike rides anyway. So, using the connected GPS with the Luxe is sufficient. It still provides my real-time pace, distance, and route, complete with a map that I can look at in the app with all of this data. I just can't leave my phone behind to get that.
You can use the app to track other aspects of your health and wellness, including food intake, hydration, and weight. I have been using the Fitbit Aria smart scale to log my weight, body mass index, and body fat percentage for years and find it to be the perfect companion. Since the Luxe is swim-proof, I have worn it in the shower and outside in the rain, and even in a pool (be careful of salt water and chlorine, which can harm any smartwatch or electronic device.)
What Else to Know About the Fitbit Luxe
Battery life is a big deal for me, as I'm often in competition with friends and hate missing out on even a few steps. Plus, I value being able to consistently track my sleep. Luckily, the Luxe has a battery that lasts for up to five days per charge, which is decent, and it recharges pretty quickly, like other Fitbit devices.
As with other Fitbit devices, you can sign up for Fitbit Premium to get access to deeper analysis along with in-app workouts, mindfulness videos and activities, personal guidance, health reports, and more.
Like every Fitbit, the Luxe is compatible with both Android and iOS devices. Not surprisingly, given Fitbit's recent acquisition by Google, those with compatible Android mobile devices can also enjoy Google Fast Pair to get going quickly, out of the box. I used the device with my iPhone XR, however, and pairing was simple, requiring only a quick update before I could get going.
It's really simple to click the little tracker out of its band and swap it out for another, allowing you to grab a selection of bands and personalize the look for workouts, workdays, and nights out on the town.
Should You Get the Fitbit Luxe?
At first glance, the Fitbit Luxe appears to be a device designed for the everyday user who just wants to count steps and keep track of sleep. But after using it for several weeks in place of my Fitbit Sense while doing intense workouts, runs, and walks, it was totally up to the challenge.
At $200 with a six-month free trial to Fitbit Premium, the Fitbit Luxe is for the style-conscious person who wants something sleek versus a larger-faced smartwatch. You could easily wear the Luxe with the right band to a wedding or formal occasion and it would fit right in. (I do wish it had more clock face options from which to choose, however).
You get a ton of premium features with this tracker and considering that it's half the size and price of the Sense, that's a big deal. If smartphone notifications are important, you might find it lacking in that department, since it displays small text and there's lots of scrolling to read through an average-length message. But if you only want to skim a message to see if it's important and reply from your phone or computer later, it will do – as long as you aren't straining to read without your eyeglasses.
It all comes down to a matter of style. But don't discount the Fitbit Luxe as a viable option for active individuals. You won't get to see workouts on your wrist and you'll be dealing with a much smaller screen designed for tinier hands and fingers. But under the hood, this fitness tracker has a lot to offer.