It's that time of year again! We're back with the WiFi HiFi Holiday Gift Guides! Not sure what to get that special someone on your list? It has been a particularly tough year, and we all deserve some joy. There are lots of tech gift to suit an enduring passion, new hobby, personality, or style. Here, we'll look at great gift ideas for someone who works from home, either in full or in part, and is looking to create their WFH oasis.
Asus Chromebook Flip CX3
Those working on a hybrid schedule might prefer to keep their office computer at the office and have a separate device to use at home. A Chromebook is a great option since everything is stored in the cloud, so you can easily access whatever you were working on at home once you get to the office without worrying that you forgot to copy a file over from one computer to another. With military-grade durability and an 11th Gen Intel Core i7 processor along with Wi-Fi 6, fanless design, and 14-inch screen, it also has a garaged stylus when you want to leverage the touchscreen. It comes with up to 16GB of memory and 512GB of storage and is tested and certified with Asus Wi-Fi Master for Chrome OS. Finished in an attractive new AI Blue colour, the chassis features a dual-tapered design in which the body and lid converge to form a V-shaped edge that facilitates opening the device. The four-sided NanoEdge display maximizes screen area with an 80% screen-to-body ratio, while the 14-inch Full HD IPS panel also offers wide 178° viewing angles. There are two cameras: one standard webcam, ideal for virtual meetings with the team, and a special world-facing camera. The standard HD webcam has a shield that slides over it to ensure privacy, while the 5 MP world-facing camera is located beside the keyboard and allows you to easily capture photos and videos in tablet mode. The precision-engineered 360° ErgoLift hinge smoothly adjusts the display at any angle and lifts and tilts the keyboard into the most comfortable typing position. Enjoy all-day productivity with up to 11 hours of battery life on a single charge. MSRP $999.
HP Envy 34-inch All-in-One Desktop PC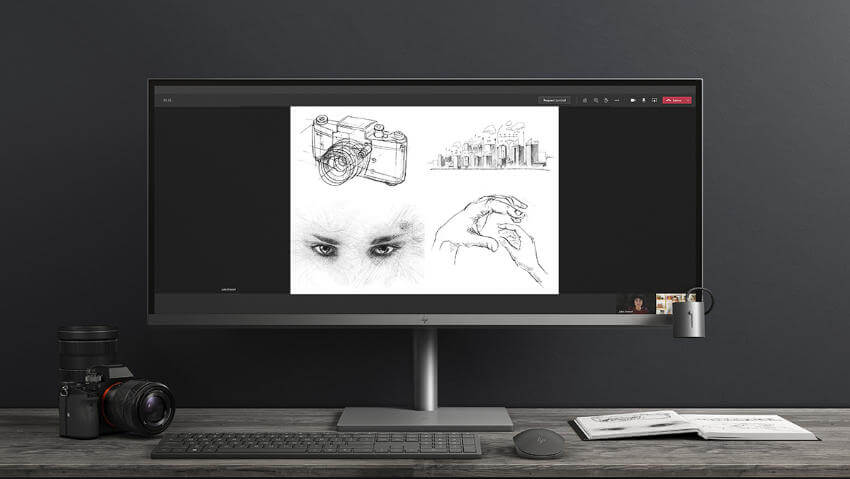 For something with a more permanent set-up in the home office, this all-in-one desktop (starts at US$1,999) has a height-adjustable display with a wide 21:9 ratio micro-edge. Coupled with the new Windows 11 Snap Layouts, you can easily view multiple documents side by side or quickly move a window to a specific region of the screen. The 5K display and true colour accuracy is offered with factory colour calibration and 98% DCI-P3. It also has a detachable, magnetic camera with an advanced 16 MP binning technology and 2 μm pixel sensor. You can customize how you appear in the camera with HP Enhanced Lighting, which leverages the lighting controls in your display. It comes equipped with an up to 8-core 11th Gen Intel Core i9 S-series processor and NVIDIA GeForce RTX 3080 graphics. Design-wise, the computer cleverly has an embedded power supply design, advanced thermal solution, wireless charging pads built into the stand, and multiple ports including Thunderbolt 4 support.
HP Spectre x360 Laptop
For a laptop format instead, opt for the HP Spectre x360, a 16-inch 2-in-1 laptop PC that comes in nocturne blue with celestial blue accents and nightfall black with pale brass accents, comes with an integrated, intelligent 5 MP camera that allows owners to easily log in using Windows Hello. The camera features a physical shutter controlled by a hot key, with an on-screen display shown in all apps that use the camera to remind the user of its status for added security. HP GlamCam in the HP Command Center includes Beauty Mode to touch up skin, teeth, and eyes – perfect before an important video call with clients. Meanwhile, take a break mid-call with Auto Frame. Lighting Correction brings the right amount of light to your face by adjusting poor lighting conditions for a seamless transition when you're moving from the home office to the patio. The device automatically locks when you walk away and awakens when you approach. When you look away, the screen dims so you can save battery. If someone is behind you, the device will blur the screen to protect against shoulder surfing. You can also receive wellbeing reminders, including screen time and distance. There's also newly designed quad speakers for higher volume, more balanced treble, and AI Noise Removal that mutes background noise; an Intel Evo verified platform 11th Gen Intel Core i7 Processor,16 NVIDIA GeForce RTX 3050 Laptop GPU,17 up to Wi-Fi 6E18 with Network Booster and Bluetooth 5.2, and up to 17 hours of battery life. This is also the first HP consumer notebook made with recycled CNC aluminum along with a sustainably made keyboard, bezels and a speaker box made with ocean-bound plastic, along with molded fiber packaging to help reduce the environmental impact. It also has EPEAT Gold & ENERGY STAR ratings. Starting price is US$1,639.
Microsoft Surface Pro 8
The Microsoft Surface Pro 8 (starts at $1,400) features a more modernized redesign that affords more screen real estate on the high-resolution 13-inch display, with curvature updated to refine its profile and maintain an ultra-portable form factor, says Microsoft. Featuring11th Gen Intel Core processors, new port selection (notably two Thunderbolt ports), and next-step advancement on cameras and speakers, its new Type Cover pairs with the Surface Slim Pen 2, with built-in storage and wireless charging.
Satechi Aluminum Stand & Hub
The Satechi Aluminum Stand & Hub for the newest iPad Pro tablet features six ports and a foldable design. The stand elevates the iPad Pro off a desk, making it ideal to use as a second screen, drawing canvas, or for video calling friends and family, keeping it at the optimal viewing angle. Designed to complement Apple devices with the sleek aluminum design, the Stand features a 4K HDMI (60Hz) port, USB-C PD charging, USB-A data port, SD card readers, and an audio jack port so you can connect a variety of peripherals. Because it is foldable, you can also easily carry it from the office to home and pop it into your bag, backpack, or briefcase for travels. US$100
Kanto YU Passive 5.25 & Passive 4 Speakers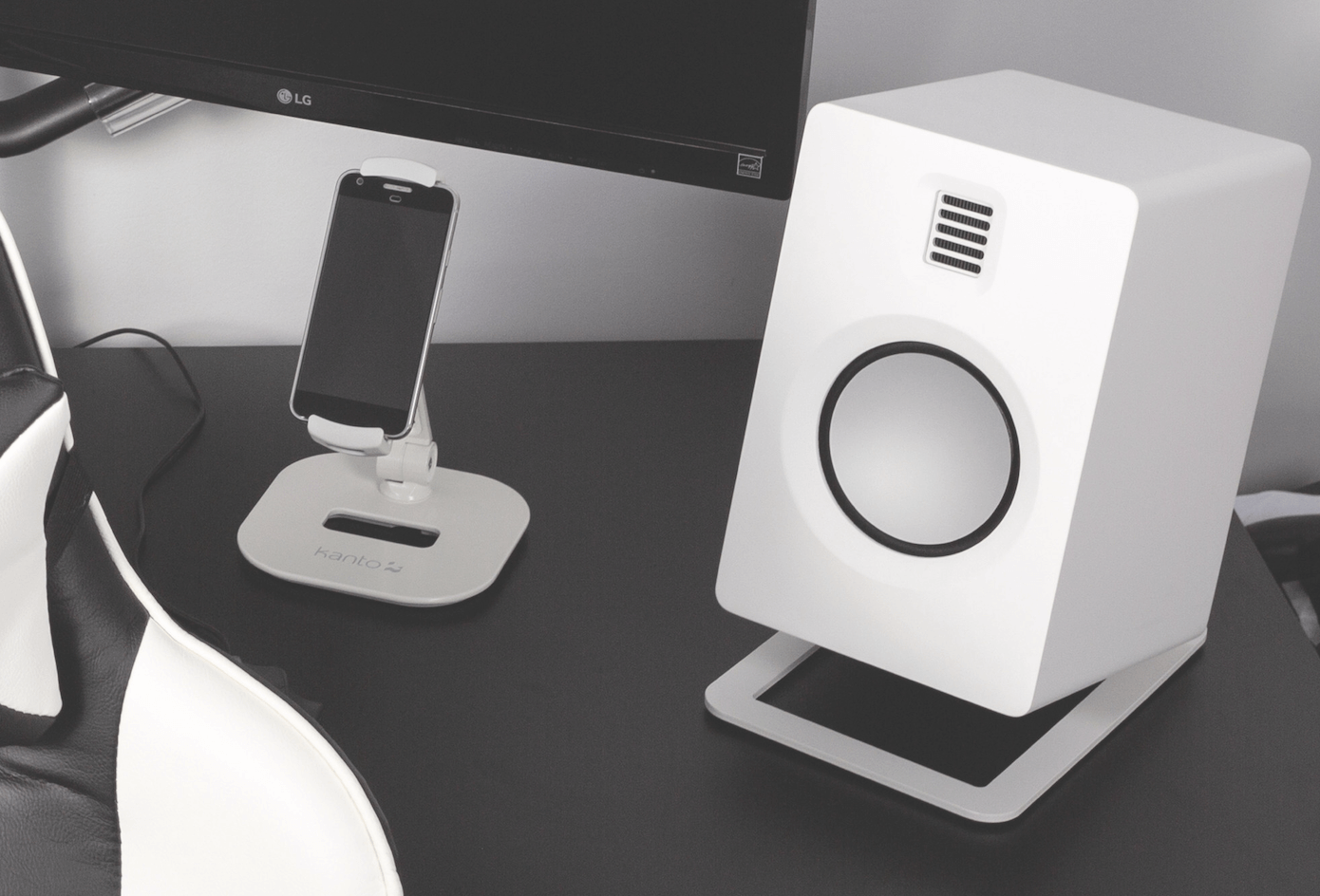 The Kanto YU Passive 5.25″ passive speaker (MAP: $199 per pair) features a 5.25-inch Kevlar woofer and 1-inch silk dome tweeter, and the YU Passive 4″ (MAP: $159 per pair) has a 4-inch woofer and 1-inch silk-dome tweeter. Both models are designed as desktop speakers with a DAC/amplifier or amp, as part of a compact high-quality stereo music or TV sound system, or as the rear, side or height channels in a home theater setup. Measuring 10.7 inches high by 6.9 inches wide by 8.1 inches deep (YU Passive 5.25″) and 8.7 inches high by 5.5 inches wide by 7.5 inches deep (YU Passive 4″), both speakers use the same high-quality drivers as the Kanto YU6 and YU4 active speakers to deliver a wide sound field with precise imaging. The two models are available in black or white vinyl wrap to complement a home office setup.
Samsung Galaxy Book Pro 360
The Samsung Galaxy Book Pro 360 weighs 1,063 grams, measures 11.5mm, and is built with the same 6000-series aluminum alloy trusted by leading aerospace manufacturers around the world. It boasts long battery life and offers fast charging through a USB-C adapter. You can also experience up to three times faster Wi-Fi as it is Wi-Fi 6E ready. Along with a touch screen, it features an Intelligent Color Engine that automatically fine-tunes your colour depending on the task. Movies and games will also appear vivid in DCI-P310 or AMOLED Native colour profiles, says Samsung. SGS Eye Care-certified, it produces up to 70% less blue light emissions (compared to previous Galaxy Books) to reduce eyestrain. The laptop also has AKG speakers and Dolby Atmos sound to deliver an immersive experience. Powered by an 11th Gen Intel Core processor and Intel Iris Xe graphics, Studio Mode lets you create ideal video call environments, combined with Intelligent Noise Cancelling to eliminates ambient noise from your microphone so you will be seen and heard with clarity. With Screen Recorder and Samsung Studio Plus, you can record your screen in combination with your voice, and then polish your videos afterward with editing tools. Galaxy Book Pro 360 also comes with an upgraded S Pen in the box. The Galaxy Book Pro 360 is available in Mystic Silver and Mystic Navy starting at $1,600 (regular price) in 13.3-inches with an Intel Core i5. Galaxy Book Pro 360 also comes in 15.6-inches with an Intel Core i5 or i7 processor, starting at $1,730.
ZTE Unite IV Mobile Hotspot
Even if you work predominantly from home, there are times you might have to work in other locations, including while traveling. The ZTE Canada pocket-sized ZTE Unite IV mobile hotspot offers high-speed mobile data while roaming anywhere. This means you can do everything from send and receive large e-mails to upload and download big files, stream live video chats, music, videos, and more, no matter where you are. It provides up to 800 Mbps of high-speed data and lets you simultaneously connect up to 16 devices to Wi-Fi. The antenna technology ensures a stable signal and greater Wi-Fi range. The dual-band Wi-Fi router, meanwhile, connects to 5GHz and 2.4GHz bands simultaneously; enhancing link speed, reducing network congestion, and improving connection quality, says ZTE. The high-capacity 3,000 mAh battery can run for up to 12 days of stand by time and supports quick charging. In terms of design, the ZTE Unite IV hotspot features soft edges and curves and has a user-friendly interface that includes a full-colour, 2.4-inch touch screen.
Epson EcoTank Photo ET-8550 Supertank Printer
Since switching to an Epson EcoTank printer several years ago, I would never go back. It saves tons of time in reducing trips to the store to get ink, not to mention money. Yes, the upfront cost is higher – $1,000 with this top-line model – but that will easily pay for itself over the first few years. Each printer comes with a two-year supply of ink that pours into reservoirs. When they need to be refilled, refillable ink bottles are around the same price as traditional ink cartridges. Do the math and it's easy to see how you'd come out ahead. This model, ideal for a home office since it can be used for lots of creative personal projects as well, can print to photo paper as well as standard, delivering lab-quality photos for framing and mounting on the wall or placing in a scrapbook or album. It uses six colour inks to provide vivid and vibrant images, and can print on paper up to 13 x 19 inches in size. While it's a photo printer, it can also be used as a traditional all-in-one, making prints, copies, and scans during the workday, then let the whole family use it for fun projects at night and on weekends.
Amazon Echo Show 15
With the Amazon Echo Show 15 in your home office, you can manage both your work and personal schedule all in one place, glancing at what's on tap for each day as you get ready in the morning or step into your office or kitchen to grab a coffee and quick breakfast. Visual ID can recognize its you and display your personalized information, including calendar items and reminders, preferred news headlines, or even personal notes from family members. It can even queue up your favourite playlist to kickstart the day. Use the new Alexa widgets to show the personalized information you want to prioritize, whether it's breaking news headlines, app updates, and more. Plus, keep tabs on other appointments, like your chiropractor, the kids dentist appointment, or when your spouse will be traveling for business; update your grocery and office supplies shopping list, and even see a shared calendar among family members. As a smart display, you can also use it to control other compatible smart gadgets in the home. When you're on lunch break, catch up on your favourite TV by watching an episode from a streaming service like Netflix, Amazon Prime Video, and Disney+. Shipping as of December 9, you can pre-order one for $330.