Whether they run daily, are training for a marathon, ski, snowboard, cycle, hike, or workout at home with a mix of HIIT, cardio, strength training, and/or more, chances are that friend who has gotten into fitness is all about fitness. That means there are plenty of gifts you can get for them that they'll love, including tons in the realm of tech. Not sure what they might need? Here are some ideas.
Shokz Openmove Bone Conduction Headphones
A good friend of mine who runs 10K daily recently bought these headphones and absolutely loves them. Thanks to the unique bone conduction design, they fit around the back of the neck and use bone conduction technology to allow for a completely open ear design so you can still hear clearly without distracting others around you and keeping your ears fully free. Lightweight and water resistant, you get a total of six hours per charge. The 'phones come in four colours and sell for $100.
Fitbit Charge 5
While Fitbit offers plenty of new smartwatches, including the Sense 2 and Versa 4, along with a newer model activity tracker in the Inspire 3, I'm still partial to the Fitbit Charge 5: it's the perfect Goldilocks model among them all. It's a bit wider than the Inspire models but smaller than a smartwatch. I found when I reviewed the Charge 5 last year that it's simple to use and has all the bells and whistles you'd want, including detailed sleep tracking, 24/7 heart rate, Active Zone Minutes, Sp02 monitoring, ECG assessments, phone notifications, and more. I've been wearing one for over a year and it remains my favourite in the line. Nowadays, you can grab one for $200.
Apple Watch Series 8
Of course, some Apple users are deadset on the Apple Watch, and there are tons of fitness features in the new Apple Watch Series 8, including activity tracking with the usual rings, ECG detection, and fall detection, along with upgrades like a low power mode that extends battery life and an enhanced workout app that can track tons of new types of workouts along with custom ones, pacing, and even triathlons. Save a bit of dough by getting the Apple Watch Series 7 instead which has all the same features via an update to watchOS 9 update with the exception of temperature sensor for tracking women's health and car crash detection. The Apple Watch Series 8 starts at $529: the Apple Watch Series 7 can be found for about $470.
JBL Endurance Peak II Earbuds
A slight twist on the usual true wireless earbuds, the JBL Endurance Peak II are designed more like a pair of Bluetooth headsets with Powerhook loops that fit around the back of your ear to keep them securely in place while running, lifting weights, and doing other physical activities. There are controls on the buds for answering calls, adjusting volume, and using a voice assistant. With the charging case, you'll get up to 30 hours of total play time, and since they are sweat- and waterproof, you can wear them during even the most strenuous activities, even out in the rain.
Adidas Sol RPT-02 Headphones
Yes, Adidas makes headphones alongside its cool apparel. And these headphones, powered by light – yep, they are fully self-charging –are ideal for those who get their fitness outdoors, whether it's through running, walking, hiking, or even a bit of pilates in the park. The Powerfoyle technology uses natural and artificial light into energy to power up the headphones. They are sweat- and splash-proof so whether it's raining, snowing, or you're lounging on the beach, you can use them just about anywhere. Plus, you won't need to worry about rushing to charge them up or dealing with a dying battery. You'll get up to 80 hours of stored playtime once you are no longer near a source of light (like when you head back inside, for example). 
Nebula Genomics DNA Test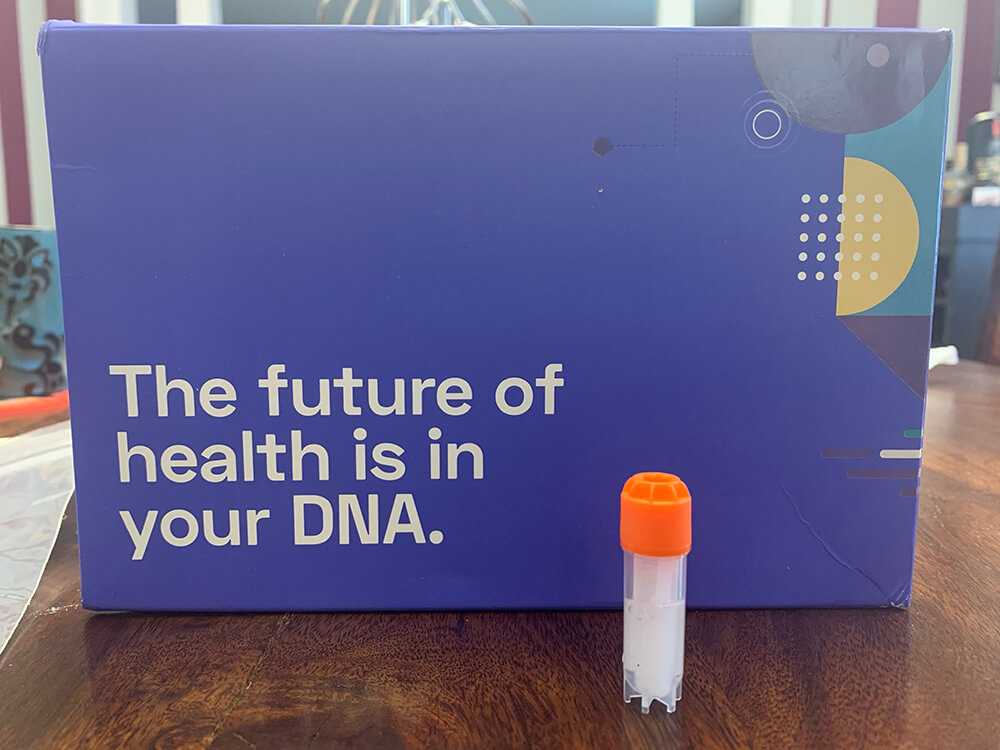 This test isn't cheap, but if you know someone who has been focusing on their health and wellness and trying to pinpoint sensitivities to food and other things that could impact their progress, this test would make a great gift. It provides mountains of data, including not only details about their DNA and heritage, but also potential food intolerances and gut microbiome. I reviewed the test and found, for example, that I have a high likeliness to be lactose intolerant (I am) and to have a sweet tooth (I do). I also learned which diseases and traits, based on my genetic make-up, I might have a higher genetic predisposition towards than others. With the Standard test costing US$299, it does go on sale, and you might be able to grab one for US$100 with the right timing.
MXXY Dual-Chamber Hydration Pack
Perfect for cyclers, just twist the dial on this hydration pack to get a hydrating mix of the electrolytes and water you need to keep you going. It features a two-reservoir system that snaps together so cyclists can carry electrolytes or caffeine in one pack and water in a bladder from Hydrapak. The proprietary dilution dial adjusts the mix on the fly based on the setting you choose, of which there are five. It's easy, mess-free single-tube drinking. The parts are dishwasher safe and 100% BPA and PVC free. US$199
Apple AirPods Pro True Wireless Earbuds
The second-gen Apple AirPods Pro true wireless earbuds include the new H2 chip with "major upgrades" to Active Noise Cancellation, and improvements to Transparency Mode help reduce loud environmental noise like a passing vehicle siren, construction tools, or loudspeakers at a concert or event. The new earbuds also offer more immersive Spatial Audio that uses the TrueDepth camera on an iPhone to create a personal profile for Spatial Audio that precisely tunes listening to each individual user. This includes dynamic head tracking when listening to music or watching movies and TV shows as well from an iPhone, iPad, Mac, or Apple TV. Go the extra mile and have it personalized with their Memoji for free using the Apple Store app. It'll cost you $329 and come with six months of Apple Music so they can set up the perfect workout playlist.
Apple Fitness+ Subscription
Now, even those who don't own an Apple Watch can sign up for Apple Fitness+, as long as they have an iPhone. Sign a fitness buff up for a subscription so they can access more than 3,000 studio-style workouts and meditations, seeing on-screen trainer guidance and interval timing along with estimated calories burned, all while they watch progress on the Move rings. Fitness+ is fully integrated with the Fitness app coming with iOS 16 and located in the middle tab, where you can stay motivated to close a Move ring through awards, activity sharing, and more. You only need an iPhone to sign up, and can experience Fitness+ on iPhone, iPad, and Apple TV. Apple Fitness+ is $13/mo. or $100/yr. and can be shared with up to five other family members. 
Fitbit Sense 2 Smartwatch
Another great smartwatch option for fitness enthusiasts is the Fitbit Sense 2, which adds convenient features like Google Maps for mapping a new running route and Wallet for buying a protein smoothie at the gym after an intense workout. It has a new Body Response sensor that can be used to track continuous electrodermal activity (cEDA) for all-day stress management right from your wrist. Along with cEDA, it uses metrics like heart rate, heart rate variability, and skin temperature to help you better understand when your body experiences potential signs of stress. Sense 2 also recommends different ways to manage stress in the moment, like logging your mood, guided breathing, mindfulness sessions, and more. In addition to the Body Response sensor, the smartwatch is equipped with Fitbit's other sensors to deliver a holistic view of your overall health. The Fitbit Sense is $399.
Samsung Galaxy Watch 5 Smartwatch
For Samsung Galaxy phone owners, the Samsung Galaxy Watch 5 is the best option. It comes equipped with optical heart rate (PPG), electrical heart signal (ECG), and bioelectrical impedance analysis (BIA) sensors to deliver readings on critical data like heart rate, blood oxygen level, and stress. Additionally, you can track blood pressure and take an ECG test, right from your wrist. Developed in partnership with Google, the watch runs on Wear OS Powered by Samsung and includes features like a Body Composition measurement tool for a snapshot of your overall health and wellness, and recovery data, including post-cardio heart rate and customized recommendations on water consumption based on sweat loss. Take advantage of GPX, available for the first time on a Galaxy Watch, and head out on a hike and record and share it with fellow trail-lovers on the Samsung Health app with Route Workout. The sleep tracker in the Watch5 has been improved, offering Sleep Scores that monitor different stages of sleep along with snore detection, blood oxygen levels, and advanced Sleep Coaching, providing month-long guided programs. There's also enhanced fall detection features that will notify an emergency contact if you or a loved one has stumbled or fallen out of bed. You can use Google Assistant to do things like queue up a Spotify playlist. Speaking of music, you'll also get access to new apps, including SoundCloud and Deezer. The Galaxy Watch5 will start at $349 for the Bluetooth version and $419 for the LTE version.
Blendjet 2 Personal Blender
I reviewed the Blendjet 2 earlier this year and it's a wonderful option for health-conscious individuals who want a quick protein smoothie after a workout or want to indulge with healthier alternatives to things like store-bought dips or even chocolate pudding (tofu avocado chocolate pudding is to die for!) Bring this portable, battery-operated blender with you anywhere. Mix up virtually any ingredients with a liquid, like water, milk or milk alternative, or juice, and blend for mere seconds to have an on-the-go, delicious meal replacement you can drink right out of the machine. You get up to 15 blends per charge and it's all stored in the cup with the leak-proof lid. I'd recommend getting the optional case for it and, if you want to go all out, a set of the Jetpack powders, which range from smoothie mixes to lattes, they can use when hunger strikes. Keep a small container of oat milk in their backpack, for example, and they can mix it up with this in a jiffy. The machine itself can be had on sale for about US$65 and the Jetpacks are about US$30 for a five or six-pack, but if you sign up for recurring deliveries, you can save over the long run.
Sennheiser Sport True Wireless Earbuds
Sennheiser's Sport true wireless earbuds are designed specifically for fitness enthusiasts and athletes, with an Adaptive Acoustic feature that allows for the choice of open or closed ear adapters, so you can tailor the listening experience to your sport. They come with Sennheiser's TrueResponse transducer that delivers full bass and clarity without distortion, even at high volume. In addition to choosing an open or closed ear adapter, the Adaptable Acoustic feature also allows for adjusting EQ settings. The open ear adapters in combination with the Aware EQ settings help reduce body-borne noise and allow some outside sounds to enter for better situational awareness. In this mode, runners hear fewer distracting noises such as their own heartbeat or footsteps and more of their surroundings, blending a favourite exercise playlist with sounds of nature or the city while improving awareness. Meanwhile, those who prefer their own music in settings like noisy gyms and don't want to be distracted by the busy environment can use the closed ear adapter and Focus EQ settings. In addition to the Sennheiser Smart Control app's Focus and Aware EQ settings, athletes can make customizable presets via the Sound Check feature. The touch controls, meanwhile, let you personalize sound to your preferences and facilitates access to audio navigation and voice assistants. Bluetooth 5.2 compatibility offers support for audio codecs like SBC, AAC, and aptX and affords a reliable connection to mobile devices, smartwatches, smart TVs, connected fitness devices, and more. With an IP54 rating, the Sport True Wireless is dust and splash resistant and can also withstand sweat, runs in the rain, and even workouts at the beach. The Sport True Wireless offer a battery life of nine hours, and another 18 hours with the charging case. MSRP $170.
Powerhandz Weighted Training Gloves
In sizes from youth to XXXL and starting from US$45, the Powerhandz weighted training gloves are designed to help improve strength in the hand and arm muscles and create muscle memory to help you improve speed and strength performance. The fingerless gloves feature a special grip material on the palm of the glove, reinforced with gel padding to help provide protection from calluses and blisters. Ideal for weightlifting, weighted training, cross training, power lifting, pull-ups, bodybuilding, cycling, and general workouts, this gift will stand out likely be put to good use.
LG 4K UHD LED TV
If you want to do workouts at home, it's helpful to have a nice, big screen to work with. While you can theoretically follow a workout from your laptop, phone, tablet, or even smartwatch screen, it's far more motivating to see a full 50 inches (or more) of the class in front of you so it's almost like you're there. We invested in an LG TV last year for our theatre room, which also doubles as my workout room, and it has worked beautifully. You'll want a smart TV that will allow you to tap into various apps you might want to use, like YouTube. LG's webOS smart TV interface is simple to navigate. Most important for me, it comes with built-in AirPlay so I can wirelessly cast my workouts from a mobile app to the TV from my phone. LG has a wide range of models but look for one that's at least 50 inches in size (depending on the size of your room), has built-in AirPlay, and works within your budget.