Technology is not just for the young: elderly folks can benefit from tech, too, whether it's to help them monitor vital signs, stay connected with family and friends, or simply have fun. We have put together a list of great gift ideas for seniors on your list.
QardioArm Portable Blood Pressure Monitor
The QardioArm portable blood pressure monitor is a clinically validated blood pressure monitoring system. It can be used with the Qardio app to send information to your phone that can later be shared with care providers. The app can track health summary reports as well as send reminders to do a quick check and monitor blood pressure as needed. Available for $90 on sale ($129 regular price), it measures systolic and diastolic blood pressure along with heart rate and can detect irregular heartbeats. While it should not be used in place of medical advice and consultation, it can provide information and store a history that can be presented to a doctor or other medical professional at each visit.
Apple Watch SE Smartwatch
An Apple Watch might be too much for a senior who might not use all the features, but the most affordable Apple Watch SE would be a welcome gift (find one refurbished from a reputable seller and save even more). Along with tracking stats like steps, heart rate, sleep, and activity, it also provides Afib history for monitoring heart health along with a Medications app for keeping track of what to take and when, setting a schedule, and receiving reminders. For forgetful seniors, they can use Compass Waypoints and Backtrack to mark a location and retrace steps should they get lost or disoriented. Starting at $329, the Apple Watch SE is the best Apple Watch option for seniors. For seniors who are still active, it comes with three months of Apple Fitness+ so they can do low-impact workouts like yoga or, if they have the endurance, cardio, weight training, dancing, and more.
Google Pixel 6a Smartphone
For a relatively affordable smartphone that still offers premium features, the Google Pixel 6a is a worthwhile option to consider. Available for $599, it has a 6.1-inch screen, Google's Tensor AI chip, and 12MP camera so the grandparents can take decent photos of the grandkids instead of blurry, pixilated ones from that old flip phone they have been using for a decade or more. You aren't paying for features they won't use while they aren't relegated to a decade-old phone one of the kids handed down to them "just to keep in touch."
TCL 30 5G Smartphone
As an entry-level option, the TCL 30 5G boasts a MediaTek Dimensity 700 octa-core processor, 5,010mAh long-lasting battery, 128GB storage, and a 6.7-inch ultra-thin AMOLED Full HD+ screen. Powered by TCL's NXTVISION technology, seniors can take high-res photos with the AI 50MP Triple Camera. There's also a 16MP front camera with a 96-degree lens for more wide-angle selfies. Additionally, One Shot 1.0 mode uses AI to process multiple variations of the same photo so you can choose from a variety of images with the press of a button. With a 5G connection, all their favorite apps, games, and streaming content will load quickly and easily, and they should have no issue staying in touch, whether they're spending a week at the cottage or they're in their home or apartment. Pricing varies by carrier.
Sennheiser TV Clear True Wireless Earbuds
These aren't your usual true wireless earbuds: the Sennheiser TV Clear are designed to help improve speech clarity while watching TV. It seamlessly connects via Bluetooth to watch TV on the big screen television or on-the-go on a laptop, tablet, or smartphone. They can also be used to make and receive calls on a smartphone. Choose from five speech clarity levels providing up to 20 dB high-frequency amplification. When watching TV, seniors can choose their own preferred volume level on the earbuds independently from that of the television or other audio source when using them with the transmitter. This means they can listen at a level comfortable to then without cranking the volume too high such that is disturbs others. ​The Ambient Awareness mode lets them hear external sound while wearing the earbuds or switch off the mode for more privacy.  For TV viewing, the transmitter's low latency streaming technology keeps audio and video in sync. Weighing just 6.9 grams, they are comfortable to wear for extra-long binge-watching sessions without interfering with glasses or pressing on temples. The inconspicuous wire-free design and secure fit is provided by a selection of secure-fit ear tips and fins in different sizes. Use the TV Clear app to customize the settings along with the intuitive touch controls. There is also a Find My Earbuds feature that makes them easy to locate. ​TV Clear's battery provides up to 15 hours of listening time on a single charge when used with the transmitter. The earbuds can be stored and recharged in the compact and stylish charging case to add a further 22 hours for a total of up to 37 hours of TV entertainment. MSRP $550.
Olive Union Max 2-in-1 True Wireless Earbuds and Hearing Aids
Olive Union's Olive Max 2-in-1 true wireless earbuds also double as hearing aids for both seniors and others of all ages with hearing impairments. Selling in Canada for MSRP $685, they feature adaptable sound settings and a sleek wraparound design that resembles today's popular consumer earbuds instead of traditional hearing aids. Adaptive hearing provides wearers with hearing in any environment, automatically. As Olive Max users wear the earbuds, artificial intelligence continues to learn and improve the adaptive hearing experience, using advanced machine learning technology to customize sound settings to the user's environment. The secure hooked design creates a stable listening experience, regardless of setting, and adds more critical internal components for extended battery life, improved AI, and powerful sound. A new voice auto-focus feature and improved components, like a new advanced 'S2' sound engine, allow Olive Max to channel AI for better voice detection and background noise filtering and reduction. Olive Max detects voices and noises with accuracy and can even filter out background noise without distorting the user's voice using its six omni-directional dynamic range microphones. The Olive Max is an FDA Class 2 hearing aid with support for mild to severe hearing loss. It offers up to eight hours of battery life on a single charge, or more than 18 hours with a charging case. As true wireless earbuds, they offer hands-free music listening and calling as well from a connected smartphone. They can be set-up quickly and easily with a simple five-minute hearing test using an iOS or Android device. The Olive Max's are still on pre-order but they might just be worth the wait.
Epson FastFoto FF-680W Wireless High-Speed Photo Scanning System
Selling for $800, the Epson FastFoto FF-680W photo scanning system is the perfect gift for a retired senior living in their own home and looking for a project, new hobby, or a creative outlet. It neatly and easily scans multiple photos at once, within seconds, providing digital files that can then be used for various digital projects. They can later edit the photos online or rely on the FastFoto scanner to do it: it can fix red-eye and perform colour restoration and auto enhancement. Print the edited images on photo paper to create nostalgic scrapbooks. Or create a digital slideshow or online library the entire family or groups of friends can access. Using the FastFoto app, they can even add text or voice to scanned photos to add to the slideshows. They'll have tons of fun creating their own slideshows and computer folders and sharing newly scanned nostalgic pics on social media and via e-mail with friends and family. It's the perfect way to digitize shoeboxes full of old photos.
AncestryDNA Kit
If caught at the right time, an AncestryDNA kit can be had for almost half price, down from its regular price of $129 to $69. For seniors who might be curious about whether or not they still have living relatives in Canada, or even abroad, it's a fun way to figure this out, and even potentially track them down. They'll also get more details about their heritage, including not only the ethnicity percentages but also, with the new SideView feature, how these are broken down by different parental sides. They can learn more about the history of their family and lineage, can input a detailed family tree, and learn more about the communities their ancestors migrated from. After using AncestryDNA myself, I not only found plenty of distant relatives, but even located a third cousin who happens to live 15 minutes away! Giving parents and grandparents the opportunity to do this could open up a whole new social network for them, or at least some interesting facts about their heritage.
Brookstone PhotoShare Digital Photo Frame
Both my 101-year-old grandmother and senior citizen parents have digital photo frames they were gifted at home, and they absolutely love seeing the rotating slideshow of images. They especially appreciate when their kids and grandkids upload new photos for them from vacations, events, special occasions, and daily outings. The Brookstone PhotoShare frame comes in 10.1-inch or 14-inch sizes and works with a convenient app for easily adding photos remotely. The standout, feature, however, is PhotoShare, which makes it easy for a frame to be updated by multiple people by assigning a special e-mail address to each frame. Invite others by providing the frame's address and they can upload photos to it as well. The main contact will receive a notice to confirm the addition of the photos, and voila! They're ready. For the main user, simple go to the app, choose the photos you want to upload from your phone, tap a button, and they'll begin uploading instantly. Like with other digital photo frames, you can use slideshows and transitions, upload videos, and display the date, time, and current weather report when you want a break from the rotating images. A 10.1″ frame is about $230. But as long as family members continue to add photos, it's a gift that keeps on giving.
Telus LivingWell Companion Go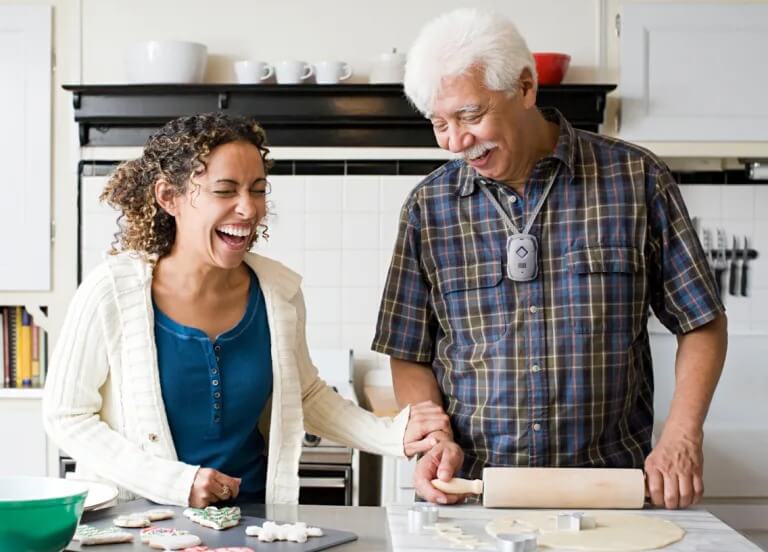 The Telus LivingWell Companion Go is a pendant device for seniors that, with a subscription, affords 24/7 professional monitoring, two-way voice communication in the event of an issue, and access to trained operators. The water-resistant device has an emergency button and fall detection feature. If the trained operator believes there is an emergency, they can initiate emergency protocols, contacting emergency services and/or family members and friends: up to three main contacts can be added to the file. Additionally, it has built-in, Canada-wide GPS and is cellular enabled without the need for a separate cell phone plan. There is also an app version for the Apple Watch. Plans are on sale for $40/mo. on a one-year term (regularly $65/mo.) for the version that can be used both in and outside of the home. There are other versions as well, including ones for usage only in the home that do not have GPS, with plans for those starting from $30/mo. on sale ($45/mo. regular price). For the Apple Watch, plans are $54/mo. with the purchase of the Apple Watch SE.