Despite the fact that premium smartphones now even have manual controls, dedicated cameras and lenses are still preferred for serious shooting and specific needs. Meanwhile, the new generation of content creators has emerged, and there are lots of cool gifts they can use to complement their craft.
Nikon Nikkor Z 135MM f/1.8 S Plena Lens
The Nikon Nikkor Z 135mm f/1.8 S Plena lens for Nikon Z series mirrorless cameras is a mid-telephoto prime lens that offers edge-to-edge brightness, sharpness, and dramatic bokeh. The name "Plena" is derived from the Latin term plenum, which denotes the state of a space being completely full. This name was chosen to reflect the lens's ability to fulfill the user's creative vision with "superior light gathering capability, beautiful, well-rounded bokeh and outstanding sharpness and clarity throughout the frame," says Nikon. Part of the S-Line, it takes advantage of the Z mount system's large-diameter mount, which unlocks further possibilities of lens design, as well as the potential for light gathering. Equipped with a weather-sealed body for durability, well-rounded bokeh is achieved throughout the entire frame, says Nikon, while supporting a fast f/1.8 maximum aperture. There's also an 11-blade diaphragm and larger rear element that accentuates the three-dimensionality of the subject with smooth gradation. The large amount of peripheral light at the f/1.8 maximum aperture ensures a consistently bright image all the way to the extreme corners of the frame for a sense of transparency and brilliance in images. The sharpness and clarity, characteristic of S-Line lenses, enables rendering of the finest textures in hair and skin tones, while point-light reproduction capabilities achieve brilliant night and urban landscape imagery. A multi-focusing system uses stepping motors (STMs) for fast, accurate and quiet autofocus drive for still images and video. Get the lens for MSRP $3,399.95.
Nikon Z f Full-Frame Mirrorless Camera
Do they need a new camera? Consider the Nikon Z f full-frame mirrorless camera, which is fueled by the Expeed 7 processing engine that enables an enhanced AF system and improved low light capability. The new processing power also adds new features like pixel-shift shooting, advanced in-body stabilization, and a monochrome mode. The camera offers enhanced response time, burst speed, and AF performance. It has a 24.5MP full-frame BSI CMOS sensor paired with an AF system that offers 3D Tracking plus subject detection developed with Deep Learning technology, detecting and locking on to nine different types of subjects. Similar to the Nikon Z 8, the camera finds people, dogs, cats, birds, cars, motorcycles, bicycles, trains and planes. It can also detect a small sized face in the frame, approximately three per cent of the frame's longest side. The AF system uses 299 AF points in Auto Area AF, covering 96 per cent of the horizontal axis of the frame, making it easy to lock on and track a subject, even near the edge of the viewfinder, says Nikon. Once you decide to go fully manual, the Z f uses Eye/Face-Detection in MF mode, recognizing the eye and allowing you to magnify the area on the screen to nail critical focus. The Z f includes a physical switch to engage a dedicated B&W photo mode, which enables multiple monochromatic Picture Controls. In addition to the basic black body, the Z f comes in six different colour options. These premium exteriors render the embossed artificial leather sections of the camera, covering the grip and all around to the rear of the folding camera monitor. There are three rich colours (Indigo Blue, Sepia Brown, Bordeaux Red) and three deep, warm natural colours (Sunset Orange, Moss Green, Stone Gray), rendered with individually matching surface textures. These colours will be sold in limited quantity exclusively through the Nikon Store.
MSRP $2,699.95 for the body only. It also comes in a kit with the retro-styled NikkorR Z 40mm f/2.0 SE for an MSRP of $3,029.95, or with a Nikkor Z 24-70mm F/4 S lens for an MSRP of $3,499.95.
Fujifilm GFX100 II Digital Camera
As the new flagship addition to the GFX System family, the Fujifilm GFX100 II digital camera has a 55mm large-format image sensor which is nearly 1.7x larger than the 35mm image sensors found in full-frame cameras. GFX100 II produces images with broad dynamic range at a very shallow depth-of-field. It has a newly developed, 102MP high-speed image sensor and Fujifilm's latest 5th generation X-Processor 5 image processing engine, which doubles the signal readout speed compared to the current model. This in turn provides unique benefits to image makers, especially in the areas of high-speed, continuous shutter mode, autofocus (AF) and video. Developed with Deep Learning technology and updated with the latest prediction AF algorithm, GFX100 II now incorporates AI based subject-detection AF to quickly track and detect animals, birds, vehicles, and other fast-moving objects like insects and drones, and it automatically keeps them in focus so that photographers can concentrate on framing their images and waiting for the perfect moment to make their image. Burst shooting performance has been increased from the current 5.0 frames per second to 8.0 frames per second, expanding the GFX100 II's application across various genres, including fashion, commercial, landscape, sports, and photojournalism. An expanded buffer memory extends seamless burst capabilities for those once-in-a-lifetime moments. MSRP is $10,124.99, and if you want to go all out, you can add accessories as well, like the VG-GFX II vertical battery grip ($680), FAN-001 cooling fan ($260), and the EVF-TL1 EVF tilt adapter ($750).
Nikon Nikkor Z DX 24mm f/1.7 Prime Lens
The Nikkor Z DX 24mm f/1.7 prime lens is a fast prime lens that makes it simple to do things like get blurred backgrounds in both still photos and videos. The fast aperture compact prime lens for Nikon Z mount APS-C size/DX-format mirrorless cameras is the first prime APS-C size Nikkor Z lens. It provides a versatile angle of view and fast f/1.7 aperture for blurred backgrounds and low light performance. The quality of the out-of-focus area, also known as the bokeh, is unique to fast maximum apertures and allows you to emphasize subjects in still-life and portrait photography. The new 24mm f/1.7 also enables the capture of high-resolution photos and video in dimly lit conditions, by allowing more light to enter the lens. In addition, images recorded under such circumstances exhibit very little blur, even while shooting handheld due to the fast shutter speed afforded with wider apertures. The 24mm focal length is ideal for a wide variety of scenes, including tabletop photos, portraits, and landscapes. What's more, the 7-inch minimum focus distance allows you to get close to subjects such as flowers and tabletop objects, for images that emphasize the subject with big background bokeh. The compact and lightweight design enables easy carrying, making it an ideal lens for everyday use. There's also a stepping motor (STM) that enables quiet autofocusing, minimizing focus sounds in video. It's designed with consideration for the suppression of focus breathing, so the lens enables smooth focusing with less change in the angle of view, even when the focus point changes during video recording.
Boasting a compact and lightweight design, the lens is easy to carry inside a bag while mounted on a camera. When combined with the Nikon Z 30, the camera and lens combined weighs approximately 540g. The lens is MSRP $379.95.
Fujifilm X-S20 Mirrorless Digital Camera
The Fujifilm X-S20 mirrorless digital camera has a high-capacity battery, high-performance autofocus, advanced video recording, and more. The company has also announced the Fujinon XF8mm F3.5 R WR lens, and the XApp smartphone app for photographers. The lightweight and compact camera has AI-based subject-detection autofocus (AF), the capability to record 6.2K/30P video, and stream 4K/60P video natively through USB-C. It is equipped with a back-illuminated 26.1MP sensor X-Trans CMOS 4 and the high-speed image processing engine X-Processor 5 to produce high-quality images while keeping power consumption lower than its predecessor model, X-S10. It also features subject-detection AF developed with deep learning/artificial intelligence (AI) technology. In this case, AI is used to detect animals, birds, cars, motorcycles, bicycles, airplanes, trains, insects, and drones. The evolved AF prediction algorithm enables stable focusing even in AF-C mode. The Auto Mode automatically selects optimum settings according to scenes and is complemented with the new Auto Subject Detection function, automatically detecting and tracking a subject while keeping it in focus, allowing the creator to produce high-quality stills and videos with ease. A USB-Type C cable can connect the camera to a computer to use as a webcam without the need for additional software. Alternatively, content creators can use OBS Studio with X-S20 to stream 4K/60P video directly from the camera to the online streaming platform of their choice. Film Simulation modes are available even during live streaming or online meetings. Image settings can be adjusted even while the camera is connected to a computer. Finished in black, it sells for MSRP $1,750 or you can get it combined with the Fujinon XC15-45mm F3.5-5.6 OIS PZ lens kit for $1,900 or the Fujinon XF18-55mm F2.8-4 R LM OIS lens kit for $2,300.
Fujifilm Fujinon XF8mm F3.5 R WR Lens
For photographers and content creators seeking an ultra-wide angle (UWA) solution, there's the Fujifilm Fujinon XF8mmF3.5 R WR lens, which works with Fujifilm's X Series of lightweight, compact mirrorless digital cameras. With an equivalent 35mm focal length of 12mm, XF8mmF3.5 offers the widest angle of view to date in Fujifilm's family of X Mount lenses. Its 121 degrees diagonally and 112 degrees horizontally makes it perfect for any image-making scenario that requires an especially wide field of vision. The XF8mmF3.5 consists of 12 lens elements in nine groups, including three aspherical elements and two extra-low dispersion (ED) elements, thereby controlling lens distortion, spherical aberration, and astigmatism to deliver advanced image-resolving performance. The lens's lightweight, compact form factor provides portability, while the effective positioning of the aspherical and ED elements has enabled appropriate aberration correction and the compact and lightweight design at the same time. It is just over two inches long, weighing approximately 7.6 ounces, making it an easy everyday carry item in any photographer's kit. The lens barrel is weather sealed at 10 locations to achieve dust and weather resistance and can operate in temperatures as low as 14 degrees Fahrenheit (-10 degrees Celsius). The front lens element features a fluorine coating to repel water and offer protection against stains. Get it for MSRP $1,080.
Nikon Z 8 Full Frame Mirrorless Camera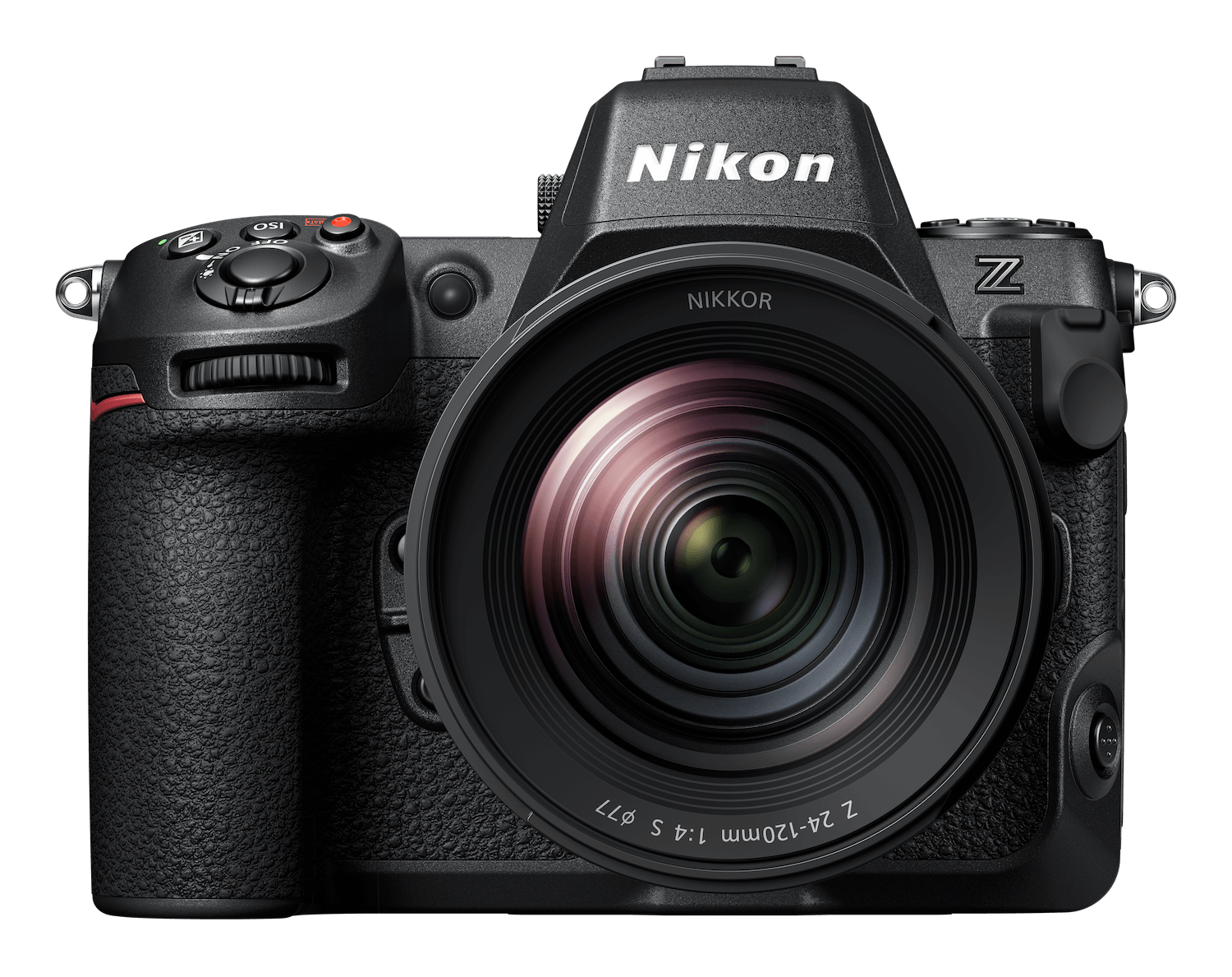 Another option in the mirrorless camera space is the Nikon Z 8, a full-frame mirrorless camera that's light, compact and provides high-resolution images and video up to 8K 60p. Nikon's EXPEED 7 image processing engine is at the core, combined with the full-frame (FX-format) 45.7MP BSI stacked sensor, featuring a scan rate so fast that no mechanical shutter is needed. This configuration can be completely silent, has virtually no rolling shutter distortion, while the removal of moving parts reduces wear and tear. Other favourite flagship features include the blackout-free Real-live viewfinder, internal 12-bit RAW video recording in a variety of formats and frame rates, while adding more new features for portrait photographers. Like the Z 9, the camera uses Nikon's powerful and precise AF system, which has been developed with deep learning technology. The focus is responsive and reliable, offering a range of functions from fully Auto-Area AF, Nikon's 3D tracking and a fully customizable Wide Area AF. These modes take advantage of the enhanced Subject Detection capability for photo and video that recognizes humans, pets, birds, trains, cars, motorbikes and bicycles, and now various types of airplanes.
The camera features two USB-C ports which are dedicated to charging (PD) and communication for accessories, further opening options for a truly modular configuration to fit any production. It also uses a full-size HDMI, minimizing the use of adaptors. The camera focuses on videographer centric features, including those added to the Z 9 in subsequent firmware updates. These include: Hi-res zoom3 function for 4K, highly visible red REC Frame Indicator, focus peaking, zebras, waveform, linear focus capability on many Nikkor Z lenses, fine ISO control, customizable AF speed tracking, timecode sync, 24-bit stereo audio, and more. It is fully sealed and gasketed, exceeding the durability of the D850 and built with maximum consideration for dust and drip resistance, while it can also be operated down to -10°C/14°F. It's MSRP $5,399.95; consider the MB-N12 battery grip as an add-on for $479.95.
Google Pixel Fold Foldable Phone
Why would the Google Pixel Fold be a viable gift for photography? Content creators will love the convenience it affords thanks to the foldable design, extra-large screen, fabulous cameras, and tons of photo editing features. The phone unfolds to reveal a 7.6-inch screen and is powered by a Google Tensor G2 chip. Along with being IPX8 water-resistant rated so you can confidently use it to film just about anywhere, you can fold it to tabletop mode to shoot social media content, photos, and more without the need for a tripod or separate kickstand. With YouTube, the top half of the screen will show the video and, with an app update coming soon, playback controls will appear on the bottom. Features like Super Res Zoom and 5x optical zoom will come in handy for photographers, along with Real Tone, Night Sight, and Portrait Photography. It has fun photo editing features as well that you can find in other Pixel phones, like Magic Eraser to remove distracting elements from the background of a photo and Photo Unblur to help fix blur in shots. There's even a rear camera selfie mode for taking high quality seifies using the main 48MP camera. When using it in tabletop mode, you can get a wider field-of-view to capture everyone or a larger scene: all you need to do is use a new palm gesture to trigger the shutter. There's no word yet on Canadian availability of the Google Pixel Fold, but it's available in the U.S. for US$1,799, and ships with a free Google Pixel Watch that you can include with the gift or keep for yourself.
Apple Final Cut Pro
Photographers, videographers, and music creators need to work on their content once captured, and one of the ways to do that is with software like Final Cut Pro. Available now for iPad, Final Cut Pro includes new tools for recording, editing, finishing, and sharing content, all from the same device. There's a new jog wheel to make the editing process easier and enable you to interact with content in new ways. You can navigate the Magnetic Timeline, move clips, and make fast frame-accurate edits with the tap of a finger. With Live Drawing, draw and write directly on top of video content using Apple Pencil. On iPad Pro with M2, Apple Pencil hover unlocks the ability to quickly skim and preview footage without ever touching the screen. Creators can view and edit HDR video and apply colour grades with accuracy using Reference Mode. Video creators can shoot high-quality video in portrait or landscape orientation, monitor audio and available recording time, and manually control settings like focus, exposure, and white balance. Creators can capture, edit, and publish from a single device while in the field, and on iPad Pro with M2, users can even record in ProRes. With multicam video editing, clips can automatically be synchronized and edited together. You can even switch angles in a multicam clip with just the touch of a finger. With Scene Removal Mask, creators can quickly remove or replace the background behind a subject in a clip without using a green screen. Auto Crop adjusts footage for vertical, square, and other aspect ratios, and with Voice Isolation, background noise can easily be removed from audio captured in the field. Video creators can choose from a library of professional graphics, effects, and audio to enhance their storytelling. These include HDR backgrounds, customizable animated patterns, and professional soundtracks that automatically adjust to the length of a video. Editors can import supported media from Files or Photos and save it directly inside a Final Cut Pro project. Final Cut Pro for iPad also supports the ability to import projects created in iMovie for iOS, and iPad users can export Final Cut Pro projects to Mac. It's $6.99/mo. or $69 for the year with a one-month free trial and is compatible with M1 chip iPad models or later with iPadOS 16.4 or later.
Sennheiser MKE 200 Directional Camera Microphone Kit
The Sennheiser MKE 200 directional camera microphone kit is perfect for content creators, helping to provide improved audio with your video footage. It can be used with DSLRs, mirrorless cameras, and smartphones, and comes with 3.5mm TRS and TRRS coiled cables to connect directly to the recording device. It also has a standard cold shoe mount. The kit set-up includes a smartphone clamp and Manfrotto PIXI Mini tripod. The microphone operates completely battery-free, has built-in windscreen protection for enhancing audio when recording outdoors, and has a built-in shock mount to reduce noise while you're handling it, such as holding the tripod as a monopod and moving it around to capture 360° footage, or shooting footage while you walk and talk. It's designed to bring more presence to your voice when you might be recording in louder environments, thanks to the super-cardioid capsule, which helps provide focus and detail while rejecting unwanted background noises outside. Naturally, it's no surprise that this microphone will appeal to on-the-go vloggers and videographers looking to add better sound to complement their high-res video footage. I reviewed it while shooting videos and you can read more about my experience. $99
Nikon Nikkor Z DX 12-28mm f/3.5-5.6 PZ VR Power-Zoom Ultra-Wide-Angle Lens
Nikon has introduced a new lens that it says is perfectly suited to content creators and vloggers. The Nikkor Z DX 12-28mm f/3.5-5.6 PZ VR power-zoom ultra-wide-angle lens affords variable power zoom and other features content creators will appreciate. The lightweight lens, the widest in the Nikkor Z DX-format lens series, adds power zoom (PZ) for more creative versatility. The 12-28mm f/3.5-5.6 PZ VR is designed to capture sharp and immersive content and the ability to capture more in the frame. This might include larger groups of people, or more expansive landscapes. Featuring a versatile zoom range of 12mm to 28mm, the ultra-wide angle is great for grand interiors, tabletop photos, and group selfies, says Nikon. It's not only lightweight but also small given how wide a zoom it affords. Since it weighs only about 7.3 oz, it's easy to hold with an extended arm. It's ideal when used with lightweight cameras like the Nikon Z 30, Z 50 or the retro inspired Z fc. The Nikkor Z DX 12-28mm f/3.5-5.6 PZ VR is the first Nikkor Z lens to use a power zoom with linear drive, providing smooth optical zoom and other thoughtful features for creators to enhance and simplify their video recording experience. The power zoom function easily zooms in close to a subject or zooms out to establish the scene. To suit any shooting style, the zoom can be activated by twisting the customizable zoom ring on the barrel, with designated buttons on the camera body, or when using the ML-L7 Remote Control3 (included in the Z 30 Creator's Accessory Kit). The zoom can also be controlled remotely through a PC or phone with the SnapBridge app. Additionally, the zoom rate can be selected from 11 speed settings, within the range of 0.55 to 36 seconds, for maximum consistency when reframing your shot or adding dramatic creative flair. MSRP $499.95.
Meta Ray-Ban Smart Glasses
With these smart glasses, content creators don't have to worry about missing pivotal moments because they had to rifle in their bag or pocket to get their phone and turn on the camera. They can also capture beautifully candid moments they might not otherwise considered capturing. How? The glasses, designed in partnership with EssilorLuxottica, can be used to capture images and videos with the new ultra-wide 12MP camera, which affords 1,080p videos up to 60 seconds in length. You can even directly share photos to friends and family from your glasses with a simple "send a photo" voice command. When recording video, there's a new five-mic array that supports immersive audio recording. Powered by the new Qualcomm Snapdragon AR1 Gen1 platform, the glasses come with a redesigned and sleek charging case, which holds up to eight additional charges (for a total of 36 hours of use) while being slimmer and even smaller. With over 150 different custom frame and lens combinations on the Ray-Ban Remix platform, you can mix and match to make the glasses a perfect fit. Get a hold of their prescription and order a pair with prescription lenses. They start at US$299.
Nikon Nikkor Z 600mm Super Telephoto Lens
Need to shoot from far away, like at a stadium game or in the wild? The Nikon Nikkor Z 600mm F/6.3 VR S, the latest S-Line prime lens in the brand's Phase Fresnel (PF) lens line-up focuses on big reach in a small and lightweight package. Ideal for photographing wildlife, aviation, and motorsports, it offers fast and precise focus and is easy to handle. The lens has a total length of 11 inches and weighs approximately 3lbs. It's also designed such that the centre of gravity is positioned closer to the body side, offering optimal balance. This also makes the Nikkor Z 600mm an ideal lens for panning in situations that require lens control and stability, such as automotive racing or fast-moving subjects like wild birds in flight. The use of the PF lens element contributes to a significantly smaller overall size and weight, says Nikon, reducing the need for a tripod. With advanced AF and VR performance as well as S-Line superior rendering quality, the Nikkor Z 600mm f/6.3 VR S gives you confidence to get sharp images of fast-moving subjects from a distance. Chromatic aberration is significantly reduced with the adoption of PF and ED glass elements. In addition, the adoption of an SR lens element controls short-wavelength light, the effects of which are difficult to correct, achieving highly precise chromatic aberration compensation. Get it for $6,499.95.
Creative Live! Audio A3 USB Audio Interface
For content creators who deal with social media and videos, the experience isn't just about the visuals, it's also about the audio. The Creative Technology Creative Live! Audio A3 is a USB audio interface designed to help improve audio in recordings for live streamers, content creators, and musicians seeking professional-grade audio quality. It offers high-resolution 24-bit recording and playback along with versatile I/O connectivity, onboard level controls, and zero-latency direct monitoring. The 3.5 mm Mobile Audio I/O Jack minimizes caller input disruptions during remote interviews and podcast recordings, which allows you to seamlessly mix-minus audio to mobile devices while maintaining crystal-clear communication. It has dual headphone jacks, each with individual volume controls so you can fine-tune the listening experience. The interface includes a dual combo jack featuring a built-in mic preamp and Hi-Z switch, ensuring seamless compatibility with microphones, line-level devices, and instruments. The integration of balanced stereo outputs eliminates common issues like electromagnetic interference to deliver clearer sound quality. There's also individual output and input volume controls, and zero-latency direct monitoring that offers immediate sound feedback, a standout feature for live streamers and musicians. US$150.
DJI Osmo Pocket 3 Pocket-Sized Gimble Camera
Perfect for on-the-go recording, the DJI Osmo Pocket 3 pocket-sized gimbal camera has a 1-inch CMOS sensor, two-inch rotatable touchscreen, and the ability to switch between horizontal and vertical shooting. Through specialized image quality optimization, Osmo Pocket 3's night shots bring low-light scenes to life with clarity and authentic colour, says DJI. The camera fine-tunes the exposure for different skin tones to deliver a clear and glowing complexion in every frame. For professional-level creations, the Osmo Pocket 3 offers 10-bit D-Log M and 10-bit HLG colour modes that record landscapes with detail, presenting accurate colours and vivid highlights. With 10-bit D-Log M, you can explore up to one billion colours and experience rich detail in every shot, while 10-bit HLG HDR recording provides a higher dynamic range for stunning visuals on HDR-enabled equipment. Its 2-inch full-colour OLED rotatable touchscreen offers control. The full-pixel fast focusing ensures sharp focus, even with quick-moving subjects, and introduces a Product Showcase mode for smooth live streaming and product showcasing. With its three-axis mechanical stabilization, Osmo Pocket 3 ensures steady images even during dynamic camera movements. ActiveTrack 6.0 offers multiple follow modes, including Face Auto-Detect and Dynamic Framing, for cinematic-level footage. The built-in three-mic array reduces wind noise and captures omnidirectional stereo sound, providing immersive audio. DJI Mic 2 compatibility enables dual-person recording for vlogs, interviews, and livestreams. Glamour Effects 2.0 adds personalized beauty options, while Osmo Pocket 3's automatic axis locks secure the gimbal in storage position. Osmo Pocket 3 can be charged to 80% in just 16 minutes. When fully charged, it can record up to 116 minutes of 4K/60fps footage or up to 166 minutes of 1080p/24fps footage, giving you more time to get the shots you love. Osmo Pocket 3 also offers creative modes and features like SpinShot for 180° smooth camera movements with one hand; motion lapse for capturing the flow of time; digital zoom up to 4x to get closer in any shot; and panorama.
Connect the LightCut app to your Osmo Pocket 3 for a one-tap edit feature for simple content creation. Using AI intelligent recognition, it highlights moments from your footage and instantly generates shareable 4K videos, saving you valuable editing time. The app also boasts a diverse range of video templates, catering to various themes like vlogs, travel adventures, parties, family gatherings, pet moments, food experiences, daily life, and more. With LightCut, you can edit and transform your raw footage into content in seconds. The app's efficient editing process eliminates the need to download footage during editing, preserving valuable storage space on your smartphone.
There are a variety of accessories you can use with the Osmo Pocket 3, including a Black Mist Filter, Wide-Angle Lens, Mini Tripod, Battery Handle, Mic 2 Transmitter, Magnetic ND Filters Set, Expansion Adapter, and Carrying Bag.
The Osmo Pocket 3 retails for $699 in Canada and includes the Osmo Pocket 3, a Type-C to Type-C PD Cable, a Osmo Pocket 3 Protective Cover, a DJI Wrist Strap, and a Osmo Pocket 3 Handle With 1/4″ Thread. The Osmo Pocket 3 Creator Combo ($899) includes the Osmo Pocket 3, a Type-C to Type-C PD Cable, a Osmo Pocket 3 Protective Cover, a DJI Wrist Strap, an Osmo Pocket 3 Handle With 1/4″ Thread, a DJI Mic 2 Transmitter (Shadow Black), a DJI Mic 2 Windscreen, a DJI Mic 2 Clip Magnet, a Osmo Pocket 3 Battery Handle, a Osmo Mini Tripod, and Osmo Pocket 3 Carrying Bag.
Oberwerth TagCase for Cameras
It's so simple yet genius, a perfect combination for any photography accessory. The Oberwerth TagCase is a protector for cameras that comes with a slot for inserting an Apple AirTag. This way, you can discreetly track the camera should it ever become lost or stolen. The slot is fairly hidden within the case so a potential thief might not even realize it's there and thus not even think to remove and discard of it. TagCases, which are available for different camera models in multiple colors, are made of leather. They are designed as half cases, covering only the bottom and sides of the camera so you still have access to all the controls on the top as well as through cut-outs on the sides.
An AirTag, which must be purchased separately, can slot right into the half case baseplate. You can also use a tripod without having to remove the TagCase. Since it's made of real leather, you'll pay a pretty penny for this case – potentially as much as the camera itself as US$599. But it looks oh so cool and serves a really useful purpose. AirTags are $39 ea.