Instead of getting a single gift for a person, consider getting a family gift that everyone can enjoy. This might be for a special family in your life, or perhaps even a gift for your own famjam. Whatever the case, these are all options worth considering.
Samsung NEO QLED 8K Smart TV
First shown at CES 2022 earlier this year, the Samsung Neo QLED 8K smart TVs come in 65-, 75-, and 85-inch sizes. They have been upgraded with Quantum Matrix Technology Pro, which allows for ultra-fine contrast in 8K that reveals hidden detail in both dark and bright areas – perfect when binge-watching Stranger Things with the family. The Neo Quantum Processor 8K, meanwhile, features 8K artificial intelligence (AI) upscaling, completed by 20 multi-model neural networks. The Infinity One Design boasts an ultra-slim profile while the new top channel speakers deliver an immersive Dolby Atmos experience and multi-dimensional sound. Choose from the QN900B or QN800B series, either of which will become the new focal point of the living room.
JBL PartyBox 100 Speaker
For families that tend to entertain a lot with outdoor (or indoors) parties, the JBL PartyBox 100 will help them up the ante and boost the bass. It's not only a speaker for playing back tunes, even wirelessly via Bluetooth, it also has mic and guitar inputs for karaoke or campfire sing-a-longs. With up to 12 hours of battery life, you can easily use it outdoors, move it from room to room, or place it virtually anywhere without having to worry about having a power outlet nearby. It even works with thumb drives so you can have guests bring their own personal playlists and swap among them to keep the party going all night. Grab two and they can link together for stereo sound. $500 ea.
Marshall Acton II Bluetooth Speaker
For families who are into more retro, throwback designs, the Marshall Acton II will be a welcome addition to the listening room. Finished in black, white, or brown, it has three class D amplifiers that power the dual tweeters and subwoofer. Featuring Bluetooth 5.0, you can wirelessly stream tunes from a mobile device, enjoying full stereo sound with no wires needed. Control it from the Marshall Bluetooth app or the analogue controls on the top of the unit. There's a 3.5mm input for personal listening, too. $380
Clorox Alexa Smart Medium Room True HEPA Air Purifier
Purifying the air is on everyone's minds of late, especially after dealing with COVID for the last two-plus years. Clorox, which most people know from the disinfectant wipes, makes its own air purifier that integrates smart technology through Alexa voice control. Ask Alexa to advise of the indoor air quality and use voice commands to control the machine. Use Auto mode to have it run as needed, relying on the PM2.5 sensor to drive fan speed accordingly. You can also use the Alexa app to customize actions or modes, or set routines, such as to have it run every morning for a few hours or overnight so everyone comes home and wakes up to fresh, clean air.
Amazon Fire TV Omni QLED Smart TV
For an affordable, big-screen TV that still offers 4K Quantum Dot technology, full-array local dimming of up to 96 zones, and support for Dolby Vision IQ and HDR10+ Adaptive, you might appreciate Amazon's new Fire TV Omni. The advantage here is that it functions as an always-on smart device, even when you're not using it. this is thanks to the new ambient features, which can be activated using Alexa voice control. Use Alexa as well to find apps, discover shows, manage playback, and more. The 65-inch model is $1,070 and the 75-inch is $1,500.
iRobot Roomba Combo j7+ Robot Vacuum and Mop
Even if your family already owns a Roomba vacuum, this upgrade is worth considering. For the first time, iRobot has combined both vacuuming and mopping technology into one unit. The iRobot Roomba Combo j7+ uses advanced sensors to detect different floor types: if it's mopping and detects carpeting or rugs, the retractable mop arm will lift the wet pad to the top of the machine in the same manner as a retractable roof works on a convertible car. Once it's back on hardwood flooring or tiles, the mop will come back down. It has all the features you've come to expect in the latest Roombas, including PrecisionVision Navigation for common object recognition (everything from socks to cords, cables to pet poop), Alexa integration, and the Clean Base Automatic Dirt Disposal set-up. With the latest iRobot OS, it's the perfect machine for the busy family who could use some help with daily household maintenance and cleaning, especially pet owners. $1,399
Hisense U78H TV
Initially revealed at CES 2022 earlier this year, the Hisense U78H series TV comes in 55-, 65-, and 75-inch sizes and features Ultra Motion, which supports fast-action gaming, sports, and movies. The Game Pro Mode will appeal to gamers, allowing the TV to be more responsive to commands from the controller, recognize gaming sequences, and automatically optimize display settings. This is complemented by ultra-high-speed HDMI ports, Auto Low Latency Mode, and a 120Hz native refresh rate. In Sports Mode, the native refresh rate uses a dynamic algorithm tailored to moving objects to remove "noise" in the picture. The algorithm also enhances surround sound effects to deliver life-like crowd sound without drowning out the play-by-play, says Hisense. Filmmaker Mode, meanwhile, removes the post processing of images in the TV to create a more cinematic experience from any movie. With IMAX Enhanced, the U78H meets strict performance standards in resolution, colour, brightness, contrast, and sonic fidelity. Defined by a certification committee of IMAX, DTS, and Hollywood's leading technical specialists, this technology enhances the image and sound from content that is encoded with IMAX Enhanced. The U78H is also equipped with Google TV to organize movies, shows, and more from across your apps. Use the voice-control remote to switch among apps, adjust the volume, or search for your favourite shows using just your voice. The starting price is $1,000.
LG Studio Appliance Collection
Treat the family with a new major appliance, or a set, from LG's Studio Appliance collection, which boasts a refined and contemporary look with clean lines. Options include counter-depth refrigerators, gas, electric, and induction freestanding ranges, built-in cooktops, wall ovens, and top control dishwashers. Premium exterior upgrades include new pro-style handles, modern flat panels, and the gleaming stainless steel smudge resistant finish dovetailed with smart technology. The new LG Studio appliance collection also extends to the laundry room with the new LG Studio WashTower, a single-unit vertical laundry solution featuring LG's Centre Control Panel. This allows it to take up half the floor space of traditional side by side washing machines. All LG Studio appliances connect to the LG ThinQ app for greater functionality and come with a two-year warranty on parts and labour. The new line of LG Studio Appliances is now available at major appliance retailers across Canada.
Samsung Freestyle Portable Projector
Great for family movie nights indoors and out, or for watching movies at the cottage or while camping, the Samsung Freestyle portable projector is a cool gift option. It can be used as a music player, movie projector or as a lantern using the lens for ambient lighting. The carrying case is IP55-rated, meaning it can help protect against water and dust. It automatically adjusts the level, focus and keystone as soon as you touch the power button. The portable screen automatically adjusts the screen using the Easy Set Up function, providing a clear, straight picture with an optimized ratio of 16:9. In addition to playing movies, The Freestyle, supported by Tizen OS, comes with over-the-top (OTT) services and streaming platforms, including Netflix and YouTube, as well as Samsung TV Plus with free shows, movies, and live TV without a subscription, so long as you have an internet connection. The Freestyle is compatible with external batteries and has a specialized portable battery base fit. It supports 3.6V charging and comes with a 32,000mAh charging capacity, enabling you to project content for up to three hours without needing a separate charger. The Freestyle also lets you stay connected while in the outdoors, with two USB-C ports that allow you to charge your smartphone while watching content. The built-in speakers deliver 360-degree sound without any external sound devices. Connect up to two Bluetooth headphones to listen to music or watch movies comfortably without disturbing anyone else. MSRP $1,150.
TP-Link Archer AXE 75 AXE5400 Tri-Band Gigabit Wi-Fi 6e Router
Upgrade your Internet speeds and connection reliability at home with this new router, which uses WiFi 6E to extends to the 6GHz band for an uninterrupted connection without overall or interference. Access to the 6GHz frequency, says TP-Link Canada, offers more bandwidth, faster speeds, and lower latency. This opens resources for bandwidth-intensive applications like AR/VR, 8K streaming, and more. The AXE75, which will retail for $299, provides Wi-Fi speeds up to 5,400 Mbps for fluent 4K/8K streaming, immersive AR/VR gaming, and blazing-fast downloads. It supports more than 200 devices, with OFDMA and other advanced technologies that cut the clutter throughout your frequency bands, eliminating latency and jitter. Armed with a 1.7GHz quad-core CPU and SuperSpeed USB 3.0 that offers up to 10 times faster transfer speeds than USB 2.0, the AXE 75 also features HomeShield for customizing your home network with enhanced security and control. OneMesh, meanwhile, creates a Mesh network by connecting to a TP-Link OneMesh Extender for seamless whole-home coverage. Compatible with Alexa, you can control the router via voice commands as well.
Epson EcoTank ET-2850 Wireless Colour All-in-One Supertank Printer
I love Epson's EcoTank printers, which use refillable ink reservoirs so you need only get refills every few years, with average use. This particular model ($400) is perfect for a family, home office, or college dorm. Print, scan, and copy to your heart's content, in both colour and black-and-white right out of the box since it comes with a two-year supply of ink to get you started. Enjoy features like two-sided printing, high-resolution scanning, and more.
Samsung Bespoke Refrigerator
Samsung's Bespoke appliances now include multiple items across the range, but you can start your family off with the new Samsung Bespoke refrigerator. Choose among various options, including a four-door French door model, then customize the panel colours to your liking. Change your mind or renovate your kitchen with a different décor down the line? You can swap out panels for different ones, keeping the look continuously refreshed and on trend. You get all the top-end features from Samsung as well, including FlexZone cooling, automatic ice maker, and more. Pricing varies and there are 11 colours and three finishes from which to choose.
Sonos Ray Compact Soundbar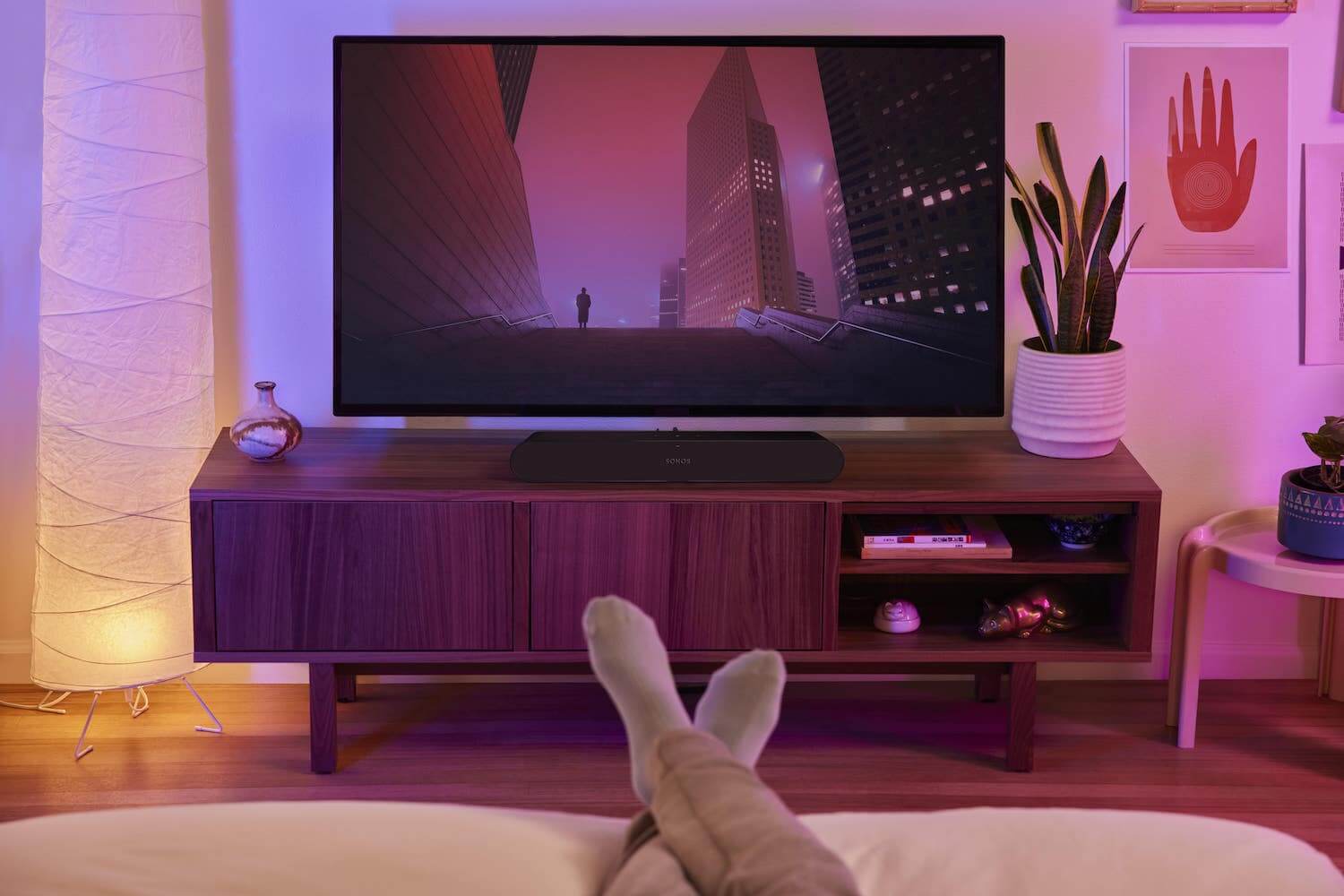 For a secondary room or instead of investing in a five-speaker surround system, especially for tight spaces, start off with a soundbar like the Sonos Ray. It's compact but promises balanced sound, crisp dialogue, and solid bass. Sonos' Speech Enhancement ensures greater clarity in dialogue, while Night Sound reduces the intensity of loud effects so you don't disturb anyone else at home. Designed to be placed on a media stand or tucked inside a credenza, it can blend nicely into a variety of spaces. It's easy to set up right out of the box with the Sonos app. You can control Ray with your existing TV remote, the Sonos app, Apple AirPlay 2, or other compatible devices. Add a pair of Sonos Ones to a home theatre setup for surround sound or connect to any Sonos speaker for multi-room listening. $349
Napoleon Rogue EQ Connected Electric Grill Series
For the family that often hosts barbecues, this high-tech grille will be a welcome addition and dad will love playing around with the tech elements. You can manage every aspect of the grill with IoT controls through an app on your smartphone and monitor the temperatures and grill controls with precision on a 7- inch LCD. The design and technology allow it to heat up as quickly as most similar-sized gas grills, says Napoleon, and can reach a maximum temperature that meets or exceeds traditional gas grills. There are three different ways to cook: grill mode for traditional grilling and searing, oven mode for roasting, and smoker mode to infuse smoky flavor. It's not officially available just yet but might be by the time you read this: check the website for updates and pricing.
Filtrete Smart Room Air Purifier
For the household looking to monitor and eliminate dust particles, bacteria, and other allergens, this smart air purifier will be a good investment. From the same company that makes your furnace air filters, the piece of hardware monitors the air quality 24/7 and adjusts fan speed as needed. Download the Filtrete Smart app and control the device from virtually anywhere. It also provides visual graphs to monitor trends of the indoor air quality. Filtrete Smart Room Air Purifier technology uses a laser-based sensor to create consistent and precise readings of the particles in the air. It automatically turns on when air needs improvement, and includes true HEPA filters, capturing up to 99.97% of airborne particles as small as 0.3 microns, from the air passing through the filter media. It is compatible with existing Filtrete Room Air Purifier filters. Available in two sizes and finished in white, the Filtrete Smart Tower is made for large rooms up to 310 square feet and is $399 while the Filtrete Smart Console is made for medium rooms up to 150 square feet and is $350.
Aiper Seagull SE Robot Pool Cleaner
Robot vacuums and even mops are pretty common in households nowadays, but what about a simple way to clean the pool? The Seagull SE aims to be that solution. Launching in early November 2022, it moves quickly through the pool and charges much faster than the previous-generation model at under 2.5 hours for a full charge. Auto-parking technology means it will go back to its dock as soon as it's done or if it needs to recharge before finishing the job. Boasting a portable and lightweight design, it even has a handle so you can easily lift it out of the pool with your hand or a tool hook. US$250
Dyson V12 Detect Slim Cordless Stick Vacuum
I had the opportunity to review the Dyson V12 Detect Slim cordless stick vacuum and absolutely loved it as an upgrade to my many-years-old Dyson. Not only does it have a longer run time at up to 60 minutes, it also boasts a more hygienic emptying process and has a button for turning on/off versus a trigger you need to hold down the entire time. But the coolest part is the inclusion of the Laser Slim Fluffy head cleaner, which is more than just a novelty. Turn the lights off and it will illuminate the dirt and debris so you can easily see it, reporting what it picks up on the convenient screen at the top. The Boost mode is fabulous for tougher, bigger messes, though it does impact battery life (about halves it). At about $850, this vacuum isn't cheap. But along with the functionality and powerful suction is the neat docking station, the numerous attachments, and the ability to transform it into a handheld vacuum that all justify the price tag.
Arcade1Up Infinity Game Table
Instead of everyone sticking their faces in their solitary devices for screen time, gather around for a new, high-tech spin on family game night with the Arcade1Up Infinity Game Table. Equipped with a touchscreen, you can all enjoy classic game board games like Risk, Scrabble, Monopoly, Chutes & Ladders, Sorry, and more. With pricing starting at US$700 (orders do ship to Canada or check Best Buy for availability), it even comes with built-in Wi-Fi so families and friends can battle against others remotely by playing online.