There are few audio brands that illicit such high emotion as Thorens, a company that was founded in the late 1800s in Switzerland and like most century-old companies has seen good days and some bad. It wasn't until 1966 that the company was sold and moved to Lahr, Germany and has remained a German company to this day.
In 1903, Thorens manufactured their first Edison-type phonograph and in 1928, developed the first electric direct-drive motor for gramophones. Typical of the day, rather than dedicating the company exclusively to music products, Thorens also made mechanical razors (1954) and even cigarette lighters (1913-1964).
Not many will align the Thorens name to extended products like the harmonicas that they produced from 1914 through 1952 but for turntables and particularly the TD 150 with the TP13 tonearm launched in 1965, that set the gold standard for player mass production manufacturing, by introducing a 3-point suspended sub-chassis that essentially spring floated both the platter and the tone arm. Not surprising, searching for vintage Thorens players from the 1960s is an audiophile hobbyist Holy Grail and the name Thorens can confidently be spoken among other vintage finds from brands like Linn, Technics and Rega.
Last year Thorens announced the release of the TD 1500, and update on the classic 150. Like its famous predecessor the TD1500 also features a sub-chassis of three conical springs that separate the tonearm and turntable from the frame and motor. Unlike the TD 150, the TD 1500 has simplified fine tuning by making these springs adjustable from above which allows for easier access.
While Thorens are one of the only turntable manufacturers that produce a high-end fully automatic turntable, the Thorens TD 1500 is a purely manually player with a hefty cast aluminum platter which weighs 1.4 kg and is 22 mm thick and featuring a Delrin trust bearing. The speed of the DC motor is electronically monitored by an incremental encoder that can detect deviations that are then automatically corrected. Thorens says this encoder also enables very good wow and flutter values. A manual lever sets the turntable speed to either 33 or 45 rpm.
The Thorens TD1500 also features a newly developed TP 150 Tonearm, with an effective mass of 14 grams and is adjustable in both azimuth and height that Thorens says "allows for improved channel separation and cross talk." The two-part TP 150 Tonearm is equipped with a standard SME connector, so head shells can easily be removed and switched, which is a great feature if you are inclined to operate different cartridges for different sounds.
The TD 1500 also has XLR outputs, (something that was not a feature of the original TD 150) in addition to the typical RCA jacks. XLR enables a balanced operation but only with a suitable MC cartridge and XLR pre-amp. Power is supplied to the drive by a 12V power supply unit that includes multiple voltage attachments to accommodate European, Asian, and American plugs.
Erikson Home is the exclusive Canadian distributor for Thorens, and they sent me a TD 1500 earlier this month. The turntable arrived double-boxed and as a testament to German precision, comes exceptionally well packaged and intuitively so, meaning re-packaging the turntable for its return to Erikson was a breeze. This may sound funny to some but when you unpack and pack boxes for a living you would be shocked and how complicated the return process can be! I am convinced some manufacturers make it virtually impossible to repackage and I call this the IKEA affect!
The TD 1500 sent to me came in a beautiful piano gloss-black finish with the Thorens logo handsomely and subtly recessed into the front left of the plinth.  Heavy rubberized feet add additional isolation to an already separated spring loaded chassis. A smoked-gray hard plastic hinged dust cover is included in the box.
Set-up is a breeze as the tone arm arrives already balanced and the Ortofon 2M bronze cartridge is also pre-installed. The most complicated part of the set-up is attaching the belt, which is simple. For shipping, the sub-chassis is screwed down firmly with three hand-tightening bolts that you fully remove prior to installing the belt and platter. This is self-explanatory and the bolts are easily discarded with no tools needed.
While the Thorens website suggests that RCA connectors are included in the box, no connectors outside of the power supply were supplied in my review sample, (a unit as far as I can tell, had never been opened) so keep this in mind if you purchase a TD 1500 as you may be heading back to the shop for connectors if you don't already own appropriate cables. That a $3,700 turntable does not come with connectors really is no surprise, as most high-end gear rarely include connectors.
With no RCA connector included, I was also left to guessing if the TD 1500 is self-grounded or needs a grounding wire and don't look for an answer in the manual for there isn't one. Mind you, that's an easy thing to figure out as the buzzing without a grounding wire is so intense the answer is apparent – the TD 1500 needs a grounding wire! I should have known this as the 1500 is an update to the original 150 which of course needed grounding.
For my set-up I used an Audioquest Wildcat flexible tonearm cable that retails for around $120 and connected the TD 1500 to the built-in phono pre-amp in my Moon Ace Integrated Amplifier attached to Focal Aria 906 bookshelf speakers. No buzz at any normal listening level was detected which is a testament to the fit and finish of the TD 1500 internals.
The first impression is that the platter is really bouncy and incredibly sensitive and while the sensitivity can be adjusted, I left the setting as it came out of the box. When I say its bouncy, that's only because I kept pushing down on the platter to make it bounce! Under playing conditions no movement of the chassis is detected and the sensitivity is designed to prevent skipping and isolation. An anti-skating system that uses a sliding weight in the base of the arm, which is adjusted on a nylon thread guided over a ruby bearing also adds to playing performance.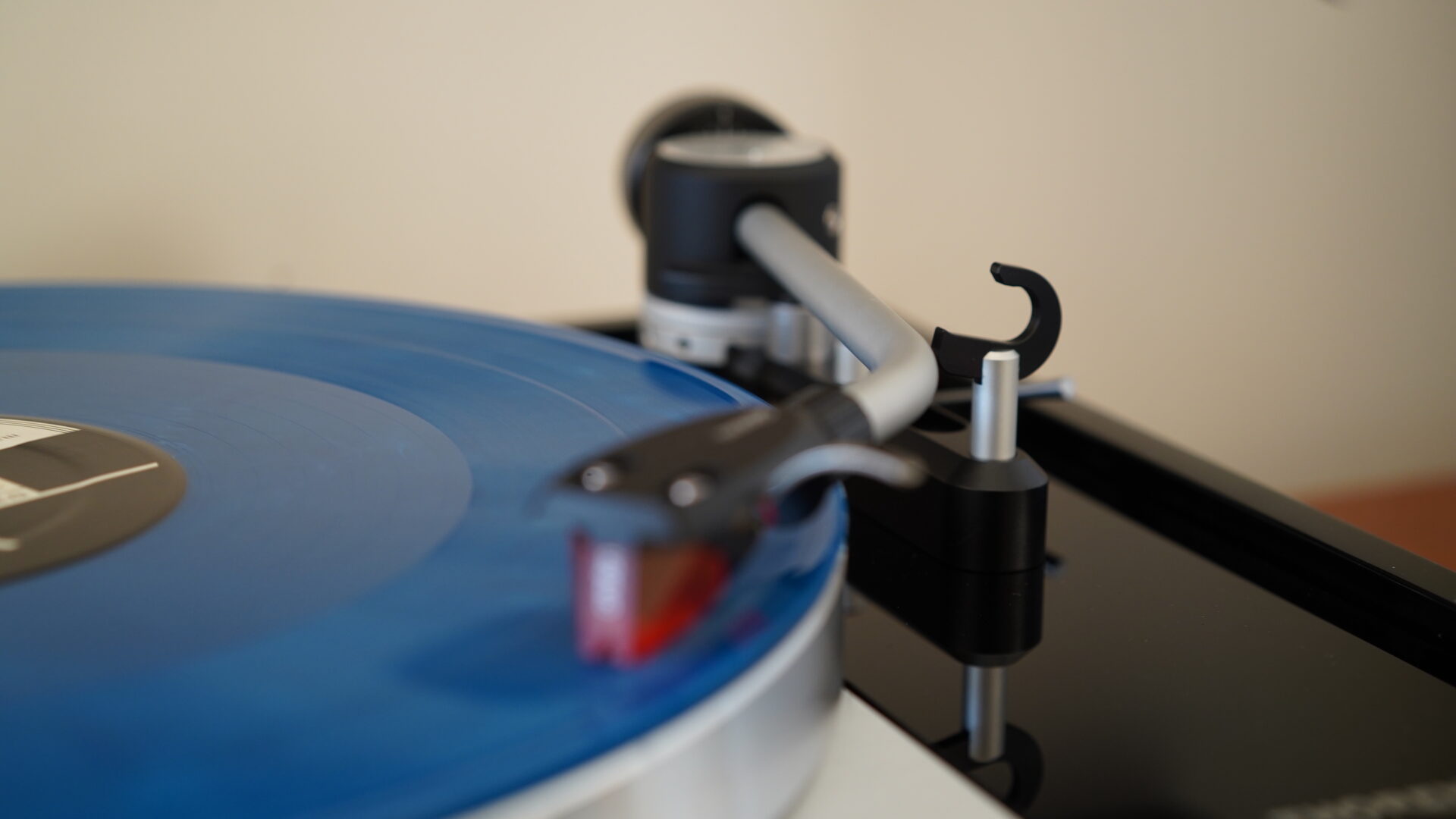 For testing the sound of this gorgeous looking turntable, I turned to a 1960 Blue Note recording by jazz saxophonist Hank Mobley called "Soul Station" which jazz critic "Bob Blumenthal noted as one of the finest programs of music on Blue Note or any label." Mobley presented "Soul Station" in a "hard bop" style meaning the music is fast and lively. I weighted the tonearm at 1.8 a tad heavier than the 1.5 suggested by Thorens and found The TD 1500 captured Mobley effortlessly but also introduced some imperfections on my album that my usual player did not detect.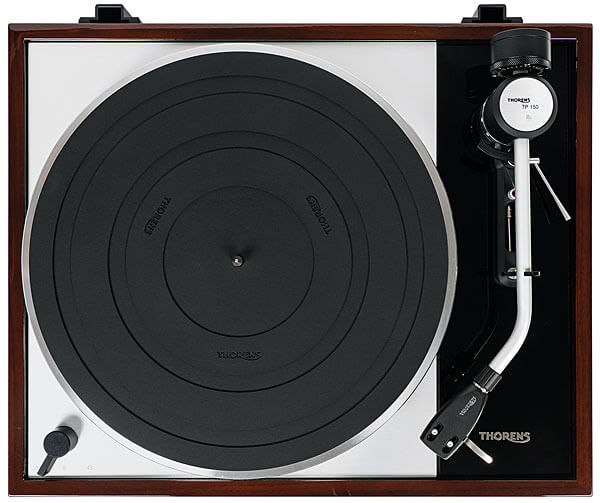 Muddy Waters' 1964 fourth studio album "Soul Singer" on 45 rpm Original Master Recording allowed me to hear a crisp and coherent vocal and albums from John Mayer and Jack Johnson rounded out my test listen.
In 2022, vinyl records are on schedule to out-sell CDs for the very first time since the 1980s and of course part of the allure of vinyl is for the sound that an analog player generates, but just as important for me, is the visual where the player becomes an object on display and a piece of art. Thorens knows this too well and has painstakingly created a worthy update to the TD 150, the turntable that caused a technical revolution within the hifi world half a century ago. The paint finishing is exceptional, the brushed aluminium platter contrasted to the gloss paint is striking and the tone arm with an innovative anti-skid platform looks expensive justifying the price.
Naturally this would not be a completed review if I didn't find at least something critical to say about this worthy player and the gripes I have are picky at best such as the included power cord being unsubstantial, un-insulated and should really be stepped-up for a product selling for $3,700.00. While some of the highest-end products in the world (think $20,000 bicycles) are manufactured in Taiwan, some irrational purists may balk at a German "made-in-Taiwan" turntable when competitors such as Linn go to great lengths to brand their players as being manufactured "in-house" in Scotland.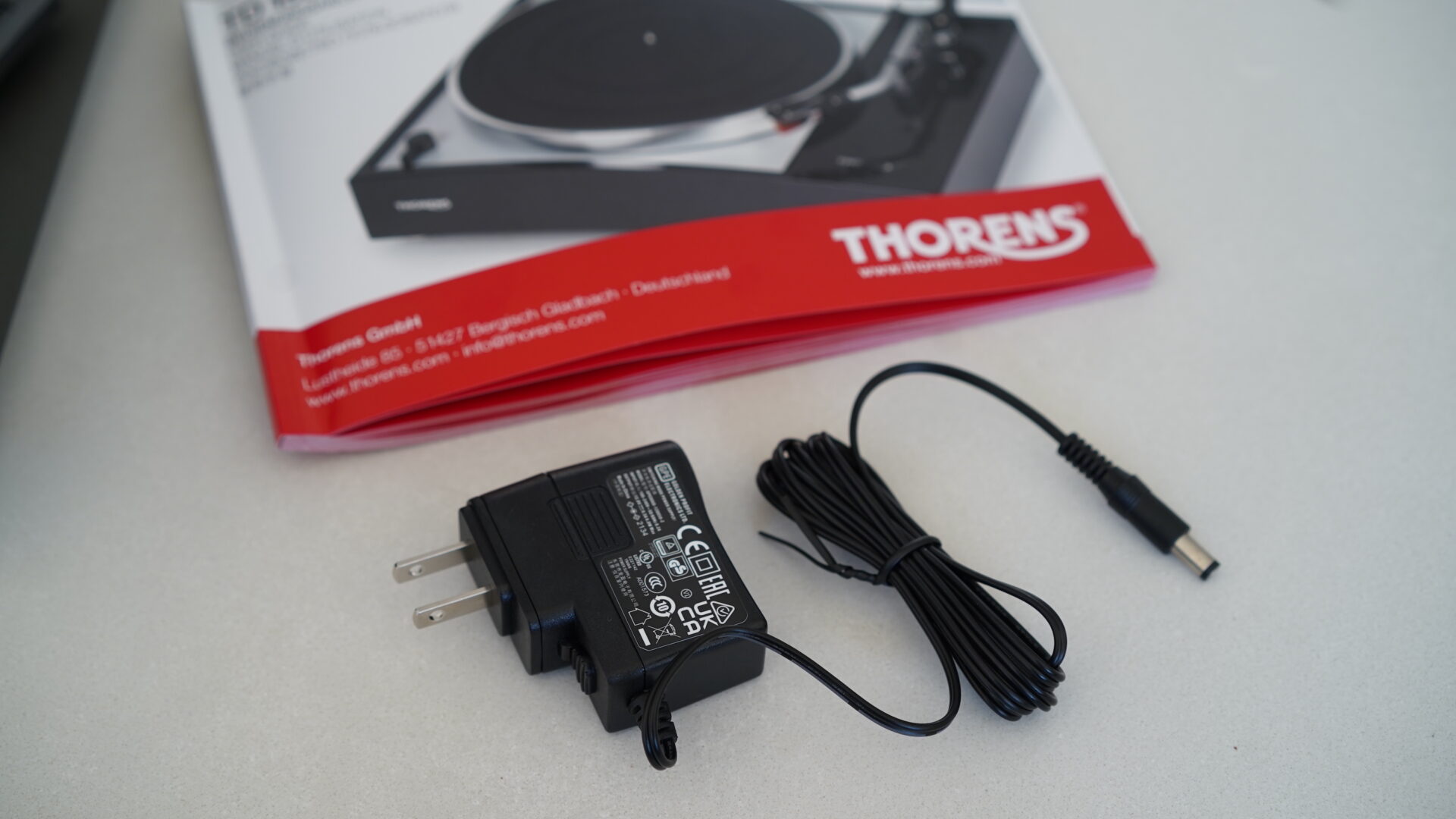 Again, if such little gripes impact your buying decision, you're even more quirky than me! The TD 1500 is a high-end, beautifully manufactured and sounding turntable that has painstakingly paid tribute to what many consider to be one of the most important players ever released; the TD 150. The addition of XLR outputs and a pre-installed high-end cartridge suggests Thorens CEO Gunter Kürten, is committed to ensuring the same accolades we use to describe Thorens vintage gear will be used with a similar abundance to describe the brand's present-day releases like the TD 1500 many years from now.
Available in both walnut and gloss black for $3,699.00 MSRP exclusively distributed through Erikson Home. 
For an interesting history on the Thorens company click here
Tech Specs
– Function: manual turntable with sub-chassis
– Drive system: Belt drive
– Motor: incremental encoder controlled and stabilized DC motor
– Speeds: 33-1/3, 45 rpm.
– Speed: select electronical
– Platter: 12" / 1,4 kg Die-cast aluminum platter with 22 mm hight
– Tonearm: Thorens TP 150 with SME headshell
– Cartridge: Ortofon 2 M Bronze with nude fine line stylus
– Anti-Skating: anti-skating weight, which is adjusted on a nylon thread guided over a ruby bearing
– Shut off –
– Outputs: RCA / balanced XLR
– Power: supply external 12 V power supply
– Dimensions: 420 x 150 x 360 mm (W x H x D)
– Weight: 7,9 kg
– Finish: black high gloss, walnut high gloss