Roku has introduced both a new streaming stick as well as its latest OS, 10.5, with updates that provide easier access to content as well as new mobile features.
The latest Roku Streaming Stick 4K, which will sell for an MSRP of $70 in Canada, offers up to 30% faster 4K streaming in a new, more portable form factor. Roku OS 10.5, meanwhile, includes features designed to help you access your desired content more quickly. There are also improvements to Roku Voice and new features in the Roku mobile app.
With support for 4K as well as Dolby Vision and HDR10+, the new streaming stick also has a redesigned, long-range Wi-Fi receiver that offers twice the Wi-Fi speed. It is designed to hide neatly behind the TV with easy set-up and the ability to use your voice to control it via the included remote. Fast streaming and navigation is possible thanks to the new quad-core processor combined with the new Wi-Fi receiver, providing quicker, easier, and more seamless navigation.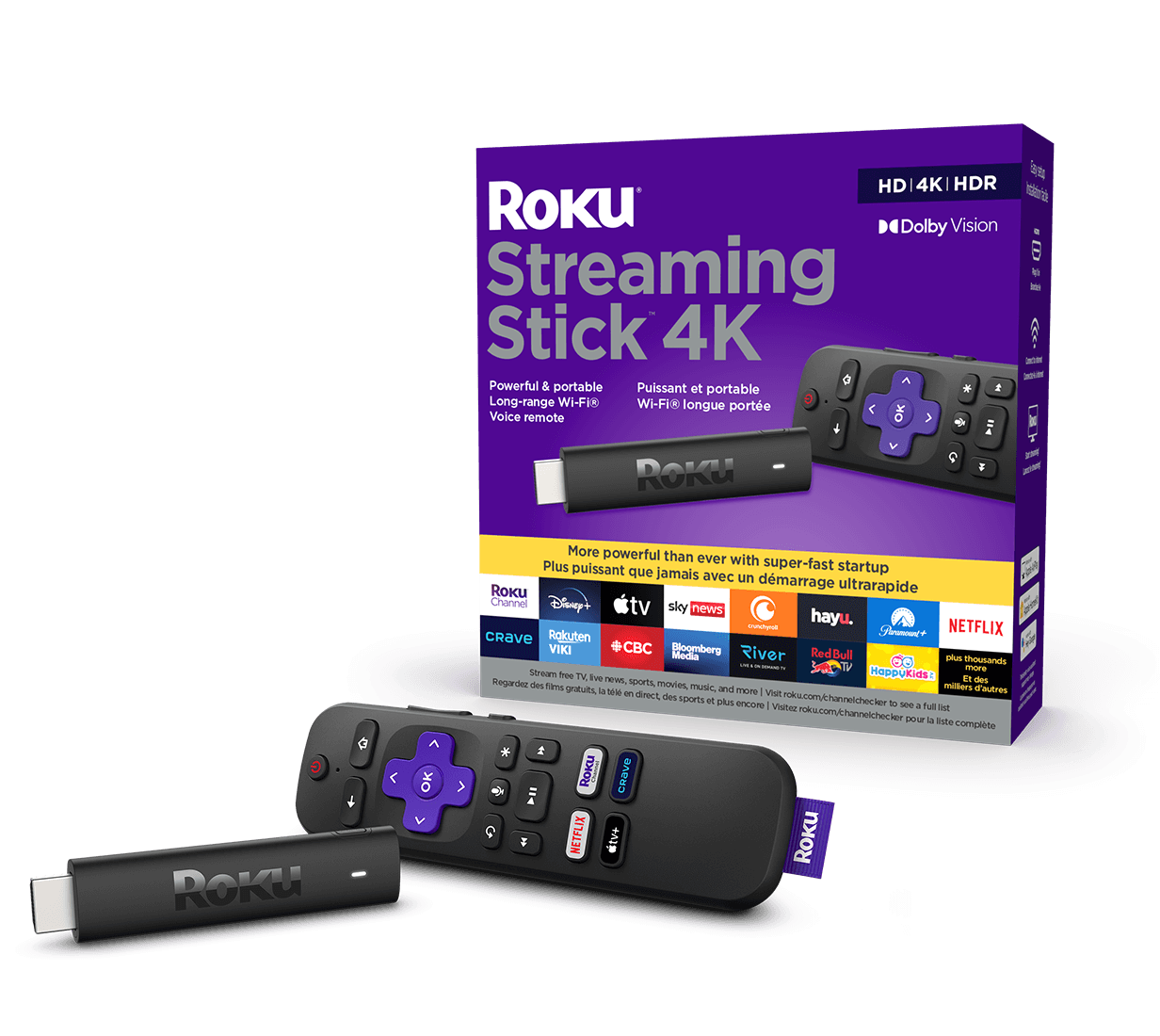 In addition to using your voice, the remote also has buttons for powering up the TV, adjusting volume, and controlling the stick. You can use audible commands via Amazon Alexa or Google Assistant to search for content, initiate playback, and more.
With AirPlay 2, you can control and share content directly from an iPhone, iPad, or Mac. The new Roku Streaming Stick 4K also supports HomeKit for easily and securely controlling Roku devices using Siri or the Home app on a compatible Apple device.
Roku OS 10.5, meanwhile, will begin rolling out to Roku devices in the coming weeks. It includes features like Roku Voice, with nearly any channel in Roku Search supporting the feature, including Netflix and Spotify. There's a new Home tab in the Roku Mobile app that provides easy access to entertainment and features Zones, browsable collections of movies and shows available across a number of top genres and popular/seasonal topics for convenient content discovery. Save movies and TV shows to the Save List to watch later; the Save List can be accessed via the Home and Remote tabs, and you can add titles you find via search to the Save List.
Roku OS 10.5 also provides a more integrated music experience across the Roku platform with the introduction of voice search and playback of music, podcasts, and video podcasts. See search results within a more visual "music and podcast" row with Spotify as the featured launch partner with millions of podcasts and over 70 million tracks available.
Roku Voice can be used to complete device setup or login to supported apps by entering e-mail, password, and PIN information by voice. Keyboards that support Roku Voice will display a microphone icon so you can quickly identify when voice entry is an available option.
Advancements to the AV sync feature enhances the wireless private listening experience by intelligently adjusting based on the type of headphones connected. The advanced AV sync feature enables you to make further refinements via a smartphone camera if needed. This feature will surface when you have wireless headphones connected to the Roku mobile app and is accessible within the settings menu in the app.
Over the next month, Roku will have more than 75 live TV channels with the introduction of 16 brand new channels available through the program guide in The Roku Channel. The new content offerings include popular channels across many genres like Film Rise Horror with Jamie Lee Curtis, Christopher Walken, and Liam Hemsworth; The Red Green Show, a cult Canadian sitcom-sketch comedy show; Forensic Files where evidence and expert interviews help solve real crimes; and New K.Movies for the top Korean Movie options.
The Roku Streaming Stick 4K will be exclusive to Best Buy initially, and available through other retailer partners at a later date.