The Roku Ultra, which the company claims to be its most powerful streaming player to date, is now officially available in Canada.
The Roku Ultra offers powerful streaming, hands-free voice controls, Dolby Vision, Dolby Atmos, Apple AirPlay, and Bluetooth connectivity; and it comes with a rechargeable remote. It's also equipped with Roku OS 11.5, which offers improvements in search, discover, private listening, and support for French Canadian voice searches.
With a fast interface, the Roku Ultra offers Wi-Fi, Dolby Vision, Dolby Atmos, and HDR10+ compatibility. The Roku Voice Remote Pro features hands-free voice controls, a rechargeable battery, a lost remote finder feature, and more.
"Canadians are looking for a top-of-the-line streaming experience, and the Roku Ultra delivers," says Marcin Lempka, Country Manager, Canada, Roku Inc. "With the release of Roku Ultra, Canadians will get new features that support easier search and voice control, as well as a rechargeable voice remote. With a click of a button or by using the remote's hands-free voice commands, Roku Ultra users can access the content they want, set shortcuts to their favourite channels, or find a lost remote without moving from the couch."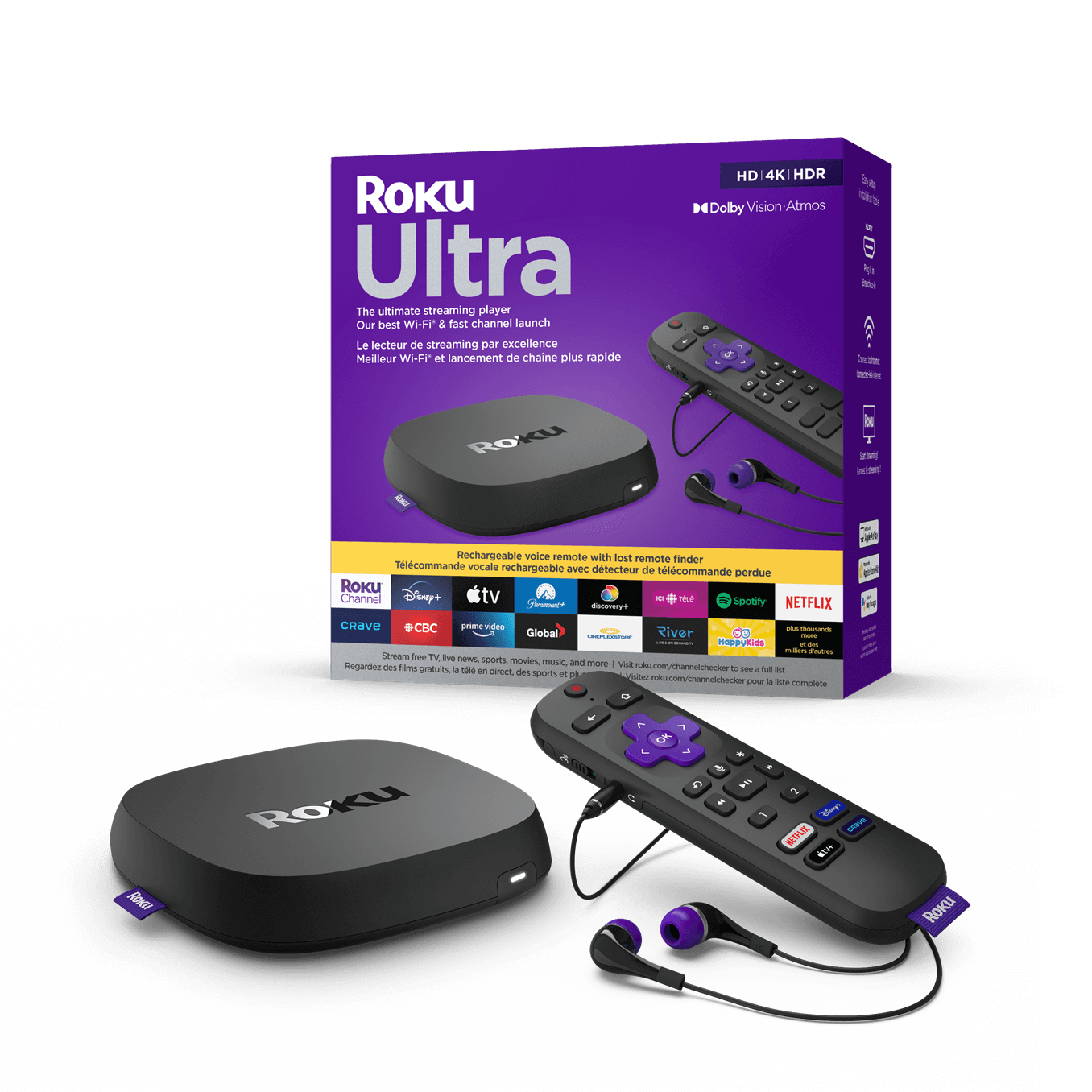 Owners can expect a smooth UI with fast channel launch, along with a sharp 4K picture supporting Dolby Vision and HDR10+ (with compatible TVs.) With a compatible TV, you can also enjoy Dolby Atmos immersive audio and private listening via Bluetooth: simply plug the included headphones into the remote and turn up the volume without bothering others. The improved Wi-Fi connection ensures a steady connection for streaming; alternatively, you can choose to wire via Ethernet.
The Roku Voice Remote Pro offers a rechargeable battery, hands-free voice for easy actions (such as "Hey Roku, show me action movies,") personal shortcut buttons, and more. The rechargeable battery works with any standard USB charger, so you can save money on batteries and keep them out of landfills. The rechargeable battery keeps the remote powered for up to two months on a single charge.
To control, you can also use your voice: simply say "Hey Roku" and command to turn the TV on, adjust the volume, and control playback. Say "Hey Roku, find my remote" if you misplace it and listen for the chime to find where it is. You can also use the button on the Roku Ultra player or by using the free Roku mobile app via iOS or Android device.
You can use the Roku remote to power up the TV, adjust volume, mute, and control streaming. There are also buttons for setting personal shortcuts for one-touch control to launch your favourite channel, for example, or pull up search results for a favourite movie, franchise, or actor.
If you prefer to use Roku voice, you can leverage the hardware switch to turn off the hands-free voice feature and use push-to-talk voice controls instead.
In addition to Bluetooth private listening and voice search in both English and French, the Roku OS 11.5 software update includes the addition of a featured free tab on the home screen that highlights free, unlocked content from local and global partners; and a save list for saving movies and TV shows from across the platform. Roku OS 11.5 will begin rolling out to Roku devices in the coming weeks.
The Roku Ultra will be available for an MSRP of $130 at major retailers in Canada in October.