Smart glasses are a popular new trend, offering access to things like audio, AI, and even, with some models, the ability to record content right from your, well, face. The Solos AirGo 3 Smart Glasses are an interesting option in this space, offering conversational AI through ChatGPT and a Smart Hinge design so you can interchange the frames. I was excited to try out a pair.
What Are The Solos AirGo 3 Smart Glasses?
As noted, the Solos AirGo 3 Smart Glasses include conversational AI through ChatGPT. The Smart Hinge technology allows for both interchangeable front frame styles as well as prescription lenses.
They combine premium earbuds with fashionable eyewear, as well as a built-in voice assistant. With a lightweight frame, there's voice search and translation through ChatGPT, spatial audio for situational awareness, speech recognition, and guided fitness exercises and tracking.
Within the Solos app, SolosChat allows you to ask questions and perform tasks by talking instead of pulling out a phone to text. SolosChat, powered by ChatGPT, can be used to do things like summarize a specific topic of interest ("how does a car's engine work?"), gain insights on well-known tourist destinations while traveling ("I'm in Italy at the Pantheon right now. Can you tell me about its history?"), or retrieve a recipe for convenient and hands-free reference when cooking ("can you give me a step-by-step recipe for chocolate chip cookies?") You can also copy and paste conversations with ChatGPT and share them directly to social media, through text, or in an e-mail, simplifying on-the-go communication.
One of the exciting new AI applications with AirGo3 is live language translation. SolosTranslate enables you to hear translated sentences whispered into the ear using the AirGo3 smart glasses without the need for a human interpreter or looking at your phone. This technology can transform international business meetings and foreign travel, says Solos, by allowing people to naturally converse and understand each other.
AirGo3 delivers clear audio with a volume of up to 100 decibels for music, podcasts, calls, and more. Patented Whisper Technology offers superior speech recognition that removes ambient noise for the best sound quality even in the noisiest environments – making it ideal for conversational AI through ChatGPT. The dual-direction speakers with an open-ear design allow for situational awareness when on the go to prioritize safety.
Activate Whisper Messages and Whisper Events within the Solos app to have messages automatically read aloud from text, WhatsApp, iMessage, Teams, calendar events and more, as soon as they are received. These hands-free, real-time notifications on Solos smart glasses free you from constantly checking your phone. There are also some fitness functions, which I'll discuss in more detail.
The glasses are IP67 rated, making them safe to wear in the rain or when working out, and provide 10 hours of music or seven hours of call time on one charge, lasting all day. Charge them using the charging pins and proprietary charger.
They come standard with anti-blue lenses to reduce eye strain but you can also upload a prescription at checkout to have them fit with the proper lenses. There's also the option for light-adjusting photochromic lenses and polarized sunglasses lenses.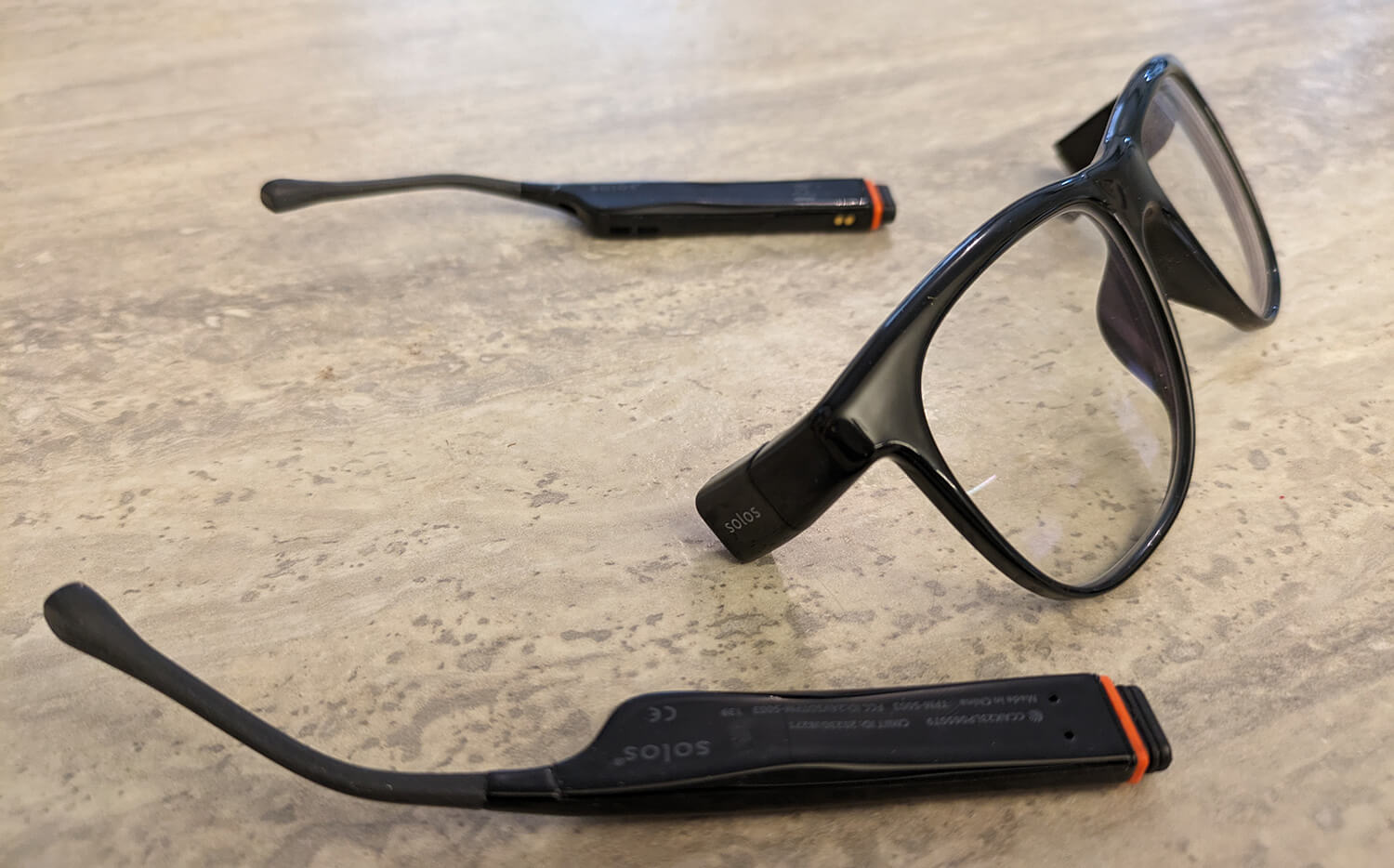 With the patented SmartHinge design, you can swap out the front frame for ones to match every occasion, whether it's for sports, fashion, the office, and more. The frames are interchangeable using USB Type-C connectors that provide personalization options to suit your needs and are uniquely designed to fit different head sizes and shapes.
AirGo3 Smart Glasses are available in three styles: Argon (US$249-US$299), Xeon (US$199), and Helium (US$199) for sports, the sun, or daily wear, and offered in a variety of colours. Additional frame styles will be released regularly by Solos and select eyewear partners. New updates to firmware and software will be done remotely, allowing users to enjoy added features immediately when available.
SolosChat, SolosTranslate, and Solos Fitness Coach are immediately available with purchase. An upgraded Premium Subscription for US$10/mo. includes enhanced text-to-speech services for more natural language AI, standalone use of the SolosChat without the glasses, enhanced AI performance, and more. All purchases made in 2023 will include three months of the premium subscription for free.
Wearing, Setting Up, and Using the Solos AirGo3 Smart Glasses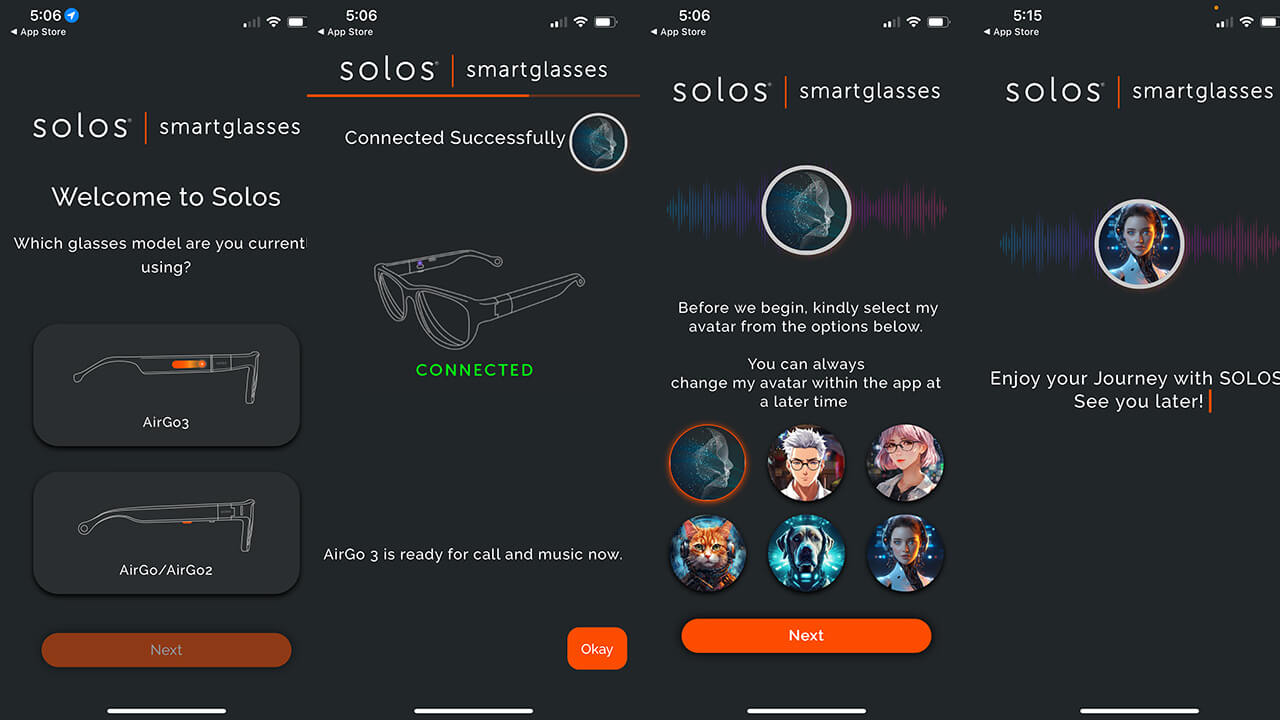 I was sent a pair of Solos AirGo 3 smart glasses with prescription lenses. I wore them as replacements for my regular everyday glasses, which I use for distance since I'm near-sighted. They fit comfortably, easily worn in place of my regular glasses. They don't feel heavy on the head and the lenses have a wonderful tint to them that helps reduce eye strain.
There's a PIN on the left side of the frame for charging via the proprietary charger. While charging, you can download the companion app and start familiarizing yourself with how they work. Run through the set-up process, which includes choosing the sound profile best suited to you.
When I first set them up, they made me jump any time a notification came through. My son sitting next to me could also hear the audio of the message clearly. It takes some time to adjust the volume to the proper level so it's easily heard by you but isn't overpowering or distracting to others; not to mention to prevent others from listening in on your messages!
Once the volume issue was solved, it was smooth sailing. Messages come through loud and clear (but not too loud!) One thing to note is that if the person sends a link, which apparently many of my contacts do, the voice assistant will read the entire URL versus just saying the person sent a web link.
Button sensitivity is something you'll want to play around with as well. The glasses often started blasting music when I didn't intentionally select a music app, which can be distracting not only to the wearer but those around you should it be done by accident.
Music Playback and Calls
I wore these glasses to play music while going on a few walks, and the audio quality is surprisingly good. It was comparable to a decent pair of in-ear true wireless buds, though you're not going to get any level of noise cancellation. However, it was nice to have my ears completely free, and simply pull the glasses up to my head to effectively lower the volume and hear someone speaking or place a lunch or coffee order.
Controlling playback was simple: press the side button once or twice (a slight press versus a quick tap or long press) to go to the previous or next track and slide your finger to adjust volume. Once you get used to the process, it's super easy.
I also had a few phone conversations, both indoors and out, while wearing these glasses. I could hear the person clearly and they could hear me as well. As noted, you can have the glasses read messages aloud. They came through loud and clear though it didn't seem to work with iMessages: messages from apps like WhatsApp and Signal were delivered but not iMessages and I couldn't seem to fix this issue.
Fitness and Well-Being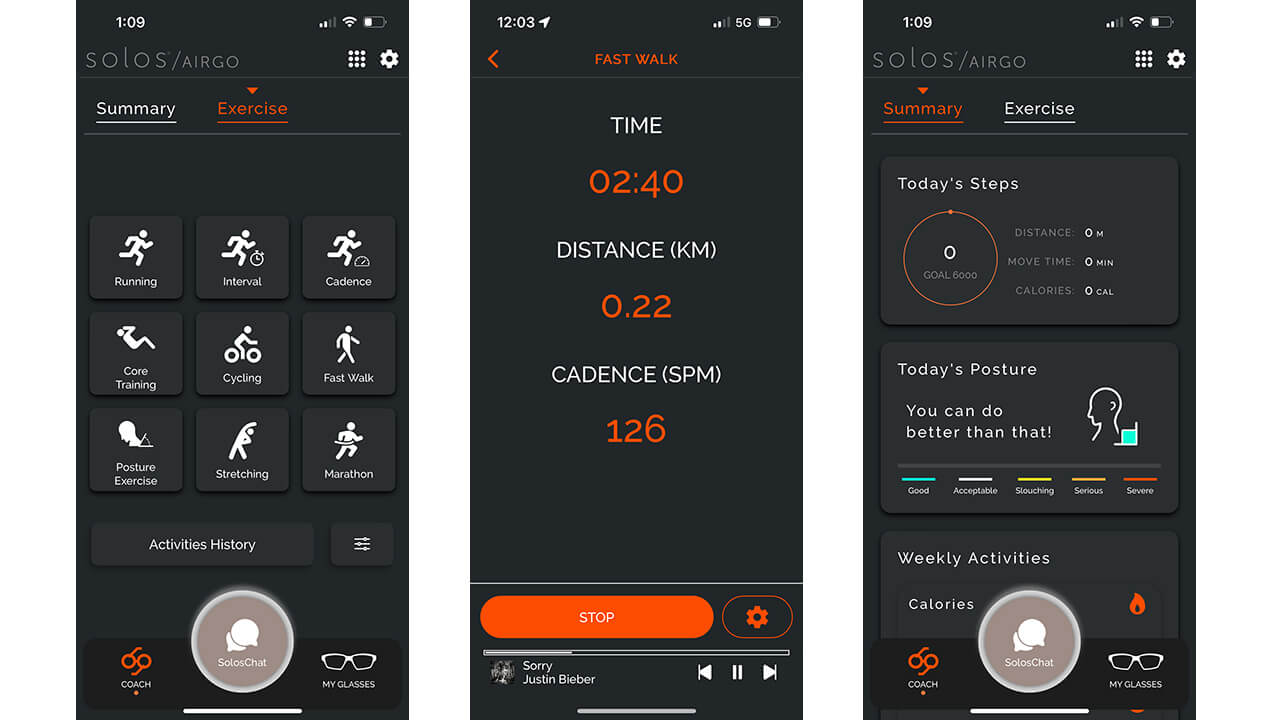 For fitness, AirGo3 also provides short and effective guided stretches that can be performed anywhere, postural corrections to help with tech neck, and even hydration reminders. Track metrics like steps, cadence, and calories, while enjoying guided exercises in categories like Core Training, Fast Walking, Running, and Interval Training, each customizable by fitness level.
I tried a few of the features. I logged a walking exercise, for example, but the app elicits a constant beeping noise while it tracks, which interfered with the music I was also listening to. It tracked my distance, time, and steps. I also did a quick posture calibration to keep an eye on how good my posture is. I received a notification that "you can do better than that!" though my posture was logged as "good." Er, thanks?
The fitness features are a nice-to-have but you'll get a much better experience with a dedicated fitness tracker. This is more of a novelty, after-thought feature than anything else.
ChatGPT and Live Translate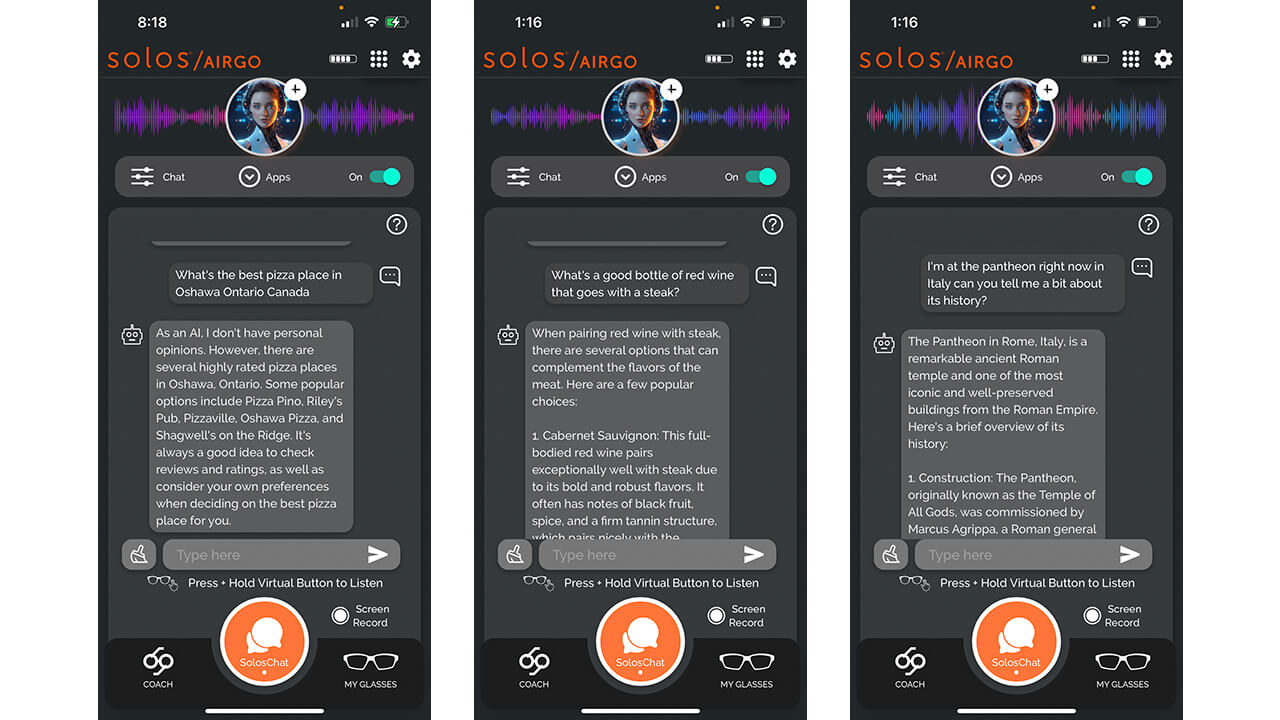 Using the conversational AI is simple. Go into the app and turn SolosChat on. Then press and hold the side button and ask anything you want. You won't get real-time data so you can't ask questions like what the weather will be like tomorrow. I tried asking questions about the glasses itself, like what fitness features I could use. I was given a full rundown of how it works and what it does in this respect. I asked about a good bottle of red wine to pair with steak and she provided a few popular type choices and why they would go well. I can see the value in using this feature, especially while traveling. Having access to real-time data would make the experience even better, but this is a widespread limitation of entry-level AI technology right now.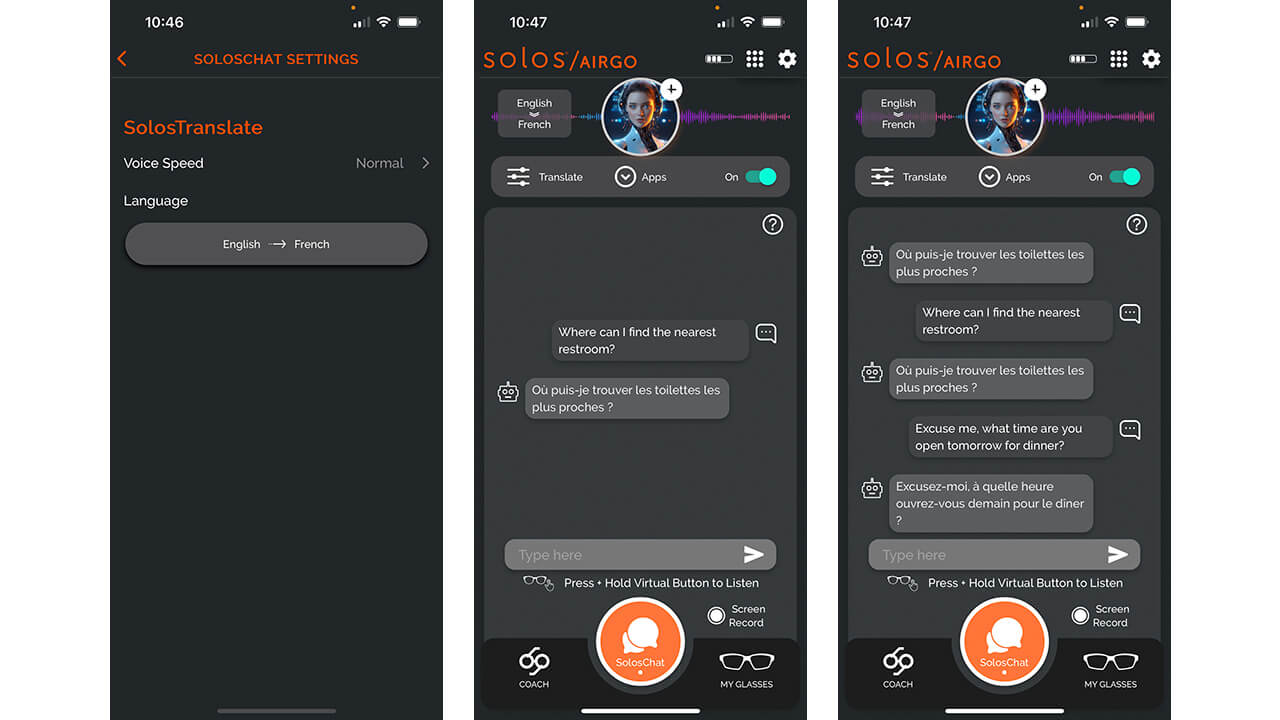 The Live Translate feature is where these glasses really shine. Hidden within the tiny App icon on the SolosChat page (it's difficult to find if you don't know where to look), it's a marvel. First, you need to switch from SolosChat to LiveTranslate in the app, choose the desired language you want to translate to and from, then press and hold the side button and speak (or have someone else speak) to initiate the process.
I tried it out translating my own English speech to French and it worked both flawlessly and quickly. Travelers will love being able to easily translate then repeat the audible translation you hear in your ears or read the text from the app (or show it to someone) as it appears in real-time as the words are spoken. The best part is that you don't need buds in your ears: you can just wear the glasses that are already on your face.
Wish List Notes
I did find the Solos AirGo app finicky at times. Sometimes it would freeze requiring a force close and reload to get it working again. With that said, this is a common issue with many apps.
Using Solos Chat and Live Translate are great, but both automatically shut off as soon as you are done using the glasses, which means you need to turn then on every time. You can run SolosChat and music at the same time if desired, but it can get confusing to manage buttons presses, activating ChatGPT when you just want to switch to the next track or trying to talk over a song. But chances are you'll be happy using one feature or the other at a time.
There's only one function button on the frames, which can be frustrating when you try to ask ChatGPT a question and realize you need to grab your phone, go to the app, and turn on SolosChat first. It would be great if a sequence of buttons presses could activate SolosChat right from the glasses so you can truly keep your phone in your pocket.
Also note that you can't use SolosChat and Live Translate at the same time: you need to flip back and forth between the two in the app to adjust what the function button will trigger. It would have been great for the function button to be able to trigger both (say one tap for SolosChat, two for Live Translate), or even a secondary function button would be helpful.
Should You Get the SolosChat AirGo 3 Smart Glasses?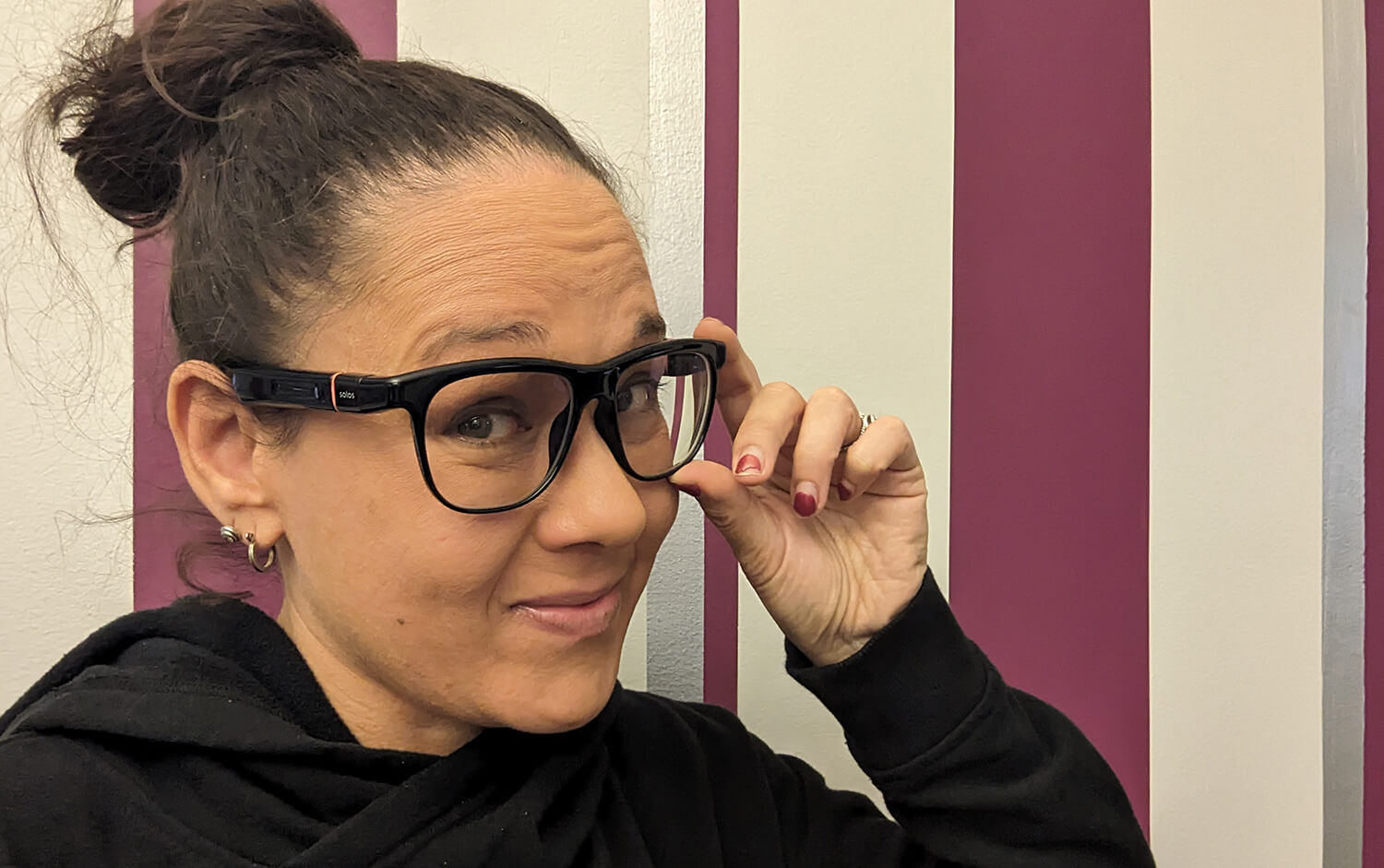 The SolosChat AirGo 3 smart glasses are an interesting choice in the growing category of smart glasses. They compete with the new Ray-Ban Meta smart glasses that have many of the same features plus can record audio and video footage, even livestream. Depending on the style, however, you can get the Solos glasses for as much as US$100 less. These ones also require a subscription if you want to access all the features, including Live Translate.
But they're a solid option and one to consider if you'd prefer not to stick with the Meta family. My pair with prescription lenses are ultra-comfortable, look great (albeit not the style of frames I would have chosen for day-to-day glasses), and I love that you can swap out the look and maintain the smart functionality with the modular frame design. The battery lasts a long time, and they charge quickly.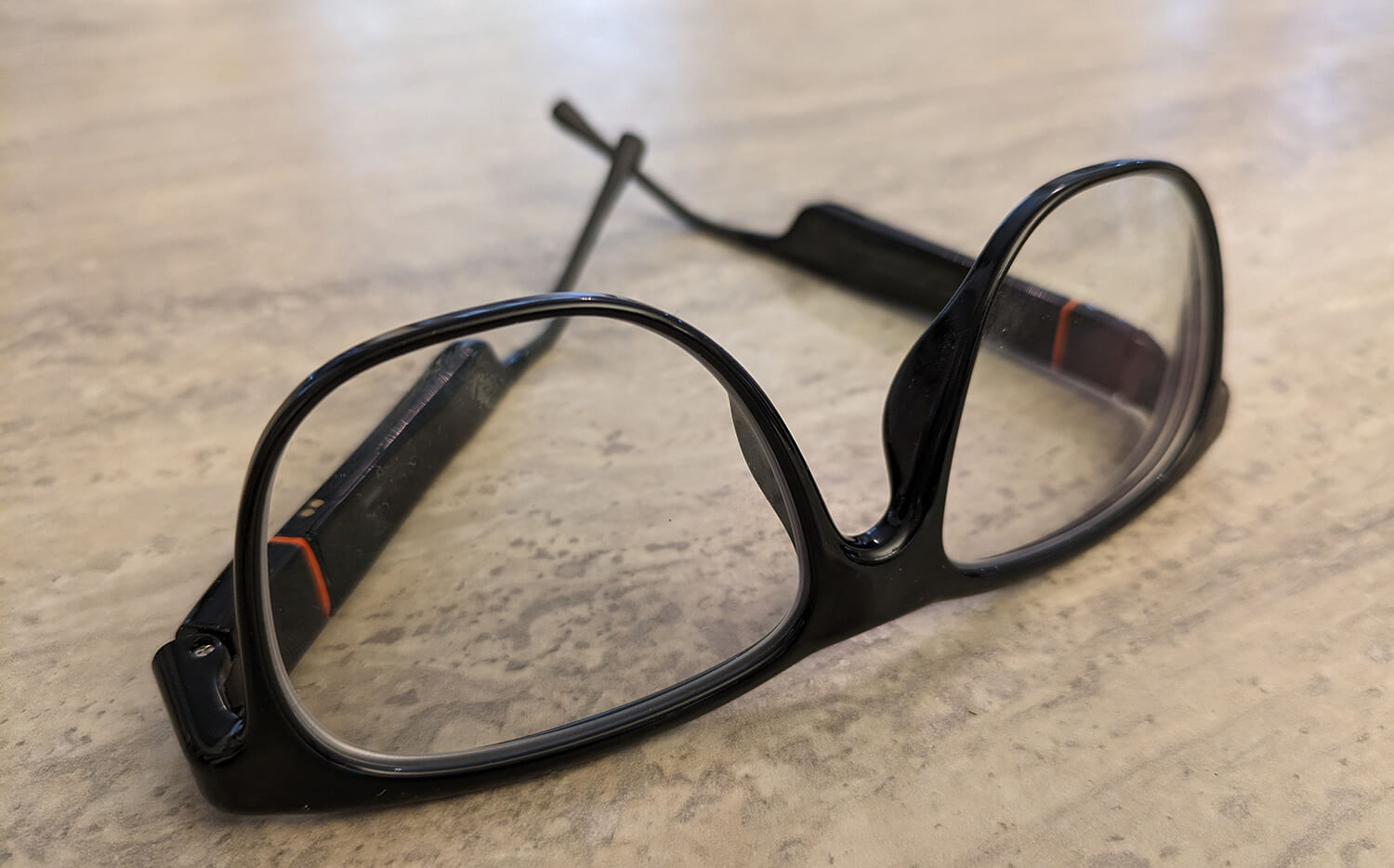 For on-the-go AI assistance through ChatGPT, comfortable and surprisingly good sounding music playback without blocking your ears, and Live Translate (if you're willing to pay the subscription), these glasses are impressive. Considering the frames are cheaper than designer (or even non-designer) frames you'd get at your typical eyewear shop, ordering these with your prescription lenses gives you the best of both worlds.
If you need new glasses anyway, I'd highly recommend ordering a pair of these in your prescription lenses, or a pair of the sunglasses for when you're out and about. You won't pay much more than you likely would have been anyway, and you get added smart functionality that brings you fully into the world of AI on the go.