Sonos is known for its portable speakers, but only two models are truly wireless in the sense that they can run on built-in battery power: the Sonos Move and the Sonos Roam. This month, Sonos adds a third to the list, the Sonos Move 2. And I had the chance to review it ahead of its official launch.
What is the Sonos Move 2?
The Sonos Move 2, the second-generation model in the line, improves on the original in a few ways. It has an overhauled dual tweeter acoustic architecture and delivers wide and spacious stereo sound, says Sonos. It also has a precision-tuned woofer for deep, dynamic, clean bass.
One of the biggest advantages is that you'll get more than double the rated battery life than the original Move with up to 24 hours of continuous playback on a single charge. The speaker recharges on its included wireless charging base or you can recharge it on the go using any USB-PD power supply. You can also charge your phone from the speaker. Also, connect an audio source via auxiliary cable and Sonos line-in adapter, like a turntable or computer. It works with a router with Ethernet cable and Sonos combo adapter as well. Plus, it has Apple AirPlay 2 when using Apple devices with iOS 11.4 or later.
Boasting a tough, durable shell and IP56 rating, the Sonos Move 2, which will sell for $559, is designed to withstand accidental falls and bumps as well as moisture, dust, UV rays, and extreme temperatures. You can spray it with water or even use it by the pool where it might get droplets on it, but it isn't fully waterproof.
Automatic Trueplay tuning means the Move 2 can optimize sound for its surroundings so you always get the best listening experience. How does Trueplay work with a portable speaker that's designed to be moved around? While setting up Trueplay, you are advised that the Move 2 retunes itself every time you pick it up and periodically adjusts the sound as long as the microphone is on.
There are also more intuitive touch controls for play, pause, and skip track. Like the new Sonos Era 300 and Sonos Era 100 speakers, the Move 2 also has a volume slider you can swipe your finger along to adjust volume. Connect the Sonos Move 2 to Wi-Fi and stream via Bluetooth to a stereo pair; or group the Move 2 with other Sonos speakers in your system to amplify sound even further. An LED light on the product indicates connection, microphone activity, and mute status.
Design upgrades include a new Olive colourway along with traditional black and white. It's also more sustainable, reducing idle energy consumption by more than 40%. It comes in a responsibly designed package that uses sustainably sourced content, zero virgin plastic, and is curbside recyclable. The removable and replaceable battery further extends the overall life of the speaker.
Audibly, the Sonos Move 2 has three Class-D amplifiers, two angled tweeters, a woofer, and midwoofer. A far-field microphone array uses advanced beamforming and multi-channel echo cancellation for voice control and automatic Trueplay tuning. There's also adjustable EQ that is accessed through the Sonos app, including for bass, treble, and loudness.
Setting Up the Sonos Move 2
Set-up of the Sonos Move 2 was just like any other Sonos speaker, except that here, you can plug it in, charge it, and move it around versus leaving it plugged in. As suspected given my experience with other Sonos speakers, set-up was a breeze. I already have the Sonos app and it instantly detected the speaker and prompted me to add it and begin the set-up process. It even automatically connected to my saved Wi-Fi network: sweet!
Note, of course, that if you're using the speaker out of the home or where your Wi-Fi signal isn't great, you will leverage Bluetooth instead. Press and hold the Bluetooth pairing button at the back of the speaker until you hear a tone. Check for the speaker in your device's Bluetooth menu, and connect.
There was an available update for the speaker, which I had to download before getting started. It took a few minutes to complete. But the app showed a variety of useful tips while I waited, including details about setting up Trueplay, using Apple AirPlay, setting songs as alarms, grouping speakers in different zones (if you have more than one), adding favourites, and more.
For the sake of this review, I wanted to use the Sonos Move 2 on its own, as if I was someone purchasing it as a first Sonos speaker that can be used both inside the home and out.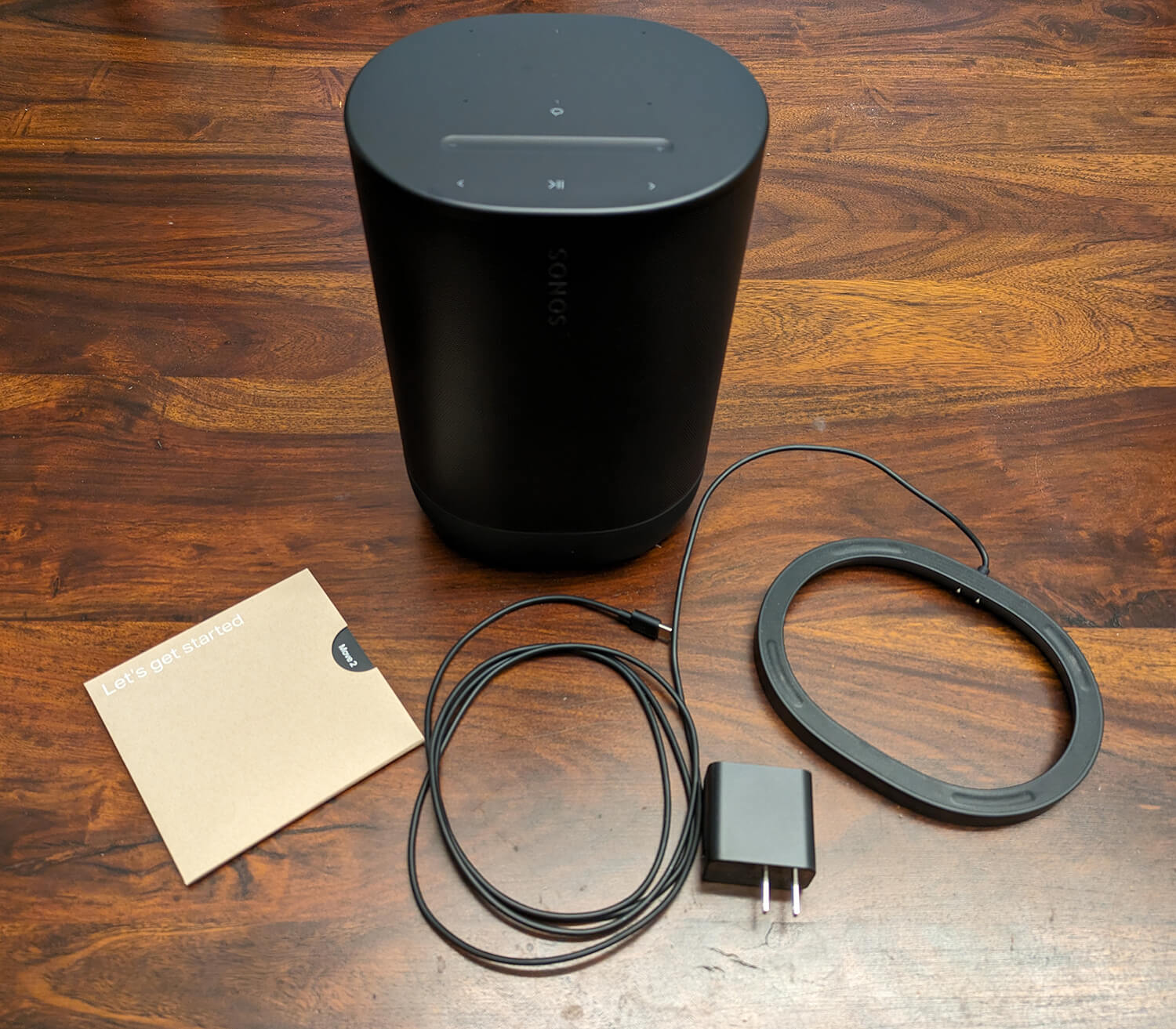 I first set it up in my kitchen, right beside where I work each day. While the speaker can be controlled from the smartphone app, which is likely how you'll most often use it, it does have on-device controls as well. On the top, as noted, are buttons for play/pause and rewind/fast forward or skip. The slider at the top to adjust volume by swiping to the left to turn it down and to the right to turn it up works like a dream. To group multiple Sonos products, just press and hold the play/pause button.
On the back is the power button along with the Bluetooth pairing button if you want to pair it with a secondary device. Flip the microphone switch for privacy to disable voice services. At the top is also a voice services button: tap to turn it on or off (the microphone doesn't turn off, however, unless you toggle that switch at the back). I set up Sonos Voice control and I love that it walks you through an audio demo, with a male voice guiding you on the various commands you can give, like "Hey Sonos, play music." You can also set up Amazon Alexa or Siri voice control if preferred (varies by country). Sorry, no Google Assistant support.
Given that this is a portable, wireless Bluetooth speaker, you can take it with you. There's a thin oval-shaped charging dock that plugs into the wall where you want the speaker to sit for charging. It isn't the most elegant dock and might look strange on your table or shelf when the speaker isn't in it (maybe find darker wood furniture where it will blend in).
The light turns on to confirm that you have positioned the speaker properly on the base and you can check battery life in the Sonos app. You can also charge the Sonos Move 2 on the go using a compatible USB-PD charger, and there's a battery saver mode you can enable that automatically powers the speaker off after 10 minutes in sleep mode. When it goes into sleep mode, you will need to turn the speaker back on manually using the power button at the back. Alternatively, connect an audio source via auxiliary cable or line-in. With a rated up to 24 hours of battery life per charge, you'll be able to listen all day before recharging back at home.
Listening to the Sonos Move 2
Now that everything was set up, it was time to sit back and listen. I used the Sonos Move 2 for background music during the workday. You can set up a stereo pair with two anywhere from 8-10 feet apart from one another. Do this in System in the app, select the two speakers, and choose Set Up Stereo Pair. For this review, as noted, I listened to the Move 2 on its own.
I purposely took the speaker off the charging base to test battery life. I listened from the dining room while the speaker was in the kitchen, then headed to the bathroom to have a shower and brought it with me (it's water-resistant, after all!) Why not play tunes while I shower and get dressed? The handy notch on the back makes carrying it around (in this case, up a set of stairs) easy. But it does have some weight to it: the unit weighs 6.61 lbs. I left it on while I ran errands and it went into sleep mode. When I turned it back on the next day, battery was at 76%.
I also used the Move 2 while working on the back deck. Keep in mind that its operating temperature is from 0°C to 40°C (32°F to 104°F) so it's not a speaker to use on a frigid winter day or during an especially humid heat wave, at least not for extended periods of time. But for your regular spring, summer, and fall days and nights, it will work beautifully.
Sound was pleasant, more than good enough for background tunes while I work. It offers solid bass performance combined with crystal clear vocals. For a fully immersive experience in a larger room or backyard, however, you may want more than one. But, it's worth noting this speaker can surprisingly get very loud with a capital "L" without sound becoming distorted. Go ahead and blast Mariah Carey while you clean and sing along when no one else is home or crank up Metallica while working in the garage!)
I went as high as the volume 70 level and Carey's voice was just as smooth and buttery as usual in tracks from her '90s Music Box album. In celebration of 50 years of hip hop, I also played "Walk This Way" by Run DMC featuring Aerosmith. From the drum solo intro to the guitar riffs, the fast-paced raps, and Steven Tyler's high-pitched, raspy vocals, this speaker will easily get a dance party going if you want to wake up the neighbours. Bottom line: while two is always better than one, you could easily get away with just the one Move 2 in a decent-sized backyard or main level of the home.
Indeed, I would happily use this speaker outside for tunes on the deck when friends are over as well. Another perfect scenario would be our Halloween night porch set-up, which usually includes music or audio to accompany a projection show. Knowing the speaker can not only safely sit outside and withstand the elements but also run without being plugged in (we already have countless inflatables, lights, and other tech items occupying the two outlets and a full power bar!) is reassuring.
I love that I can also charge it up and pack the speaker in the trunk to take to a friend's house and provide wonderful sound that's world's above a tiny Bluetooth speaker. (I tested audio via Bluetooth connection versus Wi-Fi listening to songs like the live recording of George Michael and Elton John singing "Don't Let the Sun Go Down on Me" and sound was just as good). With the generous battery life, there's no need to bring the charger. I'd recommend keeping the black cloth bag the speaker comes wrapped in and using it for safer transport, to protect the speaker's aesthetic from bumps and scratches.
Should You Buy The Sonos Move 2?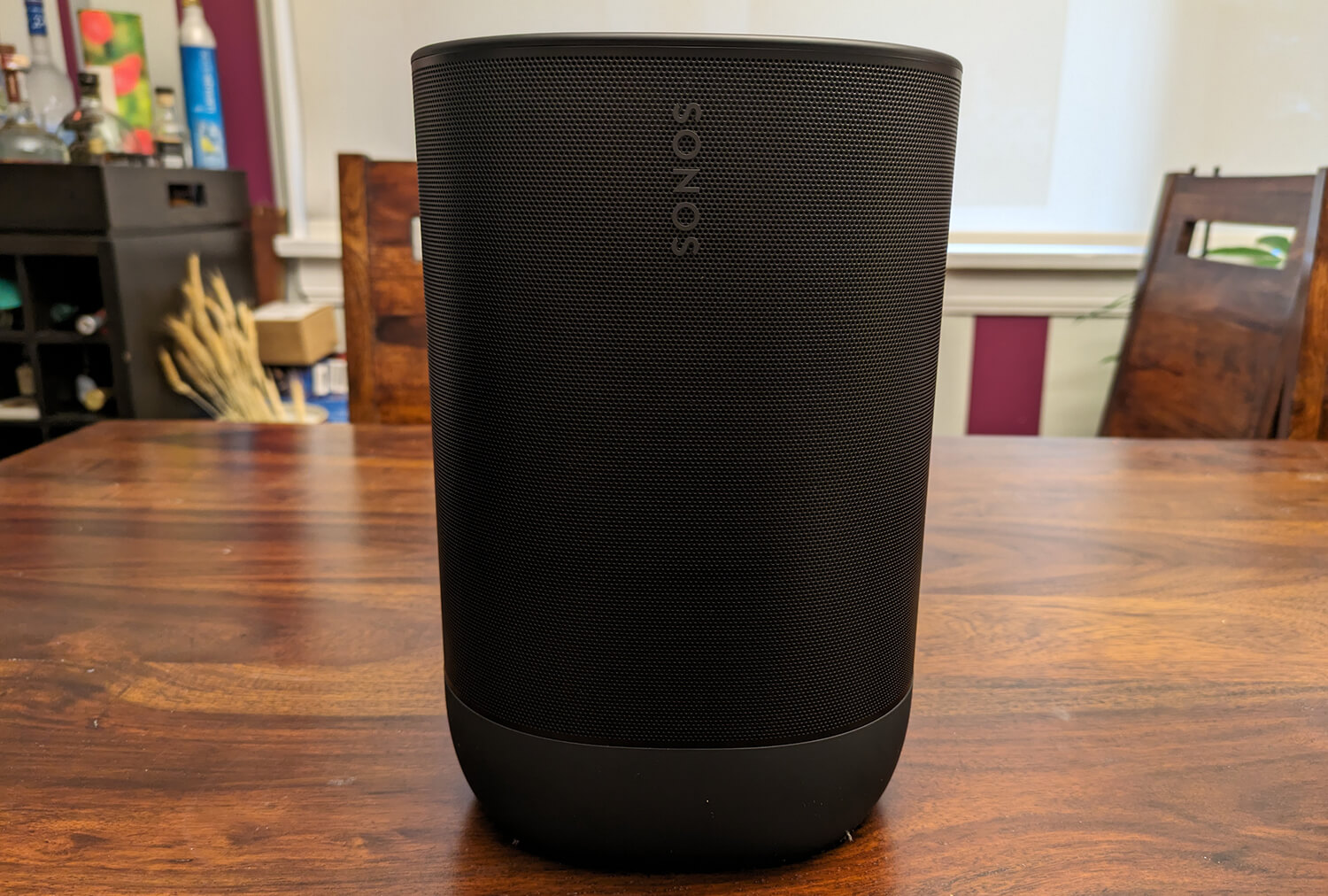 Compared to the Sonos Move, the Sonos Move 2 is a worthy step up. The biggest improvement is in the battery life, which is significantly longer: more than double the 11 hours for which the Sonos Move is rated to run. When it comes to a portable Bluetooth speaker you're going to use while out and about, battery life is everything, making this improvement worth the upgrade alone.
With that said, keep in mind that the Sonos Move 2 is not as portable as other Bluetooth speakers that offer big sound in compact packages as well. It's actually larger than the Sonos One and new Sonos Era 100 that replaces it, both of which are meant for use in a primary spot in the home. The advantage with this one is that you can use it without being plugged in and move it around easily using the handy notch on the back. But it isn't a lightweight portable Bluetooth speaker you can pop into a backpack and take with you or that you'll want to carry one-handed while you go on a trail walk to the park.
The likeliest use case for the Sonos Move 2 is to extend your audio to the backyard, front porch, by the pool, or even bring over to your neighbour's house for their annual summer barbecue. If you're traveling somewhere by car, like to a campsite, where plug-in power isn't easily accessible, or a cottage, the Sonos Move 2 is a logical option as well. Charge it up and you should be able to enjoy a few hours of music every day for a full weekend.
For those who work from home, you might want to use the speaker to listen to tunes in your home office during the workday while your child takes the speaker up to their bedroom to enjoy music once they get home from school. Sharing is caring, after all.
If you're looking for a solid portable Bluetooth speaker you can pop into your backpack and take with you to the park, the Sonos Move 2 isn't it. But for versatile use around the home without being tethered to a power outlet, and for bigger trips, it's a solid option. It's ideal if you already have other Sonos speakers in the home, too, so you can add this to the network and enjoy seamless audio throughout the home, both inside and out.
The Sonos Move 2 will be available in Canada starting September 20, 2023 for $559.