Businesswire estimates that the global market for portable Bluetooth speakers grew 8% in 2020 to reach $4.7 billion (usd). While it may seem counterintuitive that a category with the word 'portable' in its name would grow in a year of lockdown, but it actually makes sense that if you are going to meet friends outdoors or in other socially distant environments, that a sturdy, take-anywhere speaker, would be a solid investment in our new normal.
JBL, a division of Harman (which in turn is a division of Samsung), is the industry leader in portable speakers. JBL has been manufacturing portable audio for decades with small offerings under the Clip brand, medium offerings called the Pulse and Flip, and big, fill-the-beach-with-sound speakers, called the Xtreme.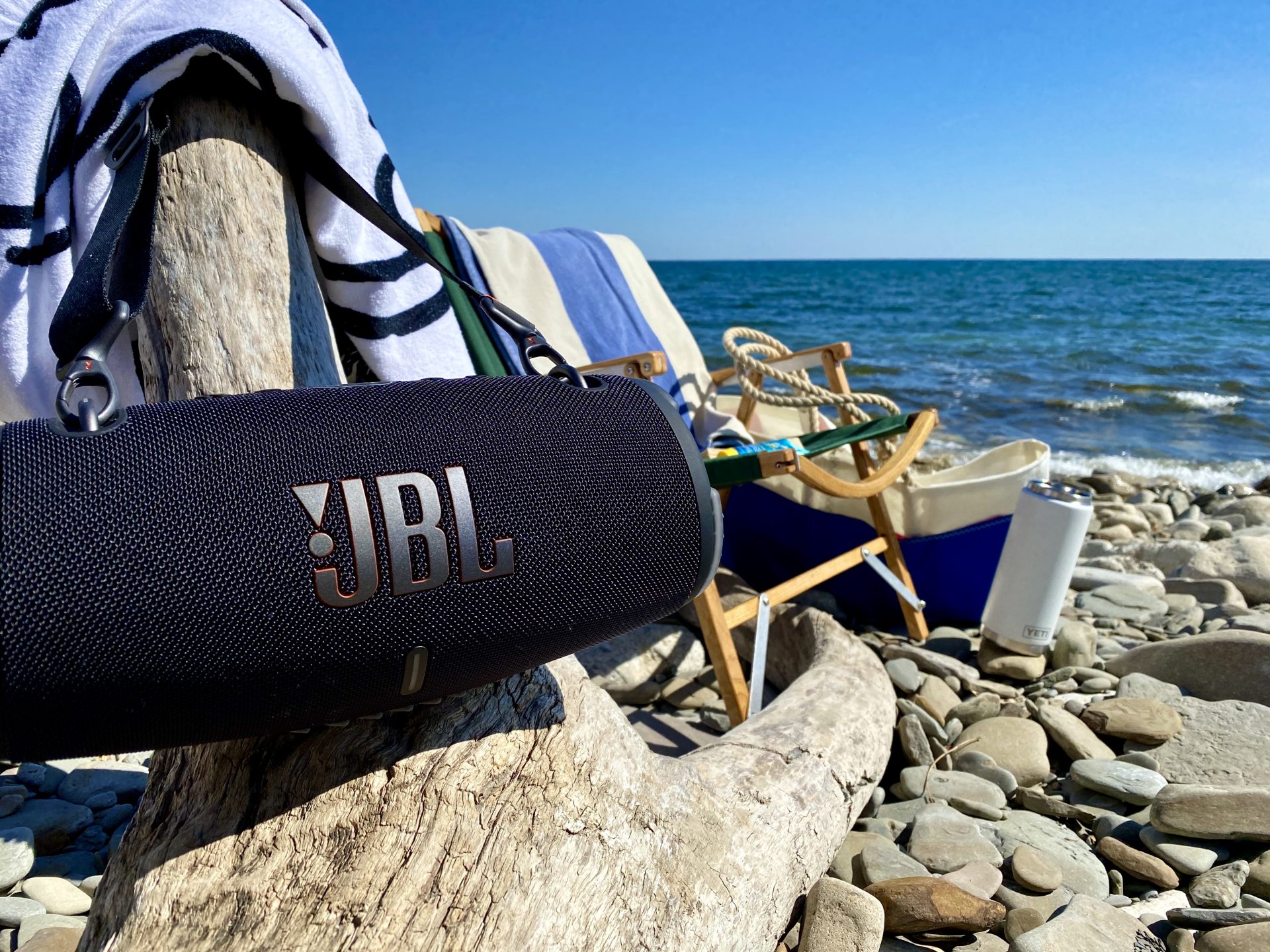 The Xtreme3 is the latest offering and an upgrade from last year's Xtreme2. The biggest difference is that the Xtreme3 moves up to an output of 100 watts from the 2's 80-watt performance and has been tuned under the JBL Pro Sound division with four drivers and two bass radiators found on each end of the unit. The Xtreme3 also adds a power bank for Smartphone charging and adds what JBL calls the Partyboost that allows two units to be paired for true stereo or to link multiple JBL Bluetooth compatible speakers together for a truly immersive sound. Check out Youtube and you'll see dozens of videos with 100's of JBL speakers all linked together.
Sometimes, it's the small details that make a product shine. JBL has added a rugged strap to carry the Xtreme3 that also performs double duty as a bottle opener. I find the strap is not only handy when you are lugging your gear to the beach, but to also hang the speaker either from a chair or a branch to keep it out of the sand. Mind you, the Xtreme3 is both dustproof and waterproof, so washing sand away after a day at the beach is always an option. But to say that the speaker had me at 'bottle opener' is an understatement!
Battery life is rated at 15 hours with a full charge accomplished in just over two hours via the supplied USB-C adapter and cable. Like most JBL products, they tend to be conservative on the battery rating and I surpassed 15 hours of playback playing Spotify from an iPhone connected via Bluetooth V5.1 at moderate volume. Naturally, battery life depends on many things including volume output, outdoor temperature and whether you're also using the battery to charge a mobile device. But if your goal is tunes for a full day at the beach, the Xtreme3 has you covered.
The fit and finish of this speaker screams 'outdoors'. Rubberized endcaps protect the woofers from being damaged and lock-tight seals over the inputs guarantees the waterproof capabilities of the unit. The Xtreme3 is reminiscent in shape, to a football and it would look right at home in the back of a pickup at a tailgate party or at a backyard barbeque.
Pairing is a breeze, in fact, one could argue that Bluetooth's new 5.1 codec is so good that you'll be more frustrated in the Xtreme3 always pairing vs. the back-in-the-day frustration when you pulled your hair out trying to connect. There were a few times when I turned on the Xtreme3 to pair with a new device, but first had to go searching for my phone to disconnect due to the instant pairing the speaker deployed with the original device. It's a good problem to have but can be slightly annoying if you have dozens of products in your Bluetooth folder. The default sound is rich, if perhaps a bit bass heavy. But that's something that can be tweaked using the downloadable JBL Connect app (now renamed JBL Portable) that allows for customized EQ settings and a battery meter, in addition to software upgrades when necessary.
This unit is clearly branded to the music lover who wants deep, rich sound in whatever environment they find themselves. To learn that some may use the Xtreme3 as a stand-in home system for a small apartment or dorm room would not be surprising. But used as a portable, the guy who buys the Xtreme3 also has the Yeti cooler, the Weber Q BBQ and prides themselves on setting up the beach like they are staying for a month rather than an afternoon. Yup, that's me, which is why I love this speaker!
Weighing in at over 4lbs, the Xtreme3 is best transported when a car is involved or one of those funky beach wagons that you pull over the sand with all your gear to your base camp. This is a big speaker with big sound that looks like it could take a few knocks and scrapes and just keep being the life of the party. The biggest worry with the Xtreme3 is that you become "that guy" who thinks just because you love Jack Johnson that everyone on the beach also wants to hear Jack Johnson. Then again, it's much easier to turn the volume down than to desperately try to crank up a smaller speaker that just doesn't have it in them to deliver. And for that reason alone, the JBL Xtreme3 is a 5-star product at Wifi Hifi. *****. $399 MSRP. Black, Blue and Camo colour options. More info