Whether you celebrate Valentine's Day or fall into the camp of "my love should be celebrated every day of the year," it's never a bad idea to leverage the holiday to enjoy one anothers' company. Whether it's a spouse, special partner, close friend or group of friends, family member, or kids, a thoughtful gift will be appreciated. Naturally, tech is always welcome, and there are some great options to consider in that category.
Samsung Galaxy Gear
Samsung makes a variety of popular tech products under the Galaxy sub-brand, from smartphones to smartwatches, true wireless earbuds, and more. And the company is offering tons of discounts for Valentine's Day, all in effect through to February 17, 2022. Purchase a Galaxy Tab S7 FE, for example, and get a free Galaxy S7 Book Cover along with a pair of Galaxy Buds2 for half price. Opt for the Galaxy Watch4 when buying a Galaxy S21 FE 5G, Galaxy Z Flip3 5G, or Galaxy Z Fold3 5G and you'll get 30% off the smartwatch. You will also get a free pair of Galaxy Buds2 when purchasing a Galaxy S21 FE 5G, Galaxy Z Flip3 5G, or Galaxy Z Fold3 5G. Additionally, you'll get half off a second Galaxy Watch4 when you buy one, ideal if you're grabbing Valentine's Day gifts for your grown kids, for example, or one for you and one for your love so you have a matching pair. The same buy one, get one free deal is being offered for the Galaxy Buds2.
Audio-Technica AT-LP60XBT-USB Fully Automatic Turntable
Surprise your love with the Audio-Technica AT-LP60XBT-USB turntable and a few romantic records you can play on repeat in the background as you cook and enjoy a quiet dinner at home. This model combines both old and new tech thanks to the inclusion of Bluetooth wireless and USB along with analog connectivity. It comes with a pre-installed Audio-Technica phono cartridge and a built-in phono preamplifier, plus audio and USB cables, a 45 RPM adapter (it also plays 33-1/3 RPM), and a removable dustcover. Its wireless connectivity enables the turntable to be paired with compatible Bluetooth headphones, wireless speakers, or other devices, or use it as a standard wired turntable. It comes with a Dual Magnet phono cartridge that is integrated into the tonearm, with no setup or adjustment required. The switchable phono preamp enables it to be used with audio systems and powered speakers that do not have a dedicated phono input, while the USB output allows the turntable to be connected to a computer to convert records to digital audio files, so you can make them a copy of your Valentine's Day playlist to listen to in the car or on their morning runs. The AT-LP60XBT-USB also includes a die-cast, anti-resonance aluminum platter with felt mat and an external AC power adapter that reduces noise by keeping the power supply outside of the turntable. It sells for $280.
QuietOn 3 Active Noise Cancelling Sleep Earbuds
If you know you keep your partner up snoring all night, this would be a thoughtful gift that might also make them laugh. The QuietOn 3 noise cancelling sleep earbuds are designed to be worn while sleeping, fitting inside the ear and helping keep out distracting ambient noises, such as a snoring partner as well as street traffic and noisy neighbours. They accomplish this by automatically generating opposite waveforms to nullify low frequencies. They do not use transmitters, receivers, and other components typically found in music earbuds, presenting a healthier option for sleep. Each pair comes with four sizes of eartips, and set up easily, with automatic charging via the included case. A single charge provides 28 hours of use, so the earbuds have the power to last all day, or for several nights. They sell for $329 in Canada.
Shark HyperAIR Blow Dryer
If you don't have the budget to fork out $500 for a Dyson hair dryer, or simply can't justify paying that much, consider the new SharkNinja Shark HyperAIR blow dryer, which features the company's HyperAIR IQ technology that combines high-velocity heated air and ionized air to quickly dry your hair without damaging it from the heat. Ideal for use on all hair types, it features auto-optimized heat and airflow settings that can automatically recognize stylers and intelligently set optimal heat and airflow. The negative ion generator increases smoothness and shine while decreasing frizz and flyaways. It also features an IQ 2-in-1 concentrator with two modes: pre-styling and precision styling. It's available in Canada for $230.
Beats Fit Pro Earbuds
Just recently in Canada, grab a pair of the Beats Fit Pro earbuds for a fan of the Beats line, particularly if they own an iPhone to allow for simple set-up and pairing along with dynamic head tracking (they can be used with Android devices as well). With a flexible wingtip design, they can run for up to 27 hours per charge when using the included charging case (six hours per charge, seven in adaptive EQ mode), and feature Active Noise Cancellation (ANC), transparency hearing mode, adaptive EQ, spatial audio with dynamic head tracking for an immersive listening experience, and Apple's H1 chip. They feature three listening modes along with auto play/pause and are sweat- and water-resistant via an IPX4 rating. The gyroscopes and accelerometers in the Beats Fit Pro and iPhone or iPad are used to track the motion of your head as well as your device and compare the motion data. The sound field is then re-mapped so it stays anchored to the device, even as your head moves. Music from favourite artists like James Blake, Billie Eilish, Lizzo, Kacey Musgraves, Roddy Ricch, and Don Toliver on Apple Music will automatically play Dolby Atmos tracks on all Beats wireless headphones, including Beats Fit Pro. The earbuds also uses skin-detect sensors to automatically play/pause content when earbuds are placed in or removed from your ears. The 'b' button allows you to control music (pause/skip/back), conduct calls, and switch between listening modes. During phone calls, the earbuds leverage beam- forming microphones that target your voice as well as the internal mic and voice accelerometer, filtering out ambient noise and creating a natural conversation experience with the caller on the other end. The Apple H1 chip delivers a seamless ecosystem experience for iPhone users including one-touch pairing, an eartip test to ensure best fit, Automatic Switching between iCloud devices, Audio Sharing, hands-free access to "Hey Siri" and Find My in iOS.
A quick five-minute Fast Fuel charge offers an extra hour of playback. They sell for $250 and come in stone purple and sage gray, both great options for Valentine's Day, or basic black or white. As a bonus, new subscribers will also get a free six-month subscription to Apple Music with purchase.
Chipolo Bluetooth Tracker
While the new Chipolo Card Spot introduced at CES is still on pre-order, you can grab some other Bluetooth trackers from the brand as part of the special Valentine's Day bundle. This includes a pair of Chipolo One trackers along with the Chipolo card in red and white for the combined price of $52. The set also comes with a gift pouch, so it's essentially pre-wrapped. Your forgetful partner can keep these with important devices, like a wallet, purse, briefcase, backpack, gym bag, camera, laptop, car keys, or other valuables, then be able to track the location should the item ever be lost or stolen. You can find the location within the Bluetooth range or use the Chipolo community if it was left behind somewhere far away, like in the airport or a local café. You can also ring your phone from a Chipolo tracker if you misplaced it somewhere in the house, for example. They run for up to two years and the battery is totally user replaceable. Note that you'll have to pay for express shipping in order to receive it in time.
Fitbit Luxe Fitness Tracker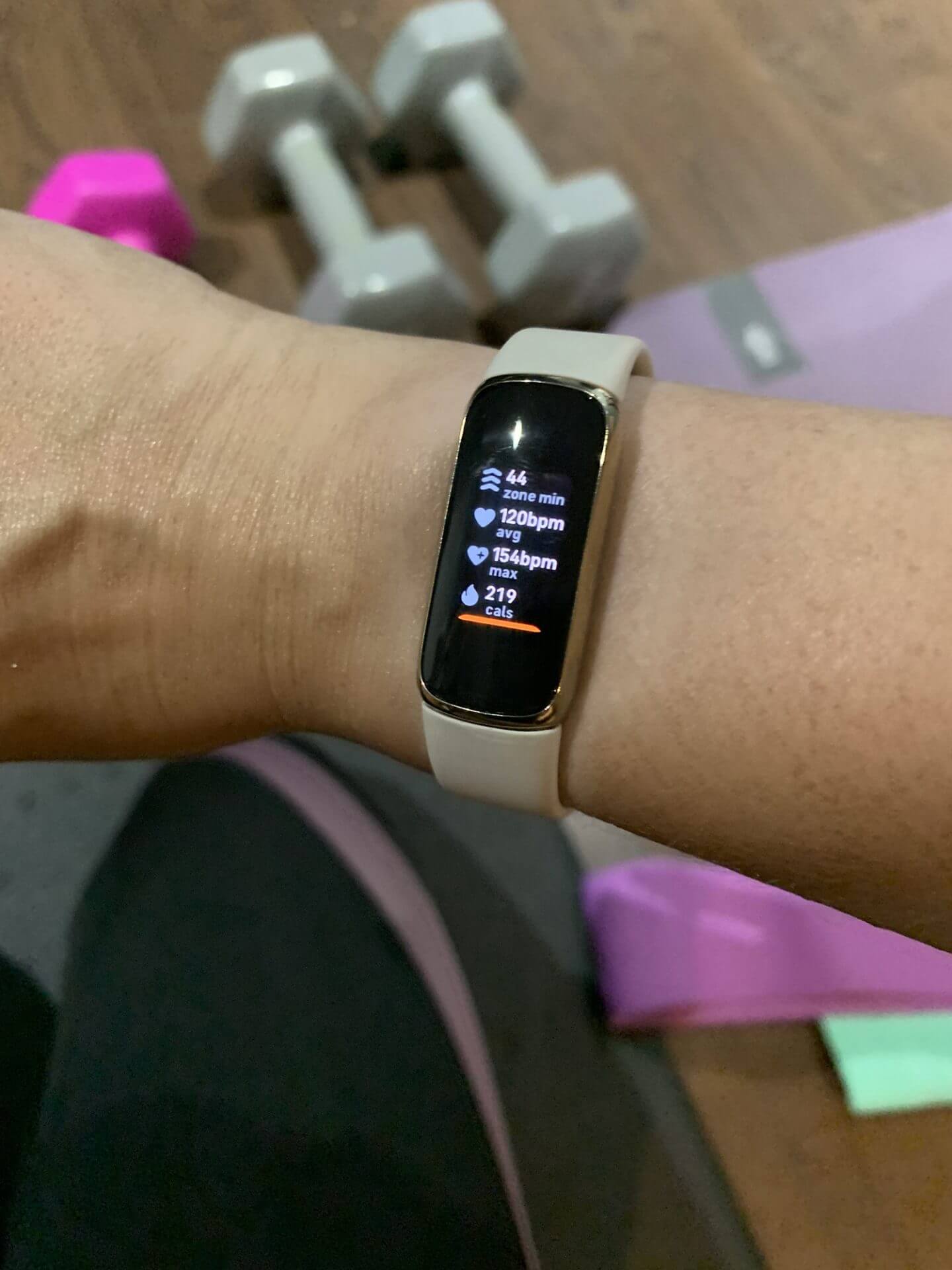 I reviewed the Fitbit Luxe health and wellness tracker last year and absolutely adored it. It's thin, lightweight, and fashionable, yet still offers all of the premium features you'd expect from a fitness tracker. This includes tracking not only steps, sports, calories burned, and sleep, but also active minutes, continuous heart rate, Sp02, skin temperature variation, breathing rate, and more. Get notifications on the tiny screen as small text running vertically, making it easy to read without turning your wrist. It's the perfect tracker upgrade for someone who has been using an old model casually, or who uses a smartwatch but wants something to wear during more formal events that can continue to track data. With that said, it's a perfectly viable fitness companion as well, so don't shrug it off either for a partner who is getting into working out but is reluctant to get something bigger. The best part? The Fitbit Luxe can be found on sale right now for $130, which is a steal.