The latest candidate in our series of Q&As with influential women in the technology business in Canada is Tara Jensen, Member, Parent and Community Panel at Sonderly, an online technology education tool that provides educators with access to mental health and autism-related training materials to better support neurodiverse students beyond the post-pandemic era, and mental health advocate.
Name: Tara Jensen
Job Title: British Columbia Mom & Sonderly Parent and Community Panel Member
Years in the Industry: 7 Years
The Quote That Most Inspires You: "She will rise. With a spine of steel and a roar like thunder, she will rise." – (Nicole Lyons)
What drew you to a career in the consumer and/or business technology industry?
I initially began my career in social media "British Columbia Mom" as a stay-at-home mom trying to fill some much-needed gaps in community communication for hyper-local parents. At the time, I was looking for ways to supplement my family's income while reaching out to other parents/moms who felt the same way I was. As I was juggling a new career and baby, there were many unknowns, and I wanted to be a voice to other moms feeling the same way.
There weren't many resources in our area at the time to find free activities, bond over relatable parenting, or talk about things that related to parents. Over the past seven years, I've curated a community of parents that talks openly about parenting, mental health, events, and much more.
Last year, I was invited to be part of the Sonderly Parent and Community Panel. Online education tech tools like Sonderly are helping parents access mental health and autism-related resources to support their children with easy-to-understand coping mechanisms. Sonderly fits seamlessly with my focus on supporting neurodiverse parents and their children in a way that encourages education, acceptance, and accessible self-paced information that even the busiest parents can participate in.
Have you encountered any roadblocks along the way that were related to your gender?
I think every woman has at one point or another. When it comes to my role as a content creator, it is a fairly female-dominated industry on the creative side. However, oftentimes we are working alongside men in other fields who don't always value our experience or feel we don't understand the "ins" of what may be happening behind the scenes business-wise.
I've found that both myself and many other women in my field have had to justify much of what makes up our education, experience and ultimately, have been made to feel like our salaries should somehow be less because of it.
What unique characteristics or perspective do you feel you bring to your organization as a woman?
#1 Perseverance. Women have to work that much harder to stand on the same level playing field as men in most industries, and I'm often the type who simply doesn't stop until I'm standing right next to them. If they don't offer you a chair at the table, bring your own.
#2 Mental Health Awareness. Educating myself as well as those around me is so important to prioritize. I work alongside many neurodiverse women, and as someone who is also on the spectrum, I know how important it is to ensure my mental health is in a good spot so I can be there to raise my child. It offers me a unique perspective into collaborations and allows me to build an accessible community. Sonderly has built its online education platform to be aimed at making autism support and education accessible to everyone. It has been paramount in building my confidence as a woman in tech who has particular neurodiverse needs.
#3 Flexibility. As a parent, I understand that situations can change at the drop of a hat, and the technology industry is no different. It is constantly evolving and producing new ways to connect and innovate businesses. By being flexible to the ever-changing environment, I'm able to pivot ideas, campaigns, and delivery significantly easier.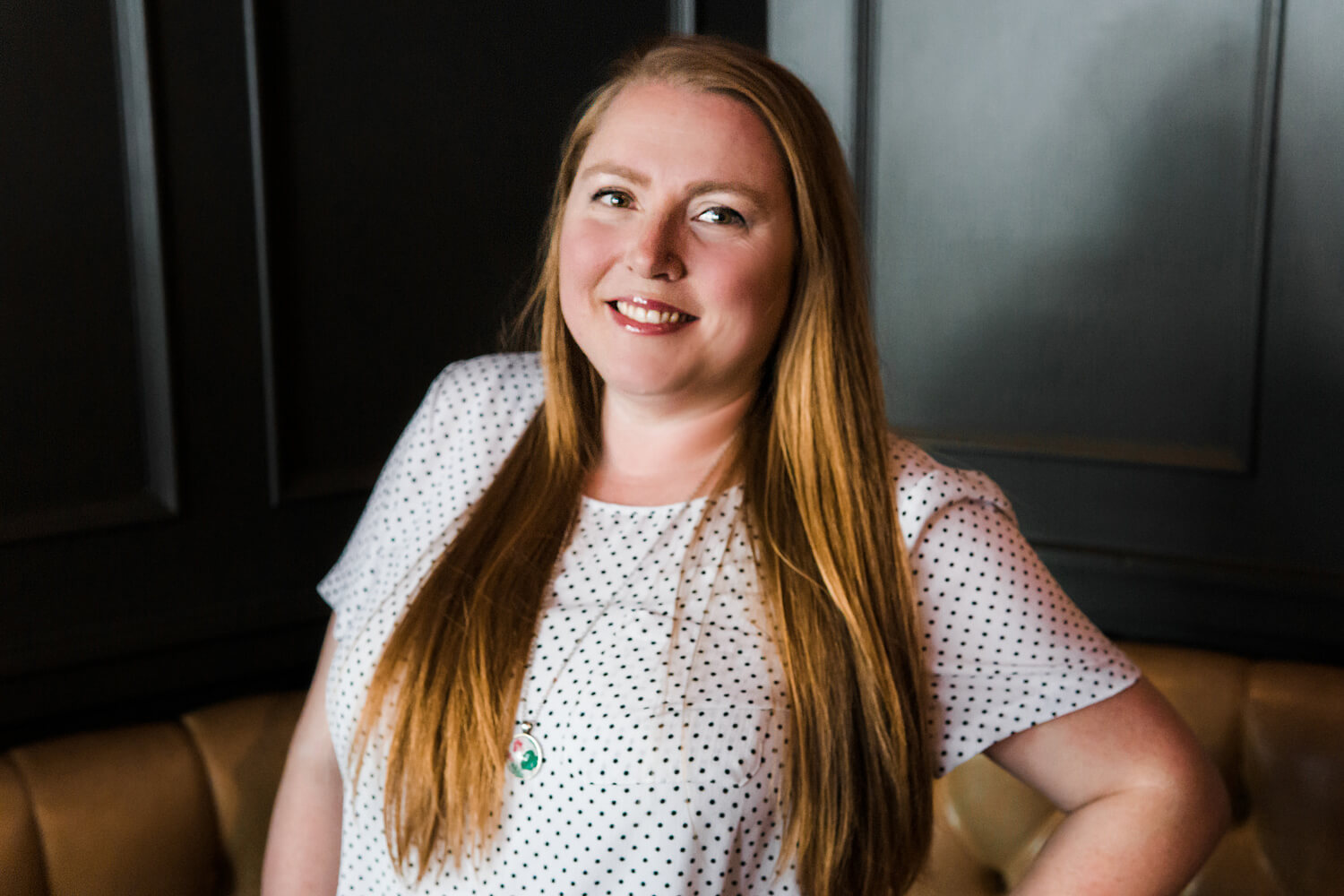 Technology is historically a male-dominated industry, yet the use of tech is fully embraced by women, and many studies even suggest that females are the primary buyers of tech in the home. What do you feel the technology industry needs to attract more women, particularly into high-level positions?
Collectively, we need to start sowing the seeds early with young girls through encouragement and access to technology at the early stage of their lives. Additionally, we need to ensure there is business planning and support as it can encourage girls from a young age to seek further education and mentorship in technology sectors. Programs like Girls and STEAM (Science, Technology, Engineering, the Arts and Mathematics) and Girls Who Code offer a unique mentorship opportunity for young girls to learn from leaders in the industry at an early age while giving a birds-eye view of what a future in their chosen interest may look like.
Women are often seen as meek, quiet, and unlikely to speak up for themselves in many situations. By raising strong girls to be strong women, we build up a generation of mentors that will continue to advocate for girls in STEM.
If you had to sum up what it is like being a woman in this male-dominated technology industry in just a few words, what would you say?
Challenging. Women are generally expected to handle a considerable amount of tasks on their plate without complaint and recognition. This often leads to burnout, frustration and struggling to find balance. Inevitably, it leads to fewer women retaining careers in technology or ever seeking that career to begin with.
Are there other women in the tech industry who inspire you?
There are so many who inspire me! Thankfully one of the best parts of my job is the incredible women I get to work alongside in so many different avenues. A few notable women I'd love to highlight are Angela Santoro, Kay Protheroe, and Heather Van Mil from Healthy Family Media. From balancing home life, corporate life, fostering a community for parents and small businesses to collaborate, to spotlighting locally made products that aim to make healthy, sustainable living more attainable. These women are some of the most awe-inspiring leaders I've had the pleasure of personally meeting and subsequently calling friends.
Another huge inspiration for me, both through work and raising a young girl, is Reshma Saujani, CEO of Girls Who Code. Through her work, she has been able to bridge the gender gap in technology and offer access to computing skills through free resources, programs and support towards college and career programs. She continues to create opportunities for girls, women and non-binary individuals who are often low income and would be unlikely to access much of the programming otherwise.
And last, but certainly not least, Tracy Redies, the CEO of Science World. She works alongside a diverse team of STEM colleagues and continues to curate exhibits for BC families that encourage a love for all things technology, bringing forth the science lover of all ages.
What are some of the misconceptions/myths about women working in the technology space that you'd like to dispel?
There are many, but I'd lean towards that we are "too emotional," "type A" or that we can't be both a mother and a business leader in our industries. Many women are finding themselves choosing between being a mother, or a leader, thinking they won't have access to the same opportunities as their male counterparts if they are also juggling family life. The reality is, not only can we, but we are, successfully.
Women in business are often passionate and driven with a unique perspective on multitasking, reaching like-minded women and building a community from the get-go. This seems to constantly be misconstrued as controlling, unable to be flexible, or unapproachable. I've found the complete opposite with many of the women who are passionate, successful leaders that I've had a chance to work alongside.
What's one thing you wish was done differently in the industry, and why?
In male-dominated industries in general, mental health isn't a widely discussed topic. In fact, in most cases, mental health stigma can prevent those in need from seeking support. I wish more tech leaders took an active role in making programs like Sonderly accessible for their entire staff, opening the line of communication about their children's mental health and ways they can support their coworkers, peers, and those closest to them. You never know whose family may be navigating a mental health crisis or may need differing neurodiverse support. By making it a priority to offer education that creates an inclusive environment for many, it builds a corporate community that encourages mental health growth.
Are you optimistic for the future in general and for the industry?
Absolutely! It is so encouraging to have accessible programs like Sonderly readily available to learn and offer support regarding mental health and open much wider pathways for women on the spectrum and those wanting leadership roles in tech and business. Combining this with ways that parents can support and mentor their children and those in their community through support and education, I look forward to brighter futures for girls and women in STEAM.