By David Susilo
I was recently offered a Hyundai Palisade for a week in order to review the upgraded sound system in the top-line seven-seater vehicle. So I took it out on the open road, tweaked settings, cranked up the volume, played some of my favourite tunes, and here's my report.
Front End
Before I started driving the Palisade, I looked for the CD player only to find that a vehicle this big and expensive (about $55,000) with a top-of-the-line sound system doesn't have one. That was an instant strike one for me, as I believe that to get premium sound requires a CD player.
The second major strike is that there's no SD card input either, which should cost pennies per vehicle to add. Really?! There is a workaround by using a USB key and/or SD card adapter. But you don't want that dangling in the centre console area – it's an accident waiting to happen. The car does offer access to the obligatory SiriusXM satellite radio, but while that affords an infinite amount of choice in music and radio shows (with a paid subscription), it's poor quality source material from an audio perspective. (That, of course, is not Hyundai's fault.)

Since I wasn't prepared with a USB key full of music, I just connecting my phone via Bluetooth for the initial test, than later loaded up a USB key with some of my favorite audio tracks. There is Apple CarPlay and a very welcome Qi charging pad in the car, but CarPlay requires a wired connection (as does Android Auto.) This is not limited to Hyundai but to any vehicle with CarPlay.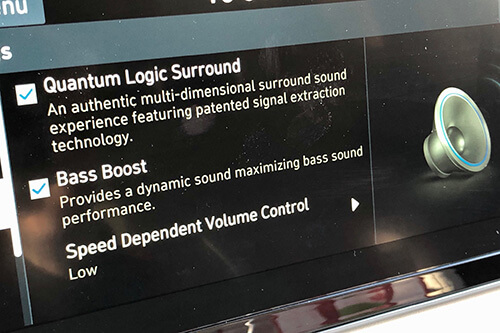 Thus, I find the Palisade's Harman Kardon system limited and impractical. To get the best sound source, you can only use a USB stick, which is problematic (more on why later) and/or wired connection from your phone. Thankfully, the wireless charging in the car makes up for this since at least you won't drain the phone's battery.
Controls
Audio controls are the typical ones you'd find in any car, which is a good thing – you don't need to re-learn anything. Nearly everything is intuitive and becomes second-nature from the get go.
The only "buried" options are Quantum Logic and Bass Boost which are fine as you'll need to set it up once and never have to touch it ever again. If you want to make some tweaks later, however, simple interactions with the 12.3" LCD touchscreen provide access to virtually every aspect of the vehicle with relative ease.

Listening Environment

One can't talk about audio quality without talking about the listening environment. As far as I'm concerned, the Palisade delivers in that respect, in most driving conditions except for highway driving.
The environment noise is dampened, making this car, at full stop and city driving, quieter than even my previous Mercedes C300. It is on par with the quietness of my acoustically treated 2018 VW Golf R as well. Engine noise is extremely low and the start-stop function is the best, most unobtrusive system I've ever experienced in any gas-powered car. Ride quality also adds to the comfort and relaxation of the mind so I can enjoy the sound quality even more.

Sound Quality

Combined with the overall quietness of the vehicle, the 12-speaker (including centre channel and a subwoofer) 630W Harman Kardon system delivers sound that surpasses the Harman Kardon system in my previous Mercedes GLA250 and current CLA250.
The new Quantum Logic Surround Sound audio processing widens the spatial imaging of the soundfield while anchoring the vocal to the middle of the dashboard of the vehicle. The effect is slightly but noticeably better than the Logic 7 Surround Sound used by Mercedes Benz.
The available bass enhancement is a welcome addition in most road conditions making both my Mercedes CLA250 and GLA250 sound restrictively anaemic in comparison; albeit both also come with spare-tire sized subwoofers in their respective trunks.
Music playback quality from USB key is top notch, but at least twice a day, I have to unplug and plug the USB key back in as the music interface seems to be unable to find it. This should be fisable via firmware update, so hopefully one is released in the near future.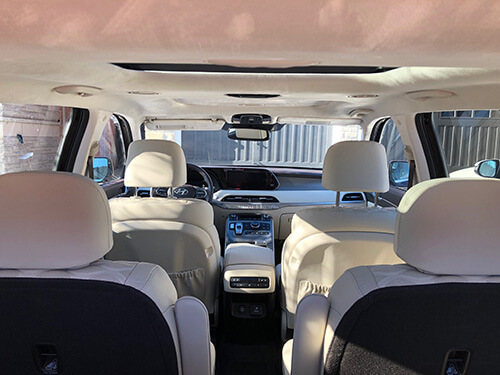 Conclusion
From the obligatory Diana Krall to my favourite Judas Priest, the '80s queen of Brit-pop Kylie Minogue to John Williams, none of the music I played ever disappointed. There is a little bit of problem with details when heavy metal was added to the mix, but at the same time, most people aren't looking for clarity when listening to that genre.
Aside from the inconveniences of not having of CD player or SD card reader, the sound quality of the Palisade's speakers is impeccable and should be very strongly considered as a key feature of this vehicle.
The Hyundai Palisade sells for a starting MSRP of about $54,200. The Harman Kardon sound system is already available on the Luxury edition at $50,399, but you can't get it as an option on lower-end models.