Remember the Dyson Zone headphones with air purification the company launched earlier this year, and that many thought might have been an April Fool's joke? They are very real, coming soon, and Dyson has released official specs and imagery.
The headphones provide up to 50 hours of ultra-low distortion audio per charge along with advanced noise cancellation that can reduce sounds by up to 38dB through 11 microphones. Producing frequencies from 6Hz-21kHz, the headphones have been designed to minimize distortion as well. An EQ setting can be used to optimize the frequency curve for clear, pure audio across the frequency range, says Dyson. Dual microphone beamforming and noise suppression technology enables clear voice calls, voice recordings, and voice control.
Meanwhile, the detachable visor can be placed over the face to project purified air to your nose and mouth. The electrostatic filters capture 99% of particle pollution as small as 0.1 microns and combines with K-Carbon, potassium-enriched carbon filters to target acidic gases that are most associated with city pollution.
The idea behind these unique headphones is to tackle two prevalent problems – noise and air pollution – at the same time. The 'phones charge via USB-C and can run for up to 50 hours of audio-only, as noted, or four hours when using both audio and purification. It fully recharges in three hours.
The product is adjustable to fit different sized heads while the ear cushions are designed for comfort, even during long listening sessions.
To learn how much dirty air you're keeping out of your system with the Dyson Zone, or simply see how much pollution surrounds you, you can use the MyDyson app to see NP2 levels in the air, monitored by on-board sensors on the headphones. Similarly to Dyson air purifiers for the home, the Dyson Zone them provides actionable information about the environment.
Meanwhile, on on-board accelerometer monitors your activity and adjusts the purified airflow accordingly when you have the visor on and in auto mode. Head detection recognizes when it isn't being worn and puts it into standby mode to conserve battery life. Dipping the detachable visor, meanwhile, automatically activated conversation mode. This both stops purification and pauses music, which makes it easy to take the unit on and off as well as further save battery life.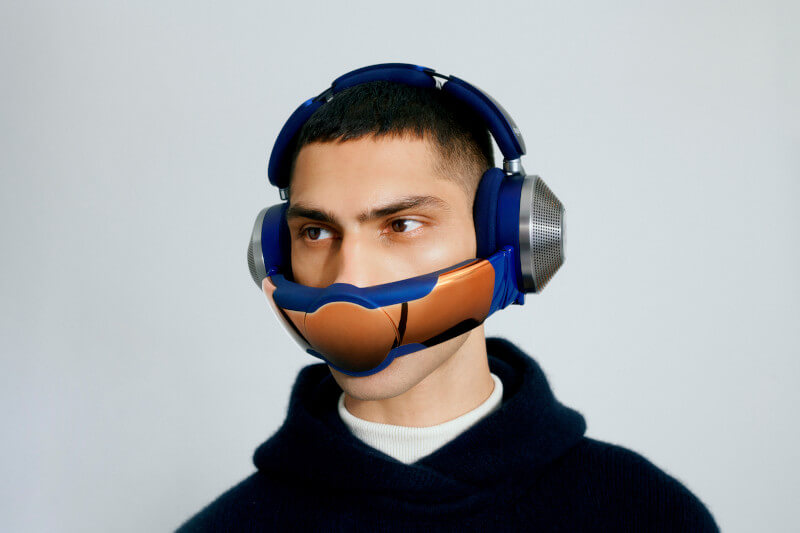 Use the MyDyson app to control the Dyson Zone as well, including adjusting airflow speed and noise cancellation levels. You can also adapt the audio equalization to your personal preferences, selecting from three modes: Dyson EQ (enhanced), Bass Boost (bassy), and Neutral (flatter response curve.) You can also opt in to loudness limit in line with aural health guidelines.
The headphones have been tested thoroughly in different environments, including extreme temperatures, withstanding drops, fabric and material wear, the robustness of the buttons, and more.
Set to launch in select markets in 2023, including China, the U.S., the UK, Hong Kong, SAR, and Singapore (no official launch date for Canada just yet), the Dyson Zone noise cancelling headphones will start at US$950. Whether they'll become a status symbol or a failed fad remains to be seen. But one thing's for sure: they'll be a head-turner for anyone wearing one.