The second-generation of Google's Hub smart display boasts improvements like a new speaker that offers 50% more bass, built-in Thread radio, Sleep Sensing, and more.
With a speaker based on the same audio technology found in Nest Audio, the new Google Hub offers 50% more bass than the original. Use Quick Gestures to pause or play content at any time by tapping the air in front of the display.
Display all compatible connected devices in a single place. Use built-in Thread radio, the Nest Hub will work with the new connectivity standard created by the Project Connected Home over IP working group, simplifying control within a connected smart home.
For those who decide to place the Nest Hub on their bedside table, they can leverage Sleep Sensing, which uses Motion Sense, powered by Soli low-energy radar technology, to analyze how the person closest to the display is sleeping based on their movement and breathing. The opt-in feature can also detect sleep disturbances, like coughing or snoring, as well as light and temperature changes in the room using the built-in microphones, ambient light and temperature sensors. Each morning, a personalized sleep summary will appear on the display, or simply say "Hey Google, how did I sleep?" to get the details.
Sleeping Sensing can also be connected to the Google Fit app on Android or iOS devices, allowing you to view your sleep summary from your phone, along all of the other captured health and wellness information. You can also get tailored bedtime schedules and personalized suggestions on how to improve, which are compiled after several nights of analysis.
You can select when or if you want Sleep Sensing on at all. There are several ways to disable it if preferred, including a hardware switch. A visual indicator on the display confirms when it's on. To protect your privacy, Motion Sense only detects motion, not specific bodies or faces, while coughing and snoring audio data is processed only on the device itself – it is never sent to Google servers. You can also review and delete your sleep data at any time.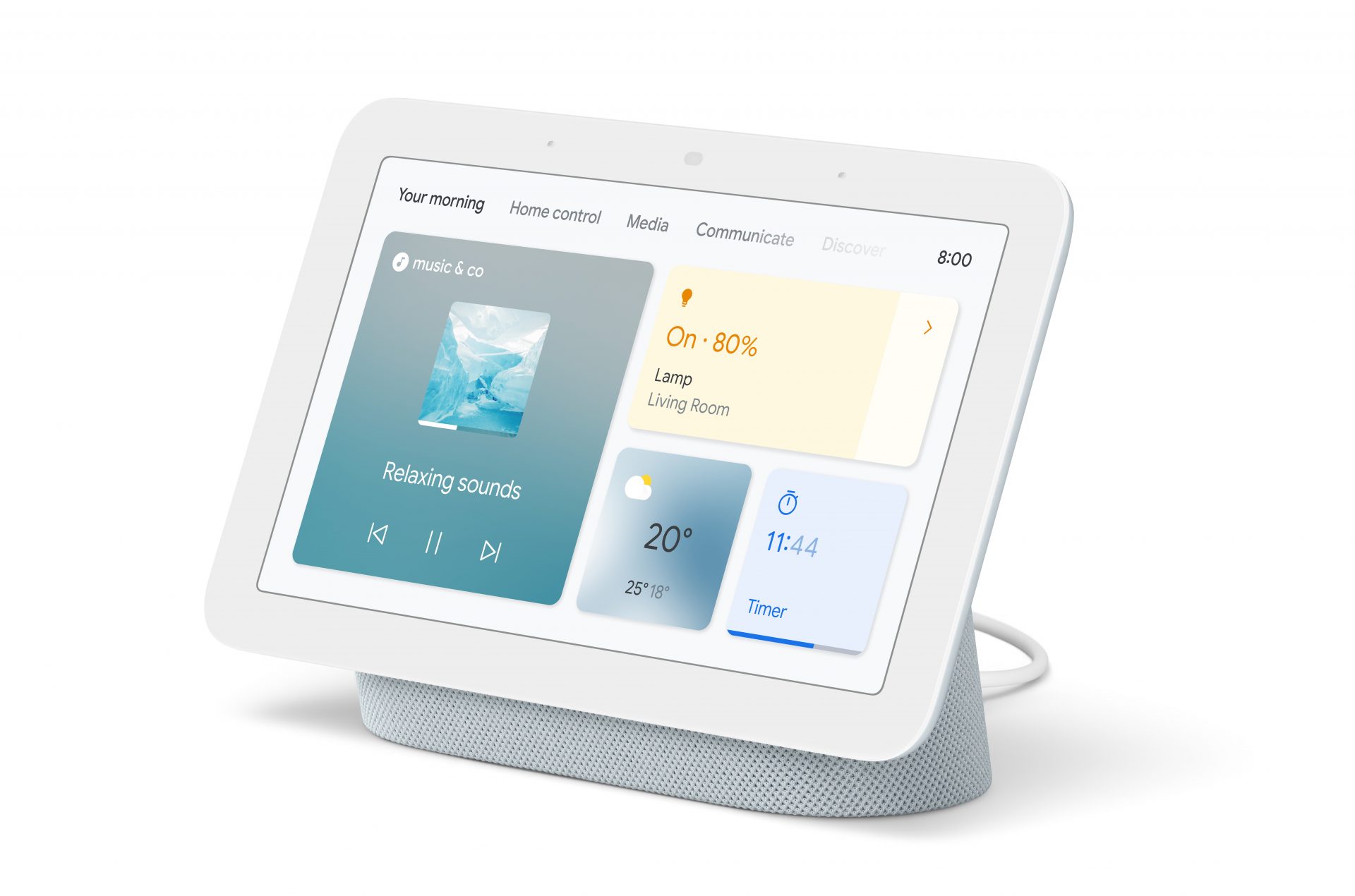 Sleep Sensing on the second-gen Nest Hub is available as a preview at no additional cost until next year. Google is also looking at ways to integrate with Fitbit's sleep tracking features – Google officially acquired Fitbit earlier this year.
If you decide not to use Sleep Sensing, the Nest Hub will still dim when it's night time and you can use the "Your evening" page to help you wind down before bedtime with relaxing sounds. Wake up to the Sunrise Alarm, which gradually brightens the display and increases the alarm volume. Want an extra 10 minutes of sleep? Wave your hand to snooze the alarm.

The new Nest Hub comes in Chalk, Charcoal, Sand, and the new Mist finish and features an edgeless glass display that's easy to clean and looks great as a digital photo frame when displaying a single image or slideshow. Nest Hub is designed with recycled materials with its plastic mechanical parts containing 54 percent recycled post-consumer plastic.

The second-generation Nest Hub can be pre-ordered in Canada for $130.