Audiophiles are a discerning bunch. But if you have one in your family or among your close group of friends, you might be looking to get a gift that will satisfy their desire for premium sound. There's a range of price points when it comes to hifi audio gear, but be prepared to spend a pretty penny if you want the best of the best.
Totem Acoustic KIN Play Tower Speaker
Totem Acoustic's KIN Play Tower speaker, which we had the chance to review earlier this year, is officially available in Canada. In addition to connecting multiple analog and digital sources to the speaker, it also supports wireless, high-resolution streaming. Featuring a 200 watt/channel amplifier combined with proprietary developed drivers, the speaker provides "dynamic performance and astonishing spatial presentation," says Totem. In John Thomson's hands-on review, he agreed, noting that the "bass is punchy and tight and mid-range is crisp, lively, and delightful." High resolution wireless streaming from a digital device to one or two pairs of KIN Play Towers or a KIN Play Sound Bar is achieved with aptX HD Bluetooth 5.0. The same audio signal can fill an entire living space or distinct sound zones can be created, each with a different signal. A variety of sources can be connected to the KIN Play Tower using either of the two analog inputs which include a phono/line-level (switchable) via stereo RCA and a line-level on a 3.5mm stereo mini-jack or with either of the two digital optical inputs. An amp bypass input, coupled with "auto on" via input sensing enables the KIN Play Tower to be controlled by streaming components such as Sonos or custom installation systems. Finally, bass and treble controls, along with a subwoofer output, allow for optimal sound customization. Available in either black or white satin, the KIN Play Tower sells for an MSRP of $2,250.
JBL Tour One Over-Ear Headphones
At $400, these aren't the most expensive headphones you can buy, but you'll enjoy premium JBL sound quality with the Tour Ones, which come at a relatively affordable price. They have features like Ambient Aware and TalkThru, and your audiophile will get up to 50 hours playback per charge, 25 with noise cancelling activated. There's also hands-free voice control via Alexa and Google and the ability to customize the sound using the free JBL app.
KEF Ci250RRM-THX Architectural Speaker and Ci250RRb-THX Sub
KEF's THX Certified models three-way coaxial speaker Ci250RRM-THX and the architectural subwoofer Ci250RRb-THX are great options for the home listening room. The Ci250RRM-THX is KEF's first three-way coaxial architectural speaker model with the patent-pending 'Cavity Radiation Control' technology designed to solve midrange issues found in typical three-way coaxial loudspeakers. Its unique open-backed midrange with acoustically absorptive foam design eliminates midrange distortion, up to 30dB midrange dip which is equivalent to 99.9% of reduced SPL. With Cavity Radiation Control, Ci250RRM-THX can deliver the highest mid-range acoustic realism in the market to date. Another innovation is the implementation of the 'Low Diffraction LF Aperture' in Ci250RRM-THX. It is a carefully profiled, smoothed housing design for the Uni-Q driver array with an outer acoustically absorptive foam ring that reduces resonance and diffraction. The result is MF/HF performance while preserving bass output. Ci250RRM-THX is also the first KEF architectural speaker with "Metamaterial Absorption Technology" (MAT). MAT is a highly complex maze-like structure that KEF says "will absorb 99% of the unwanted sound from the rear of the tweeter, delivering a more crisp, natural treble performance. Like all other models in the category, these two new additions are designed to be discreet in appearance and engineered with best-in-class acoustic performance, delivering an immersive soundscape while the speakers blend into the interior.
Bowers & Wilkins (B&W) 700 Series Speakers
The Bowers & Wilkins (B&W) 700 Series speakers include three floorstanding, three stand-mount, and two dedicated centre channel speakers. In a first for the 700 Series, the new range introduces slimmer cabinets featuring a curved front baffle and drive units mounted in external 'pods' that form a direct visual and technical link to the 800 Series Diamond range. This revised form dramatically reduces the impact of the loudspeaker baffle on sound quality, says B&W, by minimizing the 'cabinet diffraction' effect. The new cabinet forms are now also offered in a new Mocha finish in highly grained wood, along with the usual Gloss Black and Satin White finishes previously offered. A fourth Rosenut finish will also be offered exclusively in Asian and Pacific markets. There is the solid body tweeter-on-top technology in four models in the new 700 Series, representing half the range in total. The 702 S3 and 703 S3 floorstanding loudspeakers, the 705 S3 standmount model, and the HTM71 S3 centre channel loudspeaker include tweeter-on-top, with a form that has also been re-engineered in the new range. Machined from a single, solid block of aluminum, the new 700 Series tweeter-on-top enclosure has been significantly lengthened, reducing distortion and ensuring an even cleaner presentation, says B&W. This longer form is further enhanced by the introduction of improved two-point decoupling that better isolates the assembly from the loudspeaker cabinet, ensuring a free and open soundstage. Pricing is as follows: 702 S3 floorstanding speakers ($4,499.50 ea.), 703 S3 floorstanding speakers ($3,899.50 ea.), 704 S3 floorstanding speakers ($2,499.50 ea.), 705 S3 standmount speakers ($2,249.50 ea.), 706 S3 standmount speakers ($1,499.50 ea.), 707 S3 bookshelf/standmount speakers ($1,199.50 ea.), FS-700 S3 stands ($499.50 ea.), HTM71 S3 centre channel speakers ($2,999 ea.), and HTM72 S3 centre channel speakers ($1,999 ea.)
PSB Alpha iQ Powered Speaker with BluOS
The PSB Alpha iQ streaming powered speakers with BluOS, an all-in-one audio system that the company says offers as audiophile-grade listening experience. Available for $2,199, the system includes two bookshelf speakers with built-in amplifiers and a network streamer based on the BluOS multi-room music platform. Listen to "true to sound" audio from more than 20 streaming services like such as Amazon Music Ultra HD, Deezer, Qobuz, and Tidal and hundreds of Internet radio stations. Connect source components like a turntable, TV, disc player, or game console, and share their music over a home network with up to 63 other BluOS-enabled components. Audiophiles will love that the Alpha iQ is simple to set up using the BluOS Controller app on a smartphone, tablet, or computer. The Alpha iQ has built-in two-way Bluetooth, with support for the high-quality aptX-HD codec for wireless streaming from a mobile device. Apple AirPlay 2 compatibility allows listeners to stream CD-resolution music from any app on an iPhone, iPad, or Mac. Spotify Connect and Tidal Connect are both supported, so listeners can cue up music in the apps for those services, then transfer playback to the Alpha iQ. The Alpha iQ's audiophile-grade DAC supports resolution to 24-bit/192kHz and has full MQA decoding and rendering capability for high-res streaming from Tidal. BluOS also lets listeners enjoy four stations with MQA-encoded high-resolution music from Radio Paradise. Available in satin white and satin black finishes, the Alpha iQ has a sleek, modern design.
Focal Utopia Headphones
For personal listening, the Focal Utopia headphones include full-range speaker drivers with pure Beryllium, 'M'-shaped dome, and a fully open-backed design. Exclusive to Focal, the patented speaker drivers run with zero active or passive correction, from 5Hz to over 50 kHz. A new voice coil is made of upper copper, which Focal says helps improve reliability, and aluminum, which results in a more lightweight design. The grilles inside the earcups are now M-shaped, following the curves of the speaker drivers, to give improved linearity and even more precision. The new yoke is made from forged, recycled carbon that helps make the headphones more lightweight and distributes weight more evenly. The headband is made of genuine leather and the perforated memory foam earcups are also leather-bound for both comfort and softness. The Focal Utopia headphones come in faux-leather packaging with a black fabric thermoformed carrying case and two high-fidelity cables in 10- and five-foot lengths for using the headphones at home with an amplifier or on the go with Lemo connectors and a Jack adapter. $6,499
Sennheiser Ambeo Soundbar Plus
Sennheiser's Ambeo Soundbar Plus is a 7.1.4 standalone soundbar that is compact and driven by 3D sound, developed in collaboration with the Fraunhofer-Institute for Integrated Circuits IIS. Ambeo Self-Calibration reads a room's acoustic properties and positions seven virtual speakers around the listener, plus four more overhead. This lets the Ambeo Soundbar Plus project sound from any corner of the room. The Ambeo Soundbar Plus automatically adapts its sound to the content that's being played. Customizable presets are also available, along with an equalizer and more in the Smart Control app. Immersive 3D sound is provided with Dolby Atmos, DTS:X, 360 Reality Audio, and MPEG-H Audio. You can also upmix stereo and 5.1 content to create 3D sound experiences. The Sennheiser Ambeo Soundbar Plus uses the Ambeo|OS platform. This enables multiple music streaming services, such as Apple AirPlay 2, Spotify Connect, TIDAL Connect, and works with a Google Assistant-enabled device with Chromecast built-in. Further, it provides seamless integration with Alexa built-in and Apple Siri. Grab it for $2,000 and add the Ambeo Sub for another $1,000.
Bluesound Powernode Edge Wireless Music Streaming Amplifier
The Bluesound Powernode Edge single-zone, wireless music streaming amplifier is designed as a "just add speakers" set-up for the modern age, combining streaming sources, control, and amplification all in one device. Available for $849, the Powernode Edge can be easily connected to a pair of passive speakers to create or extend a hifi system. Use the Powenode Edge with the Pulse Sub+ wireless subwoofer for a compact 2.1 stereo system or to power the rear channels of a Bluesound wireless surround set-up. A 2 x 40 watts DirectDigital amplifier in the Powernode Edge handles hi-res audio tracks up to 24-bit/192kHz and supports MQA playback.
It comes with a multi-orientation wall bracket so it can be hidden in closets or behind sofas. Easy to spec and simple to stack, smart home installers will appreciate the 1U rack height and half-rack width, along with easy-access touch control panel. Over 20 natively integrated music services and thousands of internet radio stations are accessible directly on the Powernode Edge and controlled from the BluOS Controller app. To play from a personal music library, connection via Wi-Fi, Gigabit Ethernet or playback from an external USB drive is available. Built-in AirPlay 2 makes for easy integration into the Apple ecosystem, while with other devices, you can take advantage of the high quality aptX HD Bluetooth connection to stream audio directly to the Powernode Edge. More traditional wired sources, such as a TV or preamp'd turntable, can be connected using the HDMI eARC input or the combo analog/digital input. By adding multiple Bluesound players around the home, the Powernode Edge can also become part of a multi-room whole-home audio system controlled using BluOS allowing music to stream from player to player or sync up multiple players. The BluOS Controller app is compatible for iOS, Android, Mac, or PC. The Powernode Edge can also integrate with the most popular smart home controllers like Crestron, Control4, URC, RTI, ELAN, while hands-free control is possible with voice assistants like Apple's Siri, Amazon Alexa, and Google Assistant.
Triangle LN05A Floorstanding Speaker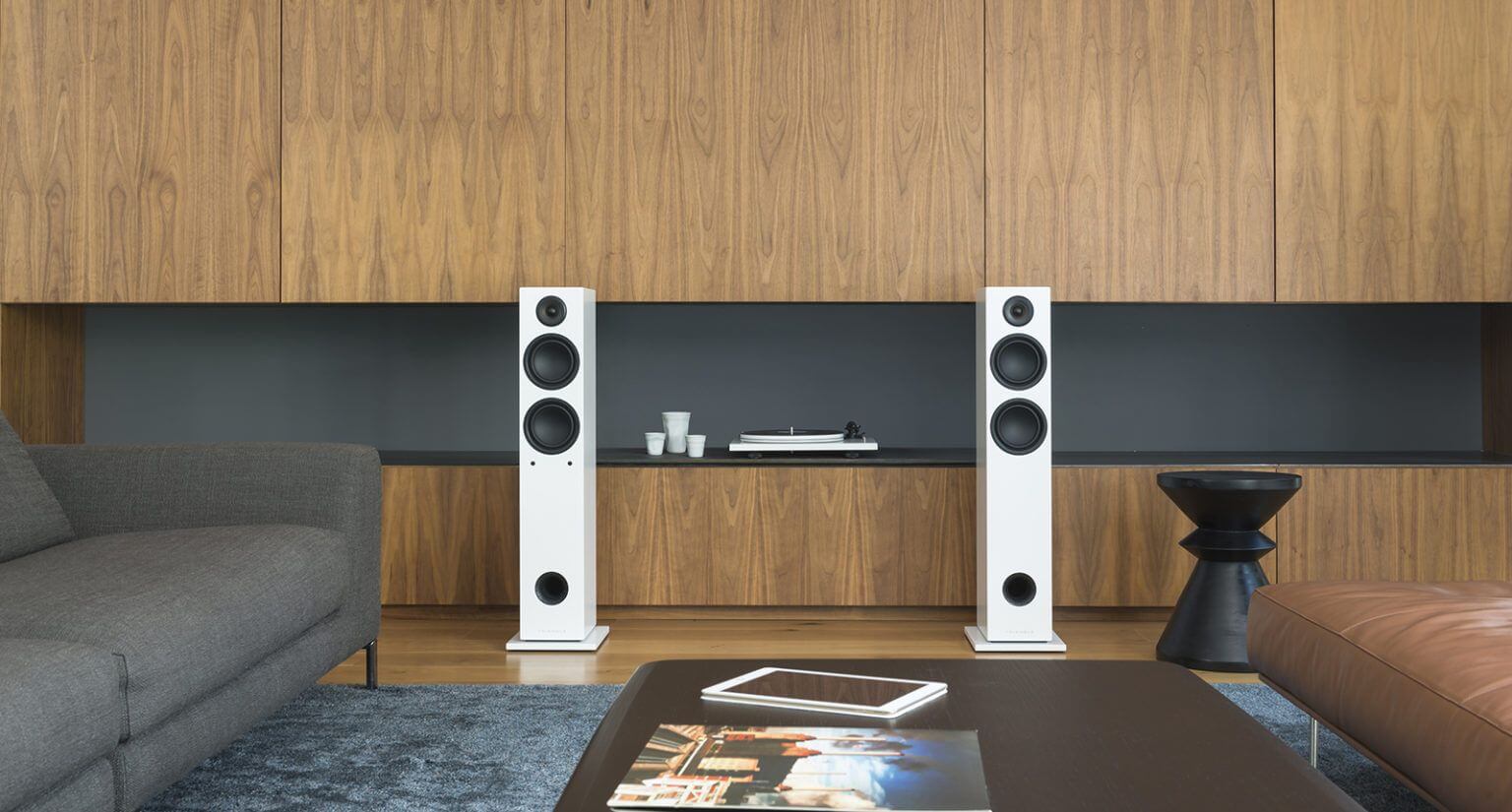 As a special edition active floorstanding speaker, the Triangle LN05A comes in chestnut wood or light oak and sells for MSRP $1,600/pr. The LN05A speaker is equipped with a 25mm fabric dome tweeter and two 13 cm concave drivers and features a 2×80 Watts Class D amplifier module with numerous analog and digital inputs in addition to wireless streaming via Bluetooth aptX. These speakers also contain a phono preamplifier, making it possible to connect any turntable, while optical/coaxial inputs allow the LN05A speakers to be used in a home theatre setting with inputs for a smart TV as well as a subwoofer output.
Sennheiser Momentum 4 Wireless Headphones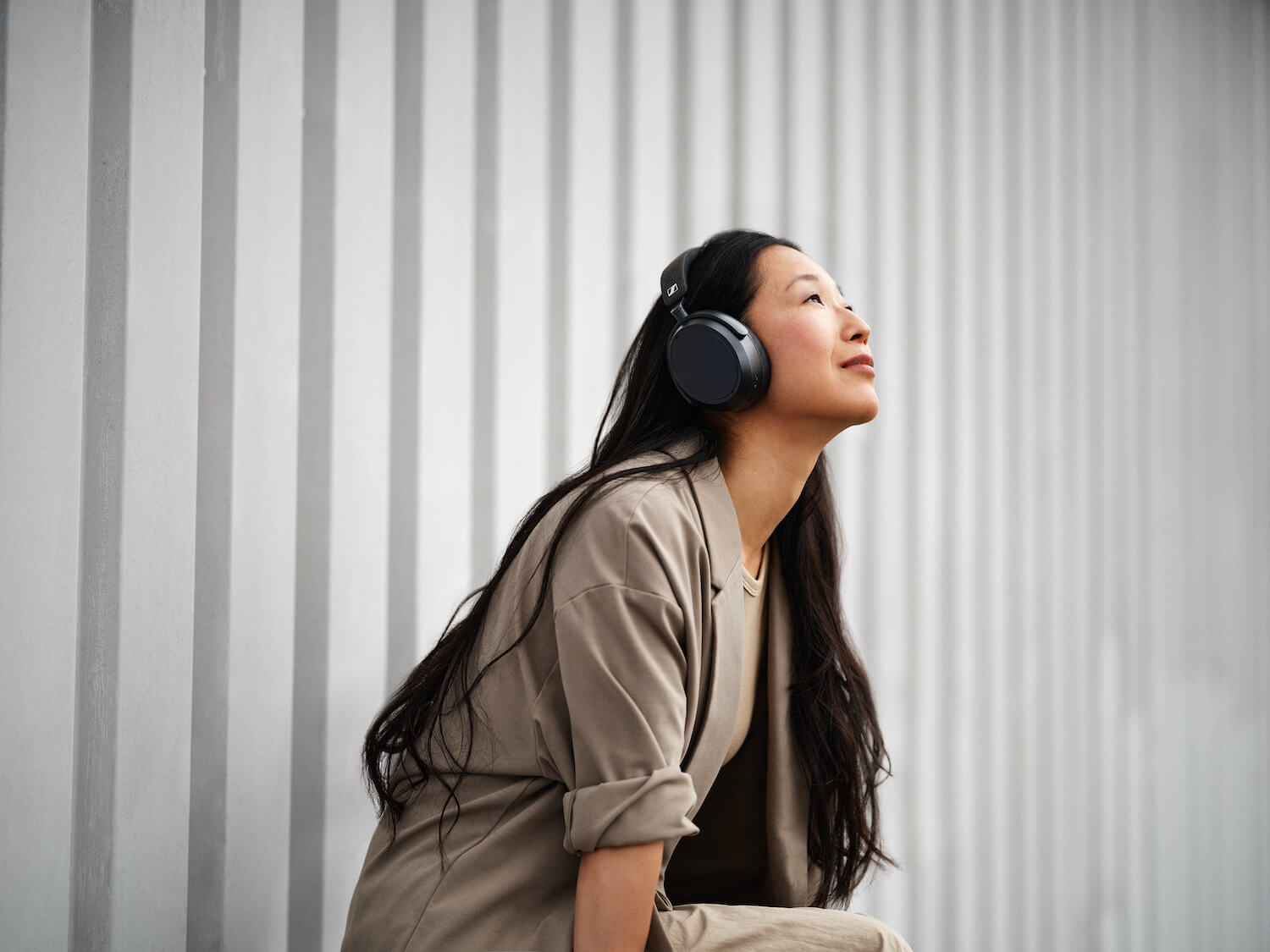 When it comes to noise cancelling headphones, Sennheiser is among the best, combining both solid active noise cancellation (ANC) with premium audio quality. And the Momentum 4 Wireless headphones are no exception. The on-ear headphones offer adaptive ANC, smart features, and a 60-hour battery life with fast charging for six hours of listening after a 10-minute charge. The audiophile-inspired acoustic system is powered by a 42mm transducer to provide "brilliant dynamics, clarity and musicality," says Sennheiser. Use ANC to block out distracting sounds and activate Tranparency Mode with the touch of a button in order to hear outside sounds when desired. The headphones work with the Sennheiser Smart Control app for customizing sound using the built-in EQ, sound modes, and a new Sound Personalization feature. The latter assesses your listening preferences and adjusts the audio accordingly. Using the advanced 2×2 digital beamforming microphone array and automatic wind noise suppression, the headphones are also effective for voice pick-up while engaging in phone calls. Audiophiles will appreciate the lightweight, padded headband and deep cushioned earpads, along with the low-friction hinge mechanism that's adjustable without placing excess pressure on your head. This means they can be comfortably worn around the neck when not actively listening as well, says Sennheiser. Fold them flat, meanwhile, to place into the slim case and slip into a bag or backpack. $460
Huawei FreeBuds Pro 2 True Wireless Earbuds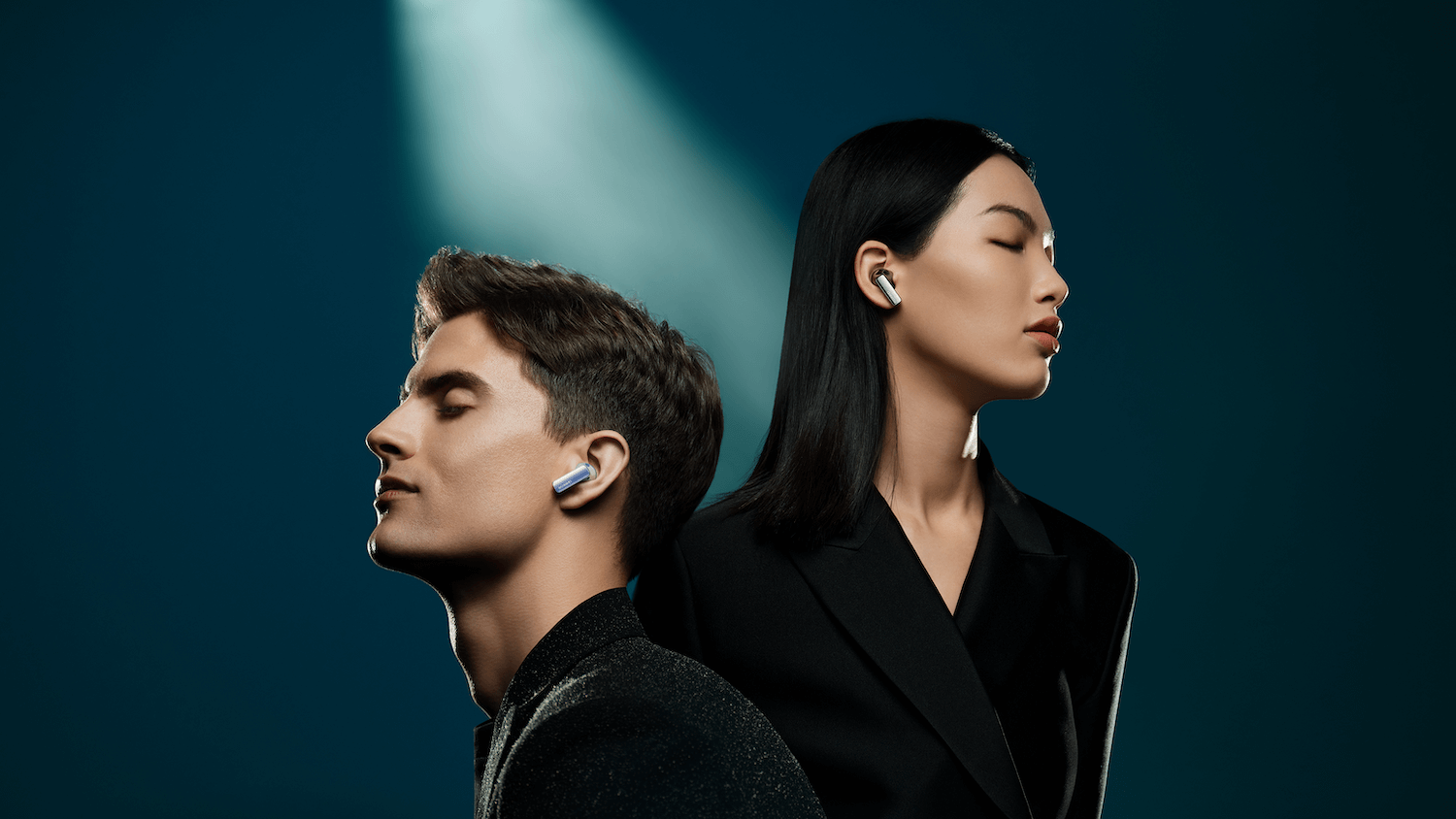 You might not initially think of Huawei, known in Canada for its smartphones, as a hifi audio brand. But the Huawei FreeBuds Pro 2 wireless earbuds were engineered along with hifi audio company Devialet and feature an "ultra-hearing true sound dual driver" sound system that the companies say "intelligently coordinates two drivers, working in perfect unity, for excellent audio performance." The earbuds use a planar diaphragm usually found in high-end earbuds to produce precise treble and overtones, as well as a quad-magnet dynamic driver for medium and lower frequencies and punchier bass. The result, says Huawei, is a wide range, from 14Hz to 48kHz. Equipped with 'Triple Adaptive EQ' technology, the FreeBuds Pro 2 can automatically tune audio according to ear canal structure, wearing posture, and volume level for personalized sound in real-time. Featuring the LDAC high-resolution audio codec protocol, they are certified with the HWA and Hi-Res Audio Wireless Certification. Adopting a new hidden wind-proof design, the FreeBuds Pro 2 can effectively reduce wind noises as well. You can connect to two devices for automatic call switching, including smartphones, tablets, computers, and smartwatches from Android, iOS, and Windows. With the ANC on, you can enjoy a quiet experience of up to four hours of playback time and a total of 18 hours with the case. With the ANC off, you can enjoy 6.5 hours of listening and a total of 30 hours with the case. If you're on-the-go, the FreeBuds Pro 2 also support reverse charging on the earbuds case with a compatible phone or tablet. Since they are IP54 splash-resistant, they can withstand a bit of rain or sweat. Get a pair in Silver Frost, Ceramic White, or Silver Blue for $269.
Monitor Audio Cinergy Cinema Audio System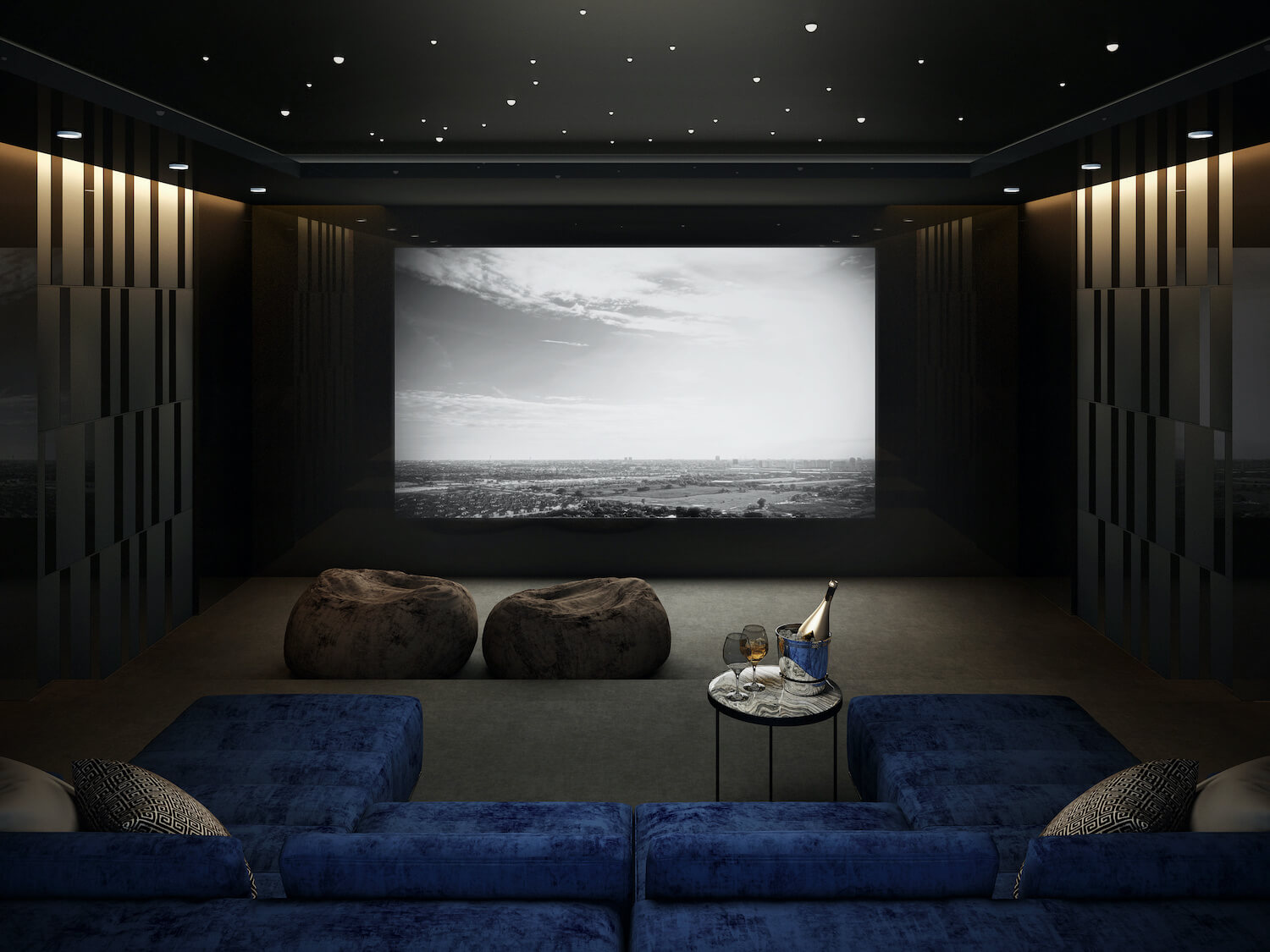 For the home theatre, the Monitor Audio Cinergy system is a premium, THX-certified system that focuses as much on design as it does custom integration and sound quality. The line includes the Cinergy 100, 200, 300, and Sub 15 with pricing ranging from $3,000 for the sub up to $6,500 each for the 300s. The speakers, which have been rigorously tested to meet THX's lab and real-world listening tests, employ a modular design that allows for both horizontal or vertical installation as well as a choice of isolation and fixing methods. They can be integrated into stud walls, fit onto walls, or even be secured to the floor. Integrated handles, meanwhile, make it easy to move around. The handy feet and bracket isolators further help to reduce vibrations. Monitor Audio's advanced driver technology is incorporated along with insert, heavy cabinets, NPD high-frequency transducers, and RDT II drivers. The Cinergy 300s are $6,500 each, Cinergy 200s $5,500 each, Cinergy 100s $3,500 each and, as noted, the Sub15 will sell for $3,000 each.
Bluesound HUB Wireless Audio Source Adapter and Network Pre-amp
A great accessory for the audiophile's listening room, the Bluesound Hub Wireless Audio Source Adapter and Network Pre-amp is a simple way to add non-BluOS audio sources to the BluOS ecosystem, making turntables, TVs, and CD players accessible to Bluesound players for multi-room playback. The HUB ($419) complements an existing Bluesound ecosystem as a network accessory that takes the audio signal from analog or digital sources and transmits them to Bluesound players on the same WiFi network. Select the Hub as an input source in the BluOS Controller app before choosing the Bluesound player where the audio will be sent for playback. Up to five sources can be connected to the Hub and two streams, one analog and one digital, can be simultaneously transmitted from the Hub for dual-zone playback. Grouping is also possible for any stream originating from the Hub.
KEF LSX II Wireless HiFi System
The KEF LSX II Wireless HiFi System offers hifi sound, numerous connectivity options, including both HDMI and USB-C, and a contemporary design. Available in five finishes, each speaker uses a version of KEF's 11th-gen Uni-Q driver array and the LSX II has a combined 200 Watts RMS of system power. The tweeter and woofer are powered by their own dedicated amplifiers to deliver room-filling sound from the cabinets. Using the latest KEF Connect app, the speakers can stream Amazon Music, Qobuz, Tidal, Deezer, Internet Radio stations and podcasts. Apple AirPlay 2 and Google Chromecast seamlessly stream audio from compatible devices, whilst Bluetooth expands the options even further. Native apps can be used to stream directly from Spotify Connect, Tidal and QPlay. When using Airplay 2, Chromecast, etc., the speakers can stream to multiple wireless speakers to synchronise music around a home. Audiophiles will experience the quality of sound following the introduction of file support of up to 24bit/384kHz (PCM), DSD, and full MQA rendering. In addition to Wi-Fi, Bluetooth, HDMI ARC, and USB-C, the LSX II also has connections for a turntable, CD player, games console, and many other devices, along with a dedicated sub-out. Use the KEF app for guided set-up including both Normal mode and Expert for more customization. US$1,400.
iFi GO Bar Headphone DAC
The iFi GO Bar headphone DAC is a pocketable device that connects to a source device via USB (the GO blu, meanwhile, is designed for Bluetooth wireless connectivity if preferred). It delivers full decoding of MQA content and helps reduce noise and crosstalk in the signal path by fully separating the left and right channels. With high quality components, you can also leverage XBass+ and XSpace processing modes for bass boost and to compensate for the "in-head localization" effect. It has physical buttons for volume adjustment, which can be synchronized with the volume controls on the source device, together with controls to select between the various sonic tuning options. A column of coloured LEDs provides a handy guide to the format and sample rate of the digital audio currently playing, and whether XBass+ and/or XSpace are engaged. At one end of the GO bar is an asynchronous USB-C input, at the other resides a pair of headphone outputs. It comes with some cool accessories, too, including a bespoke Lightning-to-USB-C cable, USB-C OTG cable, and USB-C-to-USB-A adapter along with a leather travel case. US$329
NAD C 389 HybridDigital DAC Amplifier
Selling for US$1,499, the NAD Electronics C 389 HybridDigital DAC amplifier feature NAD's HybridDigital UcD amplifier design and the same ESS Sabre DAC used in the brand's up-market Masters Series amplifiers. The digital section is built around a 32-bit/384kHz ESS Technology Sabre DAC chip renowned for its near-zero levels of clock jitter, wide dynamic range, and ultra-low noise and distortion. For the output stage, the C 389 uses a customized version of NAD's HybridDigital UcD design, with multiple UcD amplifier modules in balanced bridged configuration and a switch-mode power supply that can provide ample reserves of current on demand. Delivering 130 Watts per channel of continuous power, the C 389 has a suite of digital and analogue inputs, including an ultra-low-noise phono stage and HDMI eARC interface. In addition to two sets of speaker outputs, the C 389 has two subwoofer outputs, preamp outputs, and a dedicated headphone amp. The C 389 incorporates the latest iteration of NAD's Modular Design Construction technology, MDC 2, and with its two MDC2 expansion slots, the C 389 can adapt to technical advances and evolving user needs. The MDC2 BluOS-D connects to your home network via Wi-Fi or wired Ethernet. With the MDC2 BluOS-D installed, the C 389 can be part of a whole-home music system with as many as 64 zones. Controlled via the BluOS Controller app, available for Android, iOS, macOS, and Windows, you can play music from over 20 streaming services including Tidal, Deezer, Qobuz, Amazon Music HD, or Spotify, or from their personal music libraries. Like all BluOS-enabled components, the MDC2 BluOS-D will bring MQA decoding and rendering capability to the C 389, as well Apple AirPlay 2 and control by popular voice assistants. Connect the supplied microphone to the MDC BluOS-D's USB port, and then run the free Dirac Live app on a smart device or personal computer. Dirac Live room correction compensates for acoustic problems like standing waves and room reflections. The results are transformative and offers deeper, more textured bass; more precise imaging; and improved timbral accuracy.
Campfire Audio Supermoon Earbuds
Makers of some of the finest earbuds around (albeit at a reflective price), Campfire Audio's Supermoon introduces the company's new custom planar magnetic drivers in the solid body earphone design, accomplished by using 3D printing technology for a customized fit unique to each customer. Campfire's signature custom-fit process uses your ear impressions for a personalized audio experience. The interior acoustic chambers are mapped for optimized audio performance and paired with Supermoon's custom planar magnetic drivers to deliver what the company calls "velvety low-end, textural mids, and radiant highs for a smooth, satisfying audio presentation that elevates any listening experience with increased clarity, balance, and detail."
Supermoon are handmade in Campfire's Portland, Oregon factory, 3D printed as a single component with a minimum of moving parts for maximum reliability and longevity, and hand-finished with a stainless steel faceplate. The Campfire Audio Supermoon earbuds are available for US$1,500.
iFi Audio Uno DAC/Headphone Amp
Want to get better sound quality from your mobile device? The iFi Audio Uno is a Dac/headphone amp that can improve sound quality, whether you're streaming tunes from your favourite service, playing games, watching movies or TV shows, or even listening to a podcast. It's small enough to fit in the palm of your hand and features a USB-C input to connect to Windows PCs, Apple Macs, and various smartphones and tablets. Once connected, it delivers an amplified analogue audio signal to headphones, powered speakers, or an amp and separate speakers. Selling for under $100, it provides big, bold, detailed sound thanks to the ES9219MQ/Q high-performance DAC chip from ESS Technology's Sabre HiFi series and 32-bit HyperStream III architecture. This combines with Quad DAC+ and Time Domain Jitter Eliminator technologies, plus iFi's dedicated clock circuitry utilising a specialised crystal oscillator, to deliver ultra-low distortion, excellent clarity, and impressive dynamic range. PCM audio data is supported to 32-bit/384kHz, alongside DSD up to 11.2MHz (DSD256), and MQA – the hi-res streaming technology used by Tidal's 'HiFi Plus' tier. An illuminated ring behind the volume control changes colour to indicate the format and sample rate of the incoming digital signal. There are three specially tuned EQ modes – one for music, another for movies, and the third for games. The Uno has a 3.5mm headphone output for personal listening along with stereo RCA to connect to an amp or powered speakers.