I go for walks at least twice a week, sometimes more often. There are three essential things I take with me whenever I go: my Apple Watch, my iPhone 14, and a good pair of true wireless earbuds. I pop the buds into my ears, set an outdoor walk workout or enjoy one of the Time to Walk workouts from Apple Fitness+, then listen while I enjoy the beautiful scenery of the neighbourhood or a local trail. I have tested numerous true wireless earbuds over the years, and now, I'm adding the JBL Live Pro 2 to that list. These aren't new earbuds: they were announced at CES 2022 and first available last spring. But they're a solid option for commuters, active individuals, and everyday users that come in at a pretty affordable price.
What Are the JBL Live Pro 2 Earbuds?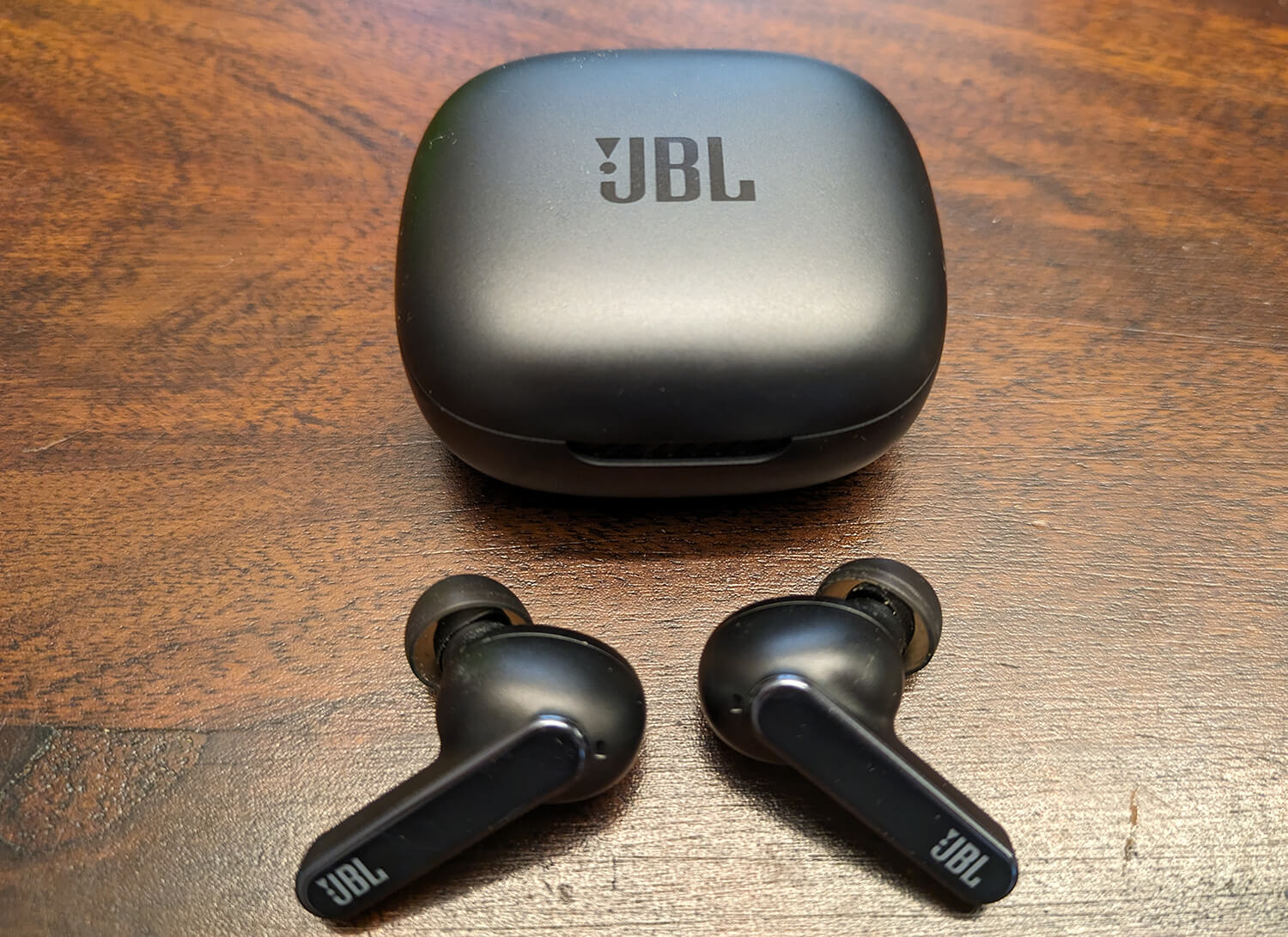 The JBL Live Pro 2 true wireless earbuds, which sell for about $200 and come in four colours, are wireless earbuds that feature noise cancellation technology. They have six beamforming mics to help reduce wind and noise interference, particularly important when wearing them outdoors.
In addition to True Adaptive noise cancellation technology, there's also a VoiceAware mode, which allows you to control how much of your own voice you hear while you're on a call, for example. Smart Ambient mode, meanwhile, allows you to remain aware of your surroundings while still enjoying some level of noise cancellation.
They have Oval Tubes, which are oval-shaped silicone eartips (three sizes are in the box) that JBL says offer better comfort, isolation, and bass. This design ensures not only better noise cancellation but also enhanced audio quality.
Dual connect and sync with multi-point connection allows you to easily switch between two different Bluetooth input devices, which comes in handy if I, say, want to listen to tunes on a walk then use them for a video call from my MacBook when I get back to my home office. If used with a compatible Android device, you can enjoy quick pairing and switch between mono and stereo, listening through both earbuds or one or the other.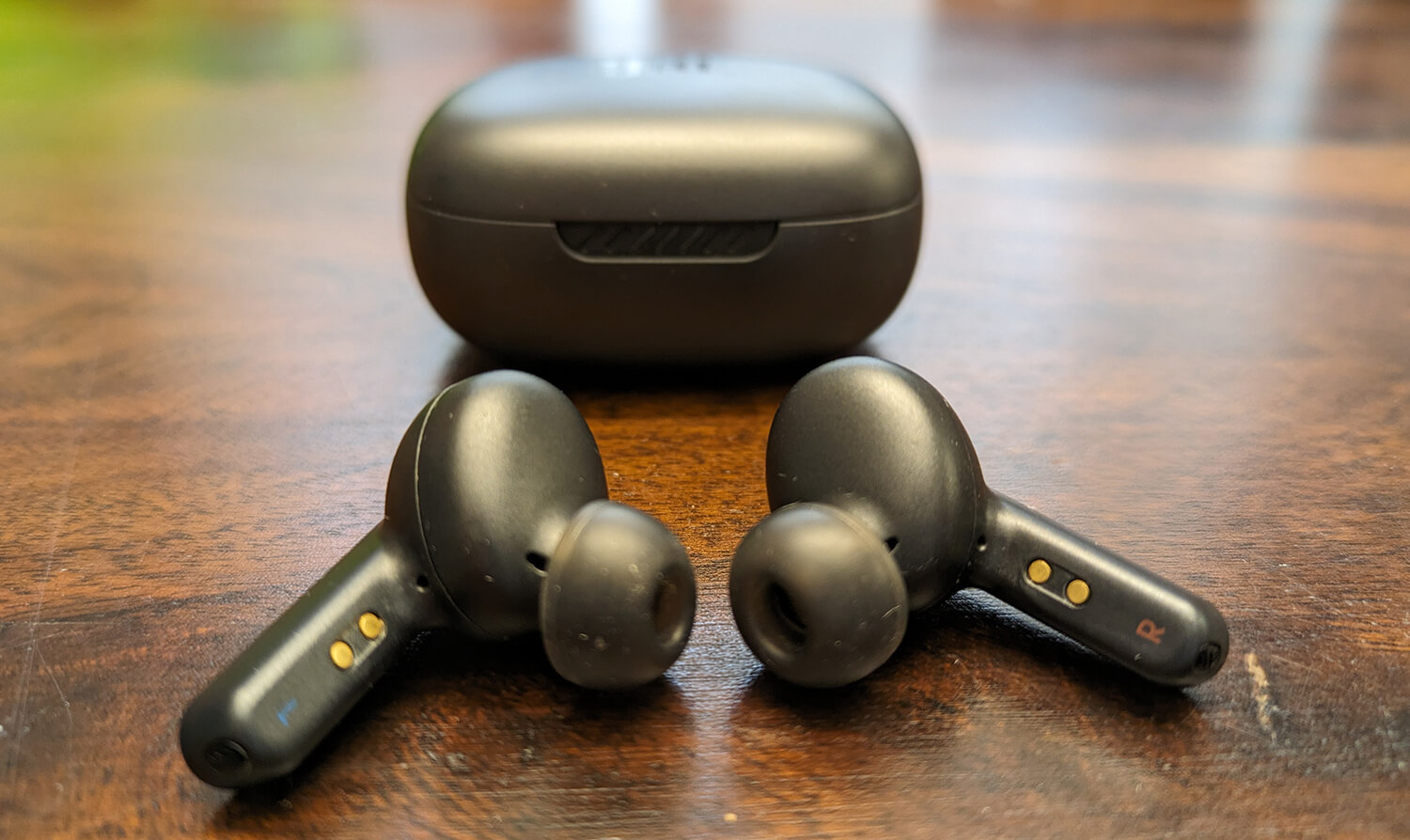 With touch controls, you can activate Hey Google, Alexa, or Siri from a supported device (you'll need a device with Android 6.0 or higher to get full access to Alexa features).
Control everything from the JBL Headphones app where you can run a fit test and ear canal test, set-up your preferred voice assistant, adjust ANC, select a specific listening mode, customize gesture controls, and more. There's also an adjustable EQ curve.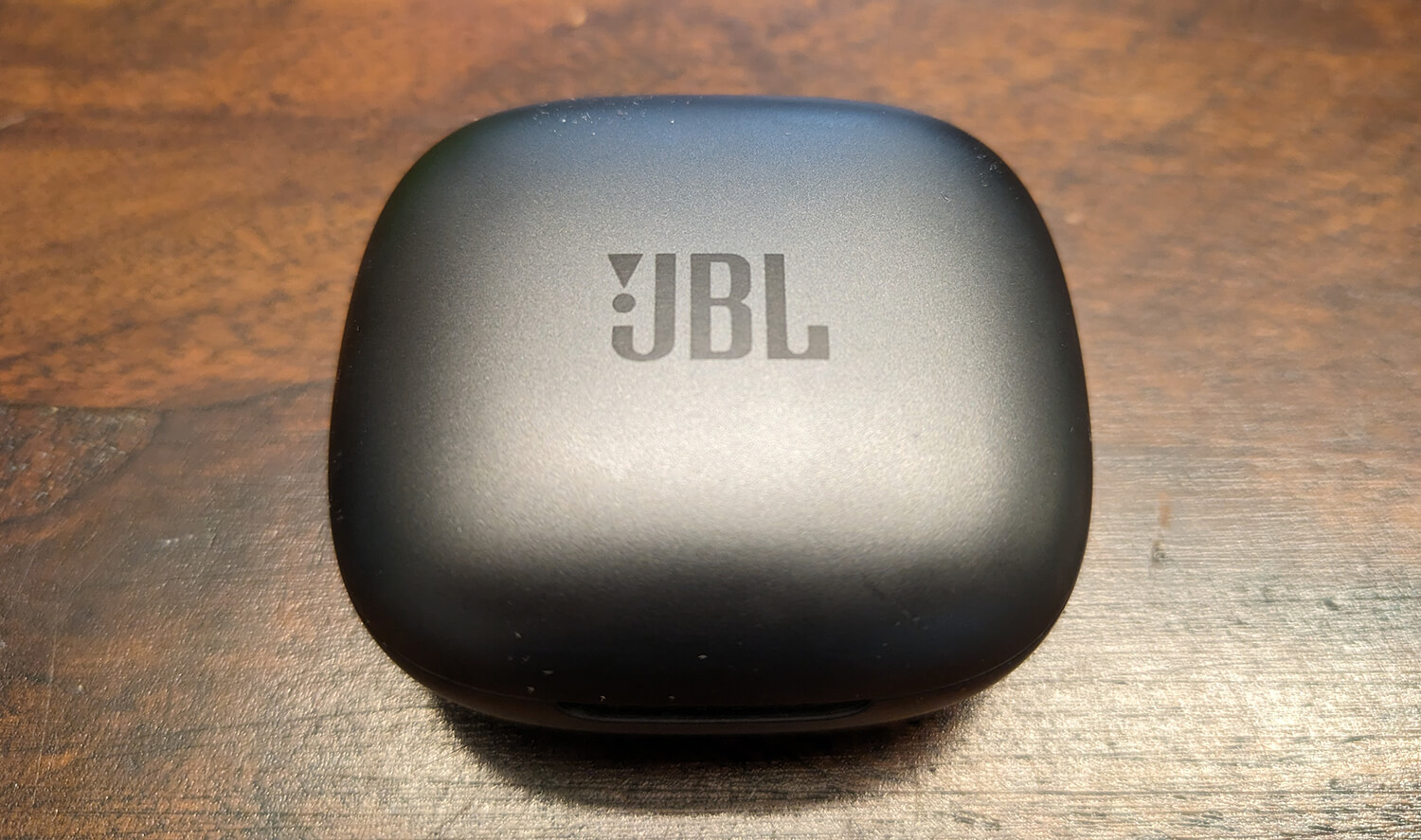 The earbuds are IPX5 water resistant, so you can confidently run in the rain or sweat it out at the gym without worry. You'll also get up to 40 hours of battery life per charge using the included charging case, with 10 hours for the earbuds plus an additional 30 from the case. It also supports speed charging and wireless charging via compatible Qi wireless chargers.
Setting Up the JBL Live Pro 2 TWS and JBL Headphone App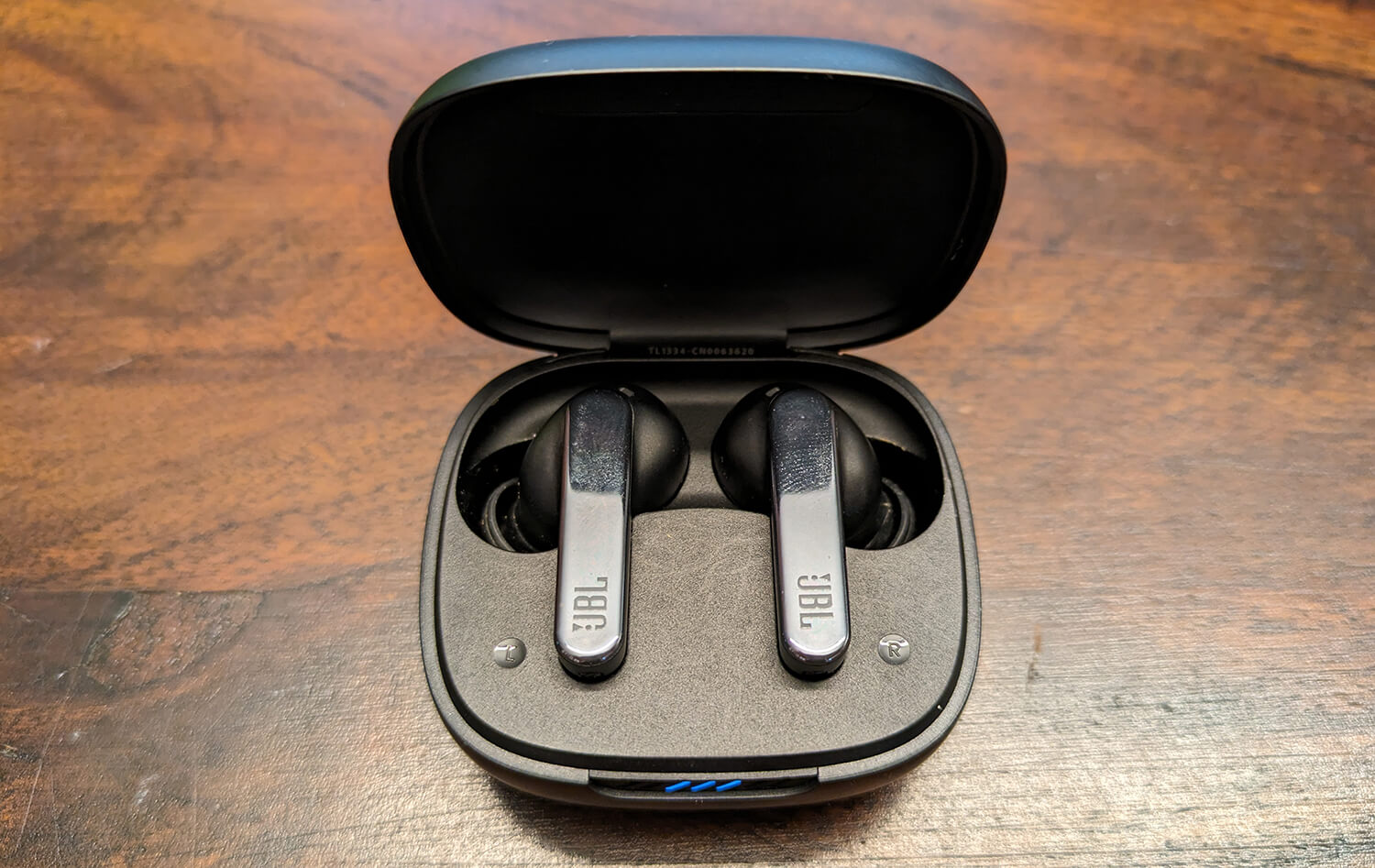 I was eager to get started with the JBL Live Pro 2 TWS earbuds. Out of the box, they look stunning. My review pair came in black with a glossy silver finish on the stems, the JBL logo featured prominently. The case is a nice, compact size, easy to pop into a backpack, purse, or even your pocket. The front of the case has lights that show the battery status, which is an appreciated way to give you a head's up when it's time to recharge. In the JBL Headphones app, you will also see the battery status of both earbuds as well as the case.
I charged them up, downloaded the app, then got to work. Pairing was effortless, with my phone immediately recognizing and connecting to them.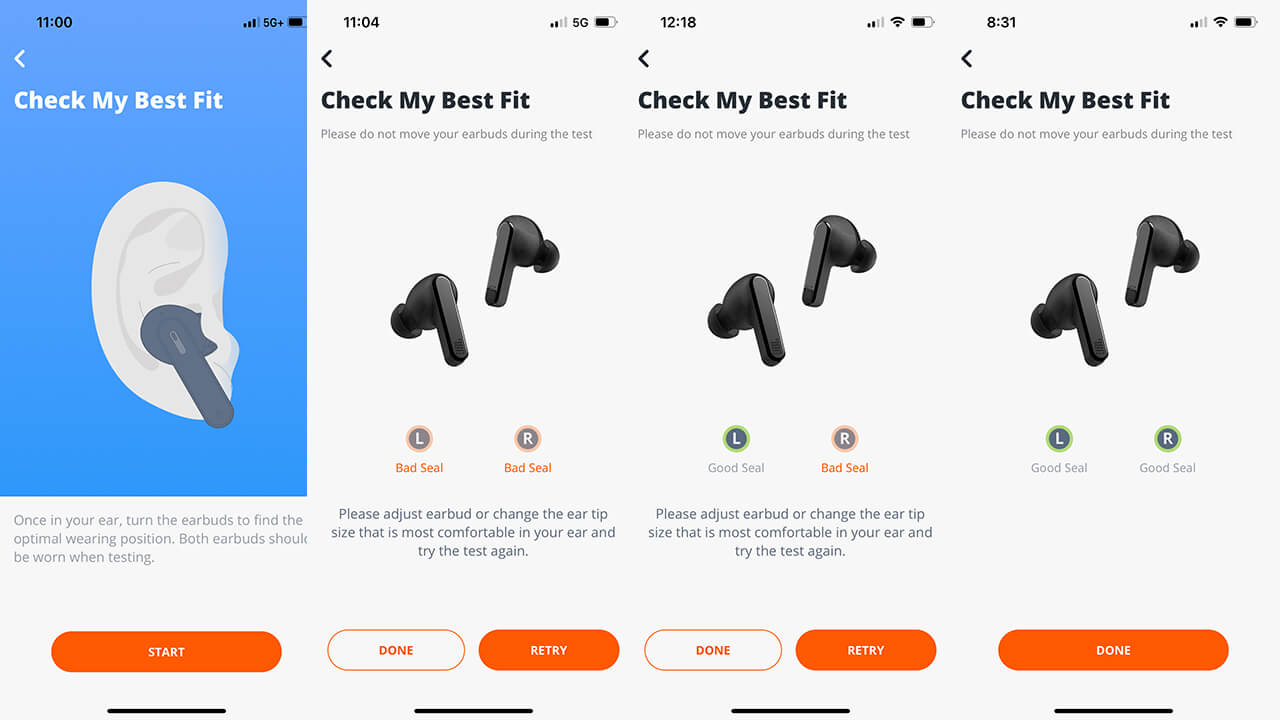 I had a bit of trouble with the ear seal test, unable to get a good seal. I shifted from the medium-sized eartips to the smaller ones, still with no luck. Because it's important to get the proper positioning and ensure you're using the right size eartip, I was adamant to get this right. A spokesperson from Erikson Consumer, the Canadian distribution partner of JBL, informed me that in rare cases, you may have issues getting a proper seal based on the shape of your ear canal, and suggested inserting them at a 30° incline. I still had no luck after repeated tries, so I may very well fall into this category. Nevertheless, after a heck of a lot of patience, I finally got a good seal after going back to the medium-sized eartips.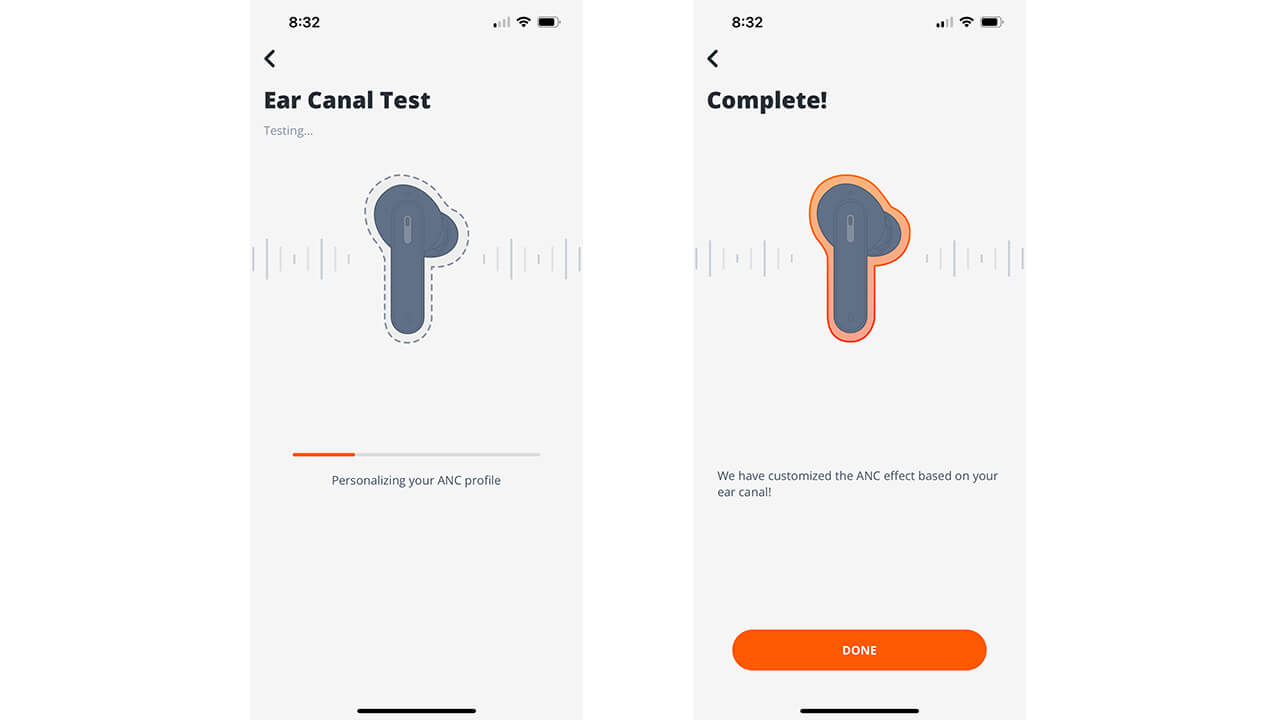 Once that hurdle was overcome, I proceeded to do the quick ear canal test, which analyzed my ear canals to supposedly provide "the best ANC experience." I then went on voice assistant set-up and I was given the option between Siri and Amazon Alexa (it would be Google Assistant with a compatible Android phone; I use an iPhone 14). I chose Siri and it advises to tap and hold both the left and right earbuds at the same time to trigger her. I gave it a go and it worked flawlessly.
You can also run through a series of product tips to further familiarize yourself with the buds and what you can adjust in the app. It's worth flipping through these four slides in the app to learn how to customize the sound to your liking.
There are neat ANC customization options in the app in addition to Adaptive ANC, which is arguably the most logical option since it automatically adjusts the level based on surrounding noise. But you can also turn on Leakage Compensation, which will adjust the ANC in real-time based on leakage (say, if you're vigorously running and the seal isn't as tight as it was when you left the house). There's also ear canal compensation, great for people like me who had trouble getting a good seal). With Ambient Aware, you can adjust a slider to the amount you want.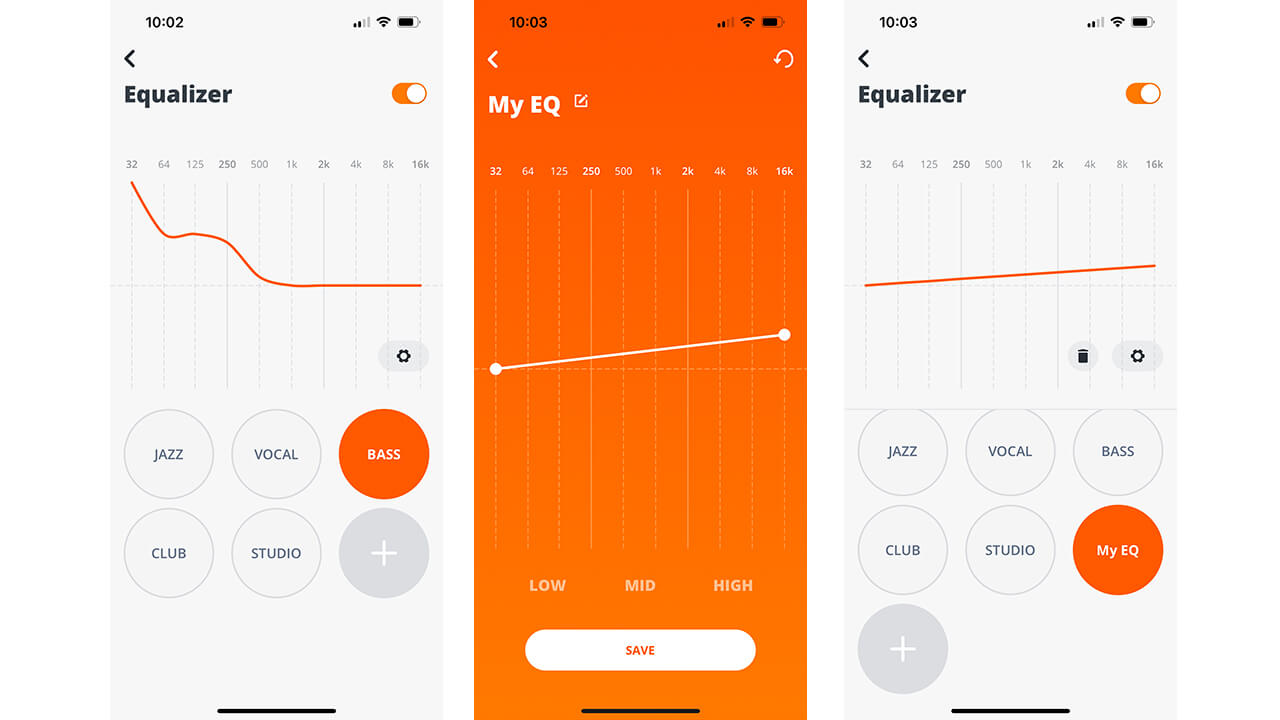 Use the equalizer to choose the mode best suited to what you're listening to, like Jazz, Vocal, Bass, Club, and Studio. You can also tap the "+" sign to manually adjust the lows, mids, and highs to your own custom setting, and save it as another one-touch preset EQ mode if you figure out your favourite setting that works for most audio content.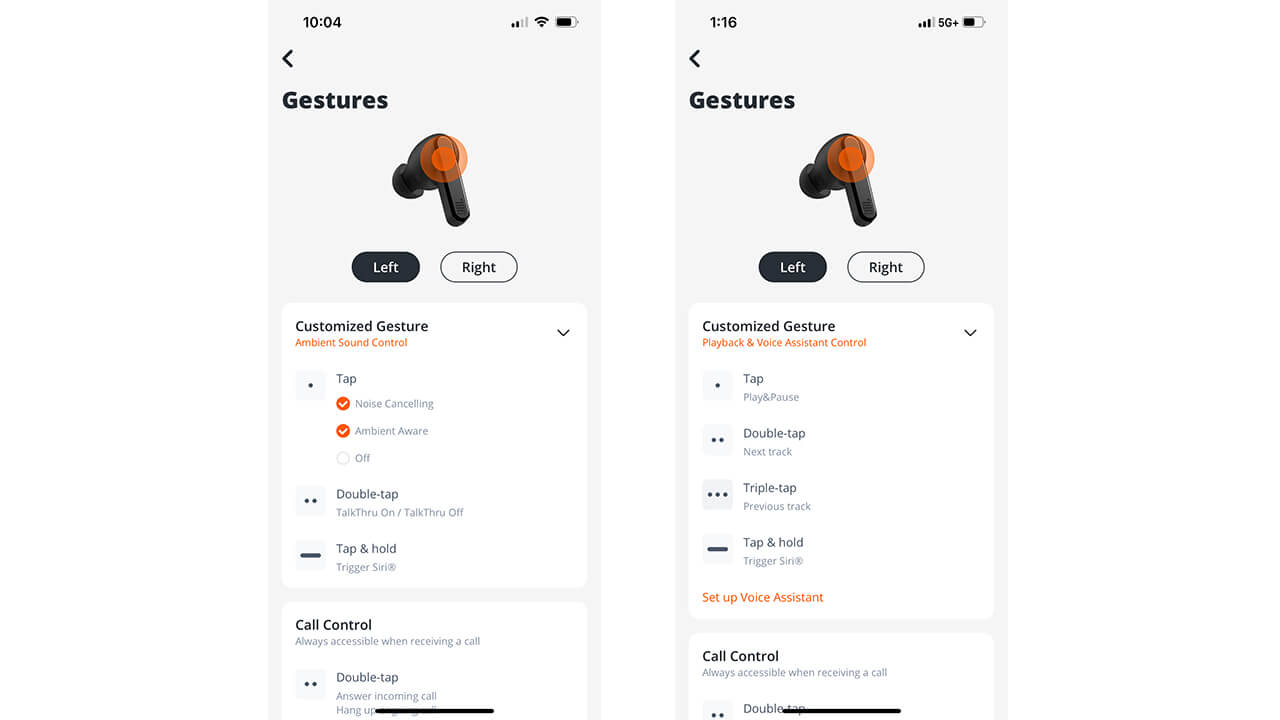 There are gestures you can adjust as well: keep the defaults or customize them based on what you would use the most and what types of gestures you prefer. Since I'm left-handed, I preferred to be able to control music tracks, like skipping a song, pausing, and playing, from my left earbud and noise cancellation, which I'd likely need to control less often, from my right. This is opposite to the default set-up, but a quick switch in the app made usability much more comfortable for my South Paw self.
Additional features in the app include smart audio and video, which will adjust the sound based on whether you're listening to music or a podcast, for example, or watching a movie; auto play and pause, which can automatically pause the sound when you remove an earbud and resume once you place it back in your ear; and a power saving mode you can activate to put the earbuds in standby mode or turn them off altogether if they are idle for 15 minutes, which will conserve battery life.
Using the JBL Live Pro 2 TWS Earbuds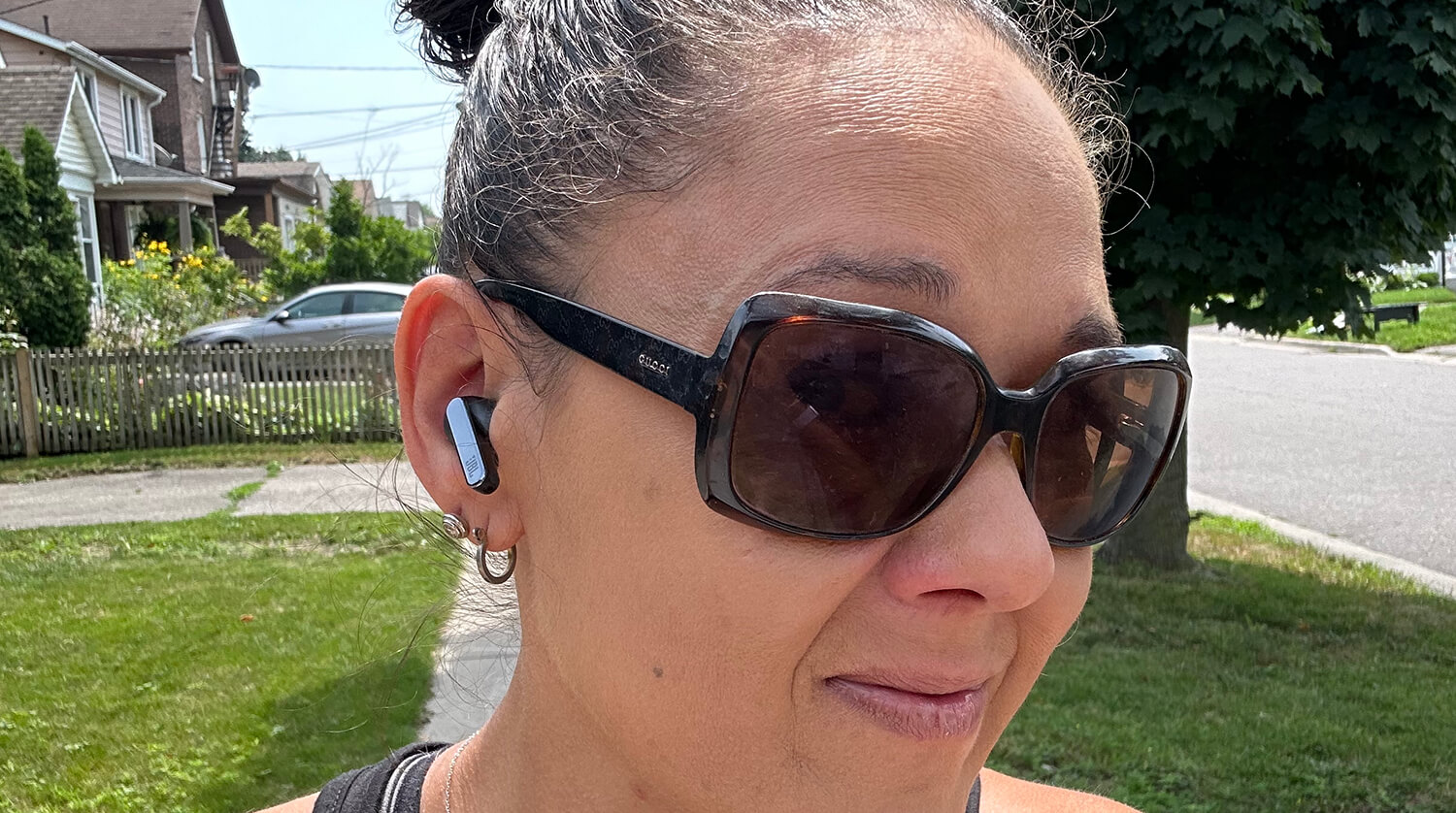 Now, it was time to listen. I listened through the JBL Live Pro 2 TWS earbuds during several weekend trail walks, while going for a short walk at lunch during the workday, and for phone calls at home.
It's integral to use the app to adjust equalization and sound based on what you're listening to if you want to get the best possible audio experience. I also found it worthwhile to double check that I had a good seal each time I wore them, running the quick fit test to confirm.
Sound was detailed and expansive, with great separation such that I could hear every instrument, every vocal, with crystal clear detail. I listened to everything from Metallica's "Master of Puppets" to New Order's "Bizarre Love Triangle," and, in honour of her recent untimely passing, "Nothing Compares 2 U" by the late Sinead O'Connor. Every note was delivered in precise fashion, with tiny elements of the songs evident that I hadn't heard as clearly using other earbuds. I was immersed in the music while I went for my walks. But when necessary, I could activate an awareness mode so I also knew what was going on around me. This was sometimes someone coming up behind me on a bike on the trail, sometimes cars passing by on the busy street. I also love that I could leverage Smart Ambient when I popped into a local restaurant to grab lunch: I could place my order and easily hear the cashier without having to remove the buds from my ears.
I love Apple Fitness+'s Time to Walk workouts, which feature different celebrities going for a walk while talking about their lives, careers, inspirations, setbacks, and more. From the crunching of their feet on the leaves as they walk to the birds chirping in the background and, of course, their recognizable voices, every sound was beautifully captured through these buds. I switched the audio to Vocal to focus mostly on their voices when doing these walking workouts, and the slight enhancement of the voiceover made the experience even more enjoyable. It almost felt like I was right there with them. (Recommendations, by the way, for those who want to listen: Hannah Waddingham, the late Leslie Jordan, Simu Liu, and Chelsea Handler all delivered inspiring, emotional stories in their Apple Fitness+ Time to Walk exercises.)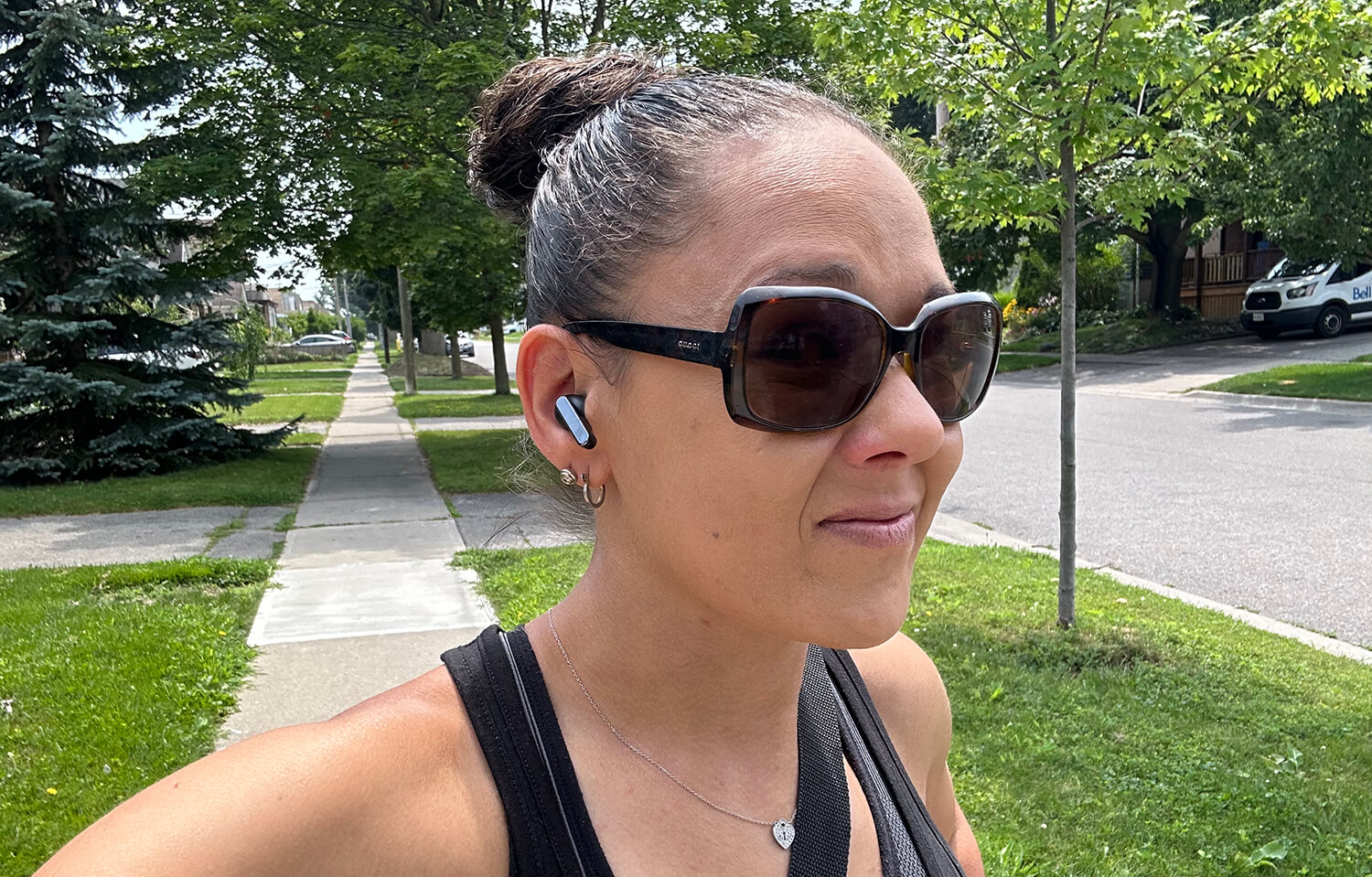 I was most impressed by the wind noise reduction of the JBL Live Pro 2s. I went for a walk on several days when there were high winds. While I could hear the winds whistling by, they didn't impact the sound quality of my music or podcast at all. It's some of the best wind noise reduction I have ever enjoyed in a pair of wireless earbuds.
Back at home, I used the buds for several customer service calls that required me to be on hold, and the call quality was equally as great.
The fit of these buds is comfortable and secure as well, to the point that I'd sometimes forget I was even wearing them. Noise cancellation is effective, beautifully eliminating distracting outdoor noises, like a neighbour mowing his lawn or renovation work going on at the house across the street.
Battery life is impressive. After more than two weeks of using the earbuds here and there for 30-45-minute walks and occasional use in the house for phone calls, the case was still at 80-90% and the buds were both at a full 100%.
Should You Buy the JBL Live Pro 2 True Wireless Earbuds?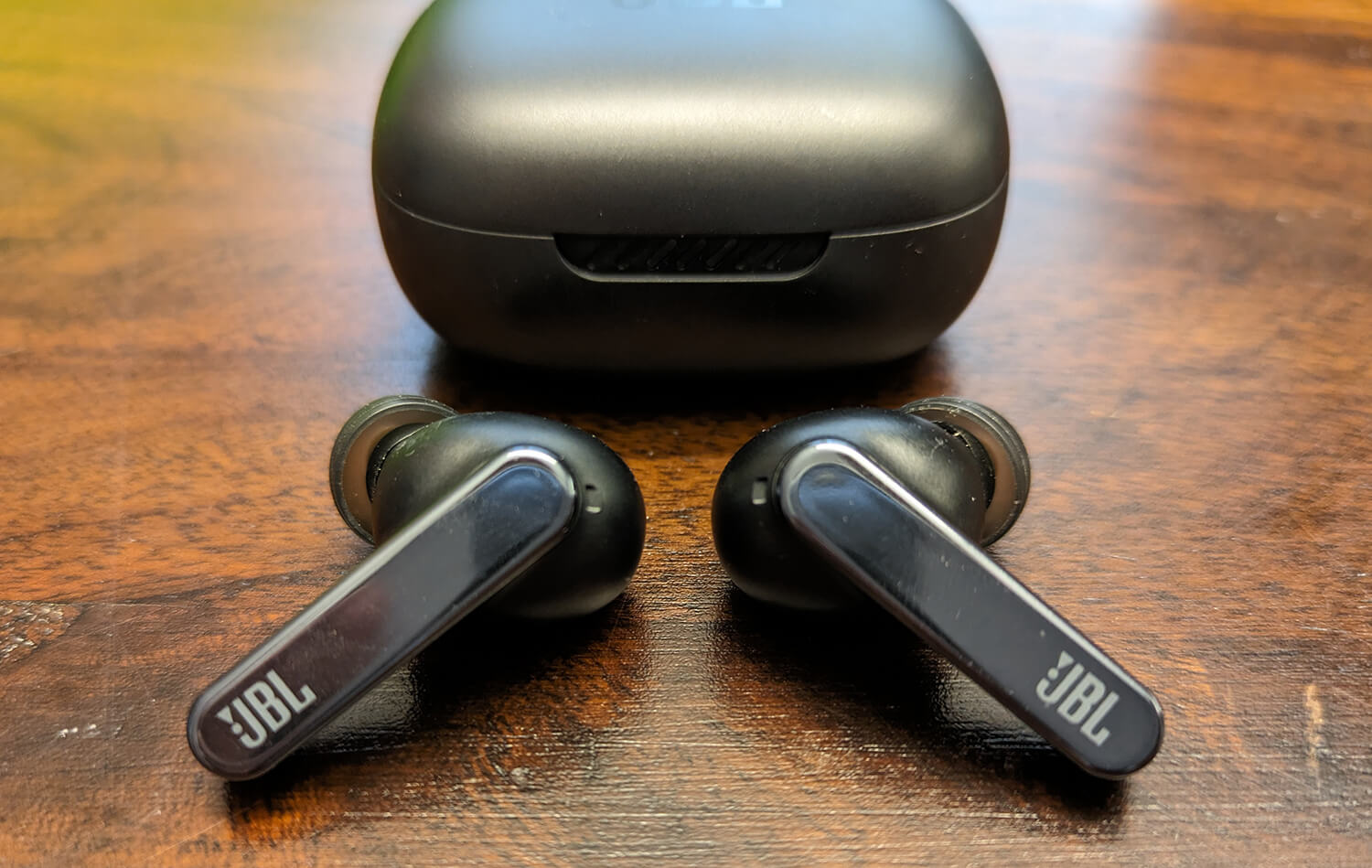 The JBL Live Pro 2 true wireless earbuds are a solid pair of earbuds for active individuals, commuters, and everyday users. Wear them while you multitask, while walking downtown on your lunch break to grab a coffee at the nearby café, going for your morning run, working out at the gym, or even taking a flight for your next business trip. The ANC feature works well as does the Smart Ambient option when you need to listen to a PA announcement or talk to a passer-by on the street.
The battery life is impressive, and the buds look stunning. While I had difficult getting a proper seal, you might not have the same experience.
For the price, the JBL Live Pro 2 true wireless earbuds offer tremendous value with signature quality JBL sound. This makes them not only a convenient pair of earbuds you can take with you anywhere, but also an amazing sounding one. Add the fact that they are also durable and stylish, and that there's plenty of customization features through the app, and you can't go wrong.
Get the JBL Live Pro 2 true wireless earbuds in one of four funky colours for about $200. JBL products are distributed in Canada by Erikson Consumer.