For years, I have been using a smart scale that reports both my weight as well as body fat percentage. As I delve deeper into my fitness journey, however, I want more. Withings is one of the top brands in smart scales, and self-proclaimed originator of the category. The company's newly enhanced Body Smart scale offers advanced health assessments, so I was eager to try it out.
What is the Withings Body Smart Scale
The Withings Body Smart scale uses Withings' Precision Technology that combines multifrequency bioelectrical impedance analysis (BIA), precision weight sensors, and advanced algorithms to deliver insights and health analysis. In addition to precise weight and body composition analysis, it provides additional health measurements, including heart rate, visceral fat, metabolic age, and basal metabolic rate.
BIA works by sending a small electrical signal through the body, which measures the resistance and reactance of body tissues to the current. More frequencies used means you'll get more complete and accurate data about your overall body health. Multifrequency BIA and advanced algorithms allow for adding measurements of fat, muscle mass, and water weight percentage.
As part of its enhanced body composition analysis, Body Smart can also measure visceral fat. This is a type of fat that surrounds the internal organs and has been linked to an increased risk of heart disease and diabetes. Withings believes that by measuring and tracking visceral fat, you can better understand your overall health and take steps to hopefully help lower your chance of developing chronic diseases and other heart health risks. Body Smart also provides cardiovascular measurements and insights by tracking standing heart rate.
For the first time, Withings Body Smart will also be able to measure Basal Metabolic Rate the number of calories the body burns at rest, which provides valuable information about your overall metabolic health. By measuring BMR, you can make informed decisions about diet and exercise. Body Smart also uses this to calculate metabolic age, comparing how many calories a body burns at rest with others in an age group. This feature will come via an update in Q4 2023.
It's easy to see how all this data can be useful not only for active individuals, but those on a journey to lose weight and work on improving their overall health and wellness.
Key Details About the Withings Body Smart Scale
Immediately after taking it out of the box, it's clear the Body Smart will be a stunning addition to any bathroom. It has a colour screen that displays relevant information and battery compartment on the back. That's pretty much it! One thing to note is that because the surface is glass, it's not only delicate, it's also highly reflective and susceptible to smudges. Expect to see the outline of your bare feet and spending some time to wipe it down weekly, if not daily.
Compatible with up to eight users, other modes of the scale include athletic, pregnancy, and baby to accurately weigh little ones. You can view your stats on the scale's colour screen as well as within the Withings app, which can be used to track trends and measurements over time, follow progress, and receive detailed health advice and assessments as well as daily inspiration for long-term progress.
But sometimes, the last thing you want to see is the number on the scale, at least not until you're ready to look. For those who prefer to be discreet, especially while others might be in the room, you can use the Eyes Closed Mode. Rather than display your weight on the screen it shows encouraging, motivating messages or daily information, like step counts, air quality, and the weather. When you're ready to see the number, you can check the app since the data will still be recorded there.
Like the Withings Body Comp and Body Scan scales, the Body Smart scale is also compatible with the Withings+ (formally Health+) health improvement service. The subscription service guides you daily to help you build better habits to reach goals by unlocking additional content such as deeper metrics analysis, insights, and guidance.
The Withings Body Smart scale is US$100 and comes in black or white; Canadian availability and pricing is TBA.
Setting Up The Withings Body Smart Scale
Setting up this scale could not have been easier. Remove the tab in the battery compartment, and it already comes with the required 4 AAA batteries installed. Download the Withings app and set up account. You can use an existing one like your Apple ID.
Agree to the privacy policy and terms and set up personal profile. If you are using an iPhone, this information can be auto filled from Apple Health or you can do it manually. Enter your name, birthdate, height, and weight.
If you want to sync the Withings scale with the Apple Health app, you need to grant permissions to access categories like active energy, blood oxygen, and body fat percentage. Once you do this (I'd highly recommend doing so), the Withings app will import data to sync Health Mate with Health. The data refresh might take a minute or two.
Now, it's time to pair. The scale was automatically detected and a six-digit code appeared on its screen for me to enter into my phone. Tap next, connect the scale to your home's Wi-Fi network, and you're ready to go.
You can set up a detailed profile in sections to learn how to use the scale. You can also set a weight goal: losing weight, losing fat mass, gaining muscle mass, gaining weight, or stabilizing weight. If you choose losing weight, enter your target weight as well as what pace you want to lose that weight, like half a pound per week.
In the set-up menu, you can also set multiple users if everyone in the household will be using the scale and wants to have their own personal profile. The scale can automatically detect whose standing on it based on weight and other body data. I set up myself and my 11-year-old son with profiles.
For Modes, you can tailor the experience based on where you are in your fitness and health journey. Options include Athlete, Eyes Closed, or Weight Only. You can also add Utilities, like weather and air quality updates and customize the screen to your liking. While viewing all stats is recommended, you can customize it to remove ones you don't want to see, such as fat mass (until you're comfortable with progress). For the sake of my review, I left it at the recommended setting to see all stats. You can go back at any time to adjust these settings, add more users, and more. After using it for a while, for example, while I like seeing air quality, I could probably do without weather since I'm well aware of the weather report for the day long before stepping aboard the scale.
I love that the app integrated all my data from the Apple Health app, much of which is tracked using my Apple Watch Series 8. This brings the entire experience together, making the Body Smart scale a part of your overall fitness, health, and wellness journey.
With everything set up, place the scale on a flat surface, like in your bathroom. If you are placing it somewhere with thick carpet, use the included carpet feet to ensure it sits stably.
Using the Withings Body Smart Scale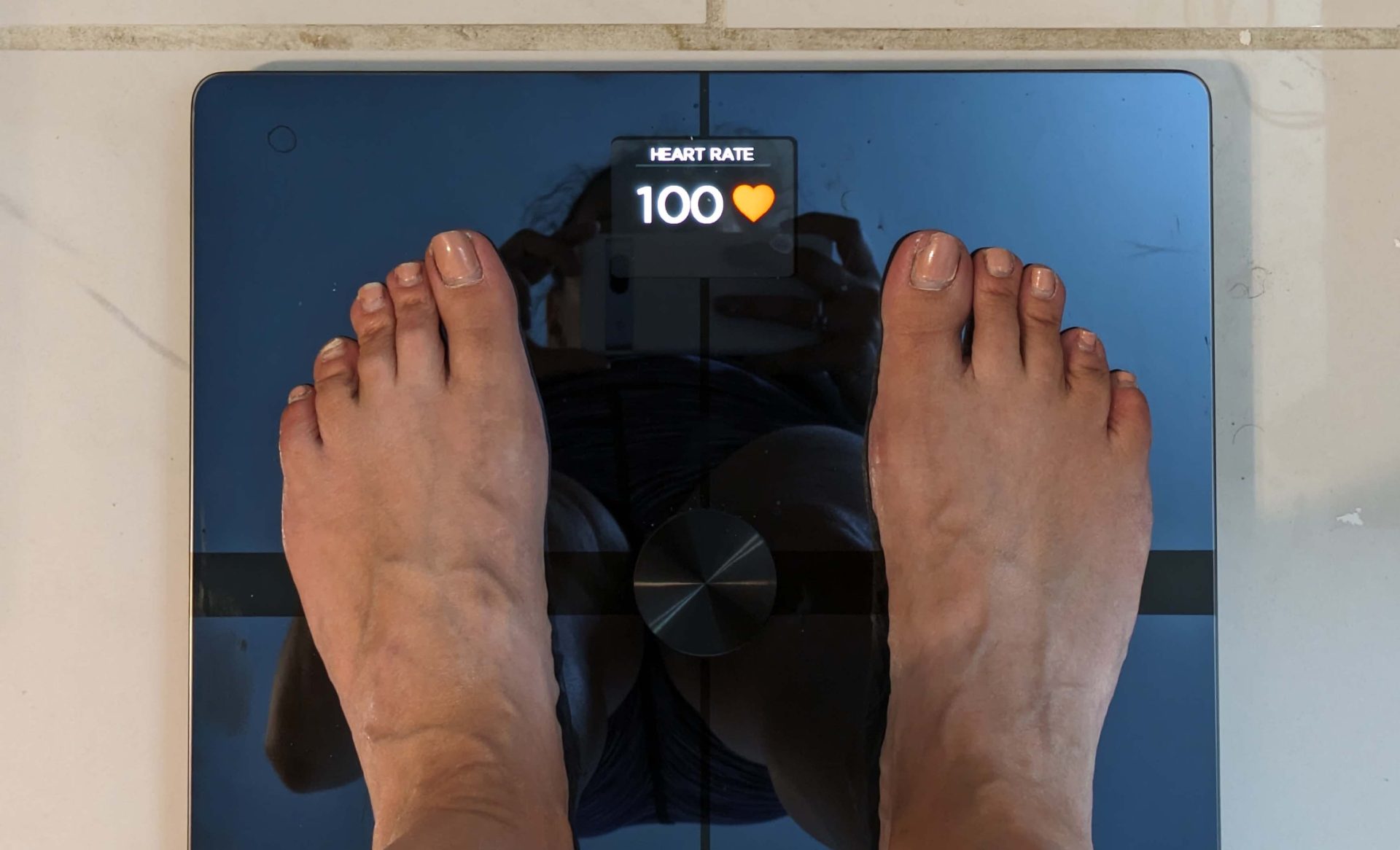 Ready to take your first measurement? Step aboard the scale with bare, clean feet. As with any scale, it's best to weigh yourself first thing in the morning before showering (with dry hair) and after emptying your bladder. You should also weigh yourself naked for the most accurate result. Try to weigh in at the same time every day to be consistent with the measurements and avoid other factors influencing the numbers.
Stand still until the entire measurement cycle is complete. You will see your weight appear instantly (unless you choose Eyes Closed Mode) followed by other stats, like your visceral fat, heart rate, air quality, weather, and more. The data is instantly synced with the app where you can view progress over time and gain insights into how you're doing. Are you gaining muscle mass as hoped from your exercises? Are you losing or gaining weight at the rate you expected?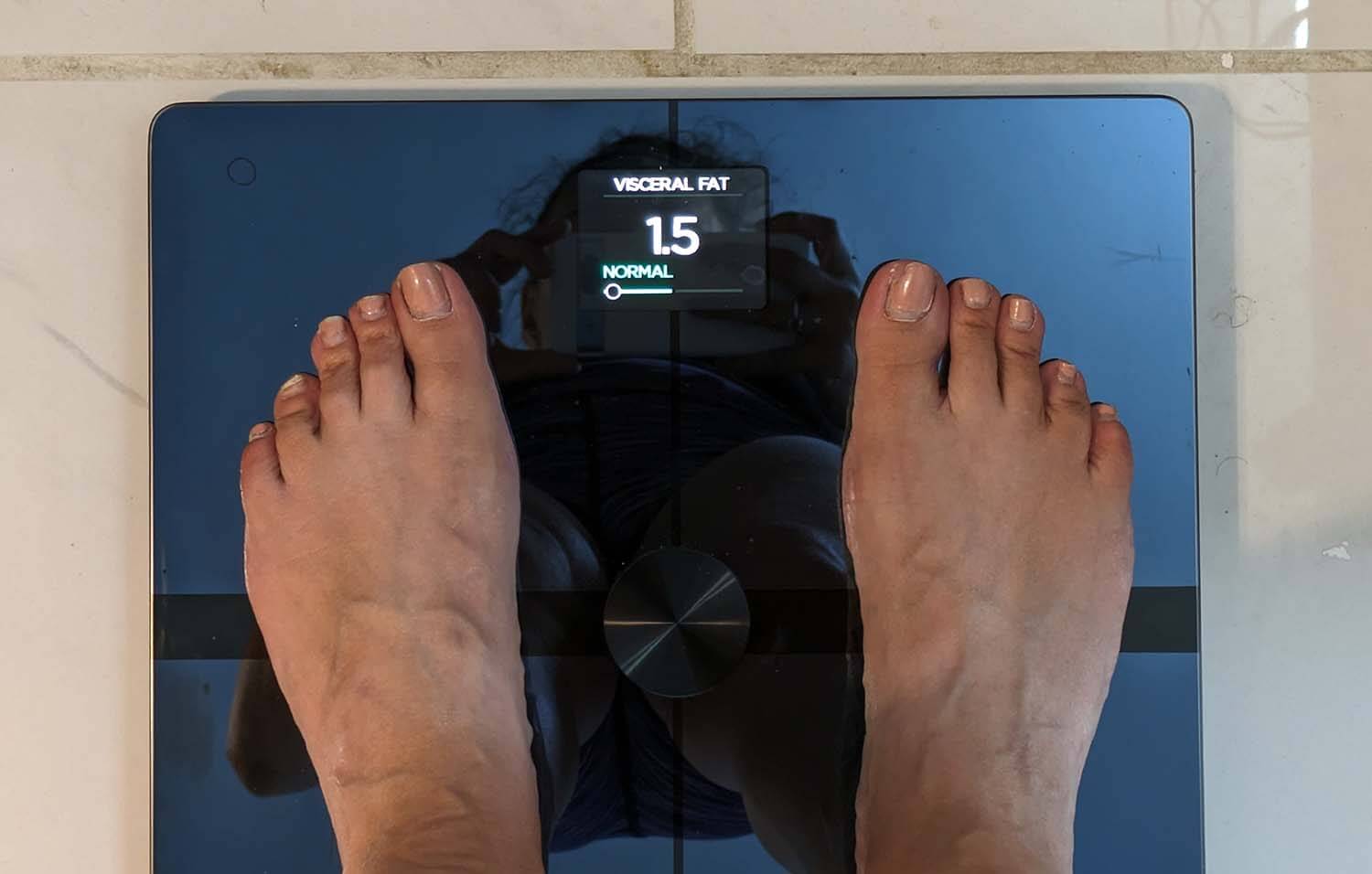 Naturally, you'll get the most out of this scale the longer you use it. I set one up in early June to collect more than a month's worth of data and gauge how insightful it would be over time.
One thing I noticed is that the Withings Body Smart scale consistently logged my weight at being a few pounds heavier than the other smart scale, though it also logged my body fat percentage at being 5-6% lower. I'll take it!
I really love that all my weight and scale-related data automatically ports over to the Apple Health app and vice versa, so I get a holistic view of my health and wellness in both. Interestingly, my sleep data in the Withings app also shows a Sleep Score even though the Apple Health app does not provide a score. Withings advises that this information must be coming from Apple, so it's an interesting calculation that Apple doesn't provide (strangely) but clearly could.
I'm all for motivation, but one morning after weighing myself and clocking in at a pound heavier than the morning prior, the Withings app clearly showed "gaining fat" under the body composition tab. It felt slightly shaming though I appreciated the notification.
As someone who has used a smart scale for years, I can look back and see that my weight will fluctuate up and down by a pound or two pretty consistently. So many factors can play into this. Nonetheless, the instant "gaining fat" notification was demotivating in a way. It would be better if such a notice appeared weekly versus daily after confirming that this is a trend and not just something that might be impacted by external factors.
I tried to weigh myself as often as possible, though it's difficult to remember to do at the same time every day before showing (with a head full of wet hair) or grabbing a quick breakfast. Nonetheless, I was able to capture enough data to get a feel for how the scale, and tracking in the app, works.
I love the trending details that show not only how my weight fluctuates but also body composition, including muscle mass, fat mass, and bone mass along with an indication of my visceral fat index is healthy, and what my lean and water mass. What I loved most, however, was the seamless integration with Apple Health and Apple Watch. I'd highly recommend this scale as the perfect companion for an Apple Watch owner.
Bottom Line
The Withings Body Smart Scale provides way more information than your typical digital scale and is the perfect companion for someone who wants to keep track of more than just a three-digit weight number. As someone who exercises every day, I love being able to see if I'm gaining or losing muscle (which could impact the bottom-line number on the scale), and see a real-time indication of how my late-night snacking might be contributing to increased levels of fat.
The scale and its warnings could be demotivational for some. I would suggest stepping aboard once a week versus daily to avoid looking in the app and seeing that "gaining fat" message. Wait a week as you proceed on your journey of healthier eating and more exercise or use the Eyes Closed mode to track progress and refrain from checking the app until after you're done a cleanse or workout program, for example.
Overall, this is a great scale that offers a ton of features for its relatively low price. While the Withings Body Smart scale is worth the investment if you're on a fitness and health journey to lose weight and/or gain muscle, it's an even better companion if you own an Apple Watch, providing a more holistic picture of your health and wellness in both the Withings and Apple Health apps.
Stay tuned for an update on the Withings Body Comp scale, which adds additional health assessment features like nerve health and vascular age.