The latest candidate in our series of Q&As with influential women in the technology business in Canada is Addison Gill, Senior Marketing Manager, 5&Vine, a fractional CMO and marketing agency for challenger brands.
Name: Addison Gill
Job Title: Senior Marketing Manager at 5&Vine
Years in the Industry: 7 Years
The Quote That Most Inspires You: "We grow in direct correlation to the depths of the questions we ask ourselves." – (It's a helpful reminder in both work and life, and important when embracing a Challenger mentality. When you have the courage to ask tough questions, you can go beyond treating symptoms to identify and solve core issues that help you move forward.) (Source Unknown)
What drew you to a career in the consumer and/or business technology industry?
I was specifically drawn to the startup world. I love the pace, mentorship, and embracing the idea of being a Challenger.
First, pace. I noticed that agencies have a constant rotation of client projects, particularly in the startup world where there are rounds of funding and tight deadlines to meet. I was drawn to the tech world for this reason, and particularly 5&Vine, because I immediately recognized that I would be inspired to deliver exceptional work in a collaborative way with a team.
Second, mentorship. Continued learning is essential to growth in your career and feeling fulfilled in work. The opportunity to learn from people who have great experience and the time and dedication to mentor is one I've found specifically rewarding in working at and with startups. I've received great mentorship from our Fractional CMO and founder Rahul Raj that's helped me learn not just formulas for solving problems, but how to frame problems correctly and create structures to think them through and find the best answers.
Third, embracing the idea of being a Challenger. I've found many industries have specific, narrow paths to success with predictable steps and timing to advance in your career. The startup world is different. I find that it's welcoming of all past experiences and empowers you to apply lessons learned from all aspects of your life to do great work. There isn't a specific degree that's necessary and your ability to advance in your career hinges more on your ability to create amazing results than time spent in the role.
Have you encountered any roadblocks along the way that were related to your gender?
I saw a quote recently from tech thought leader Erin Bury that stuck with me: "I recognize I come from a place of immense privilege. I am an able-bodied heterosexual middle-class white woman, so I try to recognize that privilege when answering questions like this."
I've been fortunate to have not encountered significant roadblocks related to my gender, and I attribute that to 5&Vine's commitment to empowering women to have a seat at the table. We've written in our manifesto that "we believe we are the average of the five people we spend the most time with, and we go out of our way to curate that group based on their humanity, intellect, and drive." Supportive leadership is crucial.
What unique characteristics or perspective do you feel you bring to your organization as a woman?
Having empathy to get into the mind of target customers helps significantly in proactively answering questions customers have. On top of that, empathy helps with understanding not just when, but how clients should speak to target customers.
Audiences are dynamic and complex, and it's important to create campaigns that reflect everyone's unique perspective. Being able to tell clients what's not working and guide them to more meaningful points of connection is useful.
A desire to learn is also important. Being willing to apply lessons and collaborate without ego getting in the way helps our clients win.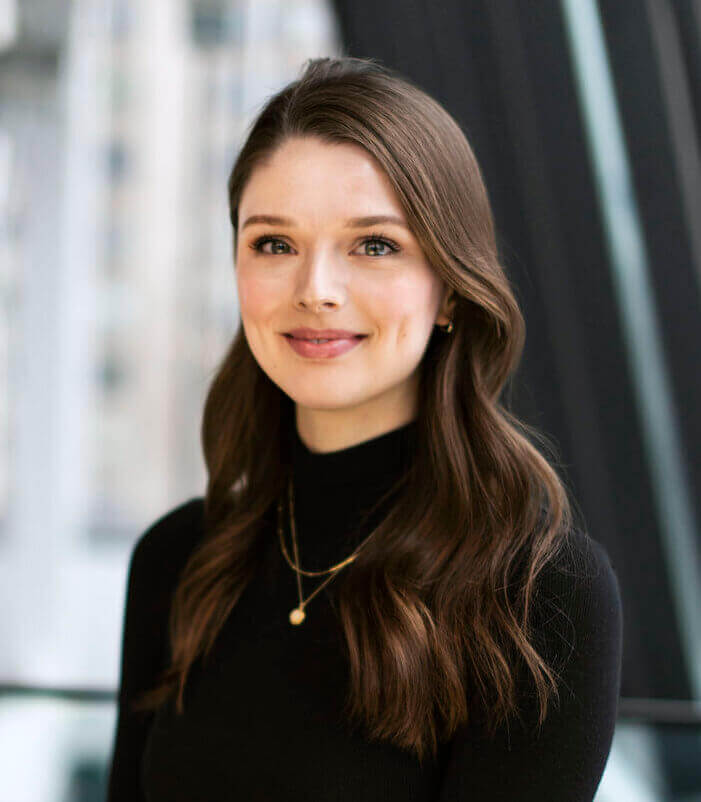 Technology is historically a male-dominated industry, yet the use of tech is fully embraced by women, and many studies even suggest that females are the primary buyers of tech in the home. What do you feel the technology industry needs in order to attract more women, particularly into high-level positions?
When I was in high school I had no idea that the role I'm in today existed. Fostering an interest in tech in teens is crucial, particularly as young women start choosing courses and further schooling to pursue. Being able to look to role models paving the way in tech is key to keeping the tech doors open. This is where I'm confident in the power of social media – now we can follow incredible role models and see the details of their lives just by following them on Twitter or Instagram. Social media is a powerful tool, and when we help young women purposely curate who they're following so they're seeing the best leaders in tech, we can help them see their own future in tech, too.
If you had to sum up what it is like being a woman in this male-dominated technology industry in just a few words, what would you say?
A fantastic opportunity to challenge the status quo.
Are there other women in the tech industry who inspire you?
Melanie Elturk, a former civil rights attorney and CEO of Haute Hijab, the leading U.S. hijab brand and community that empowers Muslim women through leadership and community. While you'd think she's more fashion than tech, there's so much that goes into running an e-commerce brand. Melanie is a true Challenger bringing her passion for social justice to the fashion industry. Our team collaborated on the launch of their first sports hijab – going up against industry incumbents Nike and Adidas – with powerful stories of Muslim athletes discriminated against in their sport with the "Can't Ban Us" campaign. She's a prime example of growing meaningful businesses through tech that disrupt categories and better society.
What are some of the misconceptions/myths about women working in the technology space that you'd like to dispel?
You don't need to change yourself to fit into teams that are different from you. One of my first startups was a team of me and six men, with our office dress code leaning towards super casual. I'm not a sweatpants-at-work person and found that something as small as showing up dressed in a way that was true to me helped me feel more confident and ready to contribute my strengths to the team. The more you show up to work with your team in a way that's true to who you are, the more energy you'll have to focus on meaningful work.
What's one thing you wish was done differently in the industry, and why?
In any industry, there will be a strong sense of imposter syndrome, particularly as you're getting started. Often, it's less about the actual task at hand than the expectations and fear of failure surrounding it. I wish I had the mindset I have now earlier in my career. When you're asked to lead a project or try something new, don't take it as a test. Rather, know you're being asked to do so because the person knows you're capable of accomplishing it.
Are you optimistic for the future in general and for the industry?
Absolutely! I'm constantly meeting new women who are great leaders elevating tech to the next level. I am inspired by the startups and corporations that are adapting Challenger mentalities and can't wait to see how the tech industry progresses in the years to come.