What is it about vintage gear that makes the heart a-flutter? Whether it's audio, a classic car or even a wooden boat, most consumers get teary-eyed and romantic on how products were just better back-in-the-day and oh how we yearn to own them. But here's the rub – most classic gear from 40 years ago is rarely better than today's product offering! A modern Aston Martin is better in every way to one from the 1960s, except of course in bragging rights and exclusivity. And a 1950s Leica film camera will not shoot better than a digital Leica, although it will give you purist credibility!
Instead of endlessly searching Canuck Audio Mart for that receiver from back-in-the-day, here's our gift guide for modern-day audio with mid-century legacy and vintage styling that gives you something both beautiful to look at but with all the connectivity for the modern age.
NAD C3050 LE Amplifier
This amplifier has been released this year by NAD to celebrate the company's 50th birthday. The limited edition (only 1,972 units will be sold) is based off the NAD 3030 released in 1972. It includes the original NAD logo (New Acoustic Dimension) in the classic 1970's typeface, Dual VU metres and an open grain walnut sleeve, along with push button controls to transport the listener back to the 1970s. Along with all this gorgeous vintage styling, this modern amp also features 100 watt per channel power, a high-performance 32-bit/384kHz TI PCM5242 differential DAC, BluOS high-res streaming, Dirac Live room correction and a host of digital connectors along with the classic analog plugs from the golden era of audio. Distributed through Lenbrook.
JBL L100 Classic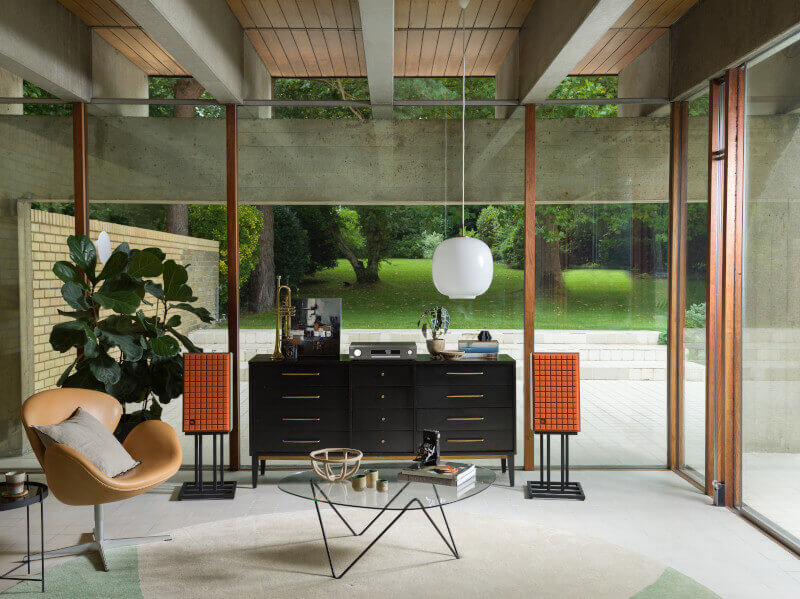 In 1970 JBL released the iconic L100 loudspeaker that would become the best-selling loudspeaker in JBL's history. The L100 Classic is a 12-inch 3-way loudspeaker with a modern take on the original that places new acoustic technology in a retro-inspired cabinet including the classic Quadrez foam grilles in burnt orange or dark blue, the same colours from 50 years ago but this time around will not go brittle and decay like Styrofoam on a beach. This new classic features a 1-inch titanium dome tweeter, a 5.25-inch polymer-coated midrange driver and a rich walnut grain veneer. Also in the JBL classic series, are the L82 and L52 bookshelf versions. Distributed through Erikson Home.
PSB Passif 50 Anniversary Edition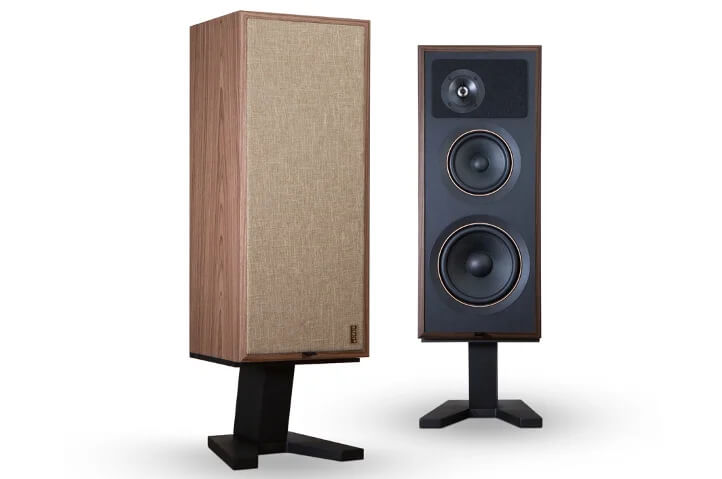 Created to commemorate 50 Years of PSB Speakers, the Passif 50 harkens back to the legendary Passif I and Passif II models that established the brand's reputation for performance and value back in the 1970s, while being an all-new design employing technology tricked down from PSB's flagship Synchrony speakers. The Passif 50 has numerous anniversary edition aesthetic elements include-ing a pull tab on the front grille, which sports PSB's original logo, and a rear-panel plaque adorned by a maple leaf and an inscription that reads, "Passif 50 – 1972-2022" yet are fully modern with 1″ titanium dome tweeter with ferrofluid damping and a neodymium magnet, a 6.5″ woofer and 8″ passive radiator with cast aluminum baskets, paper cones, and bi-wirable/bi-ampable five-way gold-plated binding posts. The Passif 50 also sport a retro-styled, open grain walnut veneer. Distributed through Lenbrook.
The New Mission 700 (and larger 770) Loudspeaker
Both the Mission 770, originally released in 1978 and then the smaller 700, originally released in 1980 put Cambridgeshire's much loved loudspeaker brand on the global audio map. While staying true to the retro esthetic of the original releases, Mission says there is nothing that has not been improved with these classic reissues including the drive units and crossover network and make the new versions twice the weight of their 40-year-old originals. While both the old and new use polypropylene diaphragms, Mission uses a new mineral compound to make the 2022 version stiffer. These modern-day classics come in both a walnut or black veneer. Distributed through Erikson Home.
Elipson XLS 15 Loudspeakers
French audio brand Elipson uses the tagline "inspired by the 1970s but built for today" to describe the XLS 15, part of the company's heritage series. This 3-way compact speaker features a fine amplitude adjustment of 2dB to allow both midrange and treble registers to be adjusted according to room conditions but more importantly, because in the '70s turning dials was the best part of owning audio gear! These big floor-standing walnut veneer speakers do double duty as end tables which was also part of the esthetic back in the day. Distributed through Gemsen.
Yamaha A-S3200 (A-S2200 and A-S1200)
The A-series of 2-channel amplifiers from Yamaha feature large toroidal transformers, high quality PPS capacitors and attention-to-detail original speaker terminals cut from pure brass, but what really gets us excited are those classic 1970s exquisite level meters visually dancing under that soft lighting and the meticulous fully balanced switches and bearing dials that screams classic design. No products pay better homage to Yamaha's musical history than the A-S3200.
Klipsch Jubilee Floorstanding Speakers
The Klipsch Jubilee really need to be seen and heard to believe. These 900-pound massive horn-loaded two-way speakers that are part of the Klipsch Heritage series and get their vintage chops from the studio and audiophile do-it-yourselfers from the mid-80s, that married multiple Klipsch components to create high-performance custom behemoths that many believed to perform better than the Klipsch K-horn that went into production in 1946. The Jubilee is fully bespoke and is made-to-order in a standard grain-matched wood veneer, but the company says it can build them in any colour you wish. Distributed through Gentec International.
Thorens TD 1500 Turntable
What all the products in this gift-guide share is a legacy to a previously launched product that creates the foundation for a newer, better version without compromising the design chops of the original. Last year Thorens announced the release of the TD 1500 turntable, an update on the classic 150. Like its famous predecessor the TD1500 also features a sub-chassis of three conical springs that separate the tonearm and turntable from the frame and motor. Unlike the TD 150, the TD 1500 has simplified fine tuning by making these springs adjustable from above which allows for easier access. So grab an amp, some speakers and a turntable and relive the esthetic past of the 1970s but with all new modern gear that performs and connects with today's age. Distributed through Erikson Home.