House of Marley is best known for two things: its audio products, including headphones and portable Bluetooth speakers, and its focus on sustainability across the entire product line. But the company recently got into a new category: charging accessories. And I was eager to try them out.
What accessories are available?
The line includes a variety of charging cables and the One Drop Wireless Charger, all made using mindfully sourced materials like renewable bamboo and recycled plastics. They come in 100% plastic-free recyclable packaging as well.
I tried out the One Drop Wireless charger, the 3-meter REWIND USB-C to Lightning charging cable and USB-A to USB-C charging cable to test the charging capabilities of both the cables and the wireless charger.
One Drop Wireless Charger
First, I tried the wireless charger, which sells for $100. The packaging for this and the other products was super simple to open: no Exacto knives or annoying plastic pieces to pull. Simply pull the tab through the hole and pull down to open the box.
It features a premium QI-certified pad that can power both Apple and Android phones as well as compatible earbuds. Simply place the item atop the surface and it will begin charging.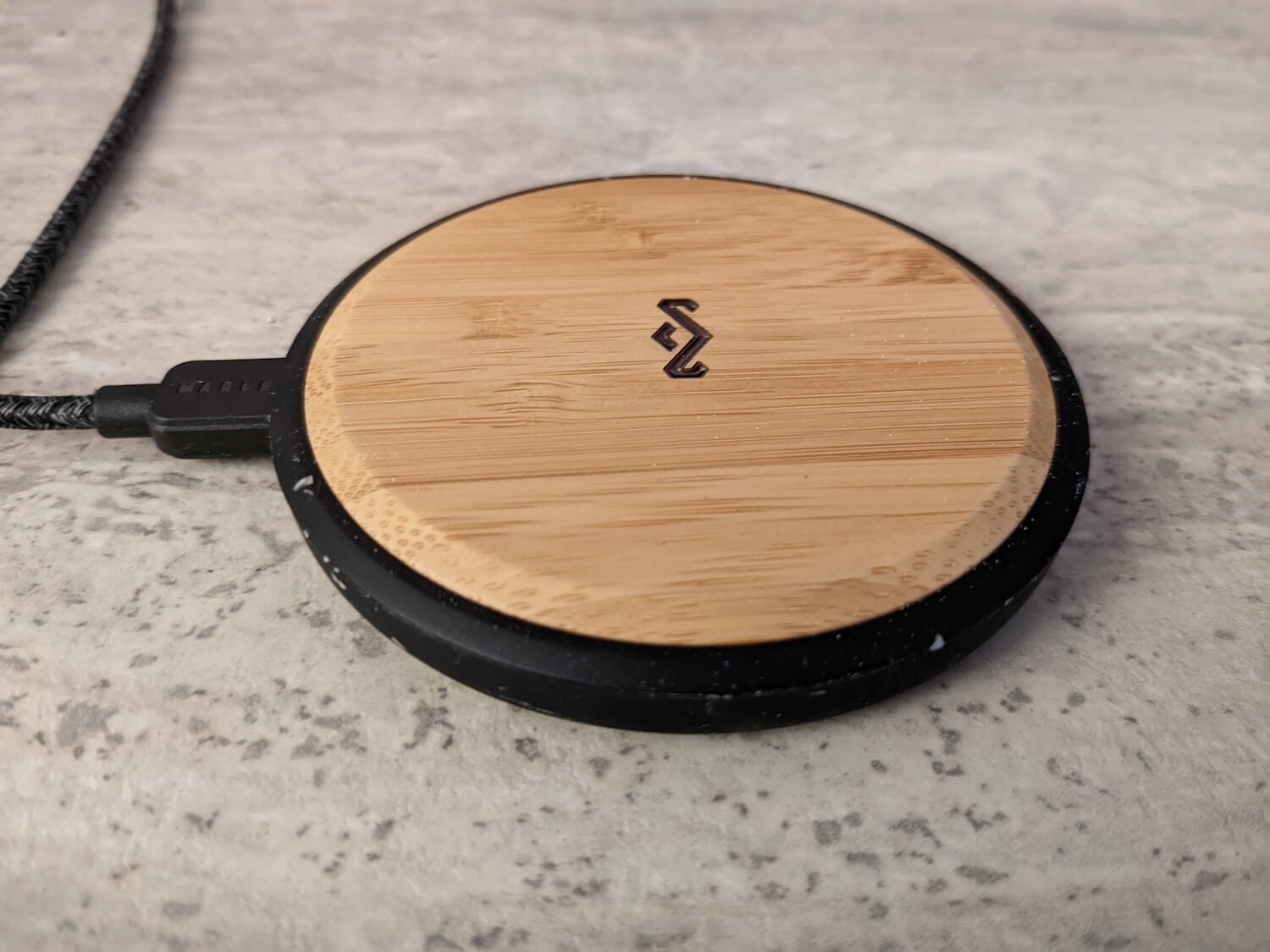 The durable sides and a base are made from REGRIND Silicone, a unique material created by reclaiming and upcycling post-process silicone scraps that would otherwise go to waste. The charging pad itself, meanwhile, is crafted with CNC-milled bamboo. The wireless charger's integrated REGRIND Silicone Cable Management strap helps keep everything organized on your tabletop or in your bag.
First, I tried my iPhone XR. I had to remove the case first, though this might not be the situation with every case type. (I use a Handl case that has a piece of material protruding from the back to be used as a kickstand that often impedes wireless charging.) I tried again using a hard-shell case and it worked fine.
I also used the One Drop to charge the Redemption ANC 2 true wireless earbuds. I had to shift them around a bit until I found the right spot. The lights illuminated then began blinking to indicate that charging was in progress. Perfect.
I love that the unit is small and unobtrusive, so you can place it just about anywhere, from on your office desk to the kitchen counter, living room side table, or bedroom night-table, It's also small enough to pop into a pocket or backpack to bring with you on business trips. Plug it into an outlet in your hotel room then place your phone down when you get back to the room and need a quick recharge while you get ready for the night's activities.
Of course, you won't get as quick a charge with the One Drop as you would with a hard-wired cable, particularly direct USB-C. To put this in perspective, after just over an hour, my phone charged about 25%, from 68% to 93%, so less than a half a percent per minute. But that goes for any wireless charger.
I love that you can also feel good about the purchase since it's made of recycled materials. And as an affordable wireless charger to keep in your bag or on your desk, you can't go wrong.
House of Marley Cables
Next, I moved on to the cables. I tried the REWIND USB-C to Lightning cable to recharge my iPhone XR, which is MFI certified for working with Apple devices. The 1.5 meter length sells for $60; there's also a longer three-meter option which would be ideal for hotel rooms where the power outlet is never close enough to where you want to be, in airports, or other awkward spots where you need the extra slack. Other cable types are $40.
In terms of the design, the REWIND Lightning charging cable, like others in the line, is crafted with premium quality, sustainable materials including FSC Walnut sourced from responsibly managed forests. The braided cables use REWIND fabric woven with 99% post-consumer recycled GRS certified material. An extended strain relief provides added protection against normal wear and tear.
Indeed, the cord has a nice, rugged feel and a cool jungle-like look that makes it stand out from the typical blacks, whites, and silvers you see with charging cables. The braided design means you know this is the type of cable that will stand up to being stuffed in your backpack or briefcase and pulled out day after day, or even left in your car through a frigid Canadian winter. The wooden tip on the protective jacket that houses the charging tip is a nice, elegant touch, complete with the House of Marley logo. It seems sturdy and well built, justifying the cost.
One tiny detail I absolutely love is the cable management strap made from upcycled REGRIND silicone and recycled aluminum. Resembling the silicone band you might find with a fitness tracker, It's wrapped around the cord with holes for securing one side to the other using a circular, aluminum clasp. This makes it super neat and tidy when you want to pack up the cord and pop it in your carry on for a business trip or place it in that "junk" drawer in your kitchen until you need it.
After marvelling over the beautiful design, it was time to try it out. Looking good is one thing, but this cord has a purpose, and that is giving a smartphone and other devices some juice, and fast.
I plugged it into a wall outlet using an AC brick I had lying around, I did a quick test and reported a 23% battery boost in just 15 minutes, showcasing a charge rate of more than a per cent per minute: impressive. Later, I tried plugging it directly into a USB-C charging slot of a multi-device power bar I use in the living room. After half an hour, my phone went from a 55% charge to 85%, thus demonstrating a charge rate of about a percent per minute. Either way, this is pretty impressive. I could easily get to at least 60% charge in an hour, which should be enough to get you through a night out or at least that final meeting of the day while charging on your lunch hour.
Bottom Line
House of Marley's focus is always on sustainability, including both using recycled materials in its manufacturing and design, and planting trees around the world through its One Tree Planted program. That means you can feel good about the purchase.
But more important when it comes to tech is that it works, and these charging products are just as good as any others you'd find from top brands in the business. They are also well built, particularly the cables that scream durability. And, as a nice added touch, they're elegant in design, a welcome departure from the usual boring cable designs you might come across.
It's never a good idea to plug something into an electronic device, like your phone, without knowing that it's a reputable product. Given this, charging cables are one product I always advise family and friends never to skimp on.
When it comes to cost, the House of Marley charging cables are on the higher end of the pricing scale (the wireless charger is affordably priced in comparison to others). But the build quality, sustainable design and packaging, and solid charging capability make them worth the extra bucks. Grab a set, a pair of House of Marley headphones (stayed tuned for a review of the House of Marley Redemption ANC 2 true wireless earbuds), and you're jammin'.