Tech and fashion go hand-in-hand and all of the gift ideas on this list are not only functional products and accessories, they also look stunning. For someone who values form as much as function, consider putting any one of these gifts under the tree for them to unwrap.
Urbanista Miami Headphones
As a brand in general, Urbanista focuses on fashion forward headphones and earbuds that make a stylish statement. Among the many options in its growing and stylish line are the Urbanista Miami headphones, which come in stunning colours inspired by the vibrancy of the Florida city, like Ruby Red. Available on sale for $140, the over-ear 'phones offer up to 50 hours of playtime, making them perfect for on-the-go use and travel. They boast active noise cancelling to block out distracting ambient sounds, along with Ambient Sound Mode when you need to hear what's going on. Charging via USB-C, they're the perfect gift for the fashionista in your life.
Harman Kardon Aura Studio 3 Bluetooth Speaker
The Harman Kardon Aura Studio 3 Bluetooth speaker is simply a thing of beauty. It's about performance as well as aesthetics, and this one delivers on both fronts. The domed design is not just for show: it provides ambient light effects and offers 360° sound thanks to its powerful subwoofer as well. Stream music via Bluetooth from a mobile device, then lie back and enjoy not only the sound but also the ripple effect lighting for a true sense of tranquility. The Aura Studio 3 will blend beautifully with the décor in any room of the home. Grab it for about $340.
Fitbit Brother Vellies Bands
Available for the Fitbit Sense, Sense 2, Versa 3, and Versa 4 smartwatches, the Brothers Vellies woven collection bands add a touch of class to the look for a night out, or even everyday wear when you're not working out. Made of premium Horween leather with a stainless-steel tip engraved with the Brothers Vellies logo, the fashionable band is the perfect gift for someone who owns one of the compatible smartwatches. Available in small and large sizes and black or Oak, they sell for US$75 ea.
Fitbit Luxe Activity Tracker
Speaking of Fitbit devices, the Fitbit Luxe activity tracker is about as fashionable as they come. I reviewed the Luxe earlier this year, and loved the thin device, which resembles a bracelet. Don't let its stylish look fool you, though: Luxe can indeed work as a wonderful workout companion. It tracks everything you'd expect from an activity tracker, including activity, steps, sleep, stress, menstrual health, heart rate, breathing rate, skin temperature variation, and, coming soon, Sp02 oxygen saturation. Use it with the Fitbit app and add a Fitbit Premium subscription for more via guided workouts, mindfulness exercises, tips, tricks, and full health reports (the device comes with six-month trial subscription). With a 5-day battery life, the ability to display smartphone notifications via vertical text, and more, the Luxe is the perfect activity tracker for someone who doesn't want to advertise that they're wearing one, nor have something big and bulky on their wrist that can interfere with their overall look. You can find it for as little as $100 nowadays, regularly about $170. Make it a true piece of jewelry with the gorjana for Luxe Parker Link Bracelet (US$100) that comes in soft golf stainless steel or platinum stainless steel.
Samsung Galaxy Buds Live
From the perspective of fashion, the Samsung Galaxy Buds Live (on sale for $100, regularly $180) employ a really unique shape. The true wireless earbuds look like little beans and come in two stylish finishes: Mystic black and Mystic Blue. Boasting active noise cancellation, the ergonomic shape is designed both for a comfortable fit as well as to provide optimized sound reproduction. The glossy finish will really make them stand out in your ears, and you can choose from one of two included wing tip sizes. With features like Dolby Head Tracking, Bixby smart assistant, Spotify integration, and three built-in mics for making calls, you get up to six hours of continuous listening, 21 with the included charging case.
Mission 700 and 770 Speakers
Both the Mission 770, originally released in 1978 and the smaller 700, originally released in 1980, put Cambridgeshire's much loved loudspeaker brand on the global audio map. While staying true to the retro aesthetic of the original releases, Mission has improved everything from the drive units to crossover network to make the new versions twice the weight of the 40-year-old originals. Both the old and new models use polypropylene diaphragms, and Mission uses a new mineral compound to make the 2022 version stiffer. These modern-day classics come in both a walnut or black veneer and will be a stylish addition to the home theatre or dedicated listening room.
Klipsch Jubilee Floorstanding Speakers
The Klipsch Jubilee really need to be seen and heard to be believed. These 900-pound massive horn-loaded two-way speakers are part of the Klipsch Heritage series and get their vintage design inspiration from the studio and audiophile do-it-yourselfers of the mid-'80s. These married multiple Klipsch components to create high-performance custom behemoths that many believed to perform better than the Klipsch K-horn that went into production in 1946. The Jubilee is fully bespoke and is made-to-order in a standard grain-matched wood veneer, but the company says it can build them in any colour you wish. It doesn't get more customized and fitting of personal style than that.
Audio-Technica AT-LP2022 Manual Belt Drive Turntable
Add a touch of elegance and nostalgia to the living room or den with the Audio-Technica AT-LP2022 manual belt drive turntable. As one of the company's 60th anniversary celebration line of new products, the limited-edition record player is only available in limited numbers. Along with the new, elegant design, it includes a 30 mm thick, high-density clear acrylic chassis that the company says reduces unwanted resonances. With a transparent anti-resonant acrylic platter and mounted black AT-VM95E cartridge, it includes a clear AT-VMN95SH Shibata stylus. The turntable's sensor-monitored belt-drive motor system provides quiet, accurate and stable playback of 33-1/3 and 45 RPM records. A carbon-fibre tonearm is mounted on a metal base, with adjustable VTA (vertical tracking angle), tracking force and anti-skating. An elliptical AT-VM95E is pre-mounted on the AT-HS4-SV headshell, and the AT-VMN95SH, a special-edition Shibata stylus with a clear housing, is also included. The VM95 cartridge platform offers additional stylus shapes to accommodate different vinyl playback preferences. The newly designed isolation feet are height-adjustable, and the external power supply prevents unwanted electronic noise. Also included is a removeable dust cover, detachable RCA cable, and 45 RPM adapter. Grab it for US$1,200.
LG StanbyMe Mobile Wireless Display
Introduced at CES 2022, the LG StanbyME is a new spin – quite literally – on the TV and computer monitor. Perfect for creative types who love modern aesthetics, it's a showpiece for the home office that's also quite functional. Move it around as needed on the stand and watch TV, play videos, conduct video calls, work on sketches and documents, and more. Relax on the couch while in a virtual meeting, view YouTube cooking videos while making dinner in the kitchen, or keep an eye on the World Cup games while working in the home office. Wirelessly stream content from an Android or iOS device, use it as a secondary computer monitor, or connect any source via HDMI or USB. It runs for up to three hours per charge, and the 27-inch touchscreen is large enough to be a decent TV or an oversized computer monitor. Oh yah, and it tilts, swivels, and rotates. It's not cheap at $1,700, but it looks darn cool. And for work-from-homers who find they are constantly working all over the house, this TV/monitor could be a game-changer.
Apple iPad (2022)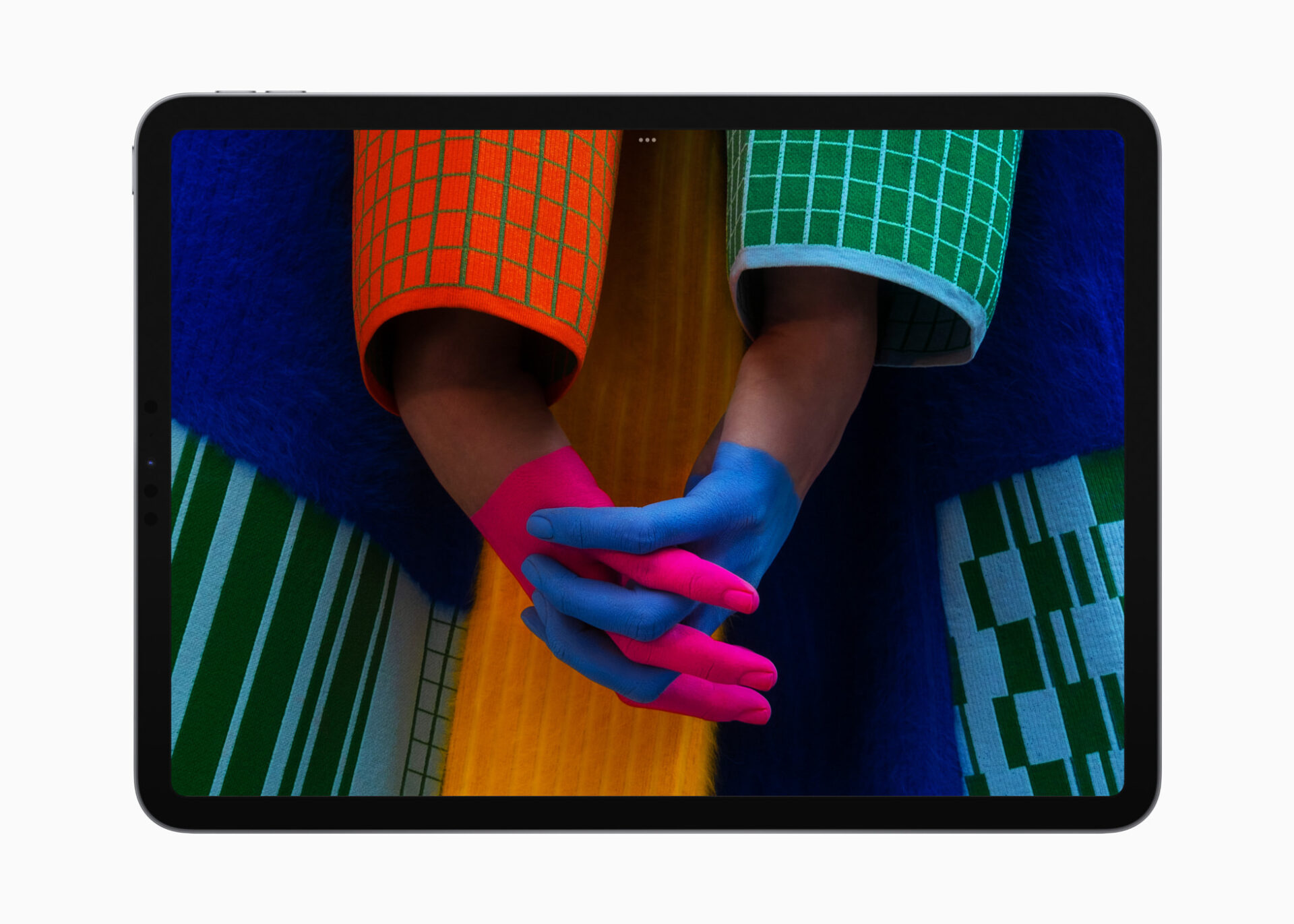 There was a time when we thought tablets would disappear given that smartphones continue to get more functional with larger screens while laptops are getting smaller, thinner, and lighter. But the opposite has happened: people find tablets to be great secondary devices, even on-the-go computers when paired with an optional keyboard case. Such is the case with the Apple iPad (2022), which is about as sleek as you can get when it comes to a tablet. This redesigned version has a 10.9-inch Liquid Retina display and runs on the A14 Bionic chip. It comes with advanced cameras, fast wireless connectivity, USB-C, support for the new Magic Keyboard Folio, and more. With fast performance, an all-day battery, and updated cameras, the new iPad is a fashion accessory as much as it is a functional device for reading the news, working on content, gaming, sketching, watching videos, and more. Pricing starts at $599 for the Wi-Fi model and $799 for the Wi-Fi + Cellular model, and it comes in 64GB and 256GB configurations. Go all out and get them the Apple Pencil ($129) and the $329 Magic Keyboard Folio or save those accessories gifts for the next occasion.
Samsung Galaxy Z Flip4 (Standard or Bespoke Edition)
The Samsung Galaxy Z Flip 4 is already stylish as it is, a stunning, foldable phone that business professionals will love. Add the Bespoke option to be able to customize the look with the colours of your choice (from the available selection) so you get your own, personally styled phoned. The phone starts at $1,080 regularly, and the Bespoke options are coming soon. This gift will be worth the wait, but even without the Bepoke colours, the standard Galaxy Z Flip4 in one of its available color options like Bora purple, Graphite, blue, and pink gold is already pretty fashionable as it is.
Sonos Sub Mini Wireless Subwoofer
With a stunning design and affordable price at just $549, the Sonos Sub Mini comes in matte black or white and in a funky, round design. The compact, cylindrical form factor features dual custom woofers and advanced processing that Sonos says produces "deep, dynamic low end with no buzz or rattle." Thanks to the acoustically sealed cabinet, both woofers face inward to create a force-canceling effect that neutralizes distortion. The advanced digital signal processing maximizes bass response and reproduces the full-toned low frequencies expected from a much larger subwoofer, while handling the low frequencies so paired speakers like the Sonos Beam, Ray, One, or One SL can focus on more mid-range and high frequencies. It can be seamlessly added to a Sonos system via a few taps of the Sonos app. You can also fine tune Sub Mini's sound with Trueplay, which detects and adapts the speaker's sound for reflections off walls and furniture.