TVs are always a big part of CES every year, and this year is no exception. Along with exciting new TVs from the big brands, there are smaller brands making waves with displays for both homes and commercial spaces, as well as brands like Roku confirming their entrance into the market (yes, with its own branded hardware, not just software). Here, we highlight some of the most interesting innovations.
Samsung is About SmartThings
Samsung's focus was not so much on the new TVs themselves this year, though there are new Neo QLED, Micro OLED, and OLED TVs in the line, including The Premiere 8K, but rather the evolution of SmartThings and the ability to interconnect everything in your home, in personalized ways.
When it comes to the TVs themselves, however, the Neo QLED 8K and 4K models are powered by Samsung's advanced Neural Quantum Processor, which supports the Quantum Mini LED-lit TV with 14-bit processing and AI upscaling. There's also AI deep learning technology to analyze and apply HDR effects. On the SmartThings end, you no longer need a SmartThings dongle to connect and control compatible devices wirelessly: the 2023 models will have a module for Zigbee and Matter products built right into it. There's also new communication features, like Chat Together for sharing thoughts and reacting with others in real-time while watching content, ConnectTime for taking video calls, and 3D map for controlling and monitoring other devices with a bird's eye view of everything.
Samsung is also showcasing its micro LED and OLED line-up. The key upgrade here is the addition of AMD's Freesync Premium Pro certifications in the OLEDs.
In projectors, The Premiere 8K is also a new ultra-short throw projector with 8K resolution that supports a maximum screen size of 150 inches.
Displace TV Could Be A Game-Changer
The Displace TV is an exciting innovation in displays, a wireless 55-inch 4K OLED TV that uses a proprietary hot-swappable battery system and proprietary active-loop vacuum technology that allows it to be mounted to a wall with a slight push. Connect multiple TVs to create an up to 220-inch display. The TV weighs under 20 lbs., is 1.2 inches thick, and works with a wireless base unit that can be placed remotely in the home or business. Each battery lasts for about a month based on an average of about six hours of active time per day. Control the TV via hand gestures, touch, voice, and facial recognition, and even leverage computer vision technology to have content move from one display to another in the home as you physically move. The Displace TV, one of the most interesting innovations  will begin shipping in late 2023.
Photonic Crystal Has A Holographic Transparent Projection Display
Dubbed the "world's first" fully transparent 3D holographic projection display, Photonic Crystal Co. Ltd. is showing the NanoAR at CES 2023. Using nano-optic technology, the NanoAR is fully transparent, and can control projector light and turn clear media into full colour, full HD displays that produce images overlpping with surrounding views. Ideal for augmented reality (AR), commercial digital signage, automobile smart cockpit, AR-HUD, 3D cinema, AR glasses, light fields, and other similar applications, the latest version is 2-5 times brighter.
LG OLED TVs Boast a Host of Upgrades
LG's 2023 OLED TV line-up includes models with the 6th Gen a9 processor, which offers power performance improvements through the deep learning AI immersion of reality. Features include AI upscaling that helps reduce noise and improve resolution and sharpness and Dynamic Tone Mapping with up to 20,000 blocks of brightness and colour mapping. New this year is Brightness Booster Max on the G3 series, which promises up to 70% more brightness thanks to light boosting algorithms.
The line will begin with the B3 OLED TV and move up to the C3 and G3 models in various sizes, followed by the top-line Z3 models. The G3 model features a new Zero Gap design that includes a flush wall mount and lightweight composite material that's easy to transport, install, and move.
How easy it is to navigate on a TV is important as well, and all these new TVs feature LG's updated webOS UI, which includes tons of personalized options.
On the QNED TV side, the big news is the integration with LG soundbars through features like WOW Orchestra along with a bracket for mounting the soundbar right to the TV.
Panasonic MZ2000 OLED TV Is a Stunner
Panasonic's flagship MZ2000 series 4K OLED Micro Lens Array TV comes in 77-, 65-, and 55-inch sizes and offers 150% improvement in peak brightness.Its HCX Pro AI processor and streaming 4K remaster algorithm enhances what you watch in Filmmaker Mode. With gaming features as well, along with upfiring, surround sound speakers, it's a stunning new TV.
Hisense Intros First-Gen ULED X TV
Hisense introduced many new TVs at CES 2023, but the most eye-catching one is the first generation ULED X TV. It features Hisense's Hi-View Engine X chipset that controls over 20,000 Mini LED lights to deliver an ultra-bright picture. With 5000+ Local Dimming Zones, 2500 nits peak brightness, and Dynamic X-Display – culminating in an immersive and realistic viewing experience.
ULED X is the new generation of Hisense's proprietary ULED technology. It features a 16-bit light control algorithm that Hisense says provides more precision and granularity for smoother dimming and colour effects. These capabilities on the UX model reach a peak brightness of 2500 nits and a contrast ratio of 150,000:1.
Available in an 85-inch size with a 30% expanded viewing angle and added ultra-low reflection panel, it includes technologies like Dolby Vision, Wi-Fi 6e, NEXTGEN TV, Freesync Premium Pro, and more.
TCL QM8 Q-Series TV is Finally Custom Install Compatible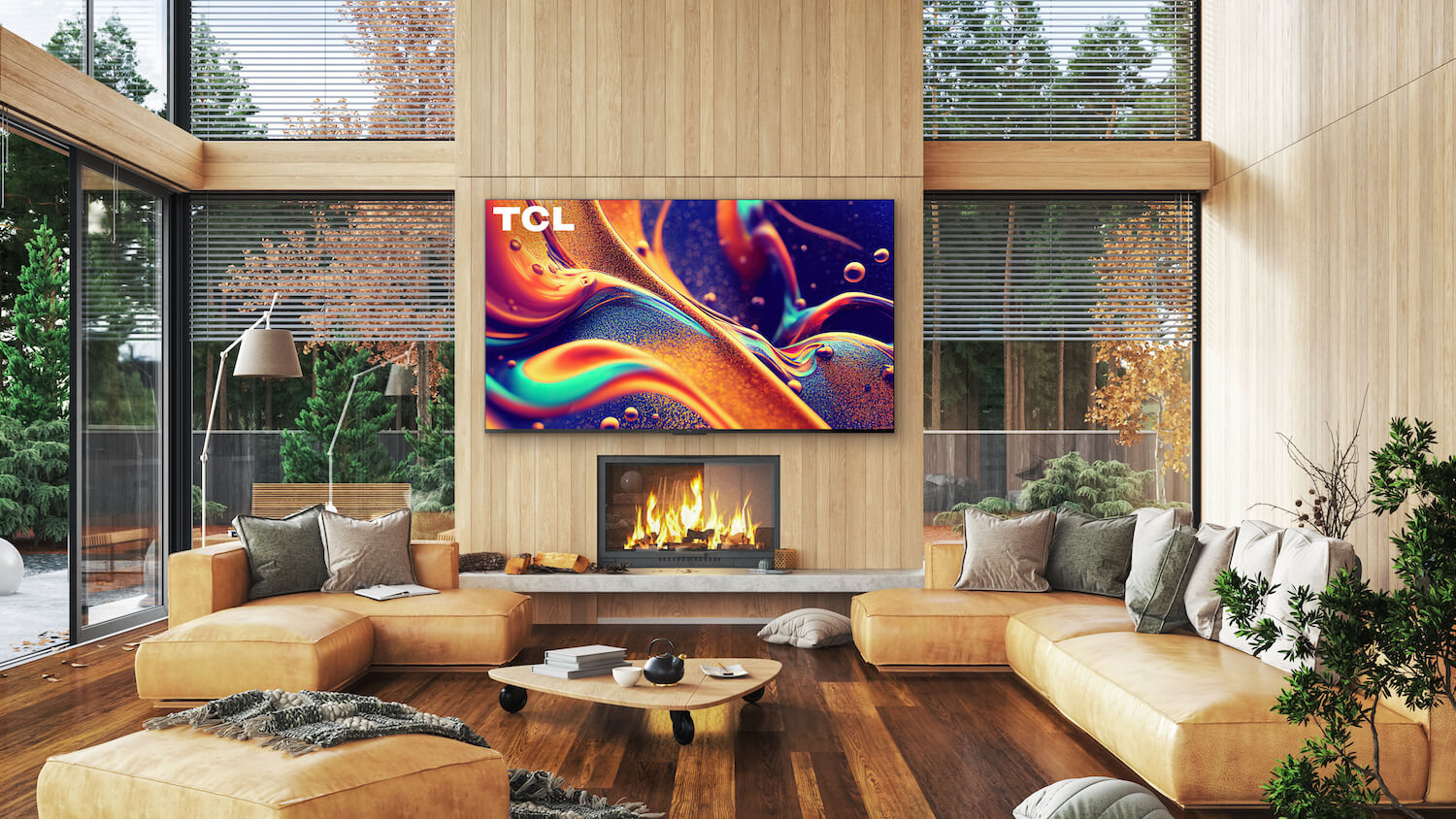 Among the many TVs TCL announced at the show in its S Series and Q Series is the top-line QM8, which boasts Mini-LED Ultra technology with double the peak nits of last year's award-winning TCL mini-LED series. More remarkably, QM8 adds Mini-LED ULTRA with up to 5X more dimming zones, achieving up to 2,300+ zones. In addition, QM8 features enhanced audio with a built-in subwoofer and Wi-Fi 6 for improved connectivity. It will be available from 65- to 98-inch screen sizes. Also, for the first time ever, TCL's Q-Series will be custom install compatible. With discrete IR codes, RS232C capability and IP control, the Q-Series can be spec'd into the most premium home theatre installations.
Roku is Making its Own Branded TVs
Roku is known for its intuitive smart TV platform, which is integrated into TVs made by a number of manufacturers, including TCL, Toshiba, and others. But at CES 2023, Roku confirmed that it would be making its own line of smart TVs. The line will include 11 models in the Roku Select and Roku Plus series, which is set to be available in the U.S. in the Spring (no word yet on if they are coming to Canada). The TVs will range from 24 inches, ideal for the kitchen or home office, up to 75-inchers for the living room, bedroom, or home theatre. They will all be HD and come with Roku Voice Remotes (the Plus Series with the Roku Voice Remote Pros) and, of course, with the Roku UI. Additionally, Roku is offering a premium OLED TV reference design for its Roku TV partners. Pricing for the Roku Select and Roku Plus Series TVs will be from US$119 to US$999.